On the Glass at American Airlines Center
Features & Amenities
Glass seats at American Airlines Center are all seats in Row A of the Plaza Level. Many fans would consider these the best seats for a Dallas Stars game. Being within arms reach of the action gives fans an appreciation for the size and speed of the players on the ice.
In addition to having one of the most exciting seats for watching a hockey game at American Airlines Center, fans with a ticket on the glass will have access to the Tequila Patron Lounge which offers all-inclusive food and beverage.
Where to Sit

Sections 111-114 are on the end of the ice the Stars will shoot twice. Sitting in Glass Seats in these sections would literally be a front row seat to many Stars scoring opportunities. Sitting at the ends also has the least amount of obstructed views from the glass.
Sections 106 and 107 will be near center ice. However, due to the angles along the glass some areas of the ice in the corners may be tough to see.
Amenities available for Array and Array and Array and Stars home games. For other events, some amenities may not be available or offered.
Please note: Due to health and safety protocols in 2023, food availability, club access, wait service and other amenities are subject to change without notice.
Note: These seats are highlighted on the map
Map Highlighting

Select rows in section are part of this seating zone
Interactive Seating Chart
On the Glass Seating Chart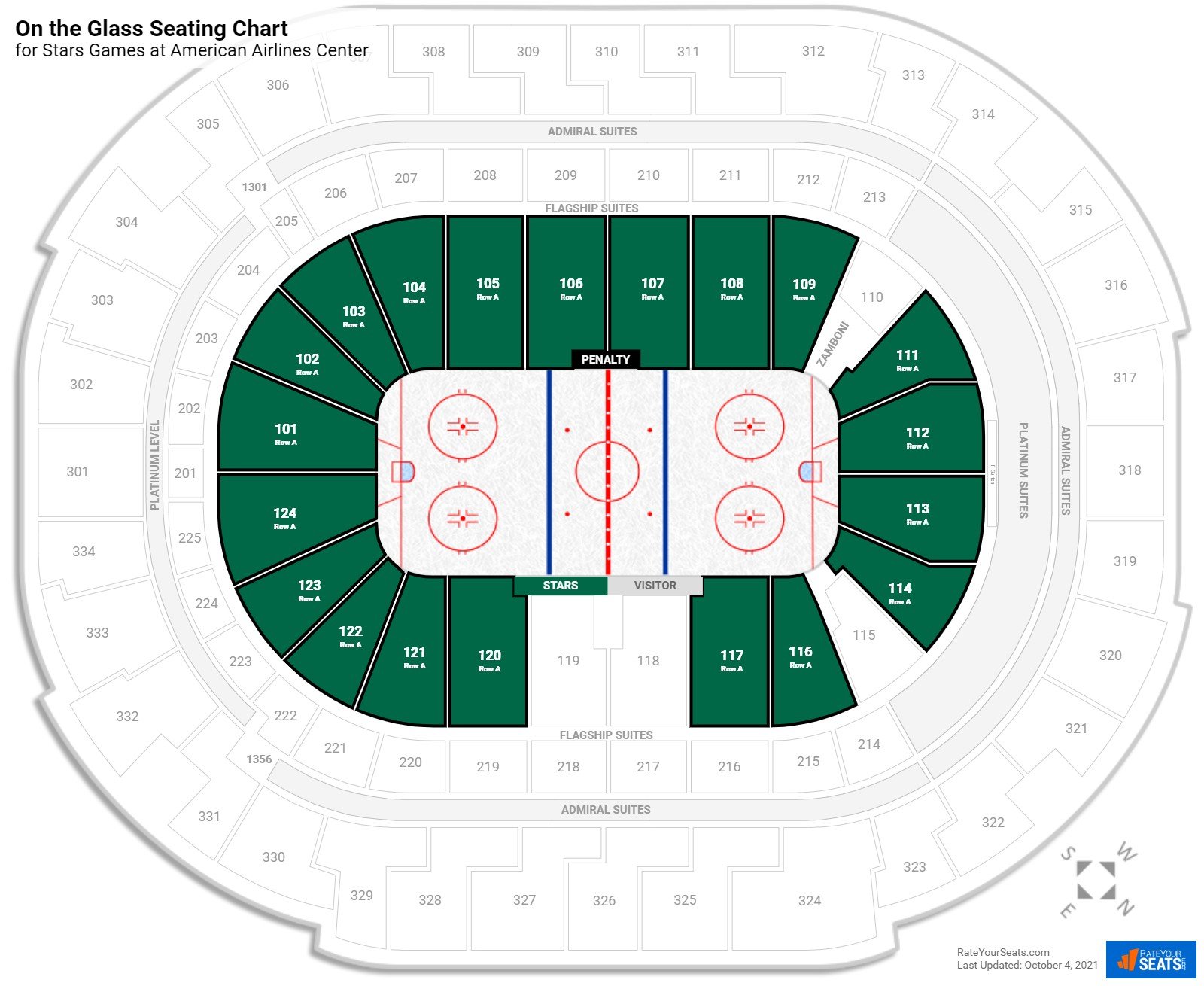 On the Glass Reviews
Ratings & Reviews From Similar Seats

"Orlando Magic at Dallas Mavericks - Nov 6, 2019"

(Section 105) -

"BIG3 Basketball League - Aug 17, 2019"

(Section 124) - -

I was nervous because the ticket was non refundable and i was only told the section and row i would be sitting in but not the seat number. I ended up with an end seat on the row close to the court, and I loved my seat. Couldn't be more pleased with the outcome.

"Queen and Adam Lambert - Nov 3, 2023"

(Section 105) -
More Seating at American Airlines Center
Event Schedule
Mavericks
Other Basketball
Stars
Concert
Other