Crescent Tables at Koka Booth Amphitheatre Regency Park
Club seats are highlighted on the map
Crescent Tables Features & Amenities
The Crescent Tables at Koka Booth Amp are a unique seating option that give patrons an opportunity to enjoy a meal with table service (most shows) while enjoying an outdoor show.

There are more than 70 table options on the elevated Cresent Deck. Numbered tables towards the front of the Deck can accomodate 6 guests, while lettered tables are pub style and seat 4.

Views from the Deck Tables to the stage range from good to slightly obstructed. Tables in the center of the Deck (like 11, 12, 31, 32 and P-S) are behind the walkway that bisects the lawn and sees heavy foot traffic. Extreme side tables like 1, 2, 21, 22, A-G and AA-FF may have trees, speakers or both limiting their view. For the best views, choose Tables 3-10 or 13-20.

But it's not the view that draws fans to these seats. It's the comfort of being able to sit down under the only covered area in the venue, enjoying the in-seat wait service at most events (sandwiches, snacks, beer and wine are on the menu) and being close to concessions which make the table tickets so highly in demand.

Please see the seller notes for more specific Box Seat information for your desired show.
Interactive Seating Chart
Boxes Seating Chart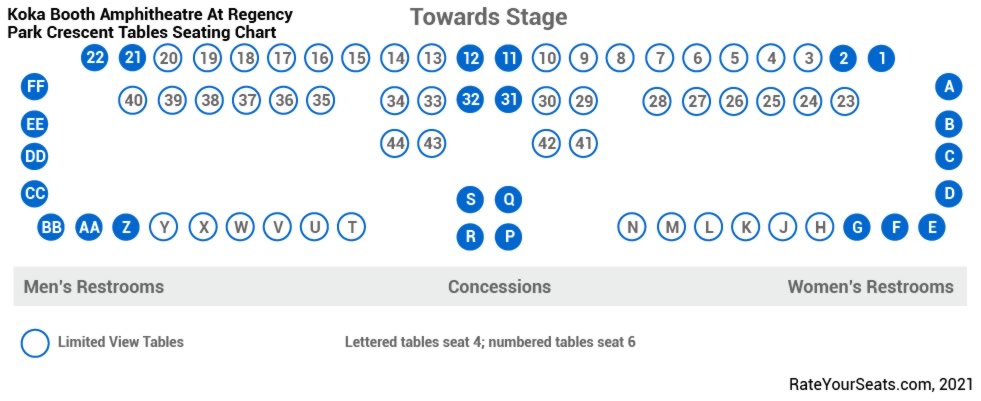 Other Popular Seating Choices