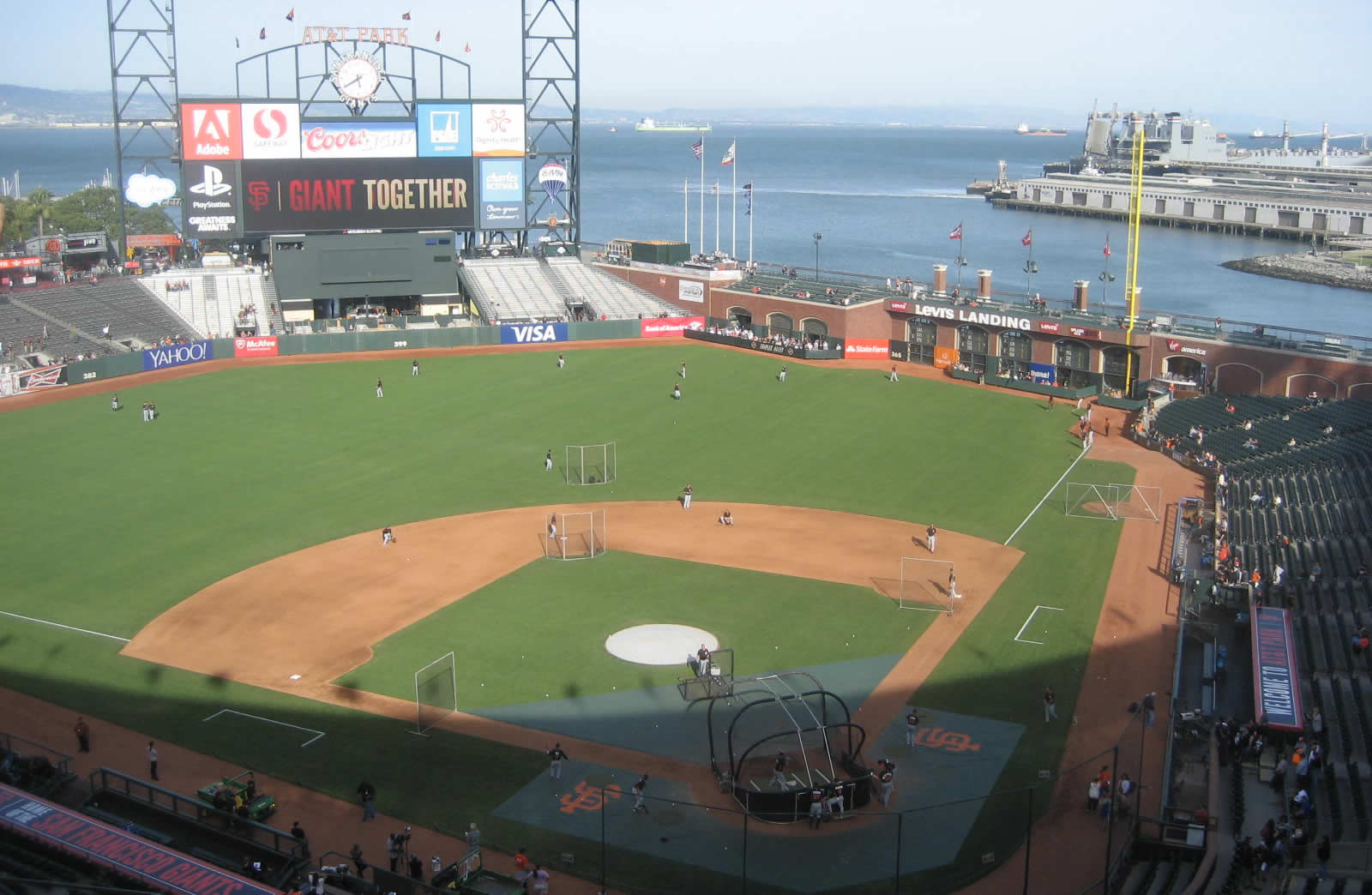 Best Seats for Great Views of the Field at Oracle Park
Recommended seats are highlighted on the map
While AT&T Park shines in its effort to cater to casual baseball fans through delicious food, surrounding scenery and in-park attractions, it is an otherwise plain stadium. With the exception of the Arcade seats in right-field, the stadium's three main seating levels are mostly lacking in character. Never-the-less, there are a few excellent seating choices for getting a great view and a few quirks that make even the cheap seats just a touch better.
For a truly outstanding view our first recommendation is seating on the club level. These sections - labeled 202-234 on the Giants seating chart - are situated at an elevation high enough to see the field comfortably, but low enough to make you feel close to the field. In fact, fans at the back of Promenade Level sections might argue that the club level is too close to the field for the way its overhang obstructs views from the back rows of the 100 level sections. While you can't go wrong with a home plate view from these sections, we really like the way the field looks from seats in sections 207-210 and 220-223.
When looking at tickets on the 100 level you'll mostly get what you pay for in that the more expensive seats will provide the best views. One exception is in the lettered rows of sections 107-124. These seats are part of the Field Club where you'll be paying for - not only a great view - but also club access and wait service. These are excellent seats, but they are priced at a premium for their exclusive amenities. To save a little money, consider the numbered rows 30 and below in these same sections. You'll be treated to an outstanding view from the infield with a little bit of elevation and an easy walk to the concourse.
One final consideration when looking to get a great view is to skip out on a great view of the game in favor of a view of the surrounding area. View level sections on the third base side of the field will give you a direct look at the San Francisco Bay, the South Beach Harbor - and if you're unlucky - the Oakland airport.
Among newer ballparks, AT&T Park may offer the greatest number of truly bad views. Here are a few tips to avoid a lame seat:
In the lower level, choose tickets in rows 32 and below; the club level overhang is highly disruptive to fans seated in higher rows
Don't sit in Rows A, B, 1, 2 or 3 on the View Level; while there are good seats in these rows, a number of them are horribly obstructed by the railings and/or glass
The sun is relentless when seated in outfield bleacher sections; while it doesn't get too hot, it is very difficult to see home plate until the sun goes down - be sure to bring a hat or skip these altogether
Recommended Ticket Locations
Rows AAA-DDD, AA, A-R in Sections 112, 113, 115 and more
Amazing view from behind home plate and close to the players on the on-deck circle
Access to lounge and upscale food options to further enhance the experience
Sections 207, 208, 209 and more
Best elevation in the stadium from the club level
Great proximity to the field despite being on the second seating deck
No obstructions from the netting behind home plate
Rows 23-31 in Sections 107, 108, 109 and more
Excellent infield views from the lower level
Less expensive than the Field Club seats that are directly in front of these
No obstructions from the overhang like seats directly behind these
Ratings, Reviews & Recommendations
"Good seats for viewing the game. Good seats to get consessions."

(Section 123) - -

Seats were fine. Everyone wants a recliner to sit in while watching a game. Until then, these seats were fine.

"Excellent seats! Good view. Friendly fans! No obstructions! Very roomy row!!"

(Section 112) - -

Everything was great! Seats, food, view were all excellent!!!! Crowd was very friendly (we were out-of-towners)
Other Popular Seating Choices
RateYourSeats.com is the best way to search, compare and buy tickets. Select an event to find out why!
Event Schedule
24Mar

Oakland Athletics San Francisco Giants

Oracle Park - San Francisco, CA

Tuesday, March 24 at 6:45 PM

2Apr

2020 San Francisco Giants Season Tickets

Oracle Park - San Francisco, CA

Thursday, April 2 at 12:55 PM

3Apr

Los Angeles Dodgers at San Francisco Giants

Oracle Park - San Francisco, CA

Friday, April 3 at 1:35 PM

4Apr

Los Angeles Dodgers at San Francisco Giants

Oracle Park - San Francisco, CA

Saturday, April 4 at 1:05 PM

5Apr

Los Angeles Dodgers at San Francisco Giants

Oracle Park - San Francisco, CA

Sunday, April 5 at 5:37 PM

6Apr

Arizona Diamondbacks at San Francisco Giants

Oracle Park - San Francisco, CA

Monday, April 6 at 6:45 PM

7Apr

Arizona Diamondbacks at San Francisco Giants

Oracle Park - San Francisco, CA

Tuesday, April 7 at 6:45 PM

8Apr

Arizona Diamondbacks at San Francisco Giants

Oracle Park - San Francisco, CA

Wednesday, April 8 at 6:45 PM

9Apr

Arizona Diamondbacks at San Francisco Giants

Oracle Park - San Francisco, CA

Thursday, April 9 at 12:45 PM

21Apr

Colorado Rockies at San Francisco Giants

Oracle Park - San Francisco, CA

Tuesday, April 21 at 6:45 PM

22Apr

Colorado Rockies at San Francisco Giants

Oracle Park - San Francisco, CA

Wednesday, April 22 at 6:45 PM

23Apr

Colorado Rockies at San Francisco Giants

Oracle Park - San Francisco, CA

Thursday, April 23 at 12:45 PM

24Apr

Washington Nationals at San Francisco Giants

Oracle Park - San Francisco, CA

Friday, April 24 at 7:15 PM

25Apr

Washington Nationals at San Francisco Giants

Oracle Park - San Francisco, CA

Saturday, April 25 at 6:05 PM

26Apr

Washington Nationals at San Francisco Giants

Oracle Park - San Francisco, CA

Sunday, April 26 at 1:05 PM

27Apr

Philadelphia Phillies at San Francisco Giants

Oracle Park - San Francisco, CA

Monday, April 27 at 6:45 PM

28Apr

Philadelphia Phillies at San Francisco Giants

Oracle Park - San Francisco, CA

Tuesday, April 28 at 6:45 PM

29Apr

Philadelphia Phillies at San Francisco Giants

Oracle Park - San Francisco, CA

Wednesday, April 29 at 12:45 PM

8May

Chicago White Sox at San Francisco Giants

Oracle Park - San Francisco, CA

Friday, May 8 at 7:15 PM

9May

Chicago White Sox at San Francisco Giants

Oracle Park - San Francisco, CA

Saturday, May 9 at 6:05 PM

10May

Chicago White Sox at San Francisco Giants

Oracle Park - San Francisco, CA

Sunday, May 10 at 1:05 PM

16May

Atlanta Braves at San Francisco Giants

Oracle Park - San Francisco, CA

Saturday, May 16 at 1:05 PM

19May

Detroit Tigers at San Francisco Giants

Oracle Park - San Francisco, CA

Tuesday, May 19 at 6:45 PM

20May

Detroit Tigers at San Francisco Giants

Oracle Park - San Francisco, CA

Wednesday, May 20 at 12:45 PM

29May

Colorado Rockies at San Francisco Giants

Oracle Park - San Francisco, CA

Friday, May 29 at 7:15 PM

30May

Colorado Rockies at San Francisco Giants

Oracle Park - San Francisco, CA

Saturday, May 30 at 4:15 PM

31May

Colorado Rockies at San Francisco Giants

Oracle Park - San Francisco, CA

Sunday, May 31 at 1:05 PM

1Jun

San Diego Padres at San Francisco Giants

Oracle Park - San Francisco, CA

Monday, June 1 at 6:45 PM

2Jun

San Diego Padres at San Francisco Giants

Oracle Park - San Francisco, CA

Tuesday, June 2 at 6:45 PM

3Jun

San Diego Padres at San Francisco Giants

Oracle Park - San Francisco, CA

Wednesday, June 3 at 6:45 PM

4Jun

San Diego Padres at San Francisco Giants

Oracle Park - San Francisco, CA

Thursday, June 4 at 12:45 PM

9Jun

Pittsburgh Pirates at San Francisco Giants

Oracle Park - San Francisco, CA

Tuesday, June 9 at 6:45 PM

10Jun

Pittsburgh Pirates at San Francisco Giants

Oracle Park - San Francisco, CA

Wednesday, June 10 at 6:45 PM

11Jun

Pittsburgh Pirates at San Francisco Giants

Oracle Park - San Francisco, CA

Thursday, June 11 at 12:45 PM

13Jun

Miami Marlins at San Francisco Giants

Oracle Park - San Francisco, CA

Saturday, June 13 at 1:05 PM

23Jun

New York Mets at San Francisco Giants

Oracle Park - San Francisco, CA

Tuesday, June 23 at 6:45 PM

24Jun

New York Mets at San Francisco Giants

Oracle Park - San Francisco, CA

Wednesday, June 24 at 6:45 PM

25Jun

New York Mets at San Francisco Giants

Oracle Park - San Francisco, CA

Thursday, June 25 at 12:45 PM

26Jun

Los Angeles Dodgers at San Francisco Giants

Oracle Park - San Francisco, CA

Friday, June 26 at 7:15 PM

27Jun

Los Angeles Dodgers at San Francisco Giants

Oracle Park - San Francisco, CA

Saturday, June 27 at 4:15 PM

28Jun

Los Angeles Dodgers at San Francisco Giants

Oracle Park - San Francisco, CA

Sunday, June 28 at 1:05 PM

7Jul

Oakland Athletics at San Francisco Giants

Oracle Park - San Francisco, CA

Tuesday, July 7 at 6:45 PM

8Jul

Oakland Athletics at San Francisco Giants

Oracle Park - San Francisco, CA

Wednesday, July 8 at 6:45 PM

10Jul

San Diego Padres at San Francisco Giants

Oracle Park - San Francisco, CA

Friday, July 10 at 7:15 PM

11Jul

San Diego Padres at San Francisco Giants

Oracle Park - San Francisco, CA

Saturday, July 11 at 6:05 PM

12Jul

San Diego Padres at San Francisco Giants

Oracle Park - San Francisco, CA

Sunday, July 12 at 1:05 PM

24Jul

Arizona Diamondbacks at San Francisco Giants

Oracle Park - San Francisco, CA

Friday, July 24 at 7:15 PM

25Jul

Arizona Diamondbacks at San Francisco Giants

Oracle Park - San Francisco, CA

Saturday, July 25 at 1:05 PM

26Jul

Arizona Diamondbacks at San Francisco Giants

Oracle Park - San Francisco, CA

Sunday, July 26 at 1:05 PM

29Jul

Chicago Cubs at San Francisco Giants

Oracle Park - San Francisco, CA

Wednesday, July 29 at 6:45 PM

30Jul

Chicago Cubs at San Francisco Giants

Oracle Park - San Francisco, CA

Thursday, July 30 at 12:45 PM

11Aug

Los Angeles Dodgers at San Francisco Giants

Oracle Park - San Francisco, CA

Tuesday, August 11 at 6:45 PM

12Aug

Los Angeles Dodgers at San Francisco Giants

Oracle Park - San Francisco, CA

Wednesday, August 12 at 6:45 PM

13Aug

Los Angeles Dodgers at San Francisco Giants

Oracle Park - San Francisco, CA

Thursday, August 13 at 12:45 PM

14Aug

Colorado Rockies at San Francisco Giants

Oracle Park - San Francisco, CA

Friday, August 14 at 7:15 PM

15Aug

Colorado Rockies at San Francisco Giants

Oracle Park - San Francisco, CA

Saturday, August 15 at 1:05 PM

16Aug

Colorado Rockies at San Francisco Giants

Oracle Park - San Francisco, CA

Sunday, August 16 at 1:05 PM

24Aug

San Diego Padres at San Francisco Giants

Oracle Park - San Francisco, CA

Monday, August 24 at 6:45 PM

25Aug

San Diego Padres at San Francisco Giants

Oracle Park - San Francisco, CA

Tuesday, August 25 at 6:45 PM

26Aug

San Diego Padres at San Francisco Giants

Oracle Park - San Francisco, CA

Wednesday, August 26 at 6:45 PM

28Aug

Kansas City Royals at San Francisco Giants

Oracle Park - San Francisco, CA

Friday, August 28 at 7:15 PM

29Aug

Kansas City Royals at San Francisco Giants

Oracle Park - San Francisco, CA

Saturday, August 29 at 6:05 PM

30Aug

Kansas City Royals at San Francisco Giants

Oracle Park - San Francisco, CA

Sunday, August 30 at 1:05 PM

7Sep

St. Louis Cardinals at San Francisco Giants

Oracle Park - San Francisco, CA

Monday, September 7 at 3:05 PM

8Sep

St. Louis Cardinals at San Francisco Giants

Oracle Park - San Francisco, CA

Tuesday, September 8 at 6:45 PM

9Sep

St. Louis Cardinals at San Francisco Giants

Oracle Park - San Francisco, CA

Wednesday, September 9 at 12:45 PM

10Sep

Cincinnati Reds at San Francisco Giants

Oracle Park - San Francisco, CA

Thursday, September 10 at 6:45 PM

11Sep

Cincinnati Reds at San Francisco Giants

Oracle Park - San Francisco, CA

Friday, September 11 at 7:15 PM

12Sep

Cincinnati Reds at San Francisco Giants

Oracle Park - San Francisco, CA

Saturday, September 12 at 1:05 PM

13Sep

Cincinnati Reds at San Francisco Giants

Oracle Park - San Francisco, CA

Sunday, September 13 at 1:05 PM

22Sep

Arizona Diamondbacks at San Francisco Giants

Oracle Park - San Francisco, CA

Tuesday, September 22 at 6:45 PM

23Sep

Arizona Diamondbacks at San Francisco Giants

Oracle Park - San Francisco, CA

Wednesday, September 23 at 6:45 PM

24Sep

Milwaukee Brewers at San Francisco Giants

Oracle Park - San Francisco, CA

Thursday, September 24 at 6:45 PM

25Sep

Milwaukee Brewers at San Francisco Giants

Oracle Park - San Francisco, CA

Friday, September 25 at 7:15 PM

26Sep

Milwaukee Brewers at San Francisco Giants

Oracle Park - San Francisco, CA

Saturday, September 26 at 6:05 PM