S&T Bank Music Park Seating Chart
Interactive Seating Chart
Explore the Interactive Map
Dave Matthews Band

Jun 12

Santana with Earth Wind and Fire

Jul 7

Megadeth and Lamb of God

Jul 13

Black Crowes

Jul 14

Jimmy Buffett

Jul 15

Chicago

Jul 21

Backstreet Boys

Jul 23

Disturbed

Aug 4

Maroon 5

Aug 25

KISS

Aug 26

Matchbox Twenty

Sep 1

Doobie Brothers

Sep 4
S&T Bank Music Park Seating Chart
S&T Bank Music Park seating charts vary by performance. This chart represents the most common setup for concerts at S&T Bank Music Park, but some sections may be removed or altered for individual shows. Check out the seating chart for your show for the most accurate layout.
Seating Chart With Row Numbers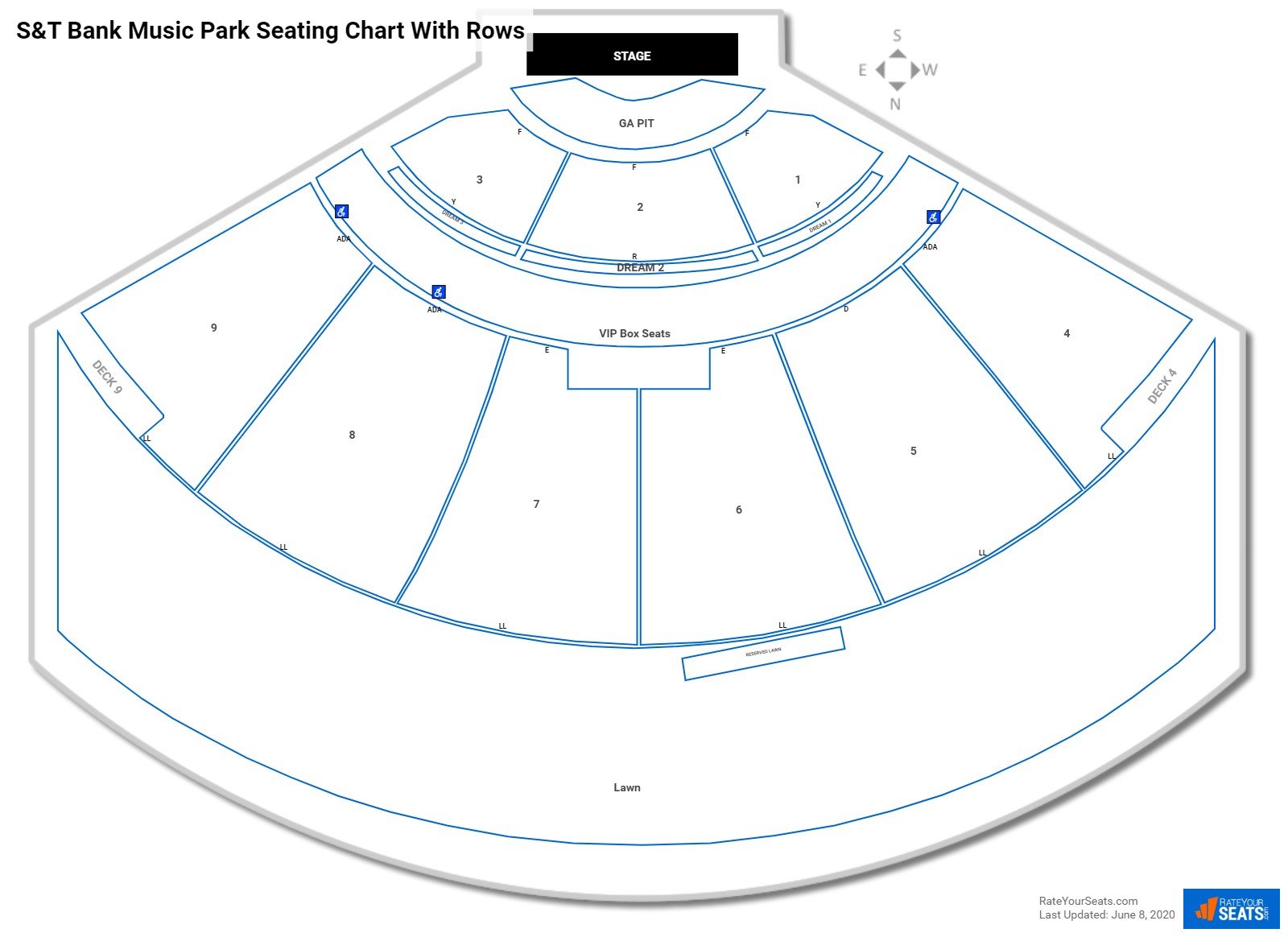 S&T Bank Music Park Seat Numbers
Seat numbers at S&T Bank Music Park go from right-to-left. When seated looking at the stage the lowest seat number (usually seat 1) will be on the far right of each section. In the front of the pavilion the seat numbers will vary in sections 1-3 and the Pit.

In sections 1 and 3 the number of seats in the first few rows is three seats in the first row and six seats in the next two rows. The longest rows in sections 1 and 3 have 27 seats in them, so fans sitting in these sections can expect to have longer rows in the back and shorter rows in the front.

The number of seats in the Pit and section 2 will be similar since the Pit is typically right in front of section 2. The seat numbers will range from 23 seats in a row up to 41 seats in the longest row.

Sections 4-9 are the biggest sections at S&T Bank Music Park and the rows will have lots of seat numbers. The smallest rows will have 19 seats in a row, while the longest rows will double that and have 38 seats in a row. Like most amphitheaters the higher the row, the more seats in that row.

Seating Charts for Upcoming Shows
Jun 12, 2021 at 8:00 PM
Dave Matthews Band (Rescheduled from 7/3/2020)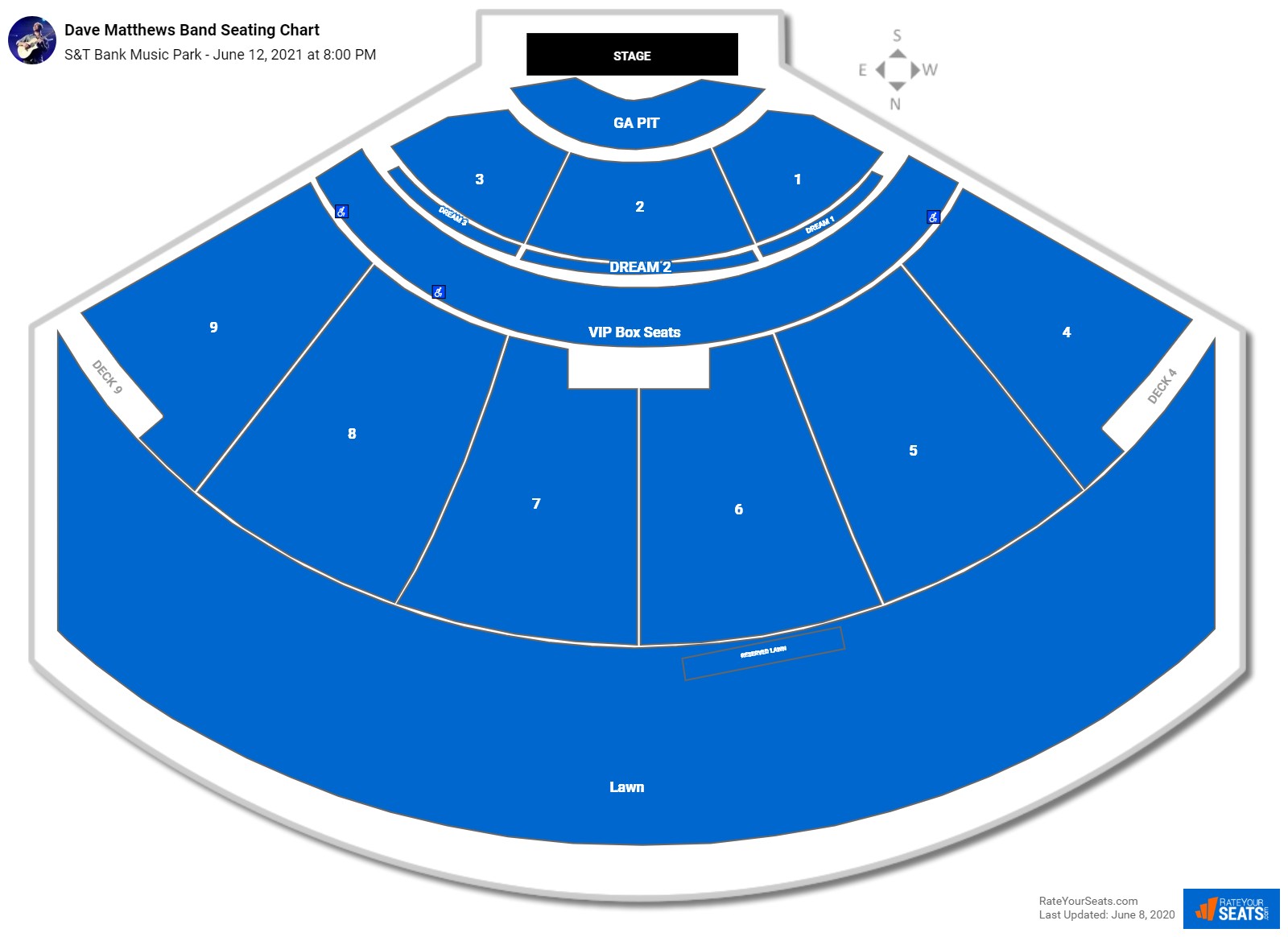 Jul 7, 2021 at 7:00 PM
Santana with Earth Wind and Fire (Rescheduled from 8/5/2020)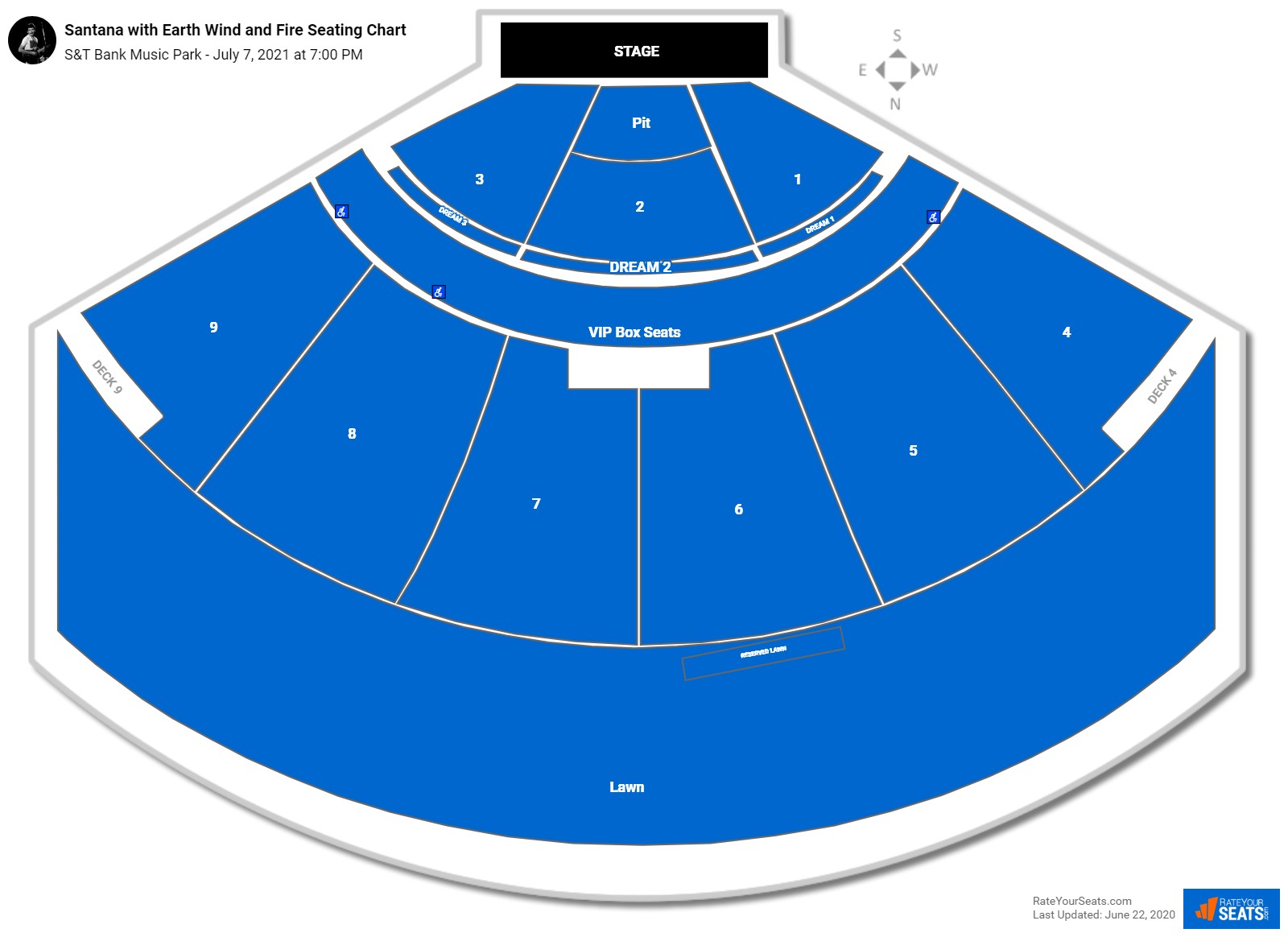 Jul 15, 2021 at 8:00 PM
Jimmy Buffett (Rescheduled from 7/16/2020)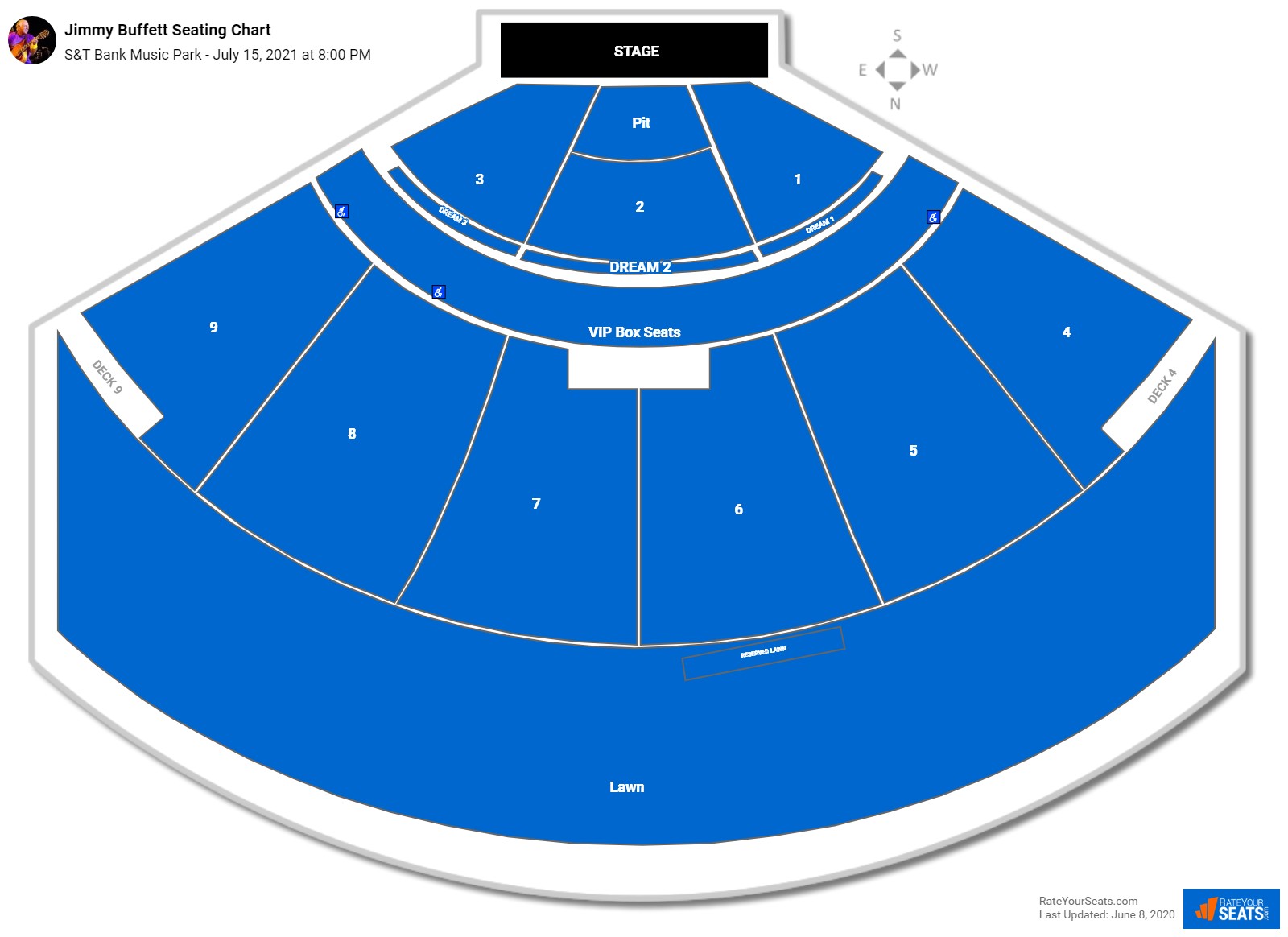 Jul 21, 2021 at 6:30 PM
Chicago (Rescheduled from 7/25/2020)
Jul 23, 2021 at 7:30 PM
Backstreet Boys (Rescheduled from 7/24/2020)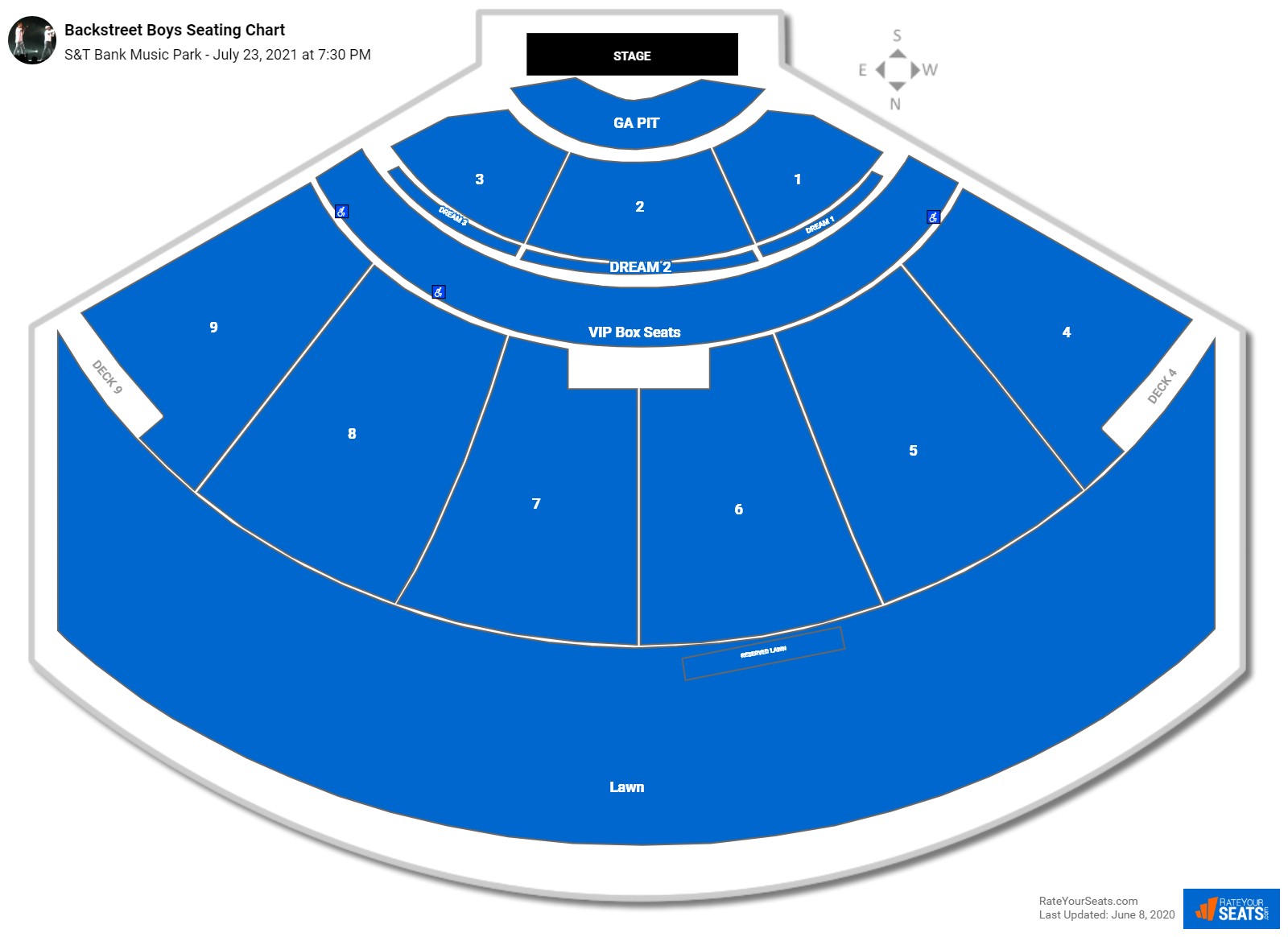 Aug 4, 2021 at 7:00 PM
Disturbed (Rescheduled from 8/13/2020)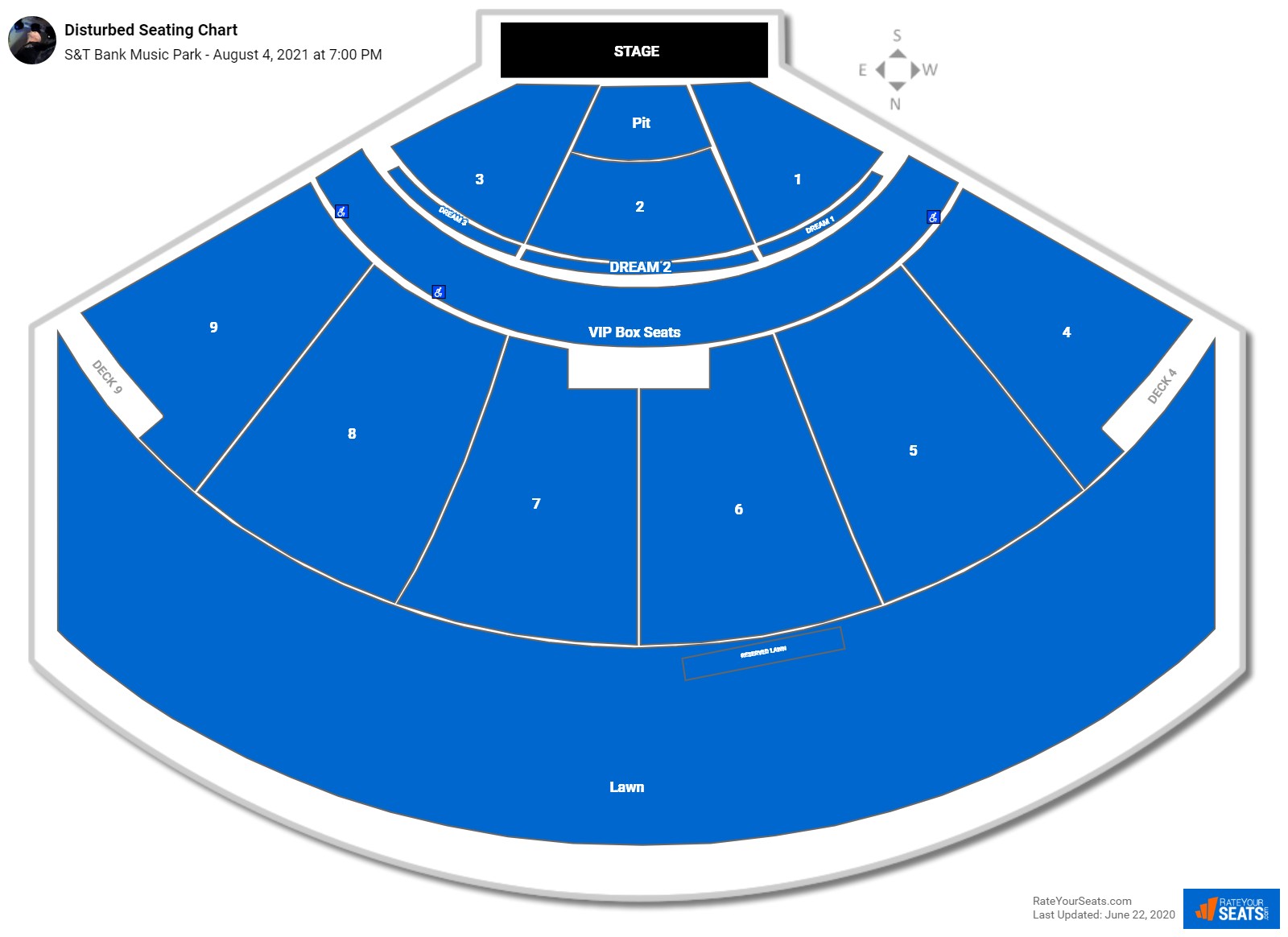 Sep 1, 2021 at 7:30 PM
Matchbox Twenty (Rescheduled from 8/26/2020)
Sep 4, 2021 at 7:30 PM
Doobie Brothers (Rescheduled from 8/6/2020)