Reser Stadium East Sideline
Features & Amenities
While the Oregon State students occupy the closest rows of the lower east sideline sections, fans can still find excellent seats in the upper rows throughout this area.Covered seating is available in the back rows of Sections 113-119, and fans will find chairback seating in all non-student areas of all sections in this Lower East Sideline area.
The back portions of Sections 115-117 are among our favorite seating options at Reser Stadium, due to chairback seating, excellent midfield views, close proximity to the home team sideline, and good overhead coverage.
Sections in the Lower East Sideline have up to 41 numbered rows of seating, bench style bleacher student seating in the lower portion, followed by the chairback reserved seating in the upper portion.
Note: These seats are highlighted on the map
Interactive Seating Chart
East Sideline Seating Chart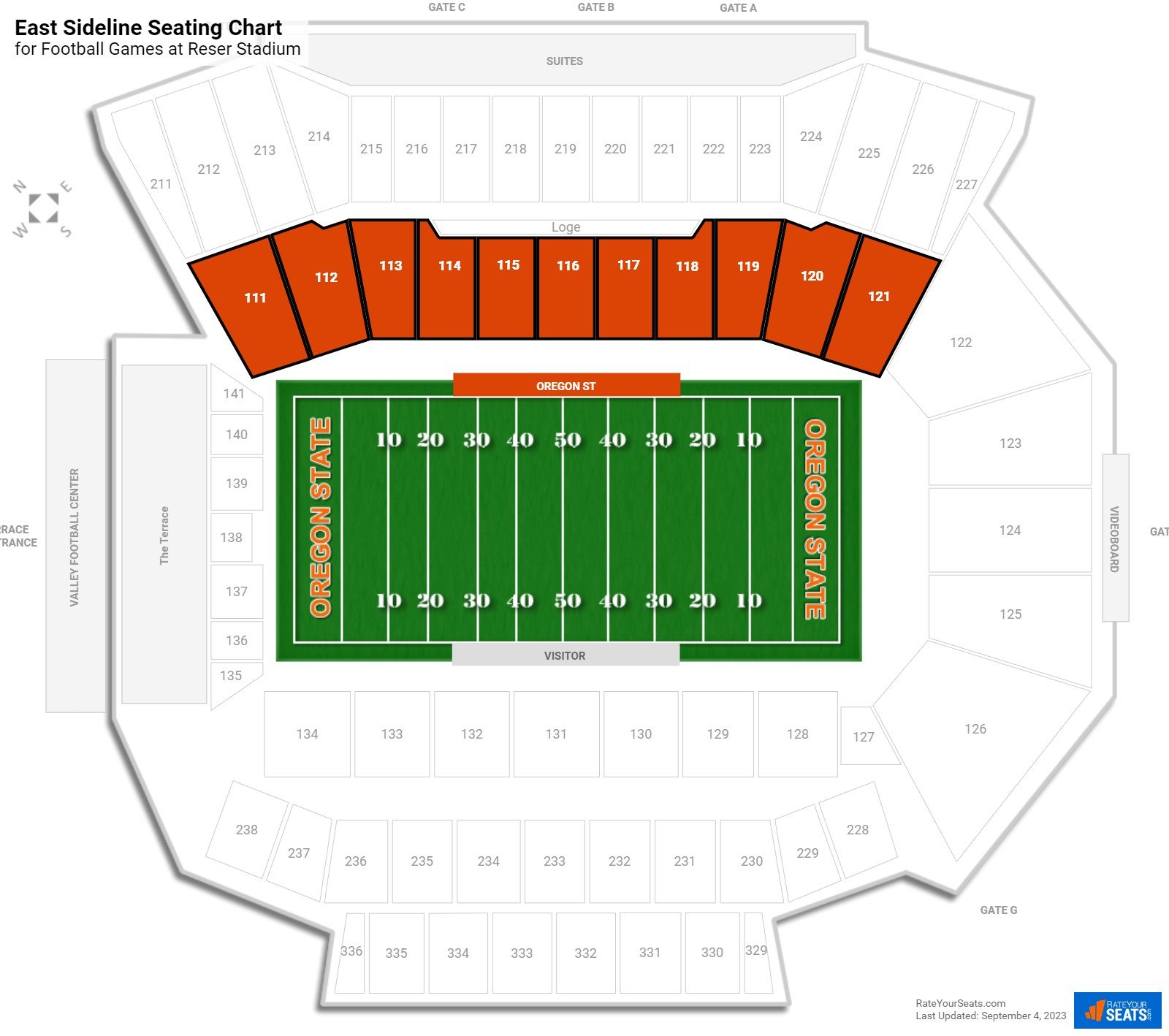 East Sideline Reviews
Sections 111-126 require a staircase to access rows 12 and above
The tunnels from sections 111-126 access a walkway that splits the upper and lower parts of the sections. Rows 12 and above require a staircase from the walkway that goes to row 17. Fans in rows below row 17 will need to use the staircase and come back down to access their seat.
Ratings & Reviews From Similar Seats

"Great seats... Not great people behind you"

(Section 118) - -

So these are great seats... if you are a visitor, the family behind you (who have had the seats for '10 YEARS!') are not great to be around. Went for my sons first football game, while being visitors we were treated great by great fans in the tailgate area, in the seats though, that not the family t...
More Seating at Reser Stadium