How is Section 324 Row 20 for a concert at AmericanAirlines Arena?
We have seats 3 through 6 in that row.
Jul 2014
Answered by Keith at RateYourSeats.com...
During a traditional end stage performance, Section 324 is a good option for the upper seating tier as it is closer to the stage than other 300 level sections on the east end of the area, and still has a view to the front of the performance. Other sections are closer (such as Sections 307 and 326), but will also have a more extreme side angle view rather than a direct line of sight to the faces of the performers.
At Row 20, you will be just 3 rows down from the very top of the section and the arena (there are a total of 23 numbered rows of seating in Section 324). This will create high and far views, which may limit your ability to see all of the details on the stage. As you face the floor from any section at AmericanAirlines Arena, the lowered numbered seats will always be on the right, while the higher numbered seats are on the left. In the case of Section 324, the lowered numbered seats would put you slightly further from the stage than the higher numbered seats.
Some of our favorite options in Section 324 for an endstage performance are found in Rows 3 and 4, as these provide better views near the front of the section, and keep you very close to the section entry tunnel for quick and easy trips to the concourse (entry tunnel is located just above Row 3).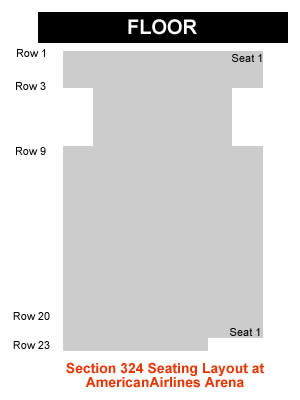 Asked July 23, 2014 for Enrique Iglesias & Pitbull on Oct 26, 2014
Interactive Seating Chart
Other Popular Seating Choices