The Eagles' Hotel California Tour Setlist with Greatest Hits
As the Eagles get ready to hit the road this year, many fans will begin to look at what will be on their setlist at the upcoming shows. In 2019, Eagles fans got a glimpse into what the 2020 Hotel California Tour setlist might look like after the band played a string of shows in Las Vegas.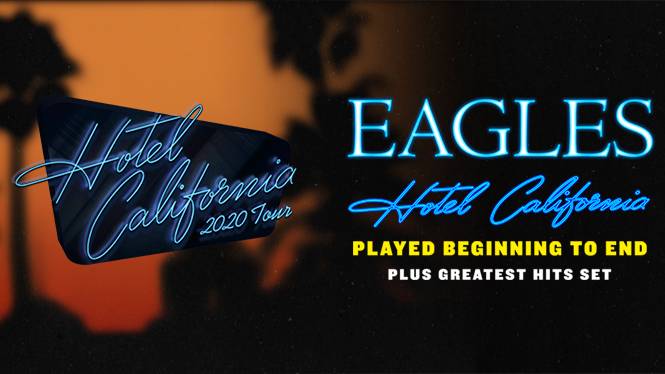 What to Expect on the Eagles 2020 Tour Setlist
As advertised, fans can expect the Eagles to play the album Hotel California in full. During the Las Vegas shows, the nine songs featured on the album opened up the concert. Once the album is finished, the band swung into their "Greatest Hits" portion of the setlist, which was another 23 songs of classic Eagles and other well-known songs from band members' discographies. The same format should be expected for the Eagles Hotel California Tour setlist in 2020.

Outside of touring members Don Henley, Joe Walsh, Timothy B. Schmit, Deacon Frey, and Vince Gill, there will be several other very talented musicians on stage including a full horn section. Although the concerts are advertised with a full orchestra, this is only for a few songs and is not a consistent element of the show.
The show from beginning to end will feature around thirty-two songs and be nearly three hours in length.
What are the Eagles' Greatest Hits on the Hotel California Tour Setlist?
With a career spanning nearly fifty years, there is no shortage of songs to put together a greatest hits set. For this tour in 2020, the greatest hits portion of the Eagles setlist will be around twenty-three songs and will include "Take It Easy", "Take It to the Limit", "Already Gone", "Heartache Tonight", "The Long Run", and many more.
Since many members touring with the Eagles in 2020 have created music outside of the band, their music is also featured throughout the spectacle. The impact from guitarist, Joe Walsh, will be prevalent during this portion of the concert playing "Rocky Mountain Way", "Funk #49" and other songs from his time with the band James Gang. Don Henley's "The Boy's of Summer" is also a highlight.