Lower Prime Club at MetLife Stadium
Features & Amenities
Lower Prime Club tickets for a Jets game are located in Rows 16-30 of Sections 111C and 115C. Guests will receive club access and have one of the best views at MetLife Stadium.
Lower Prime Club Seats

This club was designed for fans who like to keep their eyes on the game for all 60 minutes. All Lower Prime Club seats have an elevated sideline view from between the 20 yardlines. By being close to the field - but not too close - most fans won't have issues seeing over the players on the sideline. Instead, they'll enjoy a comfortable view of both ends of the field.
These club seats are fully padded with extra legroom, armrests and cupholders.
Mezzanine Club Access

Besides for excellent sitelines, Lower Prime Club tickets come with access to the East Mezzanine Club. Also known as the United Rentals Club, this space is a popular spot before the game and when the weather gets a little dicey.
The indoor club is located on the second level near Mezzanine Club Seats. The club features exclusive menu items (priced a la carte), a bar, dining tables and barstools over-looking the field.
For Jets games, these seats do not provide access to the EY Coaches Club. That space is only accessible to guests seated in rows 1-15.
Amenities available for Jets home games. For other events, some amenities may not be available or offered.
Please note: Due to health and safety protocols in 2022, food availability, club access, wait service and other amenities are subject to change without notice.
Note: These seats are highlighted on the map
Map Highlighting

Select rows in section are part of this seating zone
Interactive Seating Chart
Lower Prime Club Seating Chart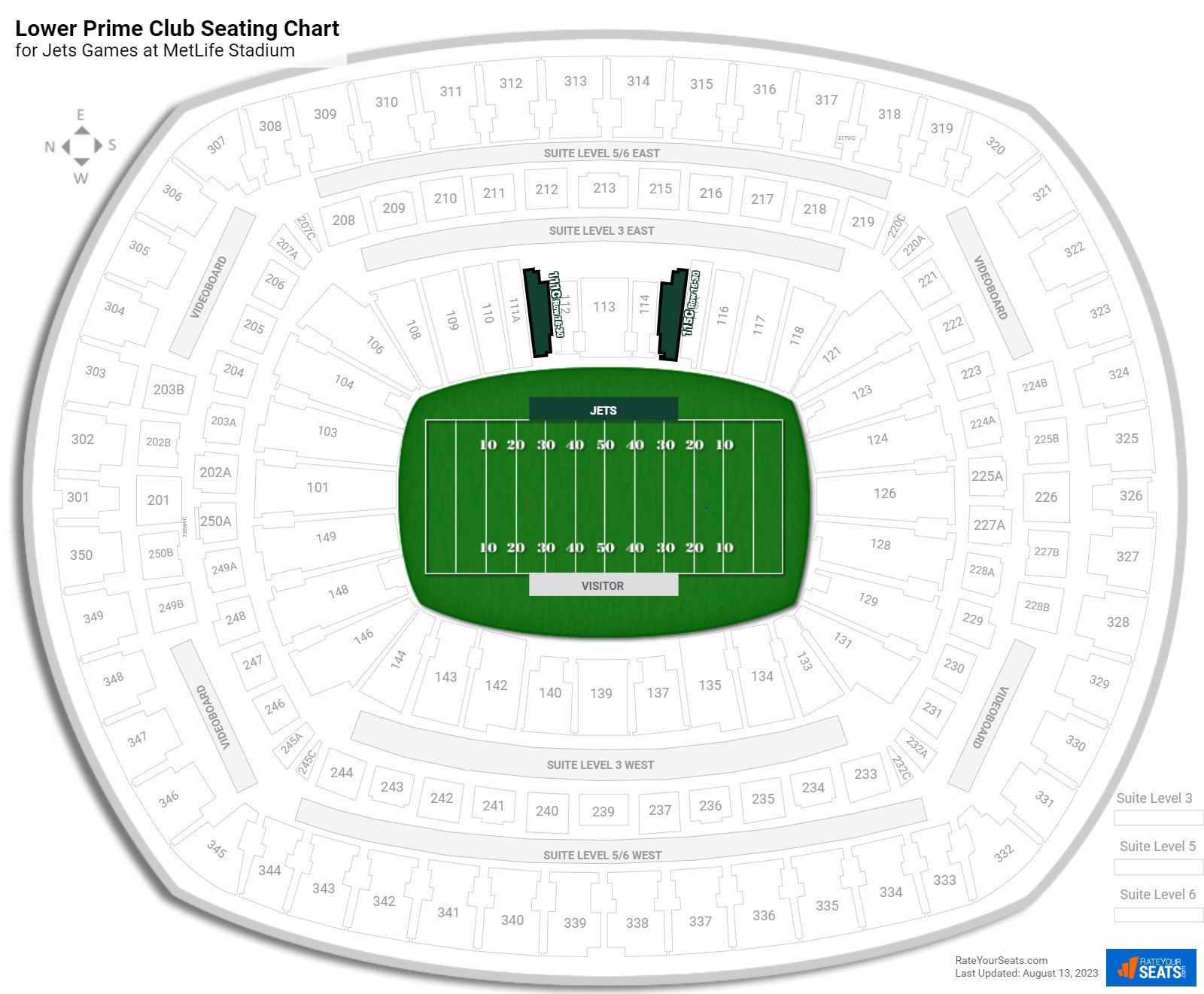 Lower Prime Club Reviews
Ratings & Reviews From Similar Seats

"New England Patriots at New York Jets - Oct 21, 2019"

(Section 111C) -

"25 Yardline Club Seats"

(Section 111C) - -

Row 24 seems to be the ideal height at MetLife stadium. No matter where you are, you can see the entire field. Seat 1 in Club Section 111 is all the way to the right, but there is no aisle on this end. Not that it really matters. It's really easy to get in and out of the row. The seats are padded (t...

"Great seats"

(Section 111C) - -

Really close to stage. Access to coaches club.
Lower Prime Club Sections
More Seating at MetLife Stadium
Event Schedule
Concert
Giants
Jets
Other Football