Maine Savings Amphitheater Reserved Seating
Features & Amenities
Numbered sections at Maine Savings Amphitheater make up reserved seating. There are three tiers of reserved seating and two distinct experiences.
Level 100

Sections 101-105 make up Level 100. To many these are the best seats at Maine Savings Amp. Expect a seat with a clear view from within 30 rows of the stage.
Row A is at the front of each section and double-letter rows (e.g.: AA) are at the back. Most rows have about 20 seats.
For some concerts a general admission pit replaces some or all of these seats. When that's the case, this becomes a standing room only area.
Level 200 and 300
Behind the Box Seats are Levels 200 and 300. These levels are back-to-back; that is, seats in Section 301 are directly behind the last row in Section 201.
Sections here have rows labeled A-Z. The front rows in Level 200 offer the same views as the Box Seats but at a fraction of the cost.
While Level 100 seats aren't very well sloped, these do have a little more rise to them. This makes it a bit easier to see over guests in front of you.
Additional Notes

All seats are open-air/un-covered
Sections ending in 5 or 6 (e.g.: 105) have the best views of the water
Note: These seats are highlighted on the map
Interactive Seating Chart
Reserved Seating Seating Chart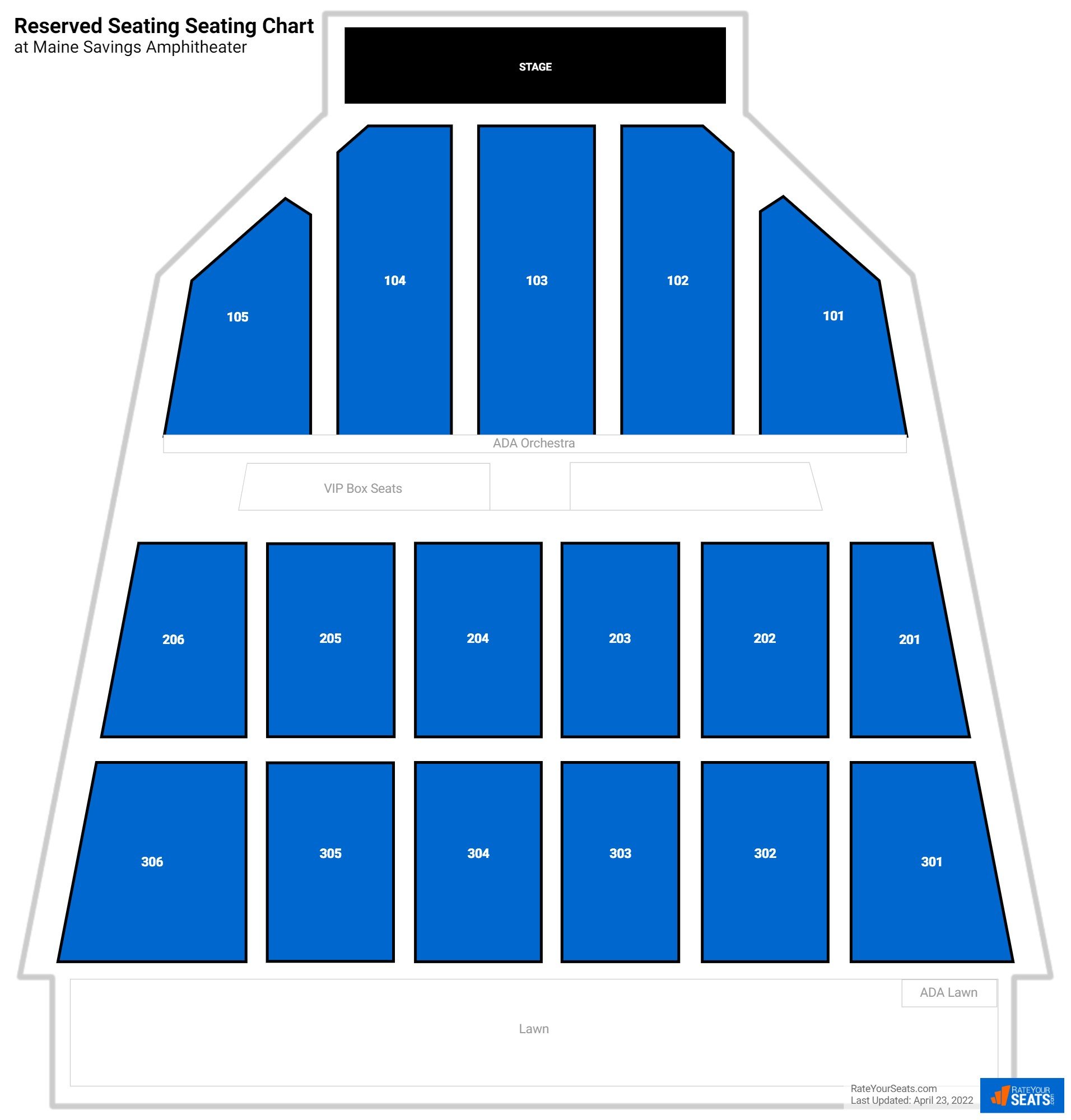 Reserved Seating Reviews
Ratings & Reviews From Similar Seats

"Obstructed View"

(Section 202) - -

Front row seats but they have constructed a 4 foot wall (with plantings) so that when you sit down you can not see the stage. We had to stand for the entire show which of course blocked everyone behind us. At least while standing we had a good view, but that wall is ridiculous. Hope they rethink ...
Reserved Seating Sections
More Seating at Maine Savings Amphitheater