Los Angeles Memorial Coliseum 100 Level
Features & Amenities
100-Level sections at Memorial Coliseum is the lowest level of the seating bowl. Each section has between 40-45 rows.
Fans seated here are treated with spectacular, close views in one of the largest stadiums in college football.
A/B Section Difference
Many fans notice the A/B designation with the sections located along the sidelines.
There is no difference between sections with an "A" or "B" after the section number other than the location to the field. Those with the letter "A" will always be on the right when facing the field.
Other Lower Level Seating Notes

Concourse entry tunnels are located at the top of the sections
Those seated behind the Scholarship Tower will see the most shade during day games
Students occupy seats from 123A-127
Note: These seats are highlighted on the map
Interactive Seating Chart
100 Level Seating Chart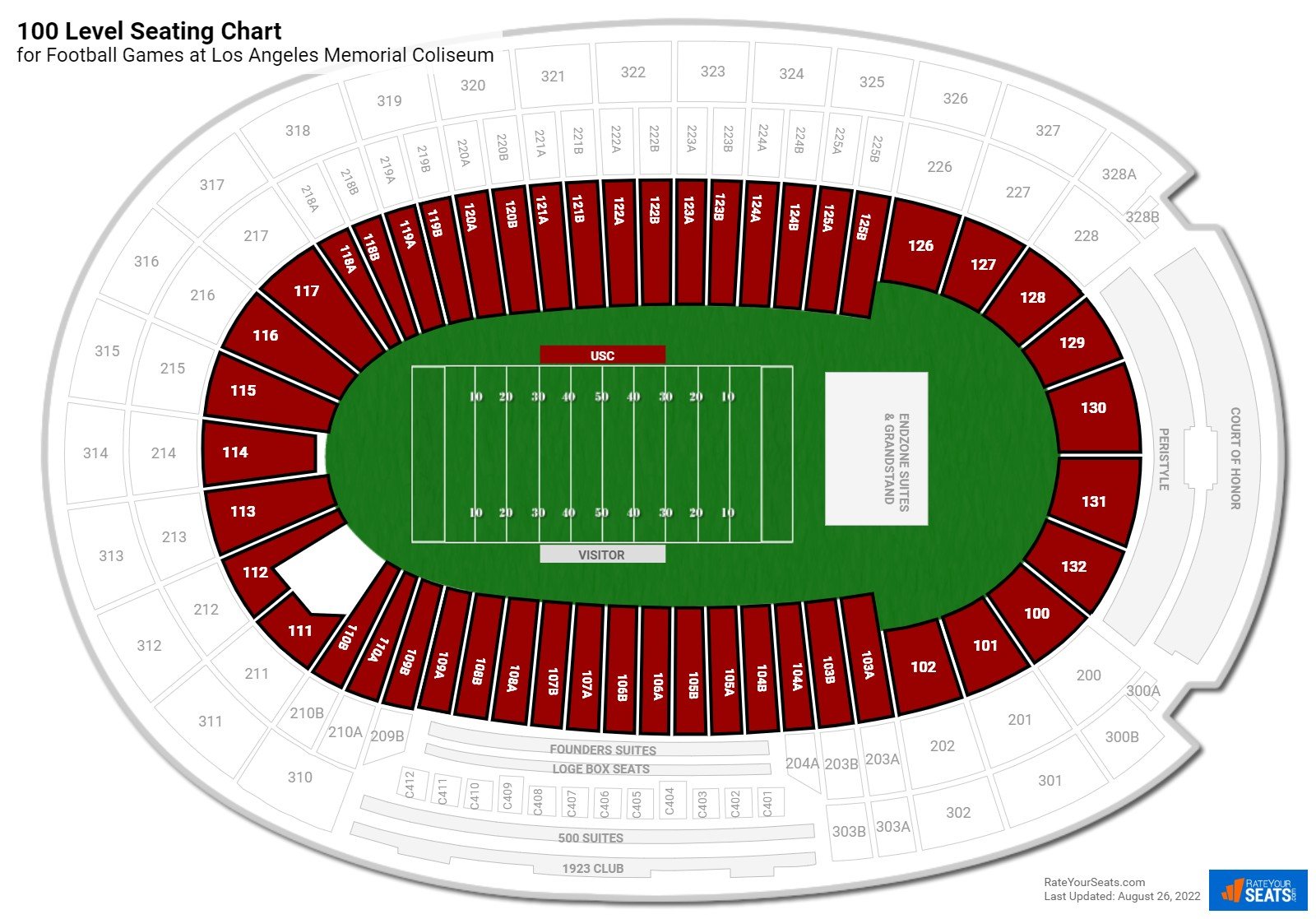 100 Level Reviews
Ratings & Reviews From Similar Seats

"Great Site Lines and SHADE!"

(Section 105A) - -

When it is a hot day game in L.A., so thankful to be in the shade from 1:25 PM opening kickoff. This was from a game in September and row 35 in front of us was the lowest row down that had shade provided by the new suites above us. Row 34 down was in the blistering sun all game. Otherwise, the...

"Great seats - Go Rams!"

(Section 103A) - -

Close to field, great view of players. Very close to endzone and good chance of catching a ball. Celebrity/VIP sightings with VIP Grandstand/tent on field directly behind end zone. Easy access via Gate 4 then Tunnel 4 is steps away from gate, restrooms, and concessions.

"New Orleans Saints at Los Angeles Rams - Sep 15, 2019"

(Section 121A) - -

Great seats, just high enough to see everything and just low enough to see everything!
More Seating at Los Angeles Memorial Coliseum