Greek Theatre - Berkeley Bench Seats
Features & Amenities
For fans who don't like the flat seating or extreme angles of the lower bowl, seating in the center of the benches (sections 4-7) is a fantastic alternative. These seats rise away from the stage - giving you a comfortable head-on view from above the stage, instead of below it.
The cheapest reserved tickets for a performance at the Greek Theatre are generally found in Sections 1-3 and 8-10, which make up the side of Bench seating.
Of course, the drawbacks of the benches are too much for some. The seats do not feature a back and the steep and un-even stairs are difficult to climb. Getting to and from these seats requires expert climbing of the well-worn and narrow stairs at the Greek. Fans with difficulty walking stairs should avoid these seats on that alone. Others with back issues will be disappointed to learn that these seats do not feature back support.
If you don't have issues with stairs (or like a challenge) and don't mind not having back support, Sections 3- 8 offer good views at a good elevation over the stage. Sections 1 and 10 should almost be completely avoided as the lighting and sound standards on the stage block the view of the middle of the stage from this angle.
Note: These seats are highlighted on the map
Interactive Seating Chart
Bench Seats Seating Chart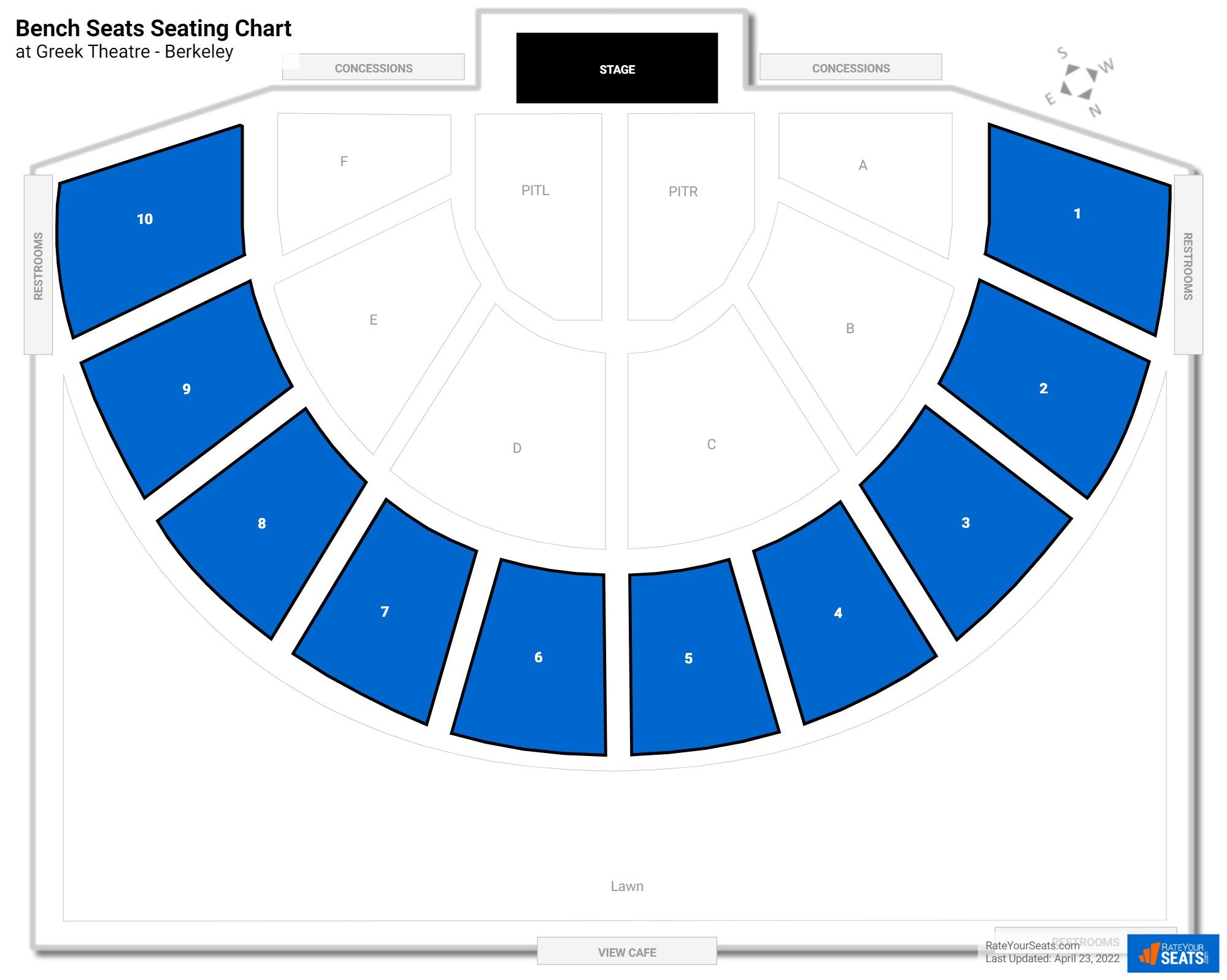 Bench Seats Reviews
Ratings & Reviews From Similar Seats

"The First Row of Sections 1-10 is Standing Only"

-

Sections 1-10 have 20 rows of bench seating labeled 1-20. But in front of the bench seating is one row without a bench - the standing row. These tickets are typically labeled with row SRO.
More Seating at Greek Theatre - Berkeley