Welcome Home, Peyton
Anytime a player returns home for his first game with a new team, there's an undeniable buzz in the air. For some players, that buzz is less than welcoming (see Lebron James). For others, it's a celebration of the wonderful years that player spent in that city. When Peyton Manning returns to Indianapolis on Sunday night, the consensus is that he'll be received with open arms and multiples rounds of applause.
While Manning's return will be a special moment for himself and the fans, it will also be an expensive homecoming for Manning fans. Broncos/Colts Tickets are nearly four times as expensive as the four other home games the Colts have left this season. Individual game tickets sold out the day they went on sale to the public, causing a ticket demand in Indianapolis that has surpassed the Heat/Pacers Eastern Conference Finals five months ago.
If you want to go to the game, it's simple: you're going to have to open your wallet...wide. There are still a ton of tickets available on the secondary ticket market, so we're going to help you find the best place to sit so you can enjoy every moment of Peyton's return.
Where to Sit When Peyton Returns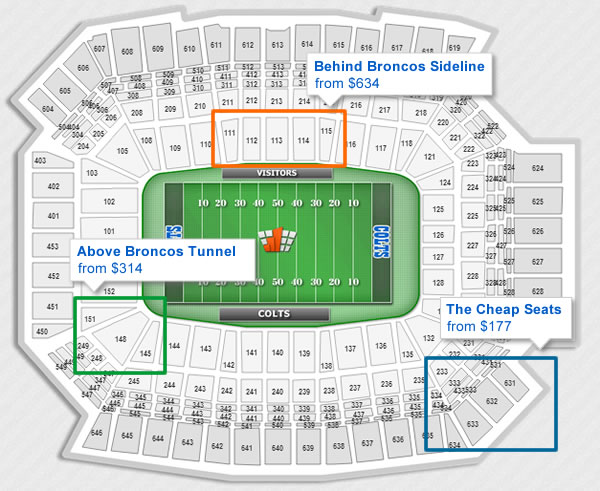 All prices as of October 15th. Click here to buy tickets to the Colts/Broncos game
Behind the Denver Sideline
This one's kind of obvious. But when Peyton's not on the field, he'll be spending most of his time wandering the sideline in front of sections 111-115. Even without Peyton returning, these are among the most expensive tickets to a Colts game. With Peyton, you're looking at at least $600 for the right to stare at his backside for half the game.
Above the Broncos Tunnel
For half the price of sitting behind the Broncos sideline, you might get a chance to actually touch Peyton if you sit in Section 148. This section is located above the tunnel where the visiting team enters and exits the field. If you can't get a seat in Section 148, other sections near this end zone will still give you a great view of the Broncos warming up before the game.
Find tickets above the Broncos tunnel.
The Cheap Seats
For about $175 apiece you can sit in the farthest reaches of Lucas Oil Stadium. These tickets typically cost $35-$80 for other Colts games, but they're starting at about $175 for the Colts/Broncos game. We recommend these cheap seats in Sections 631-633 for a couple reasons. First, corner seating is cheaper than sideline seating (and the angle to midfield is pretty good). And second, you'll have a clear view of the Broncos tunnel and Broncos sideline so you can keep an eye on Peyton at all times.