Attending a live sporting event is one of the best experiences sports fans can have, and few sporting events are as exciting as a live soccer match. The atmosphere at soccer matches are absolutely electric and soccer fans are very passionate about their sport.
At live events, you don't want to just sit anywhere, and that is no different for soccer games. When looking for the best seats at a soccer game there are many factors to consider, such as price, location, amenities, and view. For soccer matches there are definitely better places to sit than others, but it all depends on what you are looking for.
Where is the best place to sit for a soccer match?
Some might say the best place to sit for a soccer game is anywhere near midfield, others might say that it's in the Supporters section, and some might prefer sitting as close to the field as possible. The point is, the best place to sit is really up to you, and it all comes down to preference. Here at RateYourSeats.com we want to provide you with a guide that will help you determine what your preference is and decide where the best place to sit for a soccer match is.
Soccer Matches at Football Stadiums
When trying to determine the best seats to sit for a soccer game you should consider the type of venue. Many soccer teams play their matches in soccer stadiums. However, there are a good portion of teams that play their matches in football stadiums. Up until last season, the Chicago Fire of the MLS played their games at SeatGeek Stadium. Starting in the 2020 season the Fire will play their home matches at Soldier Field, home of the NFL's Chicago Bears.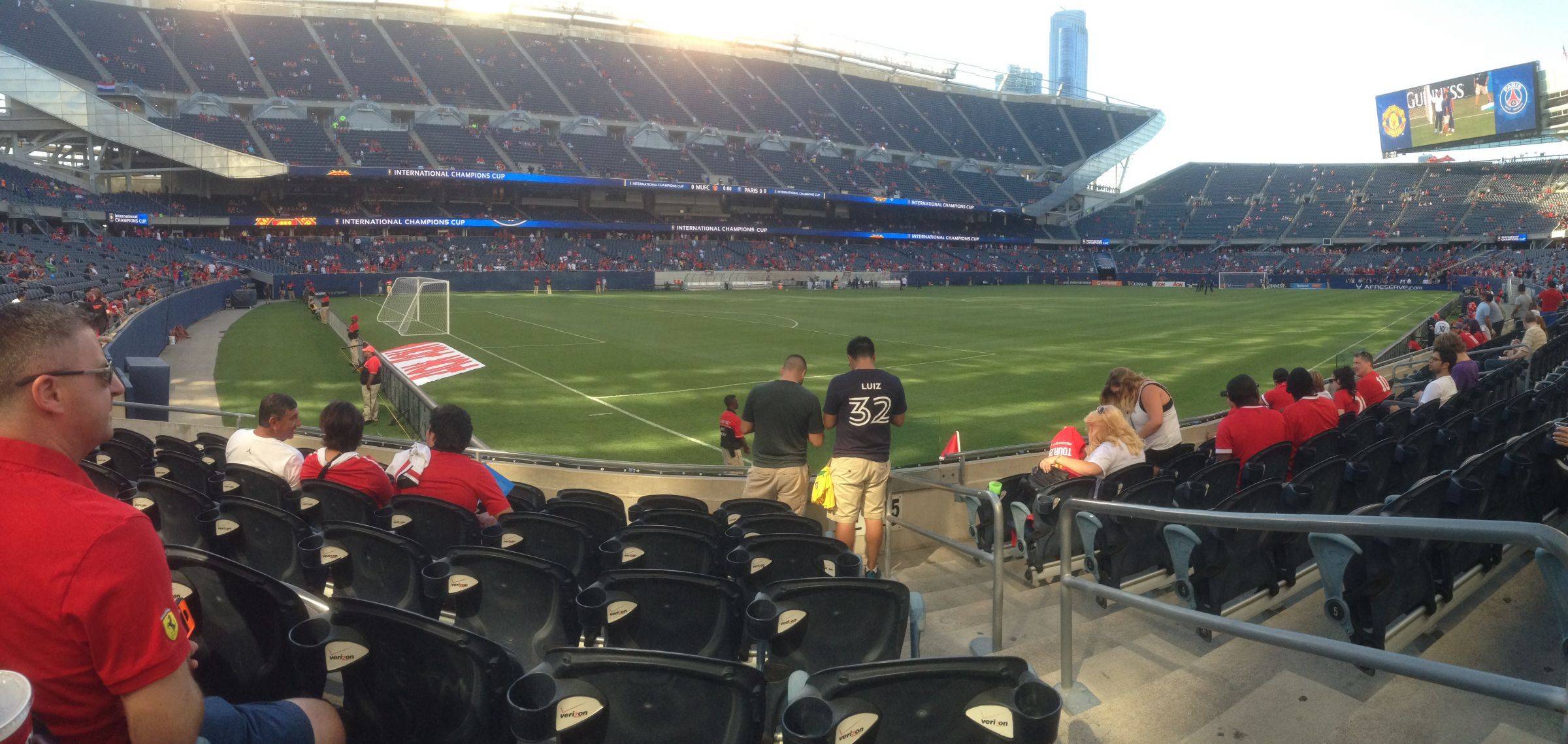 The biggest difference between soccer stadiums and football stadiums is the size. Soccer stadiums tend be smaller and have a capacity generally ranging from 15,000-25,000. In comparison, football stadiums can hold upwards of 40,000 fans. Something to keep in mind is that football stadiums may or may not use the entire seating capacity for a soccer match.
Soccer stadiums and football stadiums are both shaped similarly, with the field having a large rectangular playing area. For this reason, it is very convenient for soccer teams that play in an already existing football stadium. Considering the sheer size of football stadiums there are more seats available, but the views will be similar to traditional soccer stadiums.
Best Seats for Being Closest to the Action: Field Level Seats
When it comes to live sporting events, being close to the action is a unique experience, and at a soccer match that means being close to the field. Some soccer venues have field level seating that will either be directly on the field or be the closest seats to the field. These seats tend to be some of the most expensive seats at soccer games, but you can argue that they are the best. Field level seats could allow you to hear the players on the field or watch them up close on the sidelines, and no other seats at a soccer stadium are going to give you that experience.
Besides being super close to the action, Field Level Seats might offer some great amenities such as in-seat wait service or exclusive club access. Since these seats are so close to the field, you can't really complain too much about the view. Seats that are closest to midfield will offer the best views. Depending on which side of the field the benches are on, you could be sitting very close to the players.
Best Seats for Amenities and Luxury: Clubs and Suites
Fans that want to enjoy soccer matches in comfort and luxury should take a look at Clubs or Suites sections. Most soccer stadiums are open air, meaning that there is no protective roof, so, fans could be exposed to the elements. The MLS soccer season usually starts in the beginning of March, therefore depending on where your favorite club is located, the temperature could still be a little cool outside.
Clubs and Suites at soccer stadiums are typically going to be under some kind of cover, or inside a part of the stadium that is temperature-controlled. Furthermore, these sections usually give fans access to a large indoor club that will have upscale food and beverage options.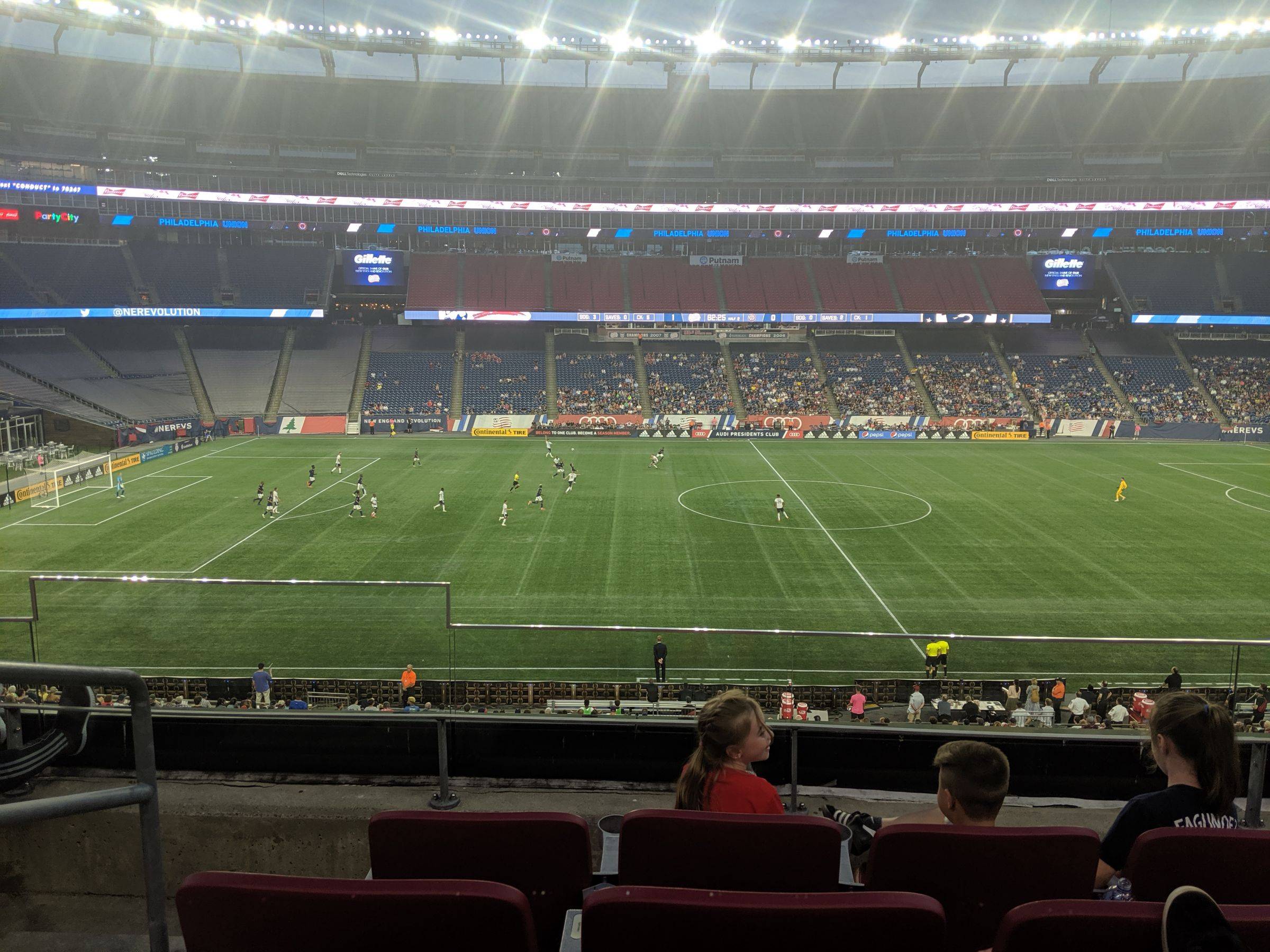 Some other amenities that fans will enjoy in Club and Suites sections include in-seat wait service, comfortable chairs, and in some cases all-inclusive food and beverage. Also, the Clubs and Suites sections are often located in the upper levels of a soccer stadium and are usually along the sidelines. Fans will enjoy great amenities and also have a great view of the action, especially if their seats are located closer to midfield.
One thing to keep in mind about Clubs and Suites sections is that they are almost always going to be the most expensive tickets for a soccer match. If you have no limit for your budget then these seats are going to be a great option because of the great amenities and views of the action. If you are more budget conscious there are definitely plenty of other places to sit for a soccer match, but the Club and Suites sections are hard to beat.
Best Seats for Midfield Views: Lower Level Midfield
If you are looking for great midfield seats, look no further than lower level sections at midfield. At soccer matches sitting at midfield is one of the best places to sit and watch the game as the actions moves from one side of the field to the other. The lower level midfield sections give you great views of the field. Since the view of the action is laid out perfectly at midfield you won't have to turn your neck much to enjoy the game.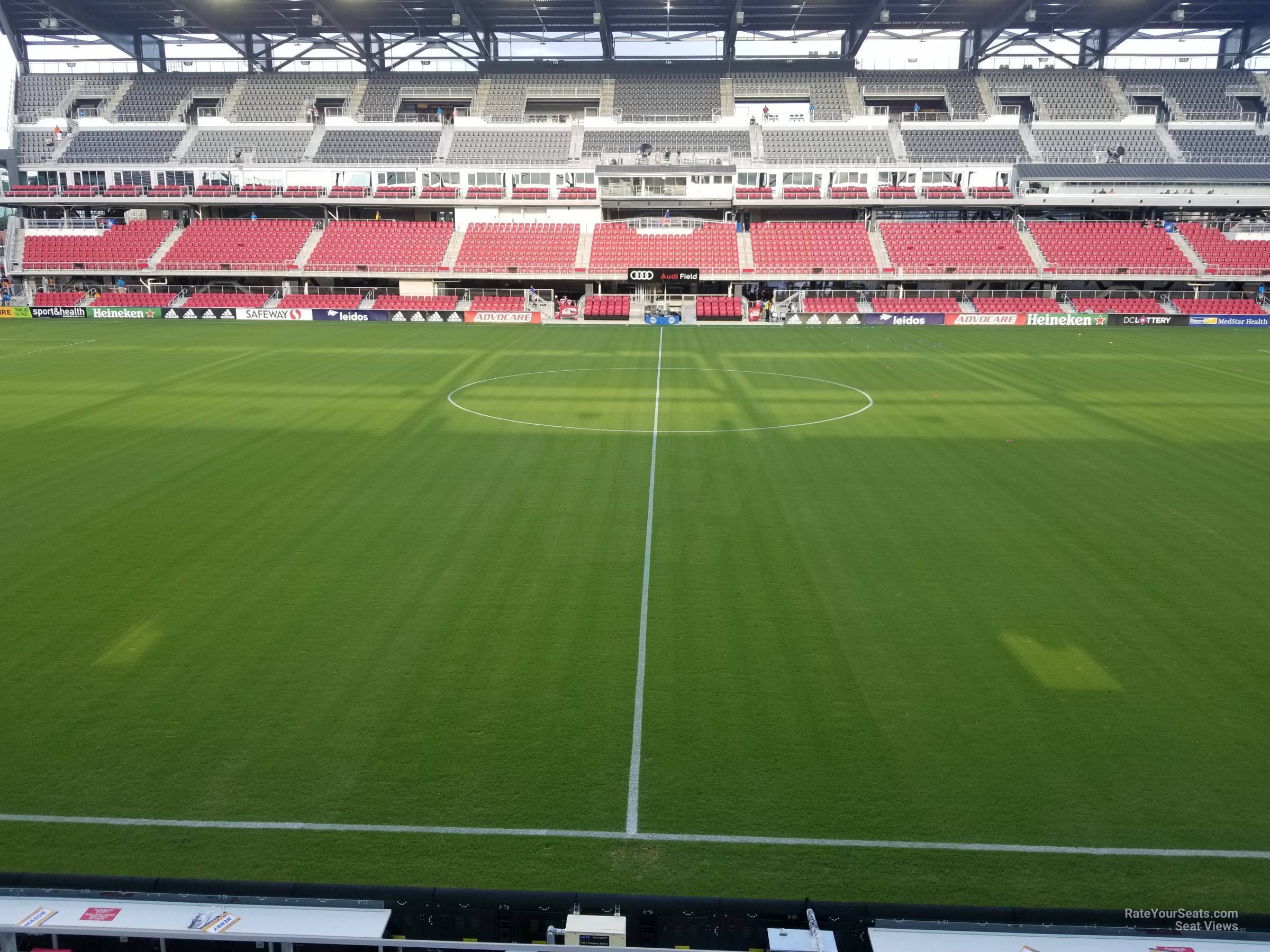 The first few rows of the lower level midfield sections would be a great place to sit, but be mindful that these sections are going to be some of the most expensive seats at a soccer game. If you want a good midfield view you should certainly look at these sections, but look for seats in a higher row, as these tend to be more affordable. Furthermore, the heightened elevation could make your sight lines even better as you would see above the field and not have to deal with any field level seats that might be in front of you.
Best Seats for Lower Level Value: Lower Level Sideline and Corner Sections
Lower Level Sideline Sections
If the lower level midfield seats are out of your budget, fear not! You can look for seating in other sideline sections that are just a couple sections over. Sideline seating at soccer games are still going to offer some great views of the action. Despite not having the midfield views, the experience will still be exciting and you could end up sitting closer to one of the goals.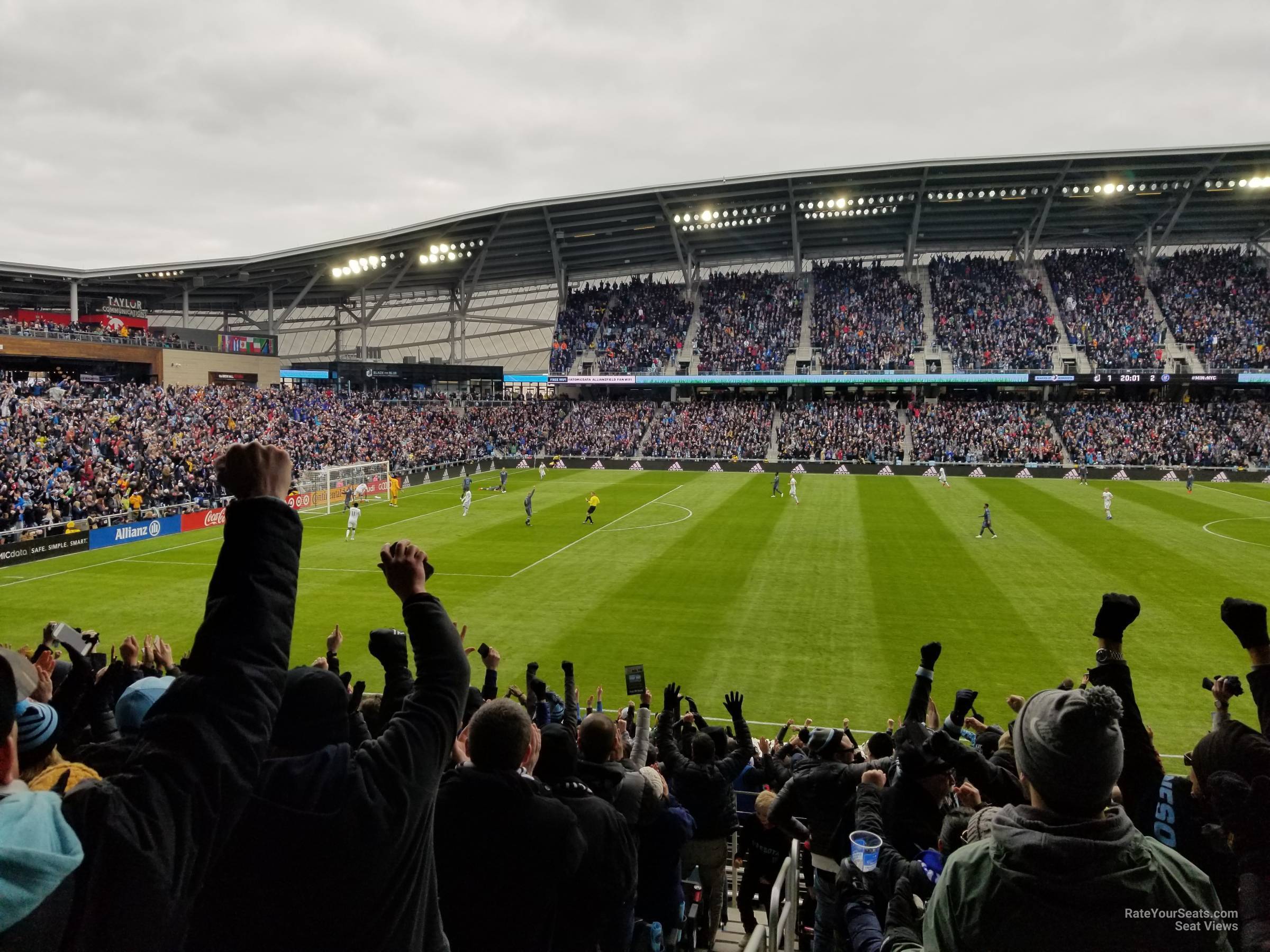 As you go down the sideline, views of the soccer goals will be better, which are especially exciting seats for a soccer match. Once the action shifts to your side of the field, you will have a great view to watch all the plays unfold and be closer when a team scores a goal. When teams are on the offensive towards the goal, fans in these sections are routinely on their feet and it makes for quite the electric atmosphere. Also, if there are any penalty kicks, fans in these sideline sections closest to the goal are going to have the best view.
Lower Level Corner Sections
For the best value in the lower level sections you are going to want to look at the corner sections. The view from the corner sections are going to be a combination of goal line and sideline views. In these sections you will be somewhat behind the goal, but not entirely like you would in goal line sections. These sections will give you a unique angle of the field. You will still be able to see all the action unfold and be very close to one of the goals. Furthermore, these sections will give you the best opportunity to watch corner kicks.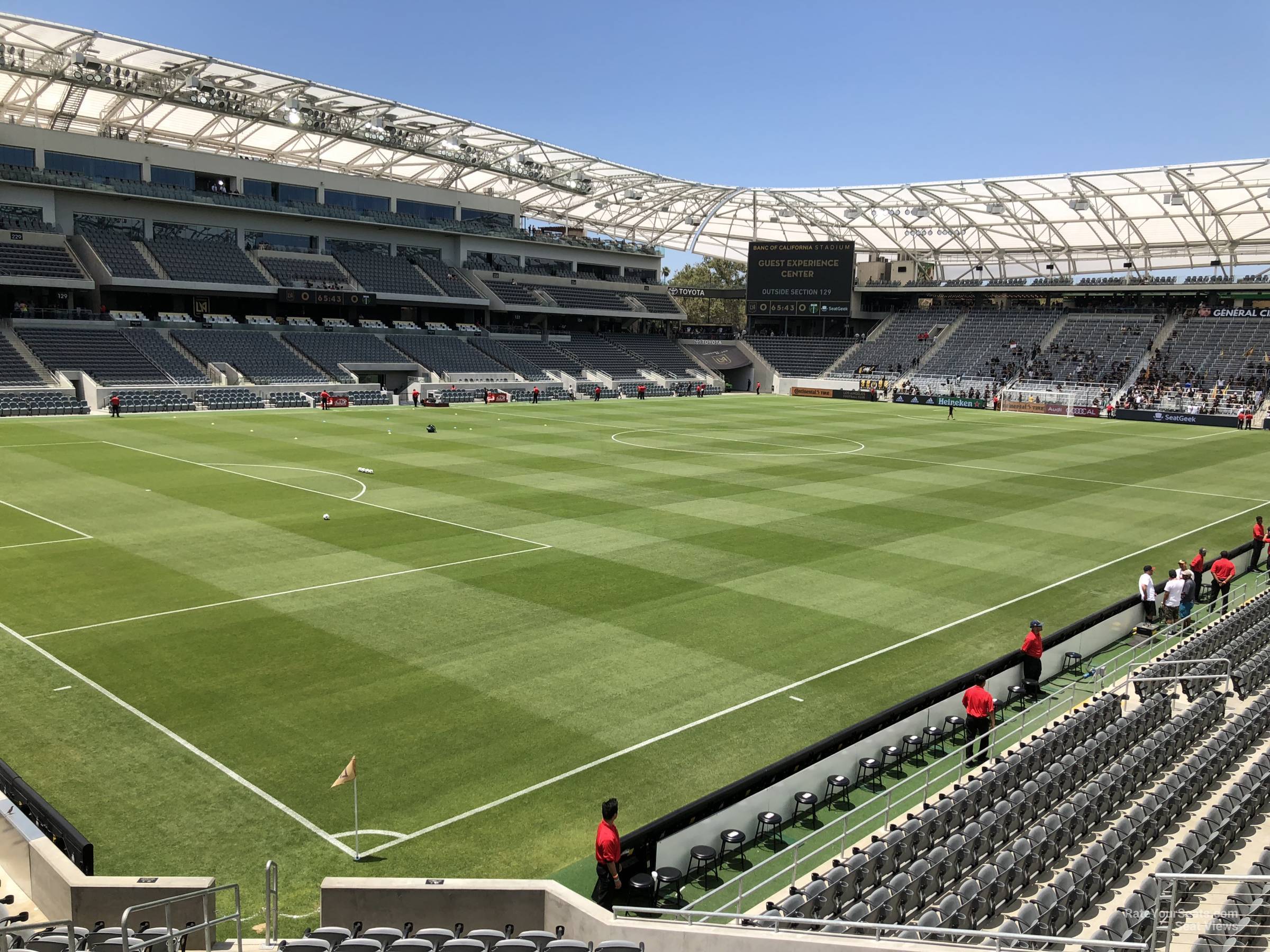 Also, the Supporters sections are typically located behind the goals, so sitting in a corner section would have you right next to the die-hard fans. The lower level corner sections are a great option if you want to be in a high-energy atmosphere without actually being in the Supporters section. For the best bang for your buck, you can't go wrong with lower level corner sections at a soccer match.
Best Seats for the Die-Hard and Budget Conscious Fans: Supporters Sections and Goal Line Sections
Depending on who you talk to, some might say that sitting in the Supporters sections at soccer games is the best place to be. The Supporters sections at soccer stadiums are typically located behind one of the goals and this is where the die-hard soccer fans love to sit. Tickets in the Supporters section are typically general admission, meaning that if your purchase a ticket in this section you will be allowed to sit anywhere; there is no assigned seating.
The Supporters sections at soccer games are unlike any other seating in the stadium. Fans in the Supporters sections are expected to stand and cheer for the duration of the game, and fans typically wave banners and flags showing their support for the home club.
The rows in the Supporters sections tend to be a lot steeper than other sections. Most fans stand in the Supporters sections, therefore the steep rows allow for fans to see over other those in front of them.
At some soccer stadiums the Supporters sections are standing room only. For example, in Minnesota at Allianz Field, home of the MLS Minnesota United FC, the Supporters section is comprised of 5 sections and it is all standing room. This allows for 2,800 Minnesota United supporters to stand and cheer for their club in the south end of the stadium.
Since the Supporter sections are general admission seating the tickets tend to be among the most affordable for soccer matches. Overall, goal line sections, general admission, or reserved seating are going to be the cheapest tickets in the lower level at soccer stadiums.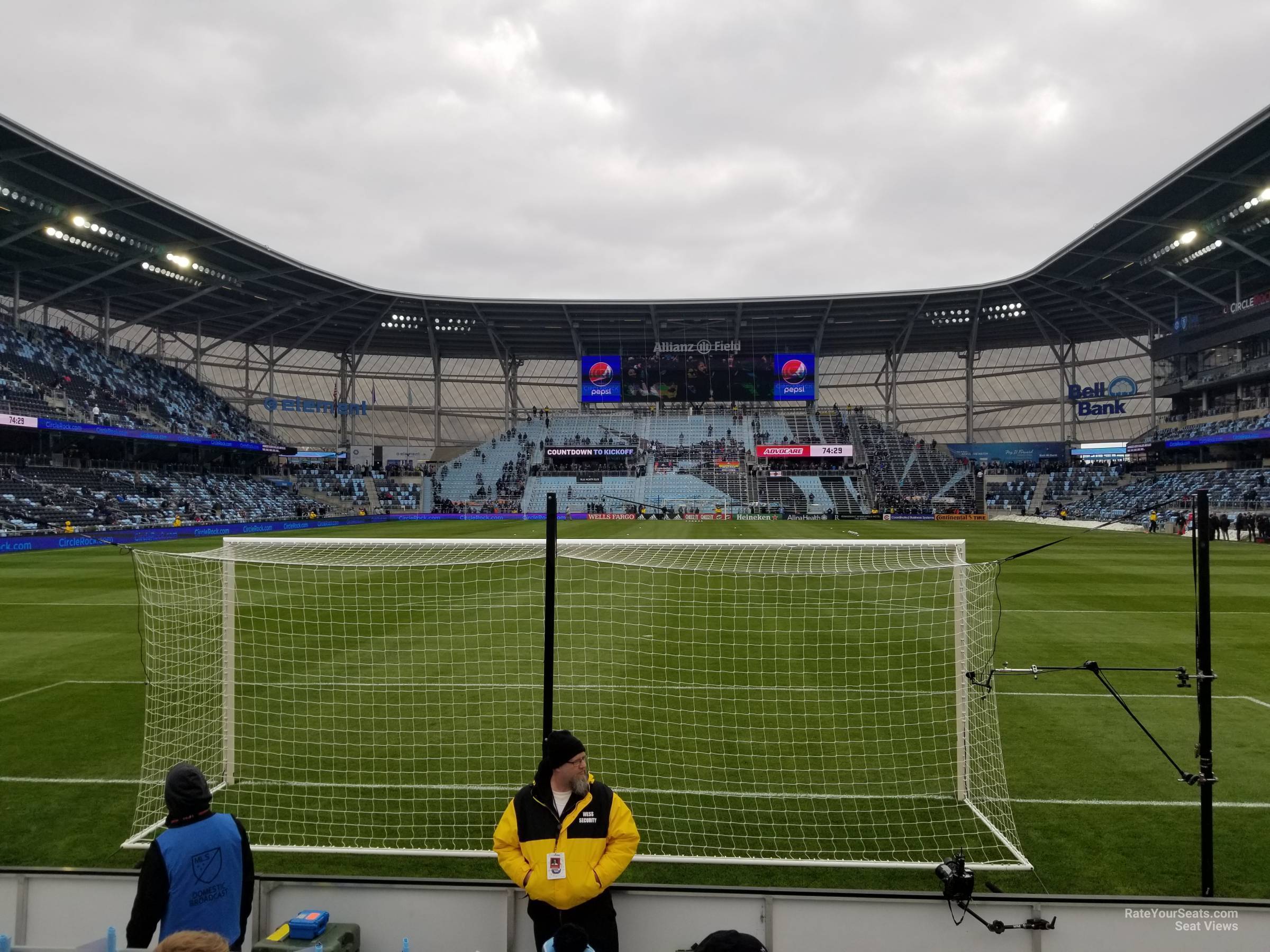 Being behind the goal might not be an ideal view for some soccer fans, but if that is your preference, there certainly are some things to like about the view. For one, despite being behind the goal you can still see all the action when it shifts to your end of the soccer pitch and you have a similar point of view as the goalie.
Budget conscious fans who want to sit on the lower level for a soccer match should look at the Supporters section as an option. Die-hard soccer fans who don't mind standing for the entire soccer match, should consider buying tickets in the. In the end it all comes down to preference and what kind of experience you are looking for.
Best Seats in the Upper Level: Upper Level Midfield Sections
Sitting in the upper level at soccer stadiums is definitely a lot more affordable than sitting in the lower bowl. However, by sitting in the upper level that does not necessarily mean you are sacrificing a great experience to save some money. At soccer matches the best seats are generally near the midfield sections, and sitting in the upper level at soccer stadiums is no different.
Midfield views at a soccer match are going to be ideal no matter what level you are sitting on. So, if you want a great midfield view, but don't want to pay for the lower level tickets, we suggest looking for midfield views in the upper level, where the tickets are going to be a lot more affordable.
Best Seats for Value in the Upper Level: Upper Level Corner Sections
Corner sections in the upper level are going to give you the best value when attending a soccer match. Given the added elevation, these sections will give you a great overview of the soccer field. Furthermore, these sections will offer you a different perspective of watching a soccer game because they won't have the traditional sideline and goal line views that most soccer stadiums have.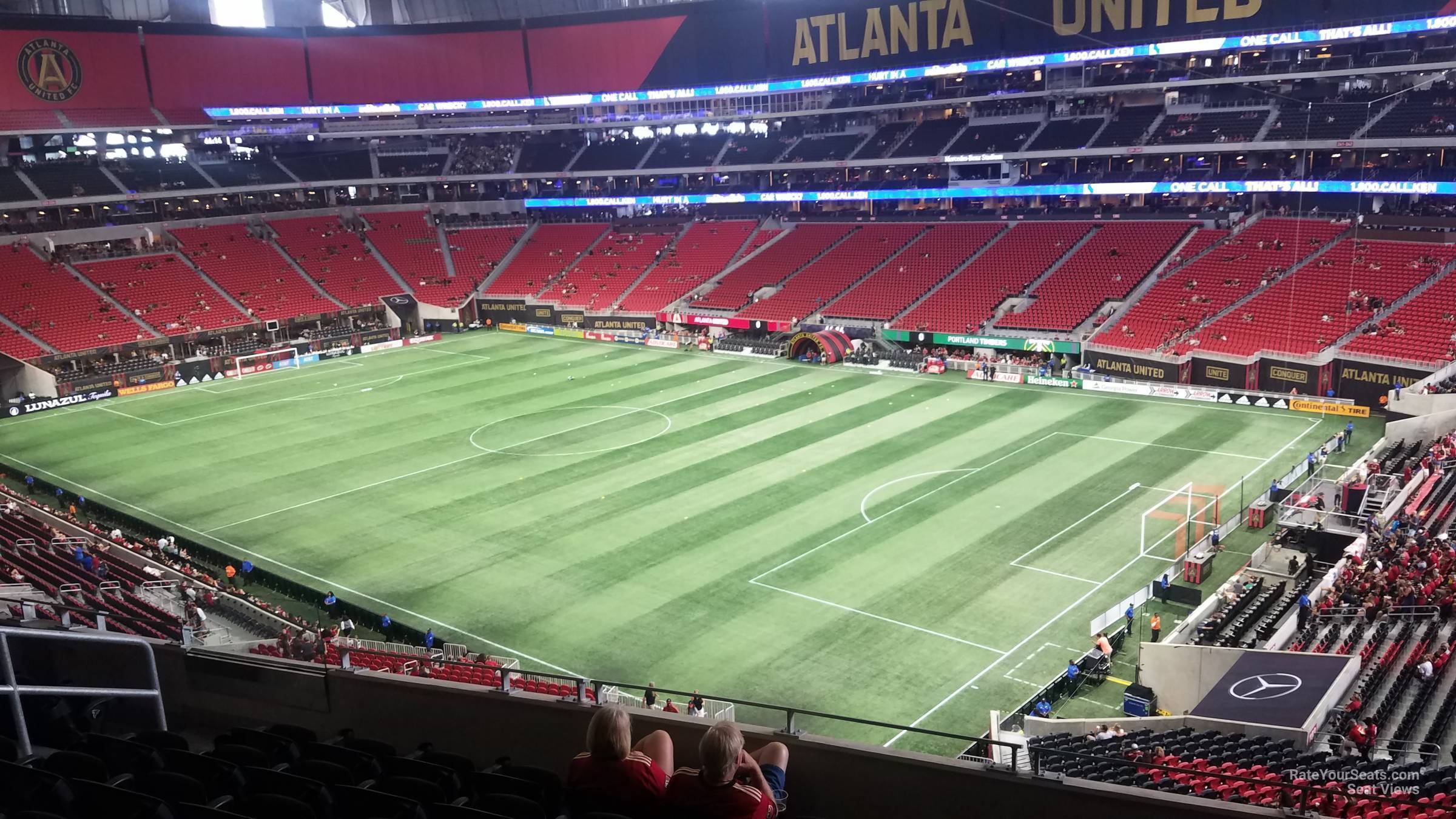 Football stadiums that are being used to host soccer matches are a great place to look for seats in the corner sections. While these stadiums were originally built for football, you will still have a good view of all the action for a soccer game, much like you would for a football game.
Best Seats for Budget Conscious Fans in the Upper Level: Upper Level Goal Line Sections
If you are looking for the cheapest ticket for a soccer match, you should start in the upper goal line sections. Tickets in the Supporters section might actually be cheaper, however, the tickets are general admission and you could be standing the entire game. If you want a reserved seat that is not going to break the bank, buying tickets behind one of the goals in the upper level is going to be your best option.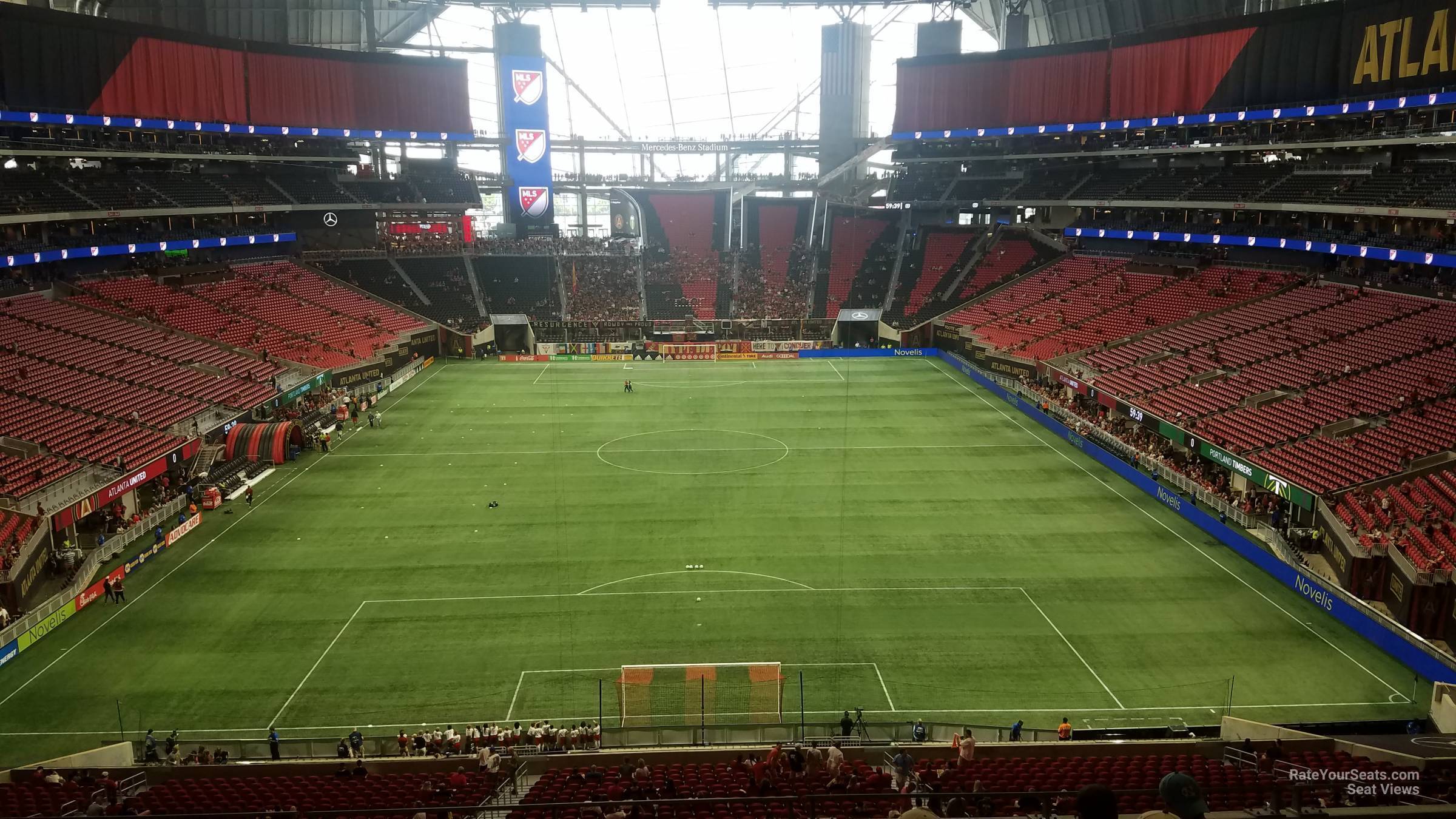 Despite being behind one of the goals your sight lines of the action will be decent. Since the seats will be higher up you will be able to see over the goal, unlike the lower level goal line seats where the soccer goal could potentially obstruct your view.
So, there you have it, a description of all the best places to sit for a soccer match. Hopefully this comprehensive guide will help you out when you are deciding where to sit for your next soccer game. There are many great seats across all soccer stadiums, and at the end of the day it comes down to what you prefer and what makes the most sense budget-wise. Don't agree with our recommendations or looking for advice at a specific soccer stadium? Tell us in the comments below!
See Also:
Where to Sit for a Basketball Game
Where to Sit for a Hockey Game
Where to Sit for a Football Game
Where to Sit for a Baseball Game
Where to Sit for an Indoor Concert