Rock The Right Outfit To Your Next Rock Concert
Wanna headbang and bash in the mosh pit? How about sway to a power ballad? Rock concerts are the perfect place! Nothing is as thrilling as being in a crowd while someone shreds guitar, or the drummer moves her hands so fast you can barely see them.
As you can imagine, the rock fan-base is the most passionate, so if you've never been to a rock concert before, you're in for a real treat--but dressing the part can be intimidating. Lucky for you, the RateYourSeats.com team has the perfect rocker outfit guide for guys & gals!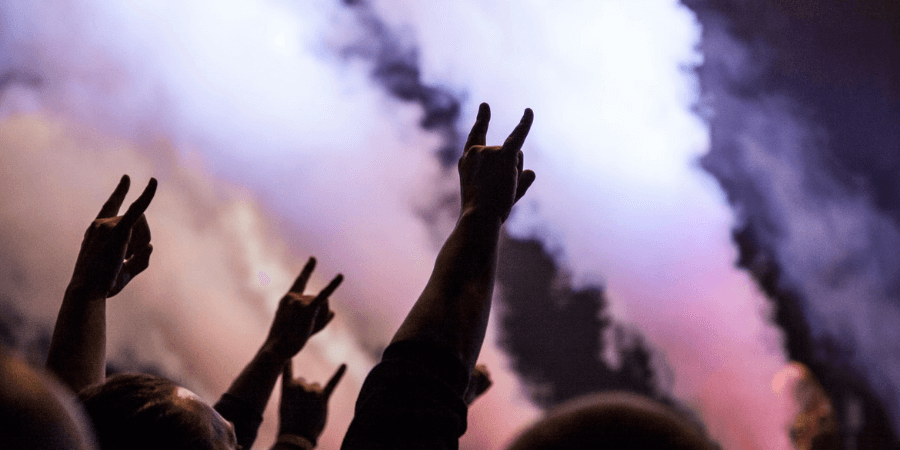 Punk Rock Clothing for Guys
There are many different levels of the rocker look for guys. You can go for "simple rock fan", "middle tier rocker", or "full punk mode". Most die-hard fans will be in full punk mode, but if you're not that kinda dude, you've got other options.
Below, the guys at RateYourSeats.com put their heads together and came up with the following punk rock staples they've rocked at a variety of classic, modern and newer rock shows in the last couple decades. For full punk mode, pair all three together for a look that, done right, could very well blend you in with the band. For more of a 'classic' rock look, pick one, and then keep the band's color scheme in tune with the rest of your clothes.
Leather Jackets Are Punk Rock
A rock leather jacket isn't just any leather jacket. If you show up in your light brown faded leather jacket, you'll be way too preppy. A classic and punk rock leather jacket is a black, shiny, but also sort of scruffy leather jacket. If you show up with one of these on, you will automatically blend right in. What's so easy about the punk leather jacket look is that you can own one leather jacket and re-wear it to every rock concert you go to. The older, more worn in, comfortable and scruffier, the better.
If you're going to a rock concert in the summer and it's 90 degrees outside, it gets a little more difficult. Leather jackets tend to be really hot, so definitely not the best summer concert wear. Instead, RateYourSeats.com analyst Joe suggests throwing on a denim or leather vest. This way, you can nail the rocker look, stay cool and show off those biceps!
Vintage T Shirts
When in doubt, go vintage. For all the guys out there that are feeling lazy, and don't want to put in that much effort but still look like a real rocker, throw on a vintage band T shirt. You will fit right in. If you're going to a newer band's show, try and get a tee from one of their influences. For example, if you're going to an OK Go show, wear a Rolling Stone's tee, because they discuss the Rolling Stones a lot. RYS team member Daniel wears a vintage band T shirt to practically every rock concert he attends.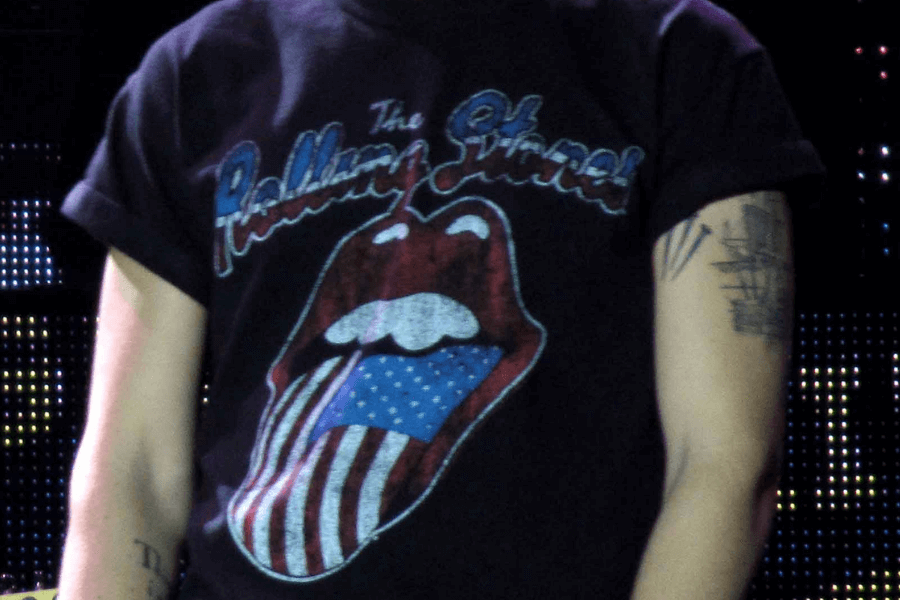 Rock and Roll Jeans
When it comes to pants for a rock concert, always go for jeans. In terms of style, this is where you have some freedom. Black, denim, white, or grey jeans all work as long as they are relatively slim fitting. You don't want to be that weirdo walking around with parachute pants at a rock concert. Many rock-lovers also tend to wear jeans with holes, so feel free to do that if distressed matches your style.
If it's hot out, throw on jean or cargo shorts in any of the above styles.
Rocker Boots
For guys, shoes for a rock concert can be difficult. If you whip out a gnarly old pair of gym shoes, it's going to throw off your whole rocker look (unless you put on a pair of Converse). If you want to go simple, any black shoe will work just fine. If you want to go all out, throw on a pair of black or grey leather lace up combat-style boots. Those are hardcore.
Punk Fashion for Rocker Chicks
For the ladies, there are also the same "simple rock fan", "middle tier rocker", or "full punk mode" levels to the rocker outfit, but chicks have more room to personalize the look. Jessica, from the RateYourSeats.com customer support team, says that expressing herself is the best part of rock shows!
Also, it's a fact, hardcore girls love to go full punk from head to toe. But, we understand that this isn't for everyone, especially if it's your first time at a rock concert—you gotta be comfortable and have fun, right? Right!
So, we are giving you a bunch of suggestions, and if there's one you feel fits your style most, take it and run for the hills with it!
Punk Jacket: Leather or Jean?
For girls, there's a tough decision to make between wearing a jean jacket and a leather jacket. We say when in doubt, go leather. Leather on its own automatically screams "rock on", but a jean jacket needs a little more styling. If you're more of a jean jacket gal and want to take that road, make sure to pair it with another item or two in our list. Either way, be sure to avoid pairing a jacket with a dress! That's a sure giveaway that you're a country gal at heart! [Link to country clothes page once posted]
Rock Band T-Shirts
Girls have a lot of options to choose from when it comes to the rock band vintage tees. Do you go baggy? Tight? Cropped? Worn-out? We say this is where it's completely up to you and your personal style. You can't go wrong with a rock band t-shirt, so pick the style and band that speaks to you, and rock it, easy and free.
Punk Chick Bottoms
Bottoms can be the hardest part to decide on for a rock concert, because there are just so many options for your American thighs. For pants, we think the three best rock looks are vintage high-waisted mom jeans, ripped jeans, or leather leggings. Leather leggings are a really good option, because not only are they comfortable, but they are also very trendy. If none of those sound like something you'd wear, go for a nice casual pair of black or dark jeans.
If it's summer and it's hot outside, you can choose between a skirt and shorts. For skirts, you can pretty much rock any color jean skirt, or if you want to go all out try a leather skirt. For shorts, we suggest sticking to blue or black jean.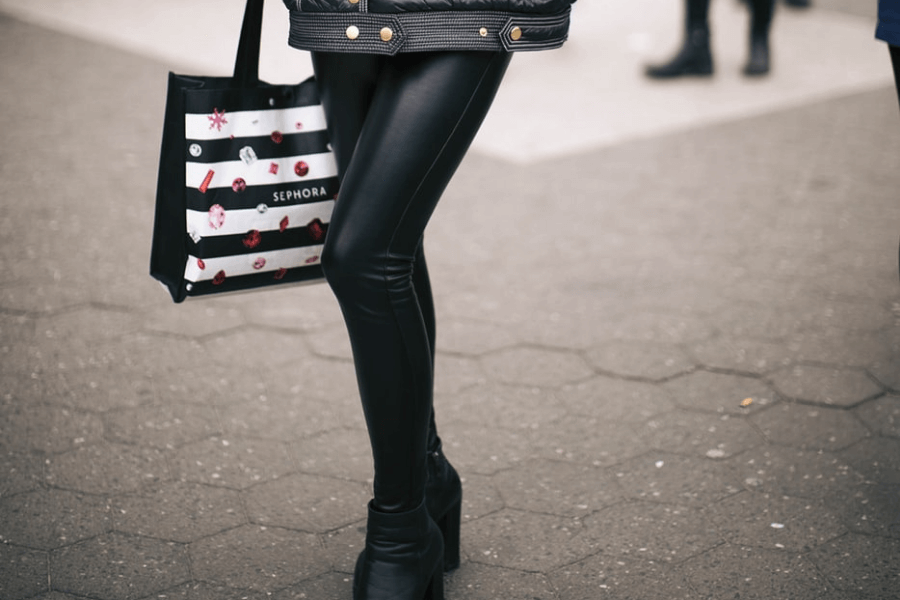 Rocker Shoes
Rock shoes for girls really depend on how comfortable/casual you want to be. If you are going to be jumping around on muddy grass, combat boots or comfortable vintage sneakers in the band's color scheme are the way to go. If you're in the clear from the mud and trying to spice it up, throw on a red-hot pair of pumps.
Punk Makeup and Hair
For the finishing touch, let's discuss rock concert hair and makeup. If you are taking on the pit for a rock concert, be prepared for it to be sweaty with lots of nudging. In that case, throw your hair up in a stylish ponytail and call it a day. If you are in a more low-key spot, we say style it. For the perfect casual rocker look, go for loose waves.
For makeup, try going a little darker than your usual routine by adding a shade darker in your eyeshadow and lipstick. And if you're really going all out, load on the eyeliner.
Now You're All Set, Time To Rock The Look
The team here at RateYourSeats.com wants you to look and feel your best at every concert you go to, and you now have all the tools to rock the rocker look! Remember, RateYourSeats.com is committed to empowering you to have the most memorable concert experience possible. Check out our additional tools like 360º video, DealScore and custom filters today!