What if I told you it would be possible to see every NFL team play live before the end of 2018? You might think I'm crazy, but here at RateYourSeats.com we've come up with the ultimate road trip to see every NFL team in the span of three and a half months. The tickets themselves will cost you about $1,000, or $1,028 to be exact. We also want to stress that $1,028 only covers the football games, any other travel expenses are up to you!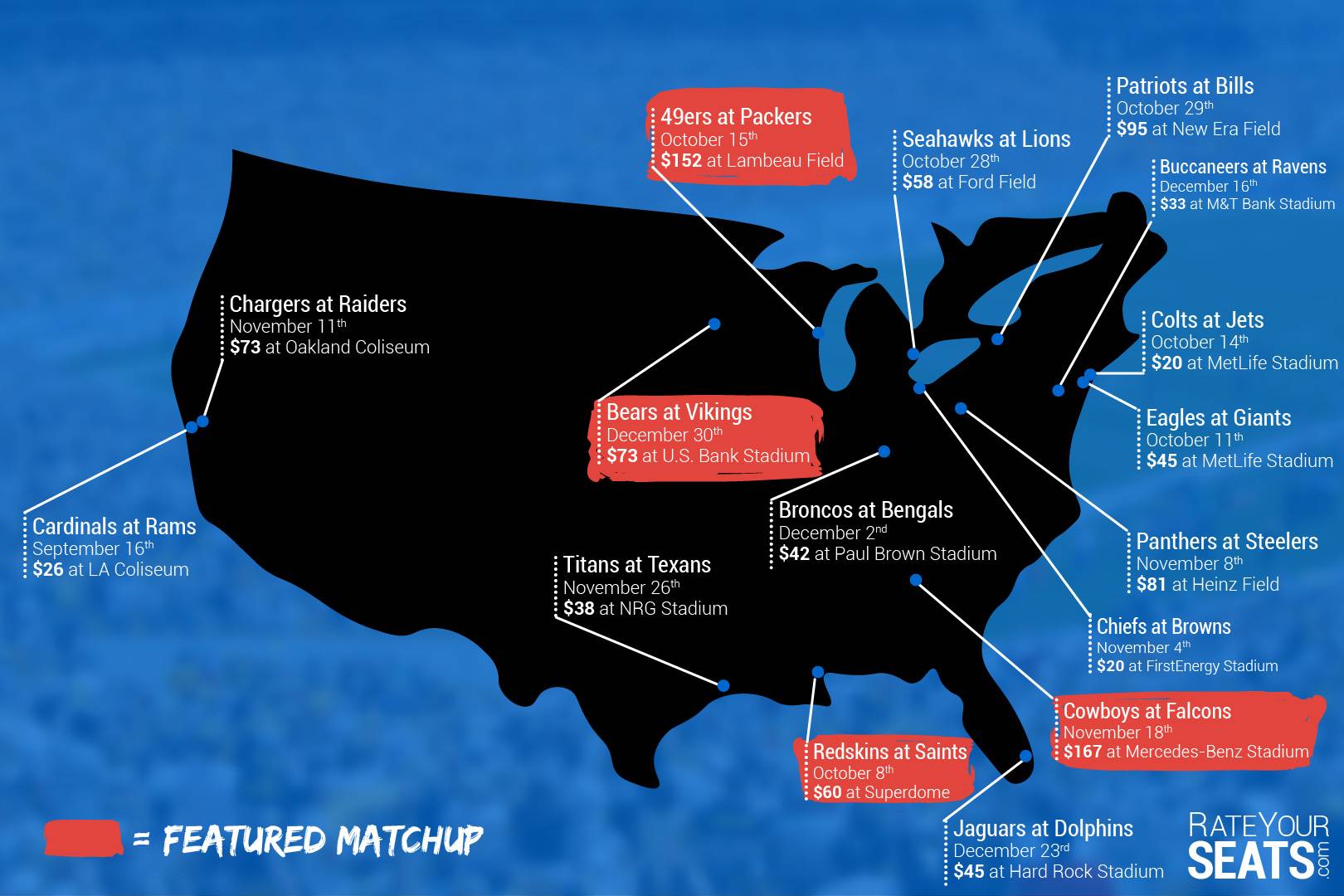 | Date | Matchup | Location | Price |
| --- | --- | --- | --- |
| 9/16 | Arizona Cardinals at Los Angeles Rams | Los Angeles Memorial Coliseum - Los Angeles | $26 |
| 10/8 | Washington Redskins at New Orleans Saints | Mercedes-Benz Superdome - New Orleans | $60 |
| 10/11 | Philadelphia Eagles at New York Giants | MetLife Stadium - East Rutherford | $45 |
| 10/14 | Indianapolis Colts at New York Jets | MetLife Stadium - East Rutherford | $20 |
| 10/15 | San Francisco 49ers at Green Bay Packers | Lambeau Field - Green Bay | $152 |
| 10/28 | Seattle Seahawks at Detroit Lions | Ford Field - Detroit | $58 |
| 10/29 | New England Patriots at Buffalo Bills | New Era Field - Erie County | $95 |
| 11/4 | Kansas City Chiefs at Cleveland Browns | FirstEnergy Stadium - Cleveland | $20 |
| 11/8 | Carolina Panthers at Pittsburgh Steelers | Heinz Field - Pittsburgh | $81 |
| 11/11 | Los Angeles Chargers at Oakland Raiders | Oakland Alameda Coliseum - Oakland | $73 |
| 11/18 | Dallas Cowboys at Atlanta Falcons | Mercedes-Benz Stadium - Atlanta | $167 |
| 11/26 | Tennessee Titans at Houston Texans | NRG Stadium - Houston | $38 |
| 12/2 | Denver Broncos at Cincinnati Bengals | Paul Brown Stadium - Cincinnati | $42 |
| 12/16 | Tampa Bay Buccaneers at Baltimore Ravens | M&T Bank Stadium - Baltimore | $33 |
| 12/23 | Jacksonville Jaguars at Miami Dolphins | Hard Rock Stadium - Miami Gardens | $45 |
| 12/30 | Chicago Bears at Minnesota Vikings | U.S. Bank Stadium - Minneapolis | $73 |
Featured Games:
Every NFL fan will remember the overtime thriller last season between Redskins and the Saints, and the rematch will be much anticipated. The Redskins will have their new quarterback, Alex Smith, so maybe they can get the W this time around. Drew Brees and the Saints will be looking to hold down the home field once again. This is an exciting Monday Night Football matchup that is sure to be a high-scoring affair.
After spending a few days in New York, you will travel to historic Lambeau Field to watch the Green Bay Packers host the San Francisco 49ers in their lone Monday Night Football game of the season. 49ers quarterback, Jimmy Garoppolo, will look to breakout this season and he could make a big statement with a win in Lambeau on Monday night. His counterpart, Aaron Rodgers, will be looking to get back on top after his season was cut short last year due to injury. Monday Night Football in Lambeau field, it doesn't get any better than that!
The marquee matchup of the November leg of the trip is when the Dallas Cowboys travel to Atlanta to take on the Atlanta Falcons at Mercedes-Benz Stadium. Not only will you be watching a terrific NFC showdown, but you enjoy it in the comfort of the newest NFL stadium that offers impressive views and great amenities.
The last featured game on the list also happens to be the last game of the epic road trip. If you were to do this trip you would have seen 30 NFL teams so far, and your reward is watching one of the best rivalries in the NFL to close out the road trip. The last game features the Chicago Bears taking on the Minnesota Vikings. If this game were in Chicago it might not make the list because of the sheer cold, but lucky for you it is in Minnesota in the beautiful U.S. Bank Stadium, which happens to be an indoor stadium. Not only is this one of the best NFC North rivalries, but since it is so late into the season it could have playoff implications, and any time the playoffs are on the line you can expect to see some good football, especially between division rivals.
So, there you have it, the most cost-effective way to see every NFL team in the 2018 season before the year ends. If you go to any or all of the games on this list be sure to let us know, and don't forget to Rate Your Seats!