Whether you're looking to attend an event or just spend a night out in the Dallas-Fort Worth metropolitan area, the Toyota Music Factory has you covered. Toyota Music Factory in Irving, TX consists of a music venue, several restaurants, and other activities all in one central location. With concerts that bring some of the biggest names in hip-hop, pop, electronic, rock, and more, The Pavilion at Toyota Music Factory is the main attraction.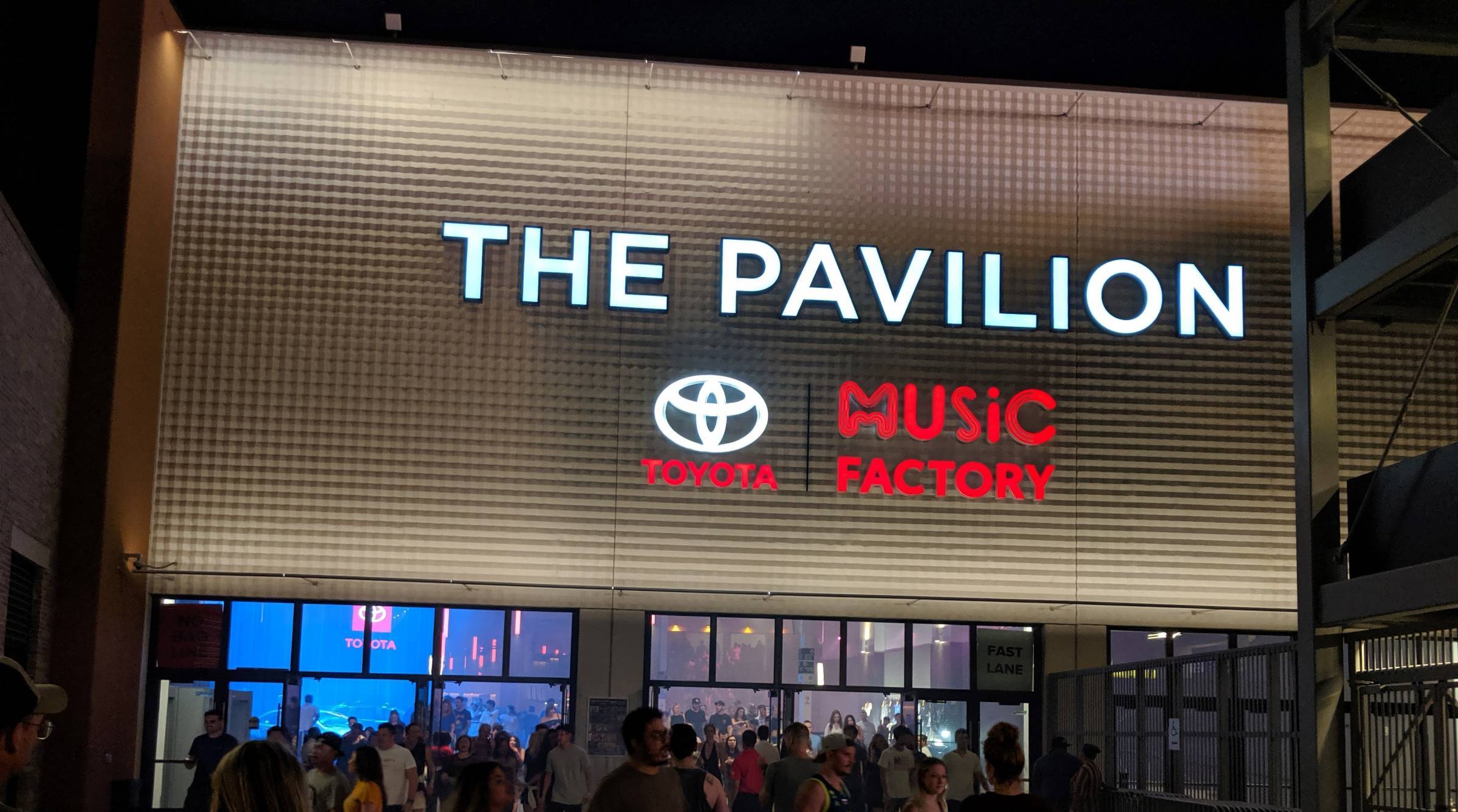 The Pavilion at Toyota Music Factory isn't just limited to concerts, as the venue also hosts a variety of other shows including comedy and theatre. Not only is the list of events here incredibly diverse, but the venue itself is one-of-a-kind.
History, Capacity, and Seating at The Pavilion
Toyota Music Factory opened in 2007 and is located in Irving, Texas in the Las Colinas neighborhood near DFW International Airport and Irving Convention Center. Its most distinct feature is its ability to double as both an indoor theater and an outdoor amphitheater with general admission lawn seats.
With seven bays of huge retractable doors in the back of the venue, it can be converted from an outdoor to indoor setting in just 30 minutes, and is complete with both heating and air-conditioning. The Pavilion is well equipped to host major concert tours, as the capacity is 8,000 when the lawn section is open.

The Pavilion is an intimate venue, and the 200 level, 300 level and lawn seating still provide a great view of the show. There really isn't a bad seat here, but do be aware that poles in front of the 300 and lawn sections may slightly obstruct your view. For some events, the seats will be removed on the 100 level to allow for a general admission floor pit.
Irving's Toyota Music Factory is also a great place to catch smaller, more private events. The Pavilion is marketed as having three venues in one, as it converts into a 4,000 capacity indoor theater when the lawn is closed, as well as a 2,500 capacity intimate theater when the 300 level is blocked off.
If you're looking to celebrate a special event or want an upscale experience, consider a Party Deck Rental or box seats in the 200 level. Located in front of the bars on each side of the stage, the Party Decks include wait service and your own set of tables with a direct view of the stage. 200 level box seating provides a more private viewing experience and an unobstructed view of the show.
Other upgrades are also available for purchase, such as expedited entry, chair rental for lawn seats, and access to the VIP Toyota Lounge.
Restaurants, Bars, and Parking at the Toyota Music Factory
Toyota Music Factory is an entire experience rolled into one. Begin the night by getting dropped off in a rideshare lot or by parking in one of several easily accessible garages. Choose from over a dozen different restaurants, including some of our favorites, Yard House, Freshii, Reservoir, and Alamo Drafthouse. If you're wondering where to eat near Toyota Music Factory, there's plenty of options to choose from.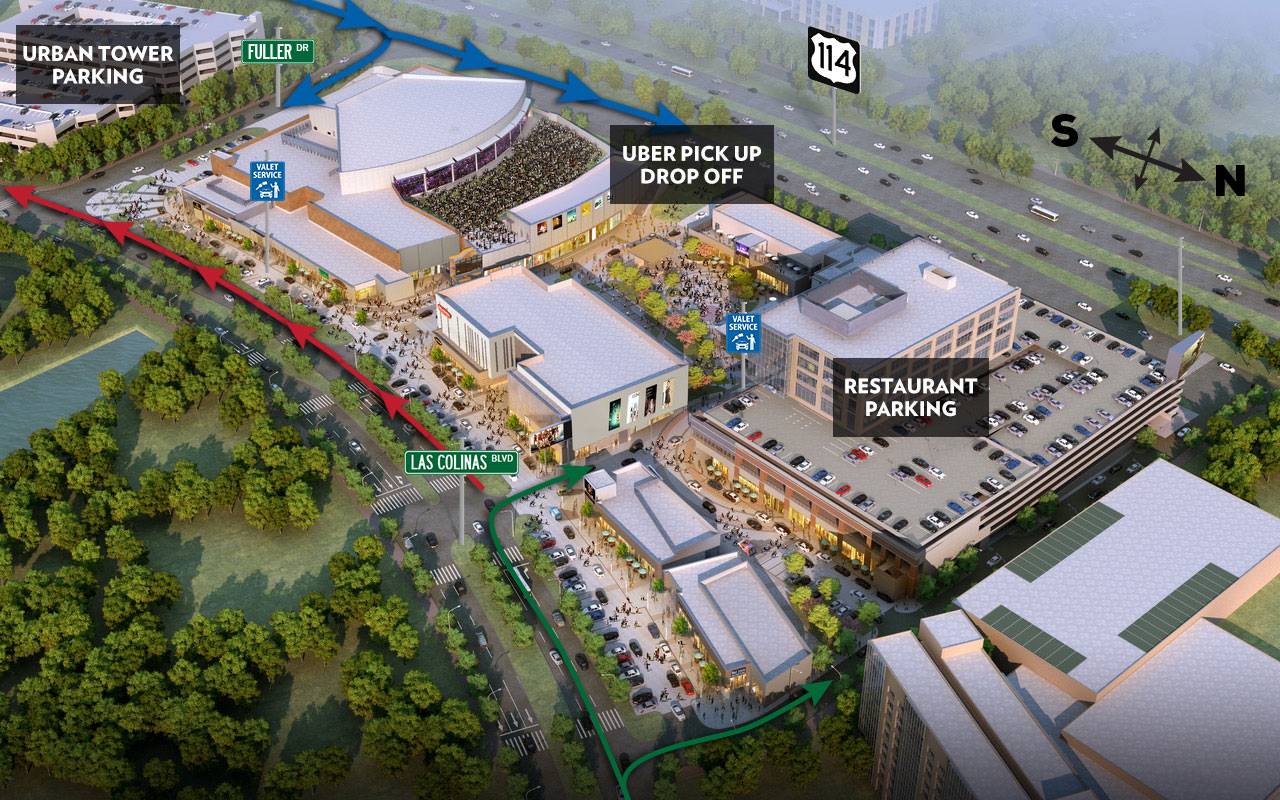 After grabbing food or refreshments, spend some time on the Texas Lottery Plaza and enjoy live music and fun activities like cornhole and Jenga. The Pavilion is located directly next to these restaurants, so you don't need to go far when it's time for the event.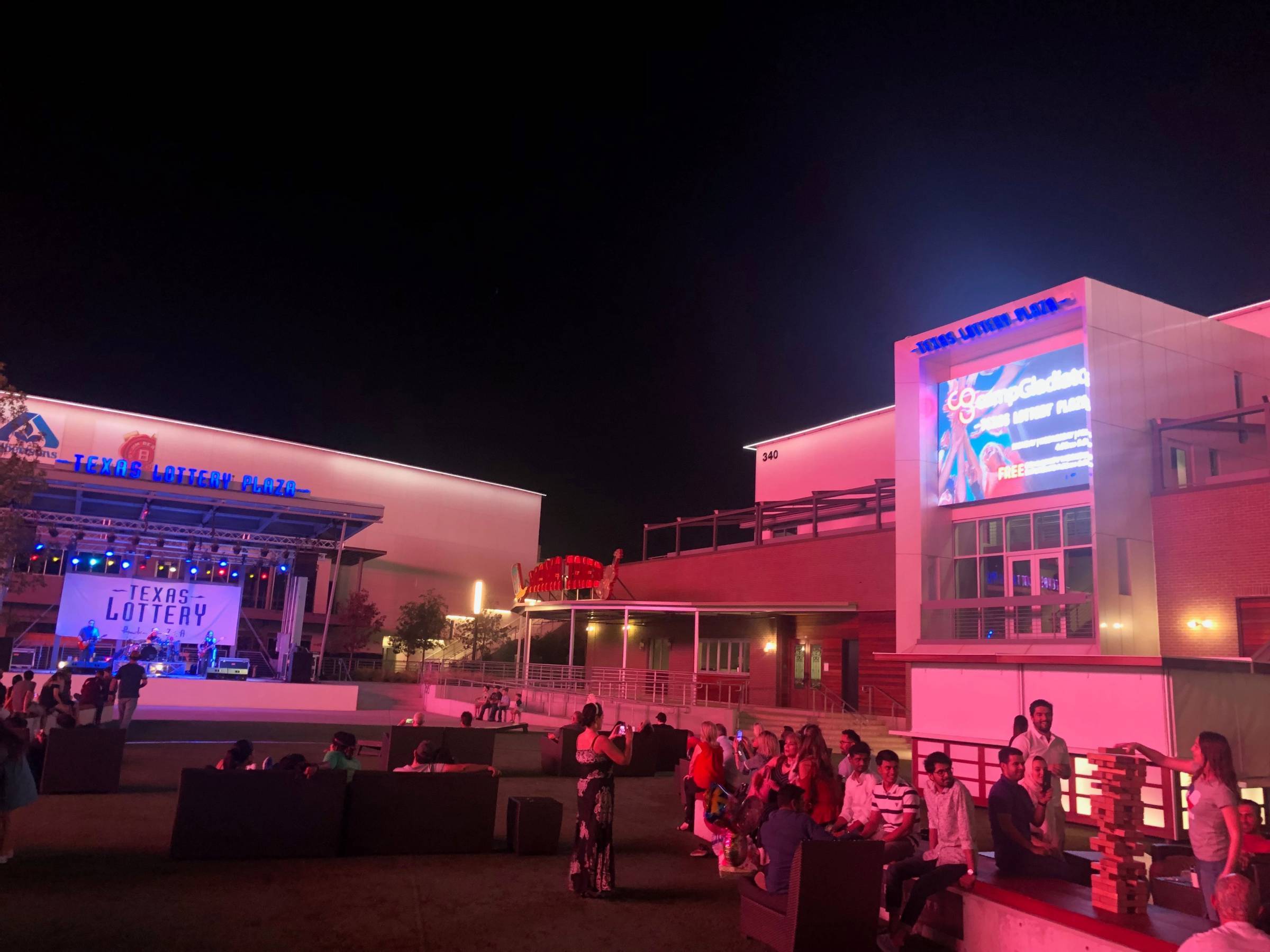 Experience at The Pavilion at Toyota Music Factory
When walking into the venue, you're greeted with a display of Toyota's newest cars, several bars, a walkway to the lawn seats and 300 level seating, and an artist merch booth (when available). In the main concourse, there's more drink options like wine and craft beer and an impressive food selection at the grill, as well as a phone charging station and free water refills. Across the venue is another concourse, which includes an identical food stand, another full bar, and a set of lesser-used bathrooms.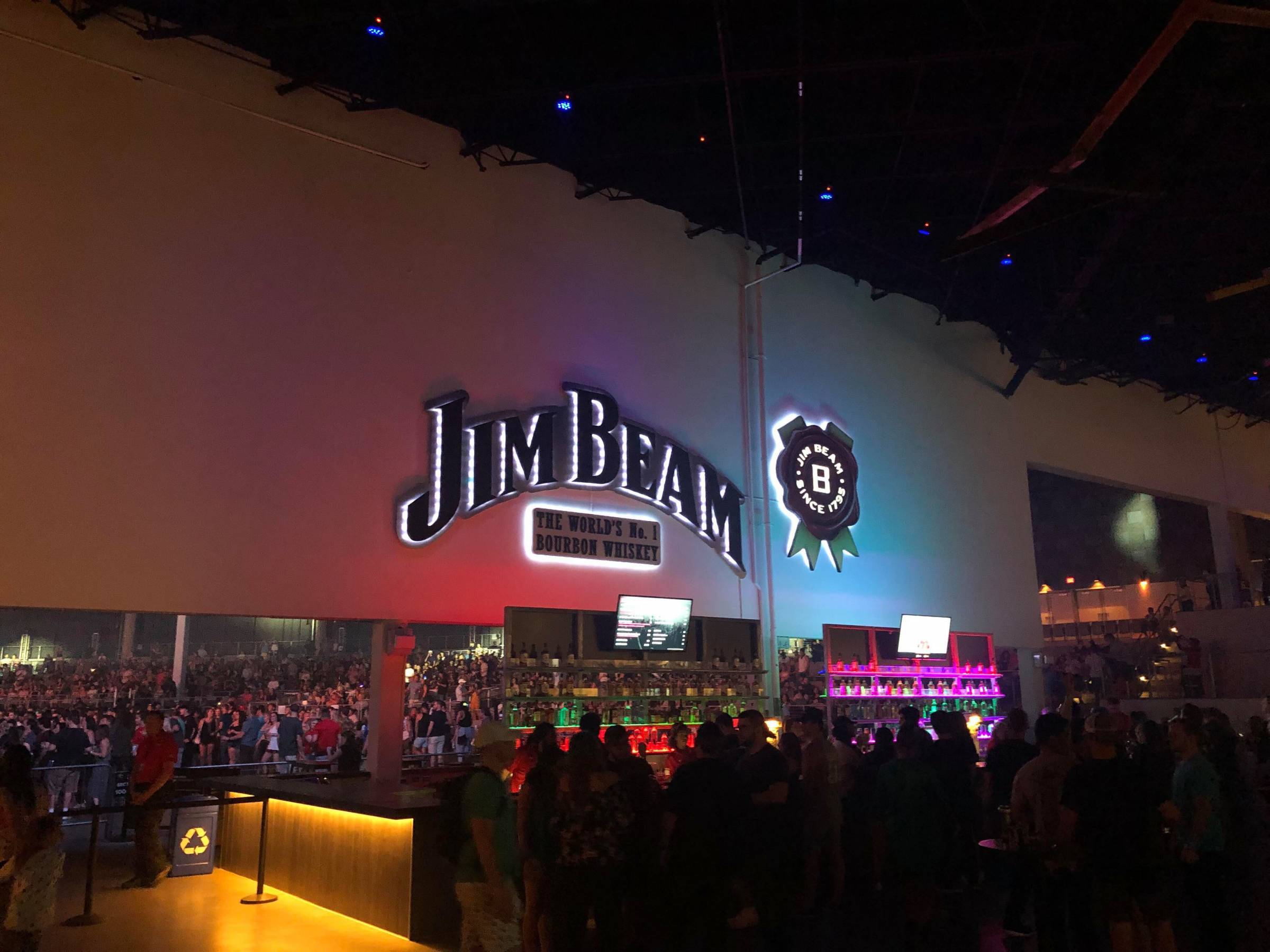 The drink and food selection at Irving's Toyota Music Factory is top notch. At the bars located in each concourse in the Pavilion, attendees can choose from beer, wine, margaritas, mixed drinks, gelatin shots, and more. You can even order food and beverages right to your seat at events using the Live Nation mobile app.
Review of The Pavilion at Toyota Music Factory
As one of the newest venues in the Dallas-Fort Worth area, Toyota Music Factory is worth checking out. If you're looking to attend an event here, we highly recommend this venue due to its seating options, easy parking, restaurants, and stellar overall experience. There's massive videos board on both sides of the stage, and the size of the venue gives artists the freedom to bring their own epic lighting and production setup.
More from Toyota Music Factory:
Toyota Music Factory Seat Views

Toyota Music Factory Seating Chart

Toyota Music Factory Seating Guide
With concerts, public speaking, comedy shows, and more, the Toyota Music Factory in Irving has something for everyone, and is sure to provide memories to attendees for years to come. If you're located in the DFW area or looking to visit, take a look at Toyota Music Factory's events and enjoy a night out under the beautiful Texas sky.