Rolling Stones Tour Began Last Night at Staples Center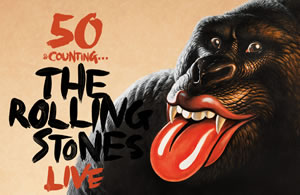 Exactly a month after announcing a new tour, the Rolling Stones kicked off a 9-city tour last night in Los Angeles at the Staples Center. The band played a 23-song set and enjoyed help from guest stars such as Gwen Stefani and Keith Urban. According to a review at rollingstone.com, the debut show was full of energy and surprises. Check out the youtube video below of Gimme Shelter.
Stones Announce More $85 Tickets For the Tour
Given the high demand of the two-month tour, the Rolling Stones have released more 'cheap' tickets for upcoming shows. This should help more fans get in the arena and hear the show, but seeing is a different story. Read our thoughts below on the best seats for the Rolling Stones Tour in select cities.
Best Seats at HP Pavilion (San Jose) for Rolling Stones Concert
The Rolling stones make their only appearance at HP Pavilion on May 8th. As of right now, tickets on the secondary market are starting at about $150/each in the upper level corner almost behind the stage. If considering Floor seating, keep in mind that the Tongue Pit is General Admission in front of the floor seats, so you will be pushed back further from the stage. Avoid sections ending in 17, 18, 26 or 27. It may be appealing to try to sit that close to the stage, but there's a good chance a light or speaker will be in your way.

Rolling Stones Tickets at HP Pavilion >>>
Best Seats at Honda Center (Anaheim) for Rolling Stones Concert
The Stones make their way to Disneyland twice in May, on the 15th and the 18th. Once again, the Tongue Pit pushes back floor seating, though ticket prices on the Floor are still in the thousands of dollars. If you can't afford to sit there, you can still find good value in sections 208, 209, 221 and 222. These side seats will give you a great view of the stage without being directly beside it. The cheapest seats in the building are in the 400 level corners, which will have you wishing you waited six months for the DVD to come out.

Rolling Stones Tickets at Honda Center >>>
Best Seats at Staples Center (Los Angeles) for Rolling Stones Concert
The tour makes its way back to Los Angeles on May 20th where ticket prices are a fraction of the cost of the opener. There are some really bad seats at Staples Center for a concert (114, 117, 321, 322, 331, 332), so be careful when choosing your seats. If you're looking for comfort and service, there are a limited number of Premier Seats (single-numbered sections on the second level) still available. Otherwise, Floor seats at Staples for the concert are less expensive than in most cities.

Rolling Stones Tickets at Staples Center >>>
Best Seats at Air Canada Centre (Toronto) for Rolling Stones Concert
One of two international stops on the tour (Montreal) is the Air Canda Centre, which will surely be buzzing after hosting its first home hockey playoff game in nearly a decade. The tour stops here on May 25th and June 6th. While general seating prices are comparable to those in the United States, floor ticket prices are out of control. Most listings start at greater than $3,000/ticket. For better value, choose an end section like Section 102 or 103. These sections will give you a head-on view and quality acoustics. As always, avoid corner sections behind the stage unless you like looking at wires, lights and speakers.

Rolling Stones Tickets at Air Canada Centre, Toronto >>>
All Rolling Stones Tour Dates and Tickets >>>
Coupon for Rolling Stones Tour Tickets
10% off All Tickets at TicketsNow!
use code

aff10off

Offer ends soon!
Gimme Shelter Live at Staples Center, May 3, 2013