To view the seat ratings from this visit, click here.
RateYourSeats.com recently went on a road trip to the state capitol of Indiana for some playoff basketball. On Saturday, April 23rd, the Chicago Bulls played the Indiana Pacers at Conseco Fieldhouse in Indianapolis, Indiana. Here's how our trip went:
We left Chicago at about 8:30 central time, assuming it would take us about 3 hours to get to Indianapolis and we would be a couple hours early for the game. I-65, the main interstate that runs through the heart of Indianapolis was crowded with Bulls fans. It was a caravan of red shirts, D. Rose jerseys and "See Red" paraphernalia. Before we left we assumed the crowd would be about 40% Bulls fans, but with the amount of traffic heading from Chicago to Indianapolis, a 50-50 split wouldn't be out of the question.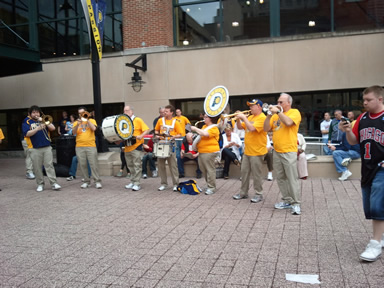 We arrived in Indianapolis after a rather uneventful drive (though every other billboard was for fireworks or adult superstores; someone in Indiana is going to become real rich when they figure out how to combine the industries). Conseco Fieldhouse was just a couple minutes off the interstate and easy to find. Within a couple blocks of the stadium we noticed a couple of bar/restaurants with ample outdoor seating, including Scotty's Brewhouse. Literally right across from the stadium and with plentiful outdoor seating, this seemed like a great pre or post-game hangout. We brought our own beer, though, and decided to drive around a little while to find a lot to tailgate in. We were in luck as just south of the stadium was a $10 lot with tailgating Bulls fans. This was a great perk as parking for Bulls games runs $25-$30 and you wouldn't even think of trying to tailgate.
About an hour and a half before tip-off we started walking to the stadium. The main entrance was inviting -- paved with brick, clean and had a modern feel to it. Once inside the stadium we were greeted by a sea of red. Apparently the Fieldhouse staff was not letting anyone in until an hour before tip-off and Bulls fans were packed to the gills just inside the main entrance. Once they started letting people in, we headed up some stairs and had our tickets scanned. The lovely Pacers cheerleaders wouldn't give us any rally towels; however, so we had to sneak a few off their stack. Maybe it was just because it was rally towels, but in Chicago fans of both teams get the freebies at the gate.
We bought our seats on Stubhub for $80/ticket the day before the game. After downloading and printing the tickets, we became a bit worried when the printed face value was only $14. Fourteen dollars for a playoff basketball game? At this point we figured we'd be sitting on the roof. Turns out, we were almost right. Our seats in Section 229, Row 14 landed us in the last row of the upper balcony. For being $14 tickets and the last row, the view could have been worse. Everything else, though, was commensurate with $14 seats. The food options in the upper balcony were embarrassing. It was quite a hike to get to hot food and once you found it, it was just standard fare. Other options were regular snack foods on cafeteria-like tables, which reminded us of how concessions are sold at high school sporting events. The lower level may have had better options, but in the balcony it was pretty bleak. In addition to having sub-par food, the upper balcony had sold out of beer in the second quarter. We walked down the steep concrete steps from our seats and were greeted with a long line of people waiting for beer. The lady working the stand was the only one with beer and only had about 20 cups left. Once those were gone, the upper level was out of beer. Fortunately we got two of the last four beers and made our way back to our seats, which is where the fun began. For our particular row, we could get to our seats from either side. One side was easy to pass through, but we would have had to make a lot of people stand up. So we went on the other side where we had to scale a three-foot concrete step with only a couple inches of footing -- all while holding a nearly-full beer. Suffice to say, after doing this once we did not leave our seats for the rest of the game.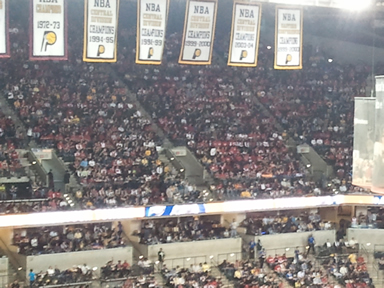 The stadium was about 65% Bulls fans and the chants of "MVP" and "De-Fense" were overwhelming. It felt like a Bulls home game. And despite a Bulls loss, a lack of beer and bad food choices, we had a pretty decent time at the game. Some of the auxiliary amenities like easy parking, tailgating and highway accessibility made the Conseco Fieldhouse experience more bearable. Would I go to a game there again? I wouldn't go out of my way to come back, but if tickets were cheap enough -- and they seem to be -- it was an OK destination. I would definitely try to avoid the whole upper balcony if I could. I'd also try out Scotty's Brewhouse before the game and sit outside if the weather cooperated. Overall, I rate Conseco Fieldhouse as a below-average professional stadium.