The NL East is home to the best record in the MLB during the 2012 season courtesy of the Washington Nationals, but you might just be surprised to see where they rank in our look at ticket prices for home openers across the division. With the exception of the Miami Marlins who opened the doors to another roster wide fire sale this off-season, the division is expected to be a tight race, and opening day ticket prices are following suit.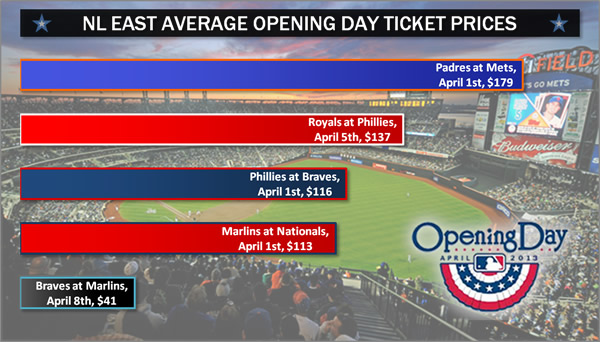 Mets Opening Day Tickets at Citi Field
Who: Padres at Mets
When: Monday, April 1, 2013
How Much: Starting at $51
Coming off a 2012 season in which they lost more games than they won, the Mets currently lead the NL East in average home opening day ticket prices. A devoted fan following and upscale ballpark entering its 5th year elevate Mets Opening Day Tickets to an average of $179, even with the aroma of a rebuilding year and the off season trade of fan favorite and 2012 NL Cy Young winner R.A. Dickey. Affordable seats are still available though as fans can get in the door for just $51 in the Upper Promenade Outfield. Aside from Opening Day, there is sure to be some additional excitement around Citi Field this year as the Mets will play host to the 2013 All-Star festivities, where Home Run Derby Tickets are currently going for as low as $189, and All-Star Game Tickets are going for as low as $389.
Buy 2013 New York Mets Tickets
Phillies Opening Day Tickets at Citizens Bank Park
Who: Royals at Phillies
When: Friday, April 5, 2013
How Much: Starting at $48
A late Friday afternoon first pitch at Citizens Bank Park makes the Phillies home opener a great option for taking in the excitement of early season baseball. Welcoming the Royals to town, Phillies Opening Day Tickets are second highest in the NL East with an average $137, however fans can get in the door for as little as $48 in the Upper Terrace Down the Line seating sections. Fans will enjoy a great start to the weekend at this home opener and get to bring home a Phillies promotional rally towel to support the team with throughout the 2013 season.
Buy 2013 Philadelphia Phillies Tickets
Braves Opening Day Tickets at Turner Field
Who: Phillies at Braves
When: Monday, April 1, 2013
How Much: Starting at $30
Opening at home with a inter-division match-up against the Phillies has the Braves in the third spot for NL East average opening day ticket prices. The Upton Brothers debut together at home in the Atlanta outfield, but for the first time in 18 seasons the Braves will be without long time favorite, Chipper Jones. Braves Opening Day Tickets are averaging $116, but also hold one of the lowest get-in prices with good seats available for as low as $30 in the Upper Box Infield.
Buy 2013 Atlanta Braves Tickets
Nationals Opening Day Tickets at Nationals Park
Who: Marlins at Nationals
When: Monday, April 1, 2013
How Much: Starting at $40
The Nationals finished the 2012 season with the best record in all of baseball, the NL rookie of the year in Bryce Harper, and were just 2 wins shy of a 100 win season. Performance restrictions have been lifted from Stephen Strasburg, and expectations for the team are high in 2013. An April 1st match-up against the visiting Marlins has Nationals Opening Day Tickets averaging $113, with some of the most affordable tickets going for as low as $40 in the Upper Gallery Infield seating sections. The Nationals will be also be running an Opening Day promotion, giving away hats to fans in attendance.
Buy 2013 Washington Nationals Tickets
Marlins Opening Day Tickets at Marlins Park
Who: Braves at Marlins
When: Monday, April 8, 2013
How Much: Starting at $18
Bottoming out our look at NL East home opener ticket prices is the Miami Marlins, who finished the 2012 season with just 5 fewer wins than the team with the most expensive average ticket, the New York Mets. Secondary market inventory for the Marlins April 8th game against the Braves is almost 50% less than the next lowest inventory within the division, indicating that a good amount of tickets still remain available for purchase on the primary market. Marlins Opening Day Tickets are averaging just $41, and great seats such as 3rd row behind the Marlins bench are going for a mere $50. The team may be going through a drastic re-building, but with great seats available at even better prices, an opening day trip to this 2 year old stadium is a great option for any baseball fan.