2013 NHL Schedule Gets Started This Weekend
And all of the sudden we are just two days away from the first puck dropping on NHL ice for the 2013 season. After a lockout that lasted nearly four months, the NHL has announced a revised 48 game schedule that begins with thirteen games on Saturday, January 19th.
NHL Opening Day Ticket Prices Sky-High; Availability Incredibly Low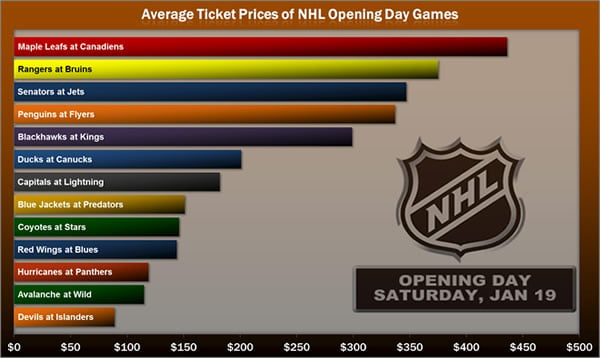 Despite more than 500 canceled regular season games, hockey fans aren't shy about spending their money for opening day. The average price for twelve of the thirteen opening day games is greater than $100. In Montreal, where the Canadiens host the Maple Leafs, fewer than 100 ticket listings remain with an average price north of $400. In Boston, the Original Six matchup between the Bruins and Rangers is commanding $375, on average. That's about seven times higher than the average Bruins ticket from a 2010 NHL Fan Cost Index Study.
The NHL seems to have done a fairly good job for opening day, as the top five games are averaging at least $300 per ticket. There is a big drop-off to the sixth most expensive game (Ducks at Canucks, $201) and Devils at Islanders tickets are averaging $89 with a get-in price of just $38. The sum of the average price for all thirteen games is $2,941, or just slightly less than what the average Super Bowl Ticket is selling for.
NHL Opening Day Tickets
Click a game to view ticket availability and to purchase tickets.