Outdoor hockey is a one of a kind viewing experience, completely foreign to what we've grown accustomed to seeing, while paying homage to the pond hockey games so many of us grew up playing ourselves. The rising popularity generated by such outdoor events as the Winter Classic have prompted the NHL to expand the presence of outdoor games in the upcoming 2013-2014 regular season, which will now feature a total of 5 open-air outdoor games including the annual Winter Classic (our apologies Vancouver, we have a tough time considering the Heritage Classic an open-air event since the roof at BC Place still covers the majority of the playing surface when retracted). We preview these upcoming contests and host venues below in our initial installment of coverage for the 2014 NHL Winter Classic and Stadium Series.
Winter Classic 2014
Toronto Maple Leafs at Detroit Redwings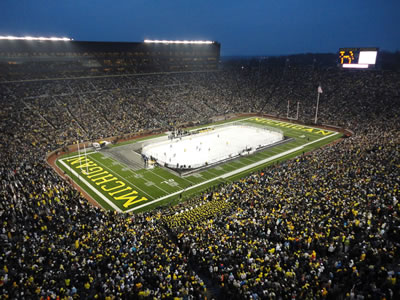 When:

January 1st, 2014

Where:

Michigan Stadium (The Big House), Ann Arbor, MI

Seating Capacity:

88,000 (Football)

About:

Hockey returns to Michigan's Big House as the Detroit Red Wings and the Toronto Maple Leafs are scheduled to square off in the 2014 Winter Classic on New Year's Day. The 6th installment of the annual outdoor NHL contest was originally scheduled for the 2012-2013 season, but was one of many games cancelled by the lockout shortened season. The Winter Classic will be the second outdoor hockey game hosted at the Big House in the past 5 years, following the 2010 matchup of the University of Michigan and Michigan State in what was affectionately known as 'The Big Chill' (which currently holds the record for the highest attendance for a hockey game with more than 100,000 fans packed into the stadium).
Winter Classic tickets are already available for purchase, but only in packages which include pre-game festivities (and some which also include hotel accommodations). Individual tickets not including the extras are not yet available for purchase, but fans that want to jump on the package opportunity can purchase through the NHL's ticket partner here.
The Winter Classic will also feature an alumni exhibition match with former Red Wings and Maple Leafs players. Held just 45 minutes from Ann Arbor, the alumni game will be played at Comerica Park, the home of Baseball's Detroit Tigers. Preliminary seating charts have been issued for both the Winter Classic and Alumni Game which we have provided below.
NHL Stadium Series - Los Angeles
Anaheim Ducks at Los Angeles Kings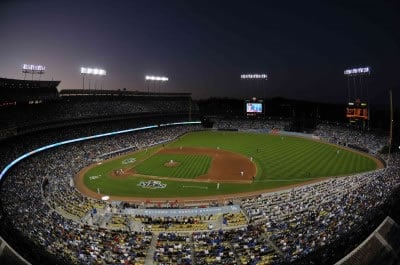 When:

January 25th, 2014

Where:

Dodger Stadium, Los Angeles, CA

Seating Capcity:

56,000 (Baseball)

About:

Outdoor hockey in California? Its difficult to avoid a double take after hearing the NHL plans for holding an outdoor ice hockey game in a city which averages a daytime temperature between 59-73°F in the month of January (keeping in mind that optimal ice level temperature for a hockey game is 22°F). Skepticism is not in short supply for this match-up of the LA Kings and Anaheim Ducks, but the NHL remains confident that an elaborate plan involving night time ice production and day time insulation blankets will allow for a playable surface on January 25th.Dodger stadium has a normal capacity of 56,000 (the largest of any professional baseball team) and is more than triple the seating capacity of the Staples Center for a Kings home game (18,000). Seating charts have not been made available yet, so it remains to be determined whether all sections will be open to fan seating for the January 25th game. Tickets for the NHL Stadium Series at Dodger Stadium are not yet available for sale, but fans can sign up for updates regarding ticket availability through the NHL Events page.

NHL Stadium Series - New York

New Jersey Devils at New York Rangers (Jan 26th) New York Islanders at New York Rangers (Jan 29th)

When:

January 26th & 29th, 2014

Where:

Yankee Stadium, New York, NY

Seating Capacity:

50,000 (Baseball)

About:

The Rangers are the only team to be playing in two separate outdoor games during the 2013-2014 regular season. Yankee Stadium plays host to the Rangers and Devils on January 26th, and then another face-off featuring the Rangers versus the Islanders on January 29th. New York temperatures in January should be conducive to good ice surface (much more so than Los Angeles), and the stadium should have decent familiarity with converting the field after hosting the past three Pinstripe Bowl college football games. With a seating capacity for 50,000 baseball fans, Yankee Stadium could potentially accommodate triple the amount of hockey fans than the Rangers normal home, Madison Square Garden (MSG hockey capacity: 17,000). Seating charts and ticket sale dates have not yet been released, however fans can visit the NHL Events page to sign-up for notification emails.

NHL Stadium Series - Chicago

Pittsburgh Penguins at Chicago Blackhawks

When:

March 1st, 2014

Where:

Soldier Field, Chicago, IL

Seating Capacity:

61,500 (Football)

About:

Chicago will be hosting a second outdoor game for the Blackhawks when the Pittsburgh Penguins come to Soldier Field on March 1st. The last outdoor NHL game in Chicago was the 2009 Winter Classic that featured a matchup against the rival Detroit Red Wings, but was held at Wrigley Field on the city's north side. While Soldier Field has yet to house an NHL event, the stadium is quite familiar with outdoor hockey following its role as host for the 2013 Hockey City Classic which featured collegiate match-ups of Notre Dame vs. Miami (OH), and Minnesota vs. Wisconsin. With an average high of 41°F and low of 27°F in early March, conditions should be ideal for this match-up between the NHL's top 2 teams during the 2012-2013 regular season. Seating charts are not yet available for the March 1st game, but if the Hockey City Classic is any indicator of setup, Solider Field could potentially have all sections open to fan seating (see chart to the right). Fans can sign up for ticket announcements and more through the NHL Events page.

We will keep you posted with new updates, seating charts, and ticket recommendations as more seating information becomes available. In the meantime, if you wish to provide your own feedback or reviews on current NHL stadiums, please feel free to submit your own seat review and share your thoughts, insights, and pictures with your fellow fans!