As the calendar flips to May, the next few days will present some of the most expensive live events of the year. The Rolling Stones kick off a new tour at the Staples Center in Los Angeles on Thursday night, while Floyd Mayweather Jr. will battle it out with Robert Guerrero in Las Vegas on Saturday. On the other side of the country, the Maple Leafs will host a home playoff game for the first time in nine years, and the Miami Heat will open up their second round series as they look for a second straight title.
The secondary ticket demand for each of the aforementioned events is through the roof. Take a look at the infographic below to see just how high ticket prices have gone.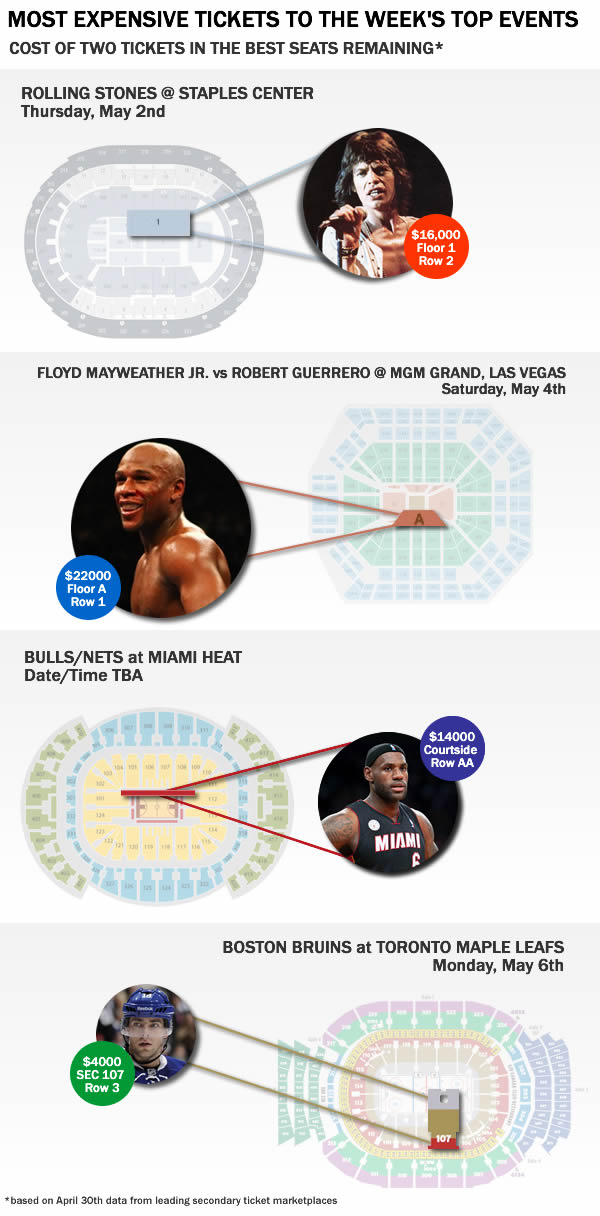 Mayweather/Guerrero Fight Tickets Leading the Way
That's right, if you want to sit ringside at an event that may last as few as a couple minutes, you're looking at more than $10,000/ticket. Floor seats in the second row for the Rolling Stones at Staples Center aren't much cheaper at $8,000/each. And sitting courtside at a Heat playoff game (not even the Conference Finals or NBA Finals) can cost as much as $7k per ticket. Meanwhile, as mentioned in a post a couple days, Maple Leafs Playoff Tickets are the most expensive in all of hockey with an average price of more than $500. Sitting in the first few rows behind the glass will set you back upwards of $2,000.
High Ticket Prices Not Scaring You Away?
Tickets are still on sale for all events. Follow the links below to get tickets to the week's top events!