MetLife Stadium hosts some of the country's largest events. Besides for being home to the NFL's Jets and Giants, the stadium frequently welcomes the biggest names in music, International soccer, wrestling and more. Because of its affiliation with the city of New York - but its location in New Jersey - no other stadium in the country receives as much out-of-state traffic as MetLife Stadium. If you're one of these "out-of-towners", keep reading for advice on making the most out of your trek from Manhattan to the Meadowlands.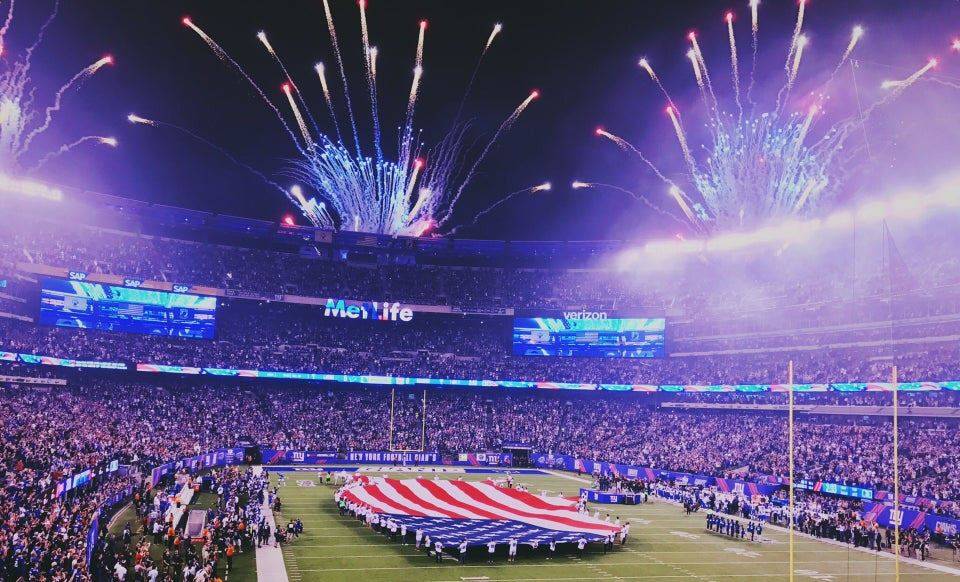 Parking at Metlife Stadium
While it may seem unusual for parking to be "not entirely impossible" in the NY/NJ area, that is the case at MetLife Stadium. There are more than a dozen parking lots that almost completely surround the stadium. The farthest of these lots is Lot P, which is exactly one mile from the stadium. If you've never been to an NFL game in a major city, a one mile walk from parking lot to stadium is awesome.
So there's close parking, but is there enough of it and how do you go about obtaining a parking pass? According to the stadium's website, there are more than 28,000 parking spaces on the MetLife Sports Complex. That's about 50% more than at Gillette Stadium - despite Gillette being in the NFL's most rural area. So, yeah, there's plenty of parking at the stadium.
Parking Passes for Jets and Giants games are easily available on all major ticket websites (including our own). The closest lots are known as the green (Jets), red (Giants) or premium lots. Expect to pay $60-$100 to park in one of these areas and $20-$40 to park in one of the farther lots.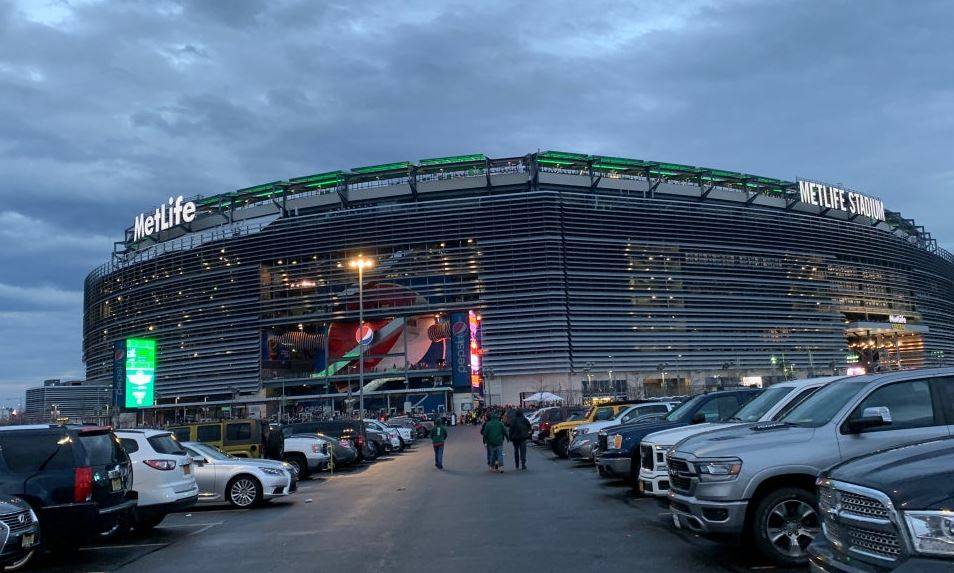 Tailgating at MetLife Stadium
Five before kickoff, MetLife Stadium opens their gates to the parking lots to allow a great pre-game tailgating experience for Jets and Giants fans. MetLife allows for use of charcoal burning grills: however, open flames are not permitted in the parking lots. MetLife does provide convenient places within the parking lots for you to dispose of the charcoals once you are ready to enter the stadium.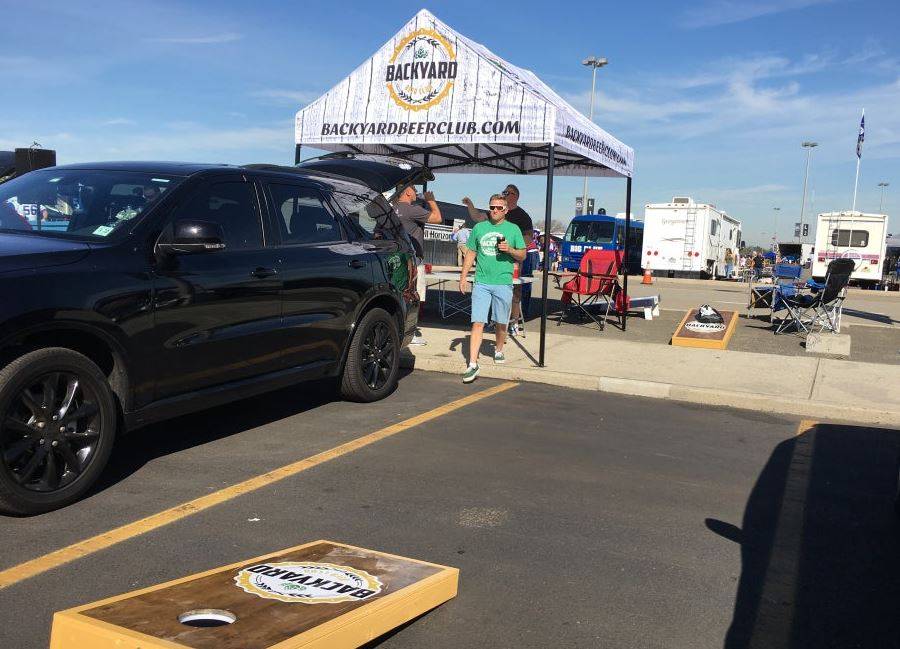 Tailgating Tips for Large Groups
If you have a large group of people attempting to tailgate with you and you do not wish to grill for yourself, MetLife Stadium allows fans to order catering from Delaware North Sportservice, but they unfortunately do not allow for other catering services to be used.
Other tips include:
1) Get there as early as possible because spots fill up fast
2) Arrive together since no spots are reserved and saving spots for others is not allowed
3) Use the parking islands since MetLife stadium has a one car, one space rule
The one car, one space rule means that you cannot have your car in one space and then have a girl or tent set up in any other space. MetLife stadium permits the use of 10 feet by 10 feet tents for tailgating use. Vehicles that are longer than 18 feet and are wider than 8 feet are prohibited from parking in MetLife Stadium parking, but there are satellite parking lots nearby the stadium independently owned which potentially allow for over-sized vehicle parking.
For a complete list of tailgating rules - including whether or not you are allowed to fly a kite (spoiler alert, kites are not allowed) - see here.

Tailgating Alternatives
If you aren't looking to do a traditional tailgate in the stadium parking lot, there are a few other places that fans typically meet up for pre-game activities. The two best places outside of the stadium are Midland Brew House and Redd's Restaurant.
Midland Brew House is a bit of a hike from the stadium, but its sports lounge includes multiple full service bars, 60 HD TVs, and a 109 inch HD projection. If you already have your pre-game figured out, this is an ideal post-game landing spot.
Redd's Restaurant is one of the best places to be before both Giants and Jets games because it is less than a mile away from the stadium and provides a shuttle to the stadium.
Public Transportation
For the fans who want to tailgate with friends but don't want to pay to park, there are many public transportation options that bring you right to the stadium.
The public transportation services are the New Jersey Transit Rail Service, Metro-North Railroad Service (MNRR) and multiple bus services. The quickest routes from the Port Authority in Manhattan take less than 30 minutes, but are often crowded before and after events.
MetLife Stadium also has a designated section for Uber drop off so you can take a rideshare to the stadium too! Follow @MetLifeStadium on Twitter for gameday updates.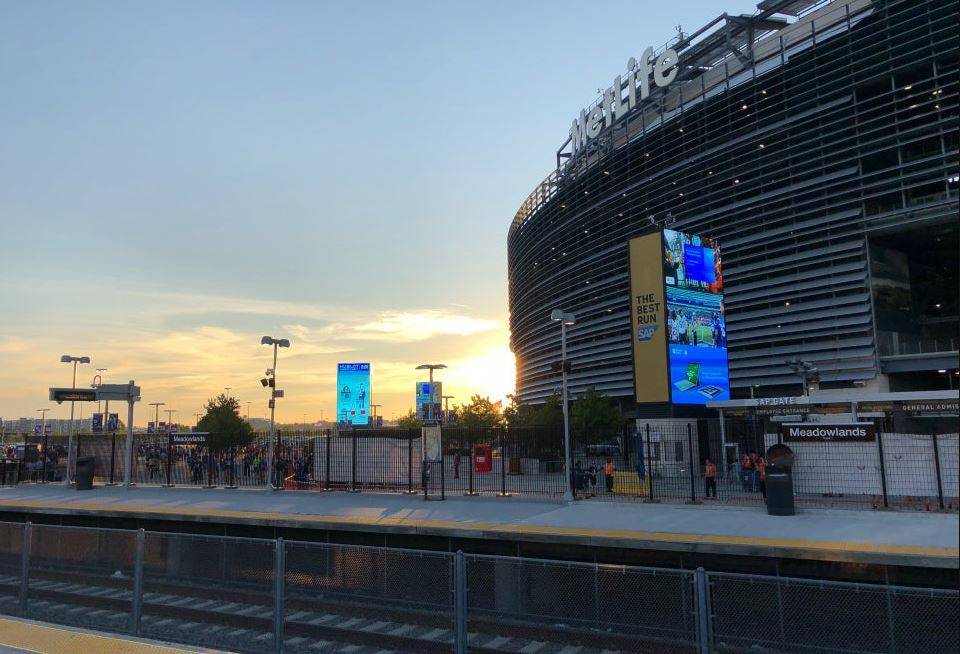 Gate Times
Gates open two hours before most events at MetLife Stadium. This is the case for all Jets and Giants games. For smaller events or or events with unusual start times, consult the MetLife Twitter (see above).
As of 2019, the NFL's clear-bag policy has gone into effect for all events at the Meadowlands. This policy is strongly enforced and makes for longer waits at the entry gates. Only bring what you need and arrive as early as possible!