If you've looked for tickets recently on our website, you know why we're the best place to search, compare and buy tickets. Our SeatScore™ technology and deal ratings have helped millions of fans find the best seats at the best price. We're happy to introduce two new features that make discovering deals a lot easier as you're browsing the site.
Ticket Deals Page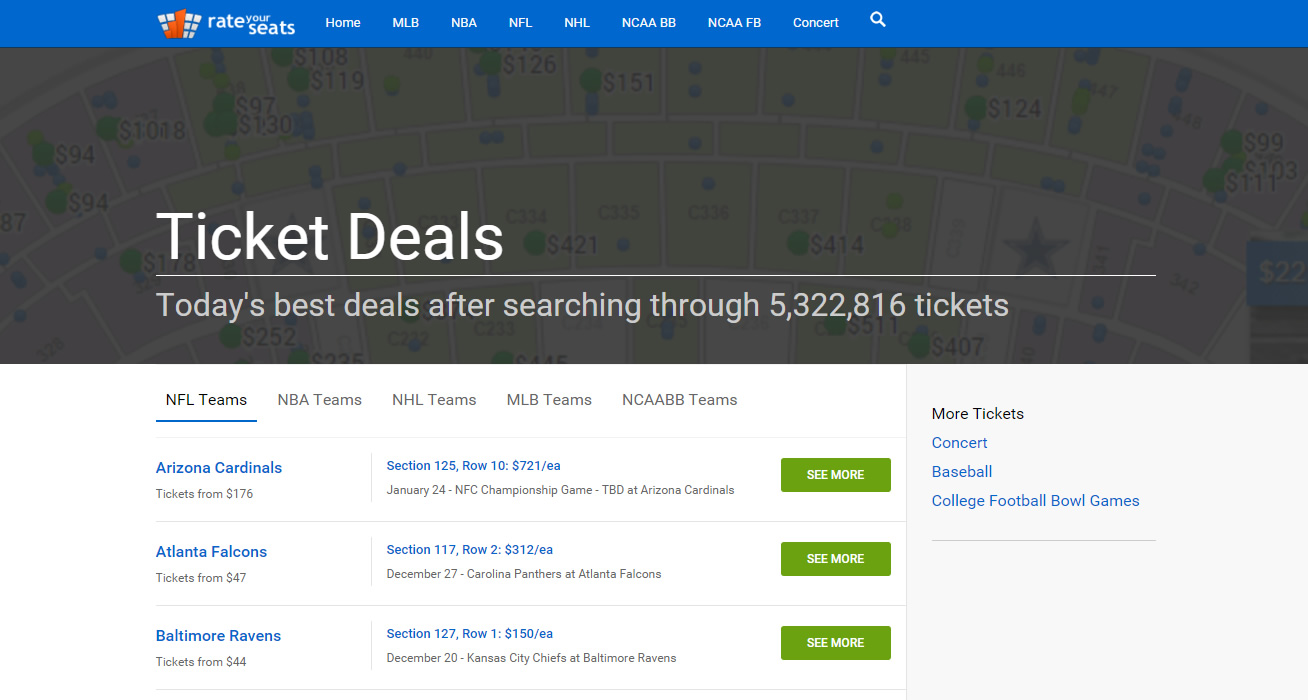 Each day we aggregate more than 5 million tickets and assign a deal rating to more than 90% of these listings. We're bringing all of these deals together on a single page to help you find the best deal for your favorite team at any given moment. Find your team on the recently launched deals page to start saving money!
How Can a $300 Ticket Be a Good Deal When There are $50 Tickets?
If you took a peak at the screenshot above, you may have noticed that the best deal for remaining Atlanta Falcons games is a $312 ticket in Section 117, Row 2. You might also see that the cheapest ticket for the rest of the season is just $47. So what gives?
When we show the best deals, it's irrespective of price or location. That $312 ticket is just two rows from the field behind the Falcons bench. The average price of other tickets in that section is more than $400 - and most of those tickets are more than 20 rows from the field. Meanwhile, that cheap $47 ticket is actually a great deal (98/100 deal rating) but there are a number of similar tickets in the $50-$60 range in lower rows. So while it's one of the 25 best deals for the Falcons/Saints game, it doesn't crack the top 50 across all Falcons games.
Location-Specific Ticket Deals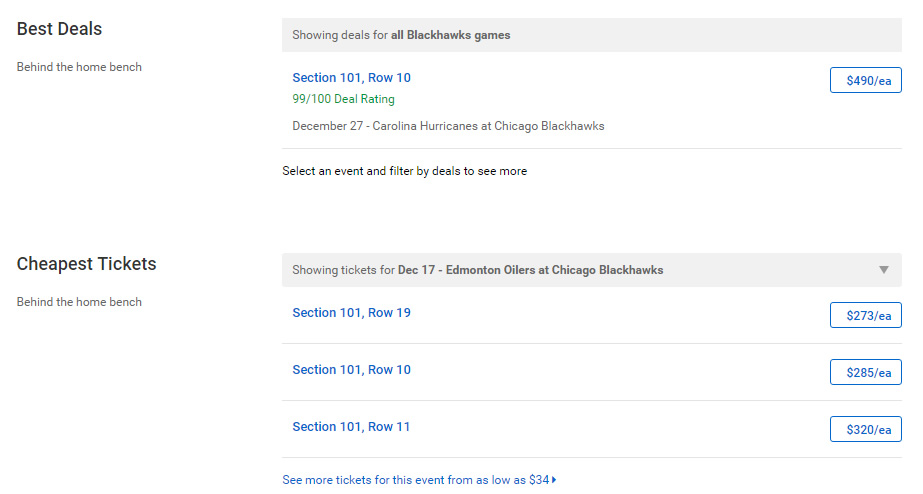 Some of our most popular pages are individual pages dedicated to seating sections or seating zones. When you're browsing these pages you'll now see two similar to the image above that display the best deals in that seating area and the cheapest tickets for a selected game. If you're a Blackhawks fans who has always wanted to sit behind the Hawks bench, this is a great way to discover the cheapest/most economical way to do so.
Use the find your seats or recommended seats links to see these deals.
How are Deal Ratings Calculated?
Without going into too much detail, we predict the price of each ticket (relative to other tickets for that game/event) and compare it to the listed price. If the listed price is lower than the predicted price, the ticket gets a positive deal rating. If the listed price is higher than the prediction, a negative deal rating is assigned.
Deal ratings typically range from -3 to +3, though we have seen some deal ratings as high as +6, 7 or 8! We normalize all deal ratings on a scale of 0 to 100% so they're easier to understand - and that's the number you see on our site. If you see a deal rating of 94% (or 94 of 100), it means that roughly only 6% of tickets (in our whole ticket universe) are considered better deals.
What's Next?
When you click the button to SEE MORE deals, you're sent to an interactive seating chart which shows the best prices in different seating locations across all games. These interactive seat maps are an incredibly powerful way to compare ticket prices for an entire season of games. We're working on making that page even more dynamic so finding the best deals will be easier than ever. If you have suggestions or comments, please send us a note!