Yankee Stadium Soccer Tickets
In less than a month, four storied international soccer programs will invade Yankee Stadium. On Saturday, May 25th, Manchester City FC faces off against Chelsea FC, while Spain and Ireland will square off on Tuesday, June 11th. The Yankees are selling a host of different ticket packages starting at about $50/ticket. For full details, visit the Yankees International Soccer page.
Seating for Soccer at Yankee Stadium
Not surprisingly, seating for soccer at Yankee Stadium is remarkably different from baseball seating at Yankee Stadium. Because of the unique set-up, some of the less desirable seats for Yankees baseball are among the most expensive and popular seating options for the two soccer matches.
Bad Seats Suddenly Better
The most striking example of bad baseball seats being good for baseball are in deep right field. Sections 103, 104, 203 and 204 are at midfield behind the player benches for the soccer matches. For Yankees baseball, these are among the cheapest seats in the ballpark. In fact, these seats are usually one-tenth of the price of infield Suite tickets for Yankees baseball. But in some cases, these seats are twice as expensive as the infield Suite tickets for the soccer matches.
Great Seats Suddenly Less Great
For Yankees baseball, the Legends and Champions Suite tickets are among the most desirable. The seats are on the infield, close to the action and come with a host of amenities. For the soccer matches, the third base Suite sections (numbered in the 20s) are along the sideline and will come with access to the Legends Club, food and non-alcoholic beverages. But the first base seats (while still padded and comfortable) will come with none of the upscale amenities and will be situated behind the goal.
Yankee Stadium Soccer Seating Chart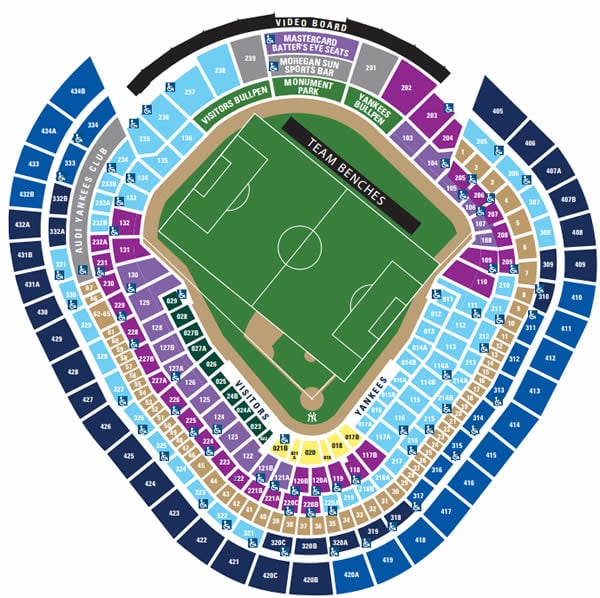 adapted from http://newyork.yankees.mlb.com/