University of Washington: Husky Stadium Renovations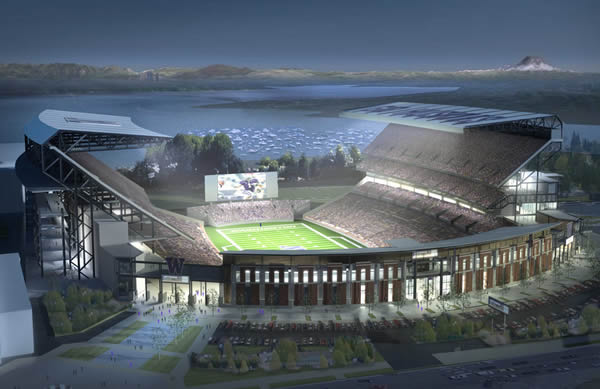 After playing the 2012 season at Qwest Field/CenturyLink Field, the University of Washington is moving back in to a newly renovated Husky Stadium. The Washington Huskies football team will open up the remodeled field on August 31, 2013 when they host Boise State. Tickets are already in high demand with a current get-in price of $130 (tickets). According to the official website for Husky Stadium, huskystadium.com, there were a variety of changes and improvements:
Premium seating program with luxury suites, patio suites and Club Husky
Track removed and the field lowered (4 feet) and shifted north (about 7 feet) to optimize seat values and sightlines
Football operations support building housing locker rooms, weight rooms, team meeting rooms, recruiting lounges, player lounges and coaches offices integrated into the west end zone
Complete demolition and reconstruction of the lower bowl and the south side stands
Renovation of the Don James Center
200-stall parking garage constructed below the south bowl and stands
Permanent east end zone seating
Large landscaped plazas and grounds with no perimeter fencing
New Husky Stadium Seating Chart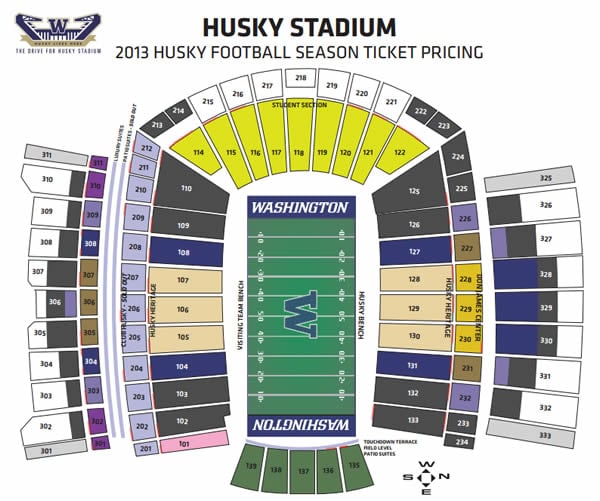 Husky Stadium Seating Tips
The videoboard is above Sections 135-139. For a better angle at the board in sideline seating, choose Sections 108, 208, 308, 127, 227, 327, etc. over Sections 104, 204, 304, 131, 231, 331, etc.
If choosing seats in a high-numbered row in the 300 level, choose seats on the North side (Sections 325-333) because of the double tunnel. There is only one tunnel per section on the south side of the 300 level, which makes for longer walks up and down the stairs.
The 300 level is incredibly well shaded by the roof overhang. For late afternoon games, lower rows in Sections 308-311 and 325-327 may be susceptible to the sun.
For chairback seating, choose one of the club seating options (Club Husky or Don James Center) on the 200 level or Sections 105-107, 128-130 on the lower level. All other seating is on metal benches.
For wonderful views of Lake Washington and the Olympics, Club Husky and Don James Center seating offer access to a private viewing deck with abundant vistas.
To learn more about Husky Stadium seating for University of Washington football, follow the links below:
Husky Stadium Seating Guide >>