If you've ever used a comparison shopping tool like PriceGrabber or Google Shopping, you know how effective they can be in getting you the best deal. All you have to do is select a product and you'll be able to see competitive prices for that product from dozens or even hundreds of stores. FanSnap.com works the same way for sports, concert and theater tickets. If you know the game or event you're interested in attending, simply find that event and FanSnap will provide you with available tickets from nearly 60 different online ticket brokers and marketplaces.
When you first visit FanSnap, you're greeted with a Google-like frontpage. A simple search box and a few links below may give the impression of a low-powered site. Once you're inside; however, you come to realize that all the bells and whistles are where they need to be: on the event page.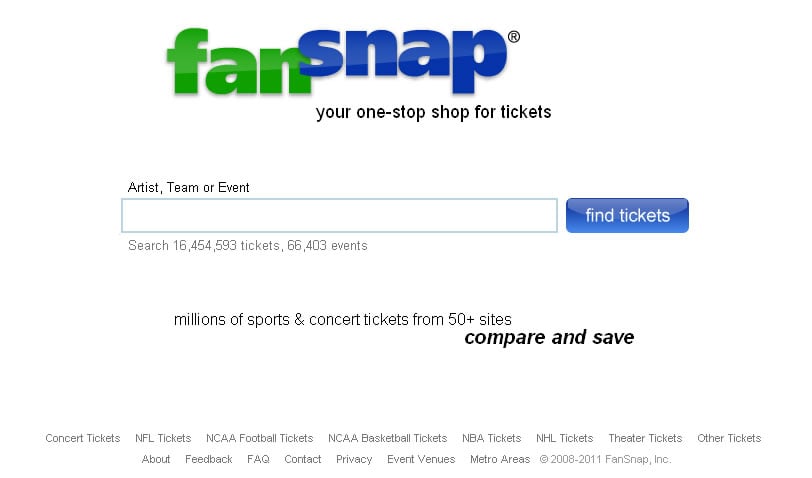 We searched for San Antonio Spurs tickets on February 23rd to see a game against Kevin Durant and the Oklahoma City Thunder. As you can see from the screen-shot below, there is nothing low-powered about the results. On the left-hand side we're told that there are 4,796 tickets available for this game. That equates to more than 25% of the seats in the stadium! We can see results from eBay, StubHub, TicketNetwork, RazorGator and other leading online ticket sellers. Peering off to the right we see the stadium seat map with flags in the sections where seats are available. The flags have a heat indicator on them notifying you of the relative price of these seats. In addition, some sections are marked with a blue star which indicates "Best Value Tickets". The pop-up on the right side details a half-dozen of these value tickets and offers a table on the potential savings of buying these tickets vs. other tickets in the same section.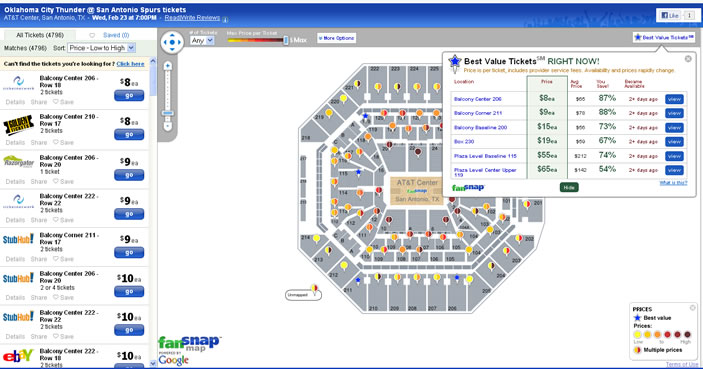 We clicked on section 109 and were greeted with a scrollable pop-up with all the tickets in that section. We clicked on the tickets in Row 31 from StubHub and were sent to StubHub and shown the details for these tickets. The actual cost per ticket on StubHub's site was $92 each. FanSnap quoted $102 on their site. So what's the difference? The difference is fairly helpful and that is FanSnap includes the commission and handling fees when you are searching for tickets. These are fees StubHub charges but does not notify you of until you are about to purchase your tickets.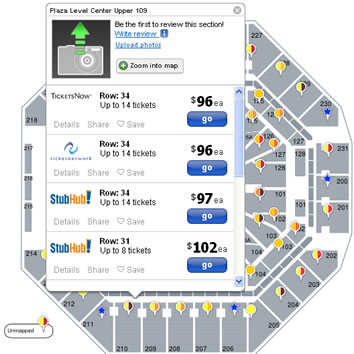 We didn't purchase these tickets (we opted for the $40,000 Super Bowl seats instead), but we would be absolutely comfortable searching through FanSnap again and buying from one of their ticket providers. Bringing forward the hidden fees, having a wide range of options and being absolutely free are what make FanSnap great. The next time you're looking to buy tickets, head on over the FanSnap.com to save some money. And make sure to come back to RateYourSeats.com and tell us all about your experience!