With the Cubs having clinched a playoff berth for the first time since 2008, it's never too early to take a look at how the Cubs - and you - are getting to the World Series.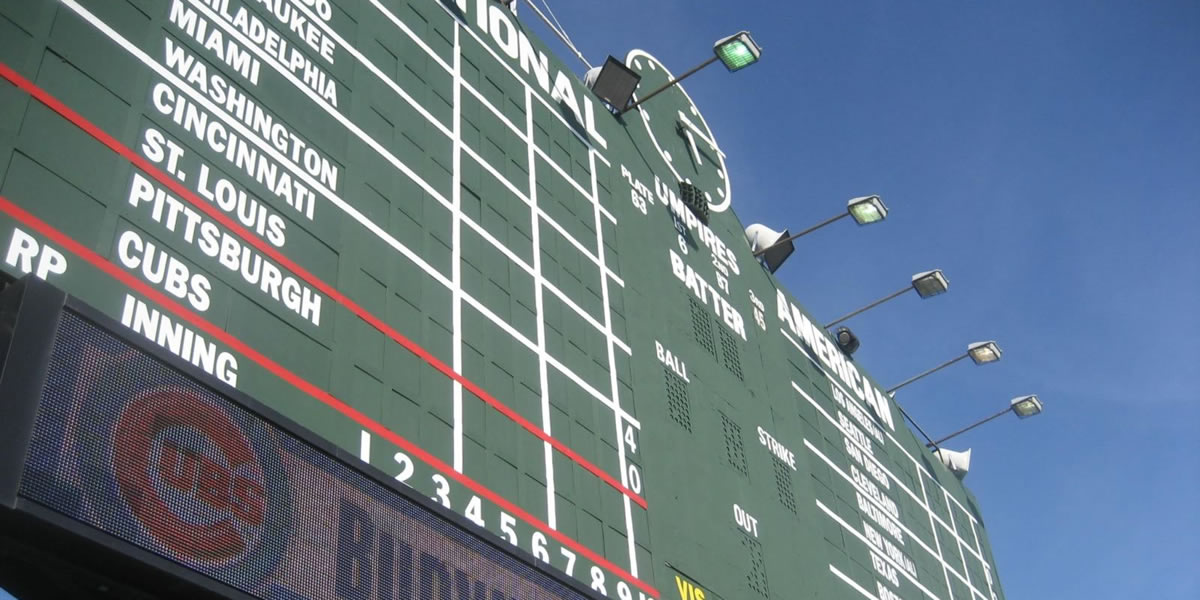 Key Dates
| | |
| --- | --- |
| October 7 | Wild Card game vs. Pittsburgh*** |
| October 16 | Registration deadline for face value World Series tickets |
| October 30 | First World Series game the Cubs would host at Wrigley |
***assuming current standings persist
"Put Some Money on the Cubbies"
Given the Cubs' recent success - or lack thereof - a World Series appearance seemed better suited for a Hollywood backlot than the corner of Clark and Addison. Back to the Future II, released in 1989, jokingly crowned the Cubs 2015 World Series Champions. While some other predictions from the movie were slightly off, Cubs fans are hoping at least one of them is spot on.
Vegas Odds For the Cubs to Win the World Series
| | |
| --- | --- |
| 1989 (Back to the Future II) | 100/1 |
| November 2014 | 33/1 |
| March 2015 | 16/1 |
| September 2015 | 10/1 |
***real odds sourced from bovada.lv
Why This Year Might Be Different
Just seven years ago Cubs World Series tickets were printed. The Cubs were making their second straight playoff appearance and breezed through the regular season - enjoying the best record in the National League by 5.5 games.
| | |
| --- | --- |
| Last Playoff Appearance | 2008 (L vs. LAD) |
| Last Playoff Game Win | 2003 (vs. FLA; lost series 4-3) |
| Last World Series Appearance | 1945 (L vs. DET) |
| Last World Series Title | 1908 (vs. DET) |
As October approached, ESPN's Jayson Stark predicted the Cubs would win the World Series. Bloomberg published WS ticket prices for the Cubs. And Chicago dreamt of a North side/South side showdown. Less than a week later, hopes were dashed for Cubs fans. The lovable losers lived up to their billing and were outscored 20-6 in their three-game series against the Dodgers. So why is this year going to be any different?
Jake Arrieta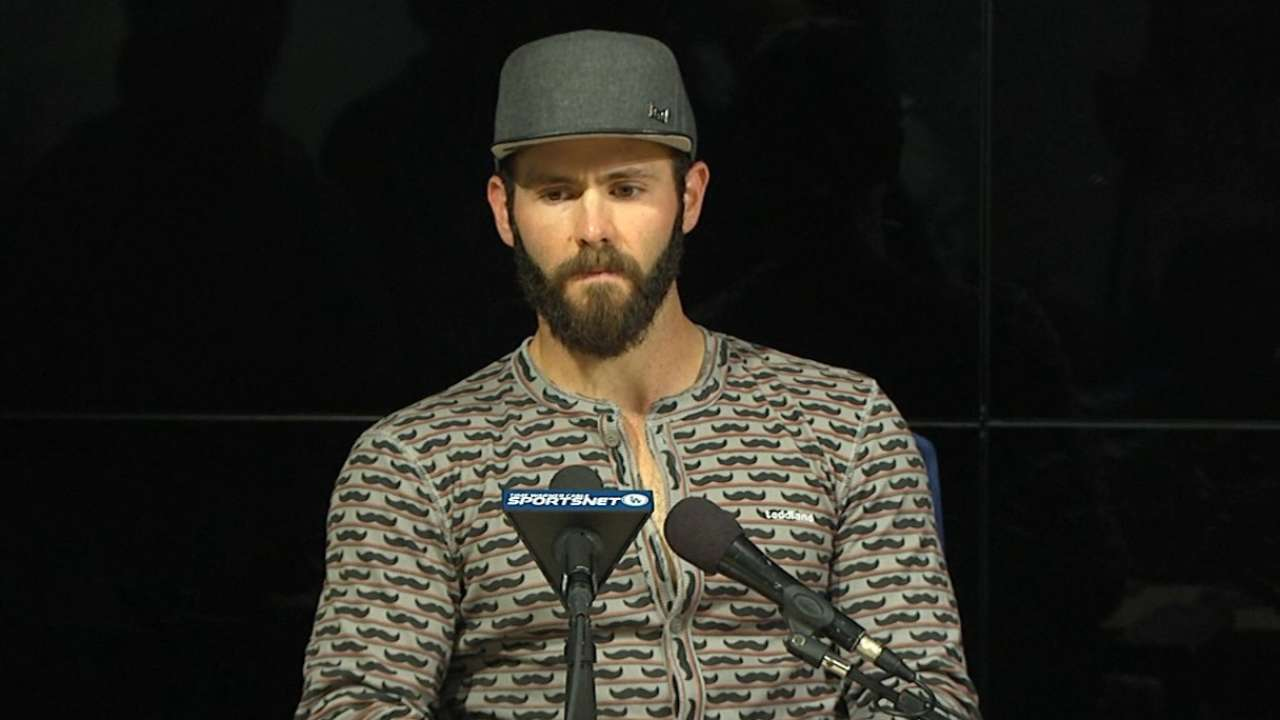 The 2008 version of the Cubs will bring back memories of Carlos Zambrano, Kerry Wood and Ryan Dempster. And while each of those pitchers earned some mark of success, the most dominant (Wood) of them all was past his prime and saving games one inning at a time.
The 2015 Cubs may not enjoy the same pitching depth and experience as the 2008 version, but they have a true stopper/ace in Arrieta. The Cubs have not lost an Arrieta start in which they gave him run support since June. As in three months ago June.
N.L. Central Powerhouse

Some are anointing this year's N.L. Central the best division in the history of baseball. With the three best records in baseball sitting atop the standings, that argument deserves some respect. If the Cardinals, Pirates and Cubs haven't beaten each-other down too much by the time one of them reaches the NLCS (one of them is guaranteed a spot), it will be tough to bet against them.
Joe Maddon
Sure, the 2008 Cubs had Lou Piniella - but that's the same guy who led a 116-win Mariners team to just a single ALCS victory in 2001, leading some to call that team one of sports' greatest letdowns. Maddon's teams, on the other hand, have consistently over-performed. In fact, while the Cubs were getting swept out of L.A. in 2008, Joe led the Rays to the A.L. Pennant. His Rays team had an opening day payroll 1/3 the size of the Cubs that year. Simply put, he's the anti-Piniella.
The Path to (Late) October
Wild Card
For the Cubs to reach the World Series, they're going to have to earn it. The Cubs will most likely square off against the Pittsburgh Pirates in a winner-take-all one game Wild Card. If current standings persist, the game would be played October 7th at PNC Park.
NLDS
The Cubs will almost certainly throw Cy Young contender Jake Arrieta in the Wild Card game, leaving them little time to set their rotation for a short 5-game series against the St. Louis Cardinals – owners of the best record in baseball. That series would start just two games after the Wild Card on October 9th in St. Louis.
NLCS
For the Cubs to reach the NLCS, they'll have gone through the two best teams in baseball - but it doesn't get any easier from there. Despite currently owning a better record than either of their two potential NLCS opponents (Dodgers and Mets), the Cubs will not have home-field advantage in the National League Championship Series. Instead, the Cubs will have to travel to either New York or L.A. for Games 1 and 2 in what would be one of the most anticipated NLCS matchups in recent memory.
World Series
By virtue of the AL's victory in the 2015 All-Star game, the American League representative will host Games 1 and 2 and 6 and 7 (if necessary) in this year's Fall Classic. In turn, the Cubs would host their first World Series game since 1945 in Game 3 at Wrigley Field.
Cubs World Series Tickets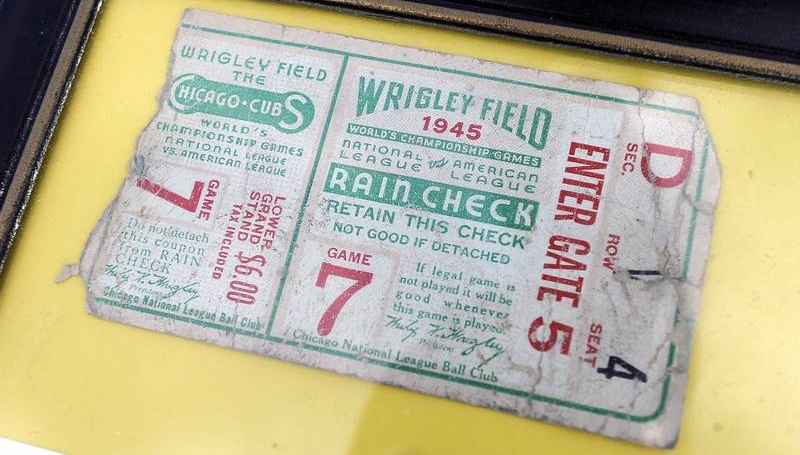 Choosing the Best Game
If the Cubs make it to the World Series, they'll host Games 3, 4 and 5 at Wrigley Field. With outrageous ticket prices, you may only be able to attend one game. So which one do you choose?
Game 3 seems like an obvious choice as Wrigley Field might literally crumble underneath the excitement of its first World Series pitch in 70 years.
Game 4 might be the best chance at a win. If the Cubs throw Arrieta in Game 1 on the road, he'd likely pitch in Game 4. Plus, this is a potential clinching game. Three (3) of the last 10 World Series have been decided in Game 4.
Game 5 is currently the most expensive due to highest likelihood of clinching. If the Cubs head back to Chicago with a single loss in the first two games, tickets for Game 5 will be through the roof. In that scenario, Game 5 would present the only chance to see the Cubs clinch the Series at home.
Tickets at Face Value
The only way to get Cubs World Series tickets at face value is to register through the Cubs' post-season opportunity form. All fans who register will be entered into a random drawing for tickets. The World Series registration deadline is noon on Friday, October 16th. Ticket allotments are extremely limited, so be sure to make other arrangements if you are not selected.
Based on pricing figures released for other teams, the face value of tickets will range between $150 and $700.
Secondary Market Tickets
If you can't wait to get your hands on World Series tickets, you can purchase them as early as today. We looked through our own tickets on RateYourSeats.com (where we aggregate inventory from multiple ticket marketplaces) and also at inventory on StubHub. Here's what we found:
Game 3 get-in: $2,875 - average: $5,550
Game 4 get-in: $1,955 (SRO) - average: $6,275
Game 5 get-in: $3,450 - average: $7,500
Fewer than 100 listing available for each game (this number will rise)
About 80% of available inventory is in obstructed/limited view sections
Bleacher tickets are listed for ~$3,600/ea
As the regular season winds down and the post-season heats up, we'll be updating this post with additional observations.
Should You Buy Tickets Early or Wait?
Without a doubt, you should absolutely wait. Give yourself a chance at the Cubs' lottery first. You have a better chance of winning the Illinois Lottery and the Illinois Lottery actually paying you than winning, but somebody has to win those tickets.
When the ticket lottery doesn't work out, look for tickets through the trusted sources. A Cubs World Series would attract the biggest Craigslist scam artists in the business, so be careful. Our site allows you to compare prices, deal ratings and SeatScores™ - but you'll also be covered by a 100%+ money-back guarantee through all of our ticket marketplaces. StubHub offers similar protection (without the bells and whistles).
Avoiding Bad Seats
Whenever you decide to buy, we urge you to take advantage of our tools available on our site. We're a Chicago-based company with intimate knowledge of Wrigley Field. We've found some awful seats selling for $5,000, $10,000 even $15,000 without any mention of obvious viewing obstructions. Be sure to browse through nearly 1,200 in-seat photos at Wrigley or take advantage of the Cubs Seating Guide to ensure yourself a worthwhile experience.
The Cheapest Cubs World Series Tickets
Bleachers
The Cubs have confirmed directly to us that the Bleachers will be assigned seating in the post-season. While this will cut down on some of the revelry and looseness associated with general admission tickets, this is still a great place to find affordable (relatively) tickets with unobstructed views and the possibility of bringing home a World Series Souvenir (how much do you think a Kris Bryant World Series home run ball would be worth?).
Standing Room Only
An even less expensive alternative to Bleacher seating are SRO tickets. Only released for select sold-out games and post-season games, this is (literally) your ticket to a cheap World Series experience.
The Cubs will release SRO tickets on round-by-round or game-by-game basis just a few days before games are scheduled. Tickets will be available directly from the Cubs (at face value) and will also show up on the secondary market with an expected price tag of about $1,000 per ticket. Be sure to follow us on Twitter and Facebook for all the latest announcements.
---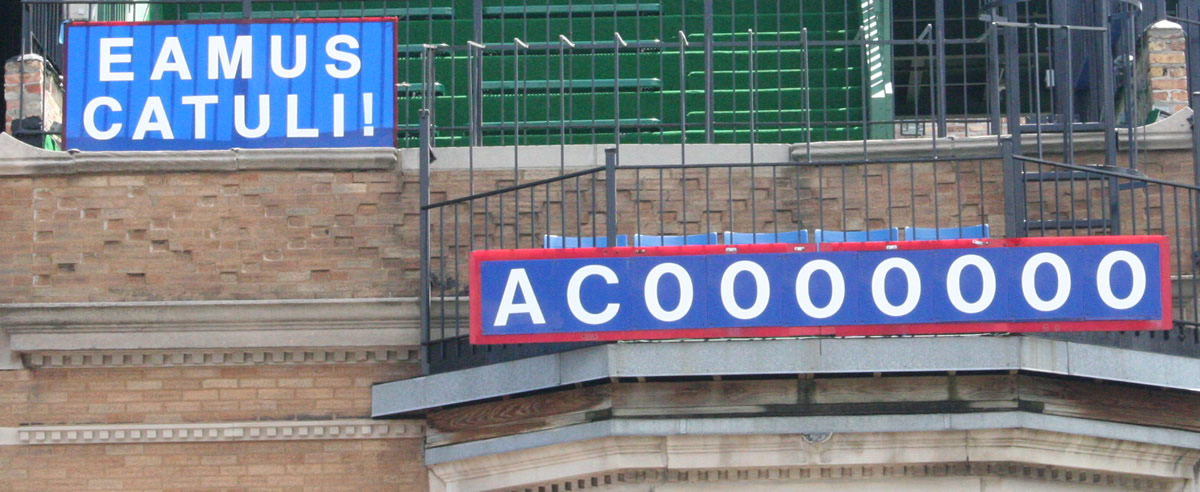 RateYourseats.com is the best way to search, compare and buy tickets. See your view before you buy, compare seats with SeatScore™ and discover great deals!