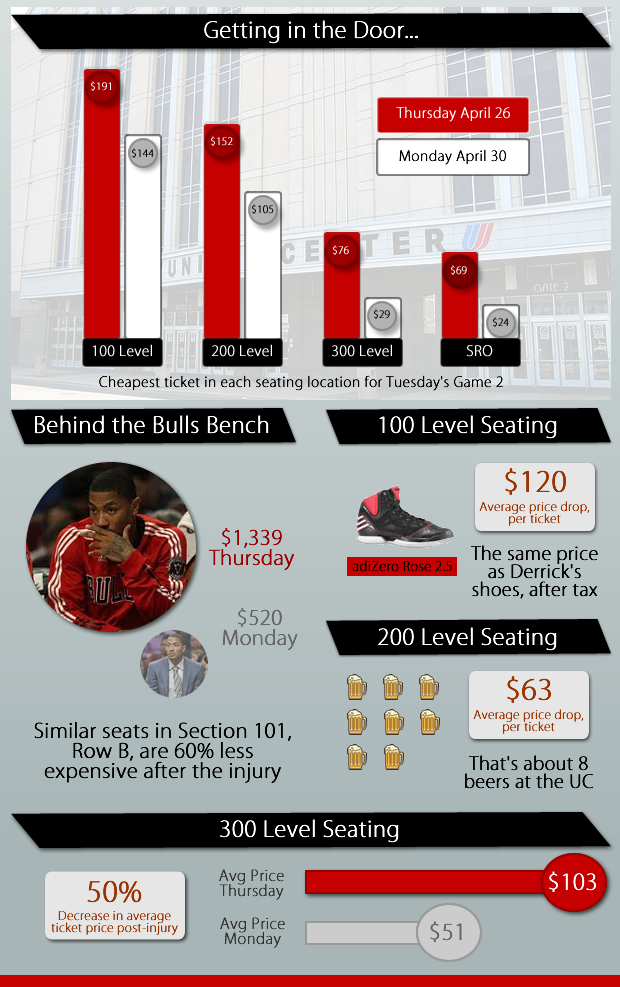 With 80 seconds left in the first game of the 2012 NBA Playoffs, the league's reigning MVP, Derrick Rose, crashed to the floor after tearing his ACL. To many, he took with him the Bulls' title hopes. With Rose in the lineup, the Bulls were 32-9 (equivalent to 64 wins in a non-shortened season). Without him, the Bulls were 18-9 (55 wins), which would have earned them the second seed in the East over the course of a full season. While it's unclear what the true impact of his injury will have on the Bulls' chances, it is clear that his absence has depressed the market for Bulls playoff tickets.
We analyzed more than 600 ticket listings from three major ticket marketplaces to determine the impact that Derrick Rose's injury had on ticket prices for Tuesday's Game 2 against the 76ers.
The United Center offers four common seating choices for Bulls fans: Standing Room(SRO), 300 Level, 200 Level (Club) and 100 Level. Two days before Rose's injury, the cheapest ticket to enter the building was $69 in Standing Room. The cheapest 300 Level ticket was $76, while the cheapest 200 Level and 100 Level tickets were $152 and $191, respectively. For all four seating choices, the new lowest price is now $50 lower than it was just four days ago. For the 300 Level, this represented a decline of more than 60%.
To many Bulls fans, the best seats are right behind the Bulls bench in sections 101 or 102. Two days before Rose's injury, a set of four tickets in Section 101, Row B, were the most expensive seats in the building at $1,339 each. As of Monday afternoon, similar seats in Section 101, Row B, are selling for $520/ticket. The $800 difference in ticket prices highlights Rose's appeal in Chicago and makes it no wonder that his jersey was the most popular seller this season.
The rest of the 100 Level was hit hard as well. The average ticket in the 100 Level was $428 last week, but that number has since declined to just a little more than $300.
Tickets in the 200 Level were down about 30%, consistent with seating in the 200 Level. The average ticket price was $227 last week and is $164 as of Monday afternoon.
300 Level seats are the most popular among diehard Bulls who just want to get inside the UC and get a glimpse of Derrick Rose. Thus, it's not surprising that 300 Level ticket prices were most sensitive to Rose's injury. Tickets fell by more than 50%, on average, and the cheapest ticket listing last week would now be the most expensive listing this week!
For tickets to Tuesday's game and for the rest of the Bulls' post-season, visit our Bulls Interactive Seating Chart.