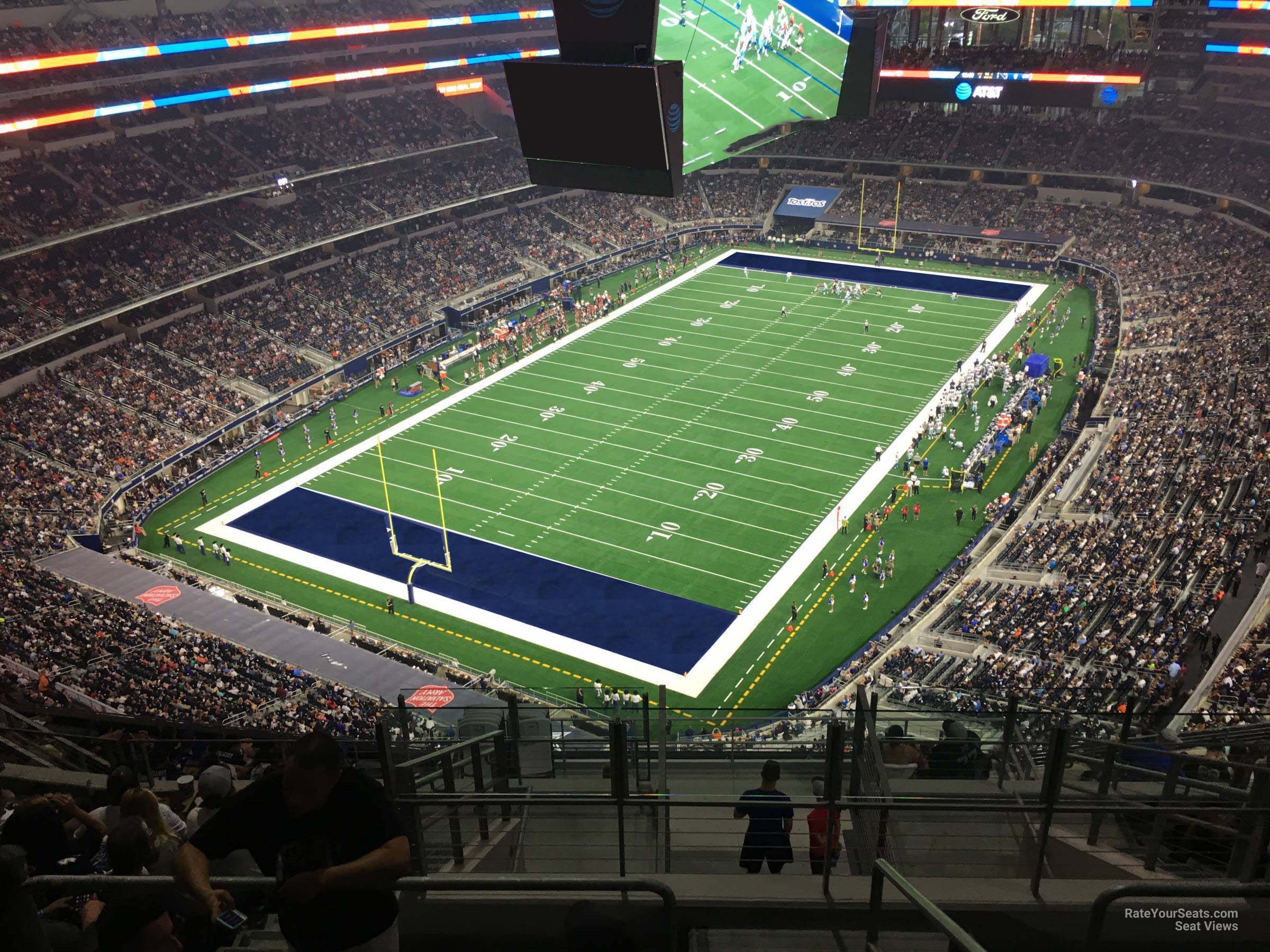 Cowboys Tailgating at AT&T Stadium
AT&T Stadium is home to America's team, the Dallas Cowboys. With a state-of-the-art stadium and one of the most rabid fan bases in the NFL, you can expect some killer tailgating at Jerry's world in Arlington, Texas.
The key to a successful tailgate is to get there early, and luckily the Cowboys have you covered. The parking lots open five hours before the start of the game, allowing fans plenty of time to claim a spot and set up shop. Tailgating spots are on a first come first serve basis, so you definitely want to get there early to ensure you get a great spot. Furthermore, tailgating is permitted up to two hours following all Cowboys games or any college football games that are played at AT&T Stadium.
There are approximately 12,000 parking spots at AT&T Stadium, but there are only certain lots designated for tailgating spaces. If you are looking to tailgate be sure to target one of the following parking lots: 4-7 and 10-15. The designated tailgating spaces are intended for vehicles only, so you can't park your car in one spot and then set up in the spot next to it. With that said, you are allowed a maximum of 12 feet from the back of your car to set up your tailgating zone.
Some other rules to keep in mind when tailgating at AT&T Stadium include: no saving spaces, no deep fryers, no open flame fires, no political campaigning, no weapons, no fireworks, no soliciting of any kind. You are permitted to grill using charcoal and propane grills, but don't think about doing a bonfire or fire pit. For more information about what is and is not permitted refer to the AT&T Stadium Info page.
If you are unable to secure a designated tailgating parking spot, fear not! The grassy areas near the tailgating spots are common areas and can be used as an additional tailgating or picnic area.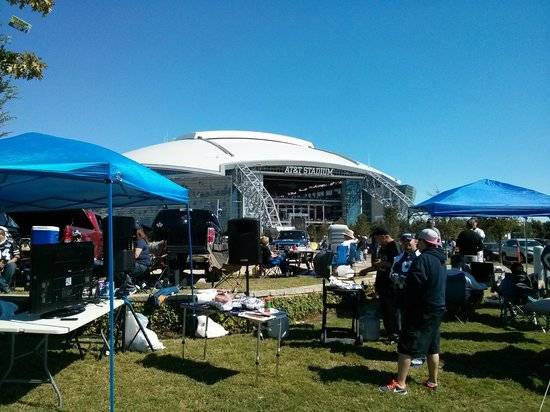 Opening Gate Times for Cowboys' Games at AT&T Stadium
Going to AT&T Stadium to watch a Cowboys game is one of the most exciting events in all of sports. The stadium boasts a capacity of 100,000 seats and is one of the biggest sporting venues in the country. With so many seats there will inevitably be a ton of people trying to get through security and into the stadium in time for kickoff. The best way to avoid the hordes of people rushing to the stadium right before the game starts is to arrive early.
With 11 lettered entrance gates around AT&T Stadium it is easy to get into the stadium. Depending on the kickoff time for Cowboys games, the time the gates open varies.
The gates typically open 2 hours before kickoff, but if you have a ticket that allows access to the Miller Lite and AT&T Plazas you can enter the stadium an hour before the usual gate opening times. The following times are approximate and reflect the gates opening for specific kickoff times:
• For 12:00 PM kickoff times the gates will open at 10:00 AM
• For 3:25 PM kickoff times the gates will open at 1:00 PM
• For 3:30 PM kickoff times the gates will open at 1:30 PM
• For 7:00 PM kickoff times the gates will open at 5:00 PM
• For 7:30 PM kickoff times the gates will open at 5:30 PM
These gate opening times also apply for any college football games that AT&T Stadium hosts. For information about specific concerts or other non-football events please refer to the official AT&T Stadium events calendar.
Parking and Transportation Options for Cowboys' Games at AT&T Stadium
With approximately 12,000 parking spots, finding a place to park your car for a Cowboys game or any other event at AT&T Stadium is not an issue. The 12,000 spots are spread across 15 numbered parking lots around AT&T Stadium and they are typically open 5 hours before kickoff. In addition to the numbered lots there are 12,000 spots in 13 lettered parking lots near Globe Life Park (home of the Texas Rangers), that can be used for Cowboys' games.
It is recommended to purchase parking passes prior to the game. Here is a look at the Cowboys' official parking map to show you where all the parking lots are located: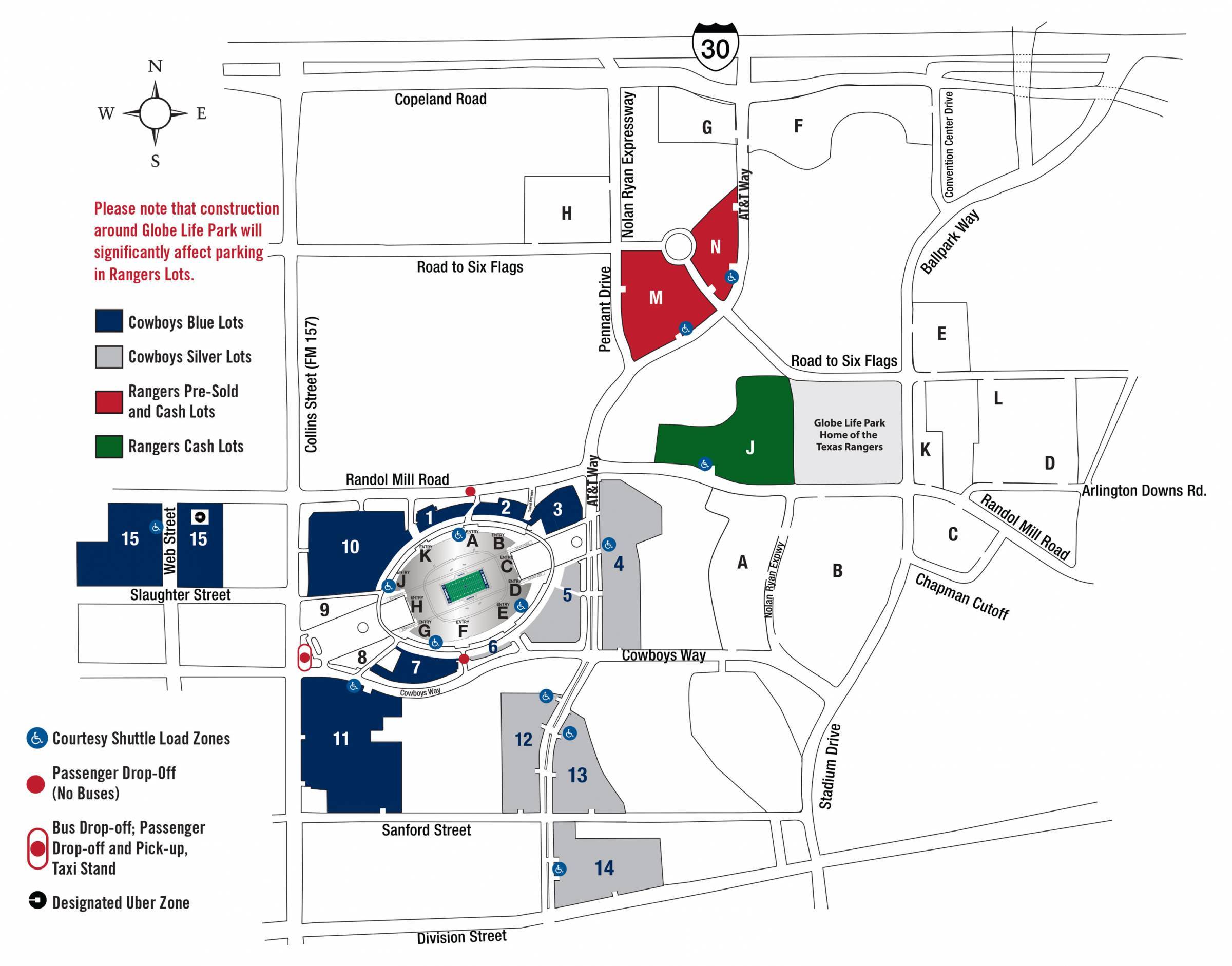 There is a parking shuttle service for guests with limited mobility or disabilities. This service is offered after the game and the shuttle tents are located near entry gates A, D, J, and G.
For fans that are not driving and parking at AT&T Stadium there is the option of public transportation and ridesharing. There are not many public transportation options to AT&T Stadium, but there is a shuttle bus from downtown Forth Worth to the stadium.
For ridesharing on game and event days there are two designated drop-off zones, one is located in Lot 1 and the other is located in Lot 6. The one passenger pick-up zone is located near the AT&T Plaza entrance adjacent to North Collins Street and Cowboys Way. Furthermore, for game days the official Uber Pickup Zone is located in Lot 15, and Lot 1 on non-event days.
With an abundance of parking lots and transportation and ridesharing options, getting to AT&T Stadium for a Cowboys game or any other event is quite manageable.