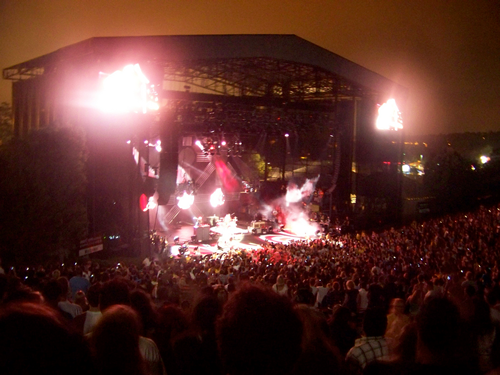 The start of the 2014 Country Megaticket tour is just around the corner, featuring a group of performers that reads like a list of who's who in country music stardom. A total of 12 headliners have been announced and will be traveling coast to coast bringing the tour to 31 different outdoor amphitheater style venues.
Each venue on the tour will host multiple shows starting as early as March and ending as late as October, with a different headliner for each of the scheduled dates. Concert goers have the option to buy tickets for each individual performance, or be there to see every performer coming to town with the Megaticket package - a season pass to catch all the Country Megaticket Tour artists with a scheduled date at your local venue.
Artist lineups and schedules will vary by location, so be sure to read through our breakdown at the bottom of the article or send us a question in the comments portion to find out if and when your favorite stars are coming to your town.
Lineup Breakdown by Venue

Aaron's Amphitheater at Lakewood - Atlanta, GA:

Lady Antebellum (4/11), Jason Aldean (5/17), Brad Paisley (6/22), Tim McGraw (7/13), Luke Bryan (7/25), Luke Bryan (7/26), Rascal Flatts (9/11)

Ak-Chin Pavilion - Phoenix, AZ:

Lady Antebellum (3/22), Tim McGraw (5/16), Brad Paisley (7/13), Dierks Bentley (7/26), Rascal Flatts (8/15), Blake Shelton (9/5), Jason Aldean (9/20), Luke Bryan (10/23)

Bethel Woods Center - Bethel, NY:

Lady Antebellum (6/1), Toby Keith (7/27), Keith Urban (8/17), Miranda Lambert (8/31)

Blossom Music Center - Cleveland, OH:

Lady Antebellum (5/31), Tim McGraw (6/8), Toby Keith (6/29), Jason Aldean (7/18), Rascal Flatts (8/1), Luke Bryan (8/21), Luke Bryan (8/22), Dierks Bentley (9/26)

Cruzan Amphitheater - West Palm Beach, FL:

Tim McGraw (7/11), Brad Paisley (8/16), Rascal Flatts (9/13), Artist TBA (9/27), Jason Aldean (10/18)

Darien Lake Performing Arts Center - Darien Center, NY:

Brad Paisley (7/6), Jason Aldean (7/12), Keith Urban (7/25), Blake Shelton (8/2), Luke Bryan (8/16), Miranda Lambert (8/29), Rascal Flatts (9/4)

Darling's Waterfront Pavilion - Bangor, ME:

Brad Paisley (6/15), Lady Antebellum (8/30), Jason Aldean (8/31)

Farm Bureau Live at Virginia Beach - Virginia Beach, VA:

Dierks Bentley (5/16), Luke Bryan (6/6), Tim McGraw (6/20), Rascal Flatts (7/27), Keith Urban (8/9), Miranda Lambert (8/22), Jason Aldean (9/7), Brad Paisley (9/18)

First Midwest Bank Amphitheater - Chicago, IL:

Brad Paisley (5/31), Rascal Flatts (6/14), Tim McGraw (6/27), Toby Keith (7/13), Jason Aldean (8/9), Miranda Lambert (8/15)

First Niagara Pavilion - Pittsburgh, PA:

Brad Paisley (5/17), Tim McGraw (6/6), Luke Bryan (6/21), Jason Aldean (7/26), Toby Keith (8/9), Lady Antebellum (8/23), Rascal Flatts (9/6)

Gexa Energy Pavilion - Dallas, TX:

Lady Antebellum (5/9), Blake Shelton (6/21), Rascal Flatts (7/12), Tim McGraw (8/8), Brad Paisley (9/5), Luke Bryan (9/20), Jason Aldean (10/25)

Isleta Amphitheater - Albuquerque, NM:

Tim McGraw (7/27), Blake Shelton (9/4), Jason Aldean (9/19)

Jiffy Lube Live - Bristow, VA:

Dierks Bentley (5/17), Luke Bryan (5/30), Luke Bryan (5/31), Tim McGraw (6/14), Toby Keith (6/28), Rascal Flatts (8/2), Miranda Lambert (8/23), Brad Paisley (9/20)

Klipsch Music Center - Indianapolis, IN:

Rascal Flatts (5/17), Tim McGraw (6/7), Brad Paisley (6/19), Lady Antebellum (7/24), Keith Urban (8/2), Miranda Lambert (8/16), Luke Bryan (8/29), Luke Bryan (8/30), Toby Keith (9/13), Dierks Bentley (9/27)

MIDFLORIDA Credit Union Amphitheater - Tampa, FL:

Lady Antebellum (5/17), Tim McGraw (7/12), Brad Paisley (8/15), Rascal Flatts (9/12), Artist TBA (9/26), Jason Aldean (10/17)

Nikon at Jones Beach Theater - Wantagh, NY:

Rascal Flatts (5/30), Lady Antebellum (7/27)

Oak Mountain Amphitheater - Birmingham, AL:

Lady Antebellum (4/12), Jason Aldean (5/10), Brad Paisley (6/21), Luke Bryan (7/24), Keith Urban (8/23)

PNC Bank Arts Center - Holmdel, NJ:

Dierks Bentley (5/18), Luke Bryan (6/1), Rascal Flatts (6/22), Toby Keith (7/25), Keith Urban (8/15), Brad Paisley (8/22)

PNC Music Pavillion - formerly Verizon Wireless Amphitheater (Charlotte, NC):

Lady Antebellum (4/26), Dierks Bentley (5/9), Luke Bryan (5/29), Tim McGraw (6/21), Rascal Flatts (7/26), Keith Urban (8/22), Blake Shelton (8/29), Jason Aldean (9/5), Brad Paisley (9/19)

Riverbend Music Center - Cincinnati, OH:

Lady Antebellum (5/30), Brad Paisley (6/20), Tim McGraw (6/29), Keith Urban (7/31), Toby Keith (8/8), Luke Bryan (8/23), Luke Bryan (8/24), Rascal Flatts (9/5), Dierks Bentley (9/25)

Saratoga Performing Arts Center - Saratoga Springs, NY:

Rascal Flatts (8/3), Luke Bryan (8/17), Jason Aldean (8/29)

Shoreline Amphitheater - Mountain View, CA:

Tim McGraw (5/10), Toby Keith (5/31), Lady Antebellum (6/15), Dierks Bentley (7/31), Miranda Lambert (8/9), Rascal Flatts (8/23), Keith Urban (9/6), Blake Shelton (9/13), Jason Aldean (9/27), Luke Bryan (10/18)

Sleep Train Amphitheater - San Diego, CA:

Lady Antebellum (3/23), Tim McGraw (5/17), Brad Paisley (7/10), Dierks Bentley (7/27), Rascal Flatts (8/17), Blake Shelton (9/6), Artist TBA (???), Artist TBA (???)

Sleep Train Amphitheater in Wheatland - Wheatland, CA:

Tim McGraw (5/9), Toby Keith (6/1), Brad Paisley (8/2), Miranda Lambert (8/8), Rascal Flatts (8/22), Keith Urban (9/7), Blake Shelton (9/12), Jason Aldean (9/28), Luke Bryan (10/16)

Susquehanna Bank Center - Camden, NJ:

Brad Paisley (5/16), Tim McGraw (6/15), Jason Aldean (8/1), Luke Bryan (8/15), Miranda Lambert (9/5), Toby Keith (9/27)

USANA Amphitheater - Salt Lake City, UT:

Tim McGraw (7/25), Keith Urban (8/30), Alabama (9/13), Blake Shelton (9/26)

Verizon Wireless Amphitheater & San Manuel Amphitheater - Los Angeles, CA:

Tim McGraw (5/18), Toby Keith (5/30), Lady Antebellum (6/14), Brad Paisley (7/12), Miranda Lambert (8/10), Rascal Flatts (8/16), Keith Urban (9/5)

Verizon Wireless Amphitheater - St. Louis, MO:

Rascal Flatts (5/16), Brad Paisley (5/30), Luke Bryan (6/12), Luke Bryan (6/13), Tim McGraw (6/28), Toby Keith (7/12), Dierks Bentley (7/20), Keith Urban (8/1), Jason Aldean (8/22), Jason Aldean (8/23)

Walnut Creek Amphitheater - Raleigh, NC:

Lady Antebellum (4/25), Dierks Bentley (5/10), Luke Bryan (6/7), Luke Bryan (6/8), Tim McGraw (6/22), Rascal Flatts (7/25), Keith Urban (8/8), Miranda Lambert (8/21), Jason Aldean (9/6)

XFINITY Center - Boston, MA:

Rascal Flatts (6/21), Jason Aldean (7/11), Keith Urban (7/26), Brad Paisley (8/23), Miranda Lambert (9/6)

XFINITY Theatre - Hartford, CT:

Rascal Flatts (5/31), Tim McGraw (6/13), Brad Paisley (7/5), Toby Keith (7/26), Jason Aldean (8/2), Keith Urban (8/16), Miranda Lambert (8/30), Luke Bryan (9/13)