Photos are a big part of helping people find great seats and get a sense of where you'll be sitting. These views are in such high-demand that many teams have started offering services like Seats3D to prospective season-ticket holders. We think it's great that teams and venues are being transparent and taking the guesswork out of buying tickets!
But it also got us thinking -- how good are these computer-generated seat views? We've recently come across some pretty laughable "seat views" and wanted fans to be able to compare for themselves.
We definitely think a computer-generated image is better than nothing, but it will be quite obvious that we think a real in-seat photo can't be beat! What do you think?
Bridgestone Arena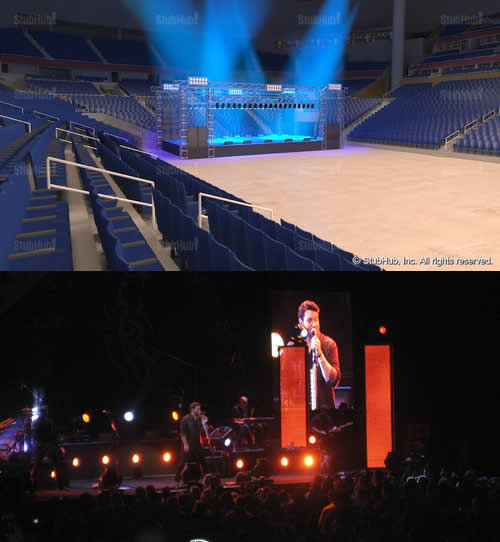 When StubHub bought Peekspy/FanVenues in 2012, they acquired a lot of computer-generated image technology. The result was images like the K-Mart (blue light special) masterpiece above. That comes from Section 116 (Bridgestone Arena, Nashville), which is not given nearly enough credit as an awesome side view section at Bridgestone Arena. The computer-generated image seems so far away, it's missing the screens, the curtain behind the performers and it looks nothing like the actual in-seat view (shown from a Chris Young/Brad Paisley concert in 2014).
Marlins Stadium
The cream of the crop amongst seat-view generators is obviously Seats3D. There are some bad examples of seat views, but generally speaking, the images are pretty good. Take, for example, the comparison of Section 8 at Marlins Stadium. If we didn't put the real photo in, you may not even be able to tell that the first one is computer-generated.
United Center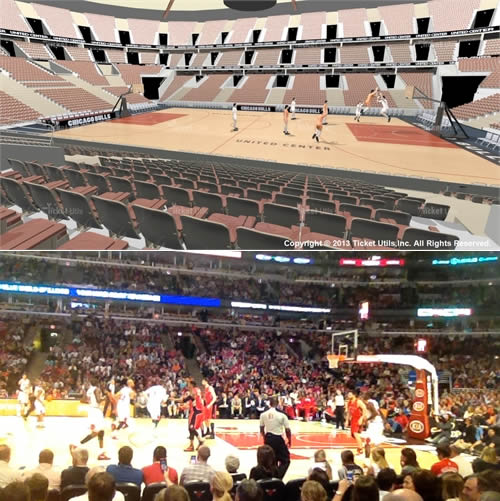 Clearly, this one is the best. Forget the crazy dis-proportioned stadium, check out the action on the court! Both teams must have a man in the box, because it's 4-on-4. And check out the guy with the ball -- a contested dunk from the free-throw line!? Who says White Men Can't Jump? Meanwhile, the set play the Bulls are running in the real photo just looks boring compared to the high-flying theatrics of the computer-generated version!
Help a Fellow Fan!
If you have photos from a recent game or concert, share them on our site (mobile or desktop) or through our iPhone app!