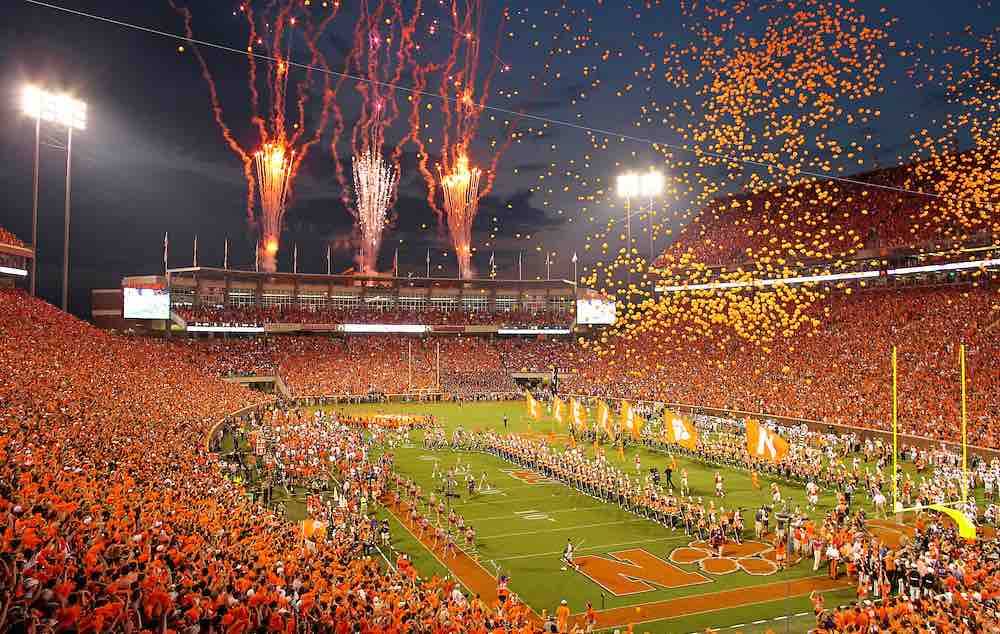 Clemson football has been one of the most successful football programs of the past decade. On Saturday afternoons in South Carolina, Memorial Stadium is the place to be. Find out what to wear, where to be and what to bring for Clemson gameday.
Tailgating
Clemson tailgating is home to some of the most eccentric fans and tailgates in the country. You don't even need a ticket to participate as you will see people all over campus and town taking part in the festivities that come along with gameday. You'll see fans dressed in all sorts of attire (including some awesome overalls) and extravagant tailgating setups including TV's, banners, and much more - there is not much off limits. However, not everyone chooses to be so obscure. Many fans will opt for just orange polos and khakis or sundresses to support their favorite college football team.
Tigers fans will usually get going early no matter the start time. Parking lots will open as early as 6AM for games at 12 or 1 PM and 8AM for all other start times. When a game is in town, it is hard to be anywhere on campus and not see some sort of tailgate going on. With only so many reserved parking spaces, fans will scatter all throughout town to pregame including grass lots.
There is not much limitation to what can be cooked during a tailgate. Some fans will opt for grocer bought sandwich and fruit platters while real serious tailgaters will have pig roasts and deep fryers running. When tailgating at Clemson, one thing is for certain - everything should be orange and purple. Koozies, glasses, table cloths, sunglasses, you name it. Anything and everything should fit the theme and is what makes Clemson's tailgates what they are. Finally, and maybe most importantly, when you hear Clemson fans talk about their tailgates they take pride in being a family friendly atmosphere. There is definitely some truth to southern hospitality when you are a Clemson Tiger fan.
Of course there are some rules to be aware of as well. However, compared to other tailgate rules in college football these are not very limiting.
Clemson Traditions and Gates Times
There are a bunch of pregame activities prior to even entering the gates at Memorial Stadium outside of tailgating.
As if to start the unofficial countdown to kickoff, Clemson has a traditional Tiger Walk where fans gather around the players, giving high fives as they get off the bus head to the locker room in their suits. It is a great opportunity for fans to cheer on the team before a big game and high five the players. This is a newer tradition and takes place in the P-3 parking lot (IPTAY lot 5). The Tiger Walk will take place about 2 hours prior to kickoff.
From there, the band will take over playing a short show about 90 minutes prior to kickoff before they head down Fort Hill Street in a short parade.
Fans are encouraged to arrive to the gates at least one hour before the scheduled start time. Metal detectors will be used at all of Death Valley's entrances so allow some extra time to pass through security. Memorial Stadium does have a clear bag policy so be sure to come prepared with your clear bag.
Getting into the stadium early is a must. Why? For The Most Exciting 25 Seconds in College Football of course. This is when the Clemson Football team takes the field, touching the historic Howard's Rock, and running down the hill on their way to the sideline. It is one of the more spectacular entrances you will see in all of sports.
Parking Guide for Clemson Gameday
If heading out to the stadium, be sure to pre-purchase a parking pass ahead of time. Parking is limited and confusing so avoid the stress of trying to find a parking space upon arriving by purchasing one before you get there. The school's website sells passes here.
Something we have never seen before, Clemson even provides an interactive parking map. Fans can use this to see the layout of parking options or check where their pass is located.
Once you have your spot, it is also important to understand the traffic patterns once arriving as certain streets will be closed to help get all 80,000+ fans to the stadium as efficiently as possible. Clemson provides pregame and postgame traffic pattern maps to help fans coming from outside the city limits.