Brewers Open the Dew Deck to Individual Purchase!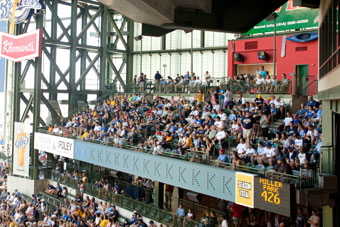 The Milwaukee Brewers are giving fans the opportunity to purchase individual tickets to one of the most fun and unique areas of Miller Park: The Dew Deck. The offer is currently only available for the May 25th game against the Pirates, and tickets can only be purchased online, so be sure to act fast and get yours before its too late.
Buy Miller Park Dew Tickets: 5/25/13, 3:10PM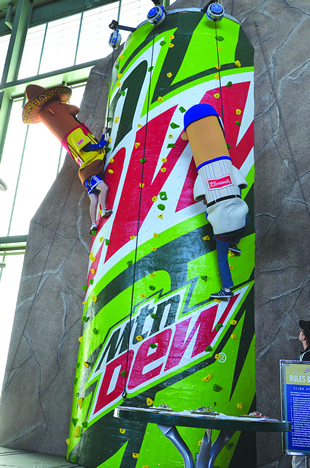 Located on the third tier of seating behind the outfield wall and near the right field foul pole, fans normally would not get a chance to experience ballpark life from this party area without a minimum group purchase of 25 tickets. Popular for corporate outings and family reunions, the Dew Deck offers a complimentary pre-game buffet that begins when the Miller Park gates open and ends one hour after the first pitch. The Buffet menu features upscale stadium fare (hamburgers, bratwurst, bbq chicken sandwiches, etc) and also includes 2 complimentary draft beers!
The Newest addition to the Dew Deck is the 25 foot tall climbing wall shaped like a can of Mountain Dew. This extremely unique feature was added during the 2013 off-season and offers yet another dimension of fun in these already enjoyable seats.
The Milwaukee Brewers and Miller Park deserve a huge pat on the back for making the decision to open up the Dew Deck to individual fans for a game. There are so many incredibly fun and unique seating areas across Major League Baseball that most of us will never get a chance to experience since we either get priced out, or don't have the numbers to qualify for the group seating areas. But the Brewers are making it happen for their fans with this opportunity, and they should be applauded for making this unique experience possible for their devoted fans.