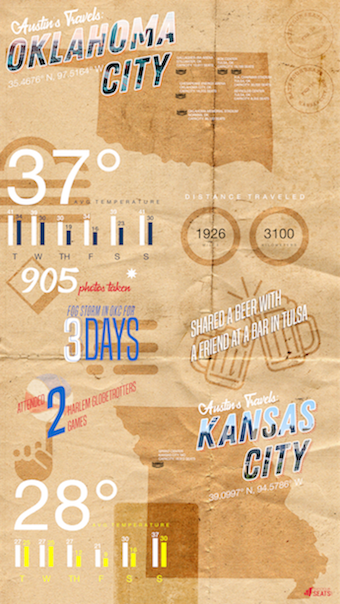 What's going on y'all? I just returned from my longest trip to date, a five day journey between Oklahoma and Missouri. The majority of the trip was spent in Oklahoma, mainly between Oklahoma City and Tulsa. This was my first time in cowboy country, which was fitting following my initiation with my good buddy Dierks in Alberta, CA. I certainty felt out of my comfort zone many times on this trip, but I think these are the moments where we learn the most. Over these couple days I traveled to 7 different stadiums, 3 universities, drove over 400 miles, and still had plenty of time to explore what each of the different cities had to offer. So buckle up that saddle and get ready for this week's recap of OKC, Tulsa, and Kansas City.
Day 1
I thought my travel worries were over after being stranded for 44 hours in Denver on my last trip. Instead, some dense fog blanketed the city of OKC and delayed my flight by 4 hours. When I finally made it to OKC, I only had time to quickly drop off my bags at the hotel and stop through a Sonic before making my way to Chesapeake Energy Arena for an OKC Thunder basketball game.
That evening, the OKC Thunder were taking on the Orlando Magic. Since seeing the Magic beat the Rockets back in January, Orlando has been hanging around, currently contending for the 8th spot in the Eastern Conference. OKC is sitting comfortably in third place of the Western Conference rallying behind All-Stars Russell Westbrook and Paul George. This was shaping up to be a great game.
As expected, the game was amazing. The energy in this arena for a random Tuesday night game against an out of conference opponent was shockingly high. The crowd was standing and loud for almost the entire first quarter which I feel like is a rarity for most NBA games. Russ posted a casual triple double while Paul George dropped 39 to MVP chants. Highlight of the game was Westbrook waving goodbye to Aaron Gordon as he fouled out, clearly agitated. The Thunder ended up pulling away by 10 to end the game. Any basketball fan seriously needs to add a trip to Chesapeake Energy Arena to their bucket list.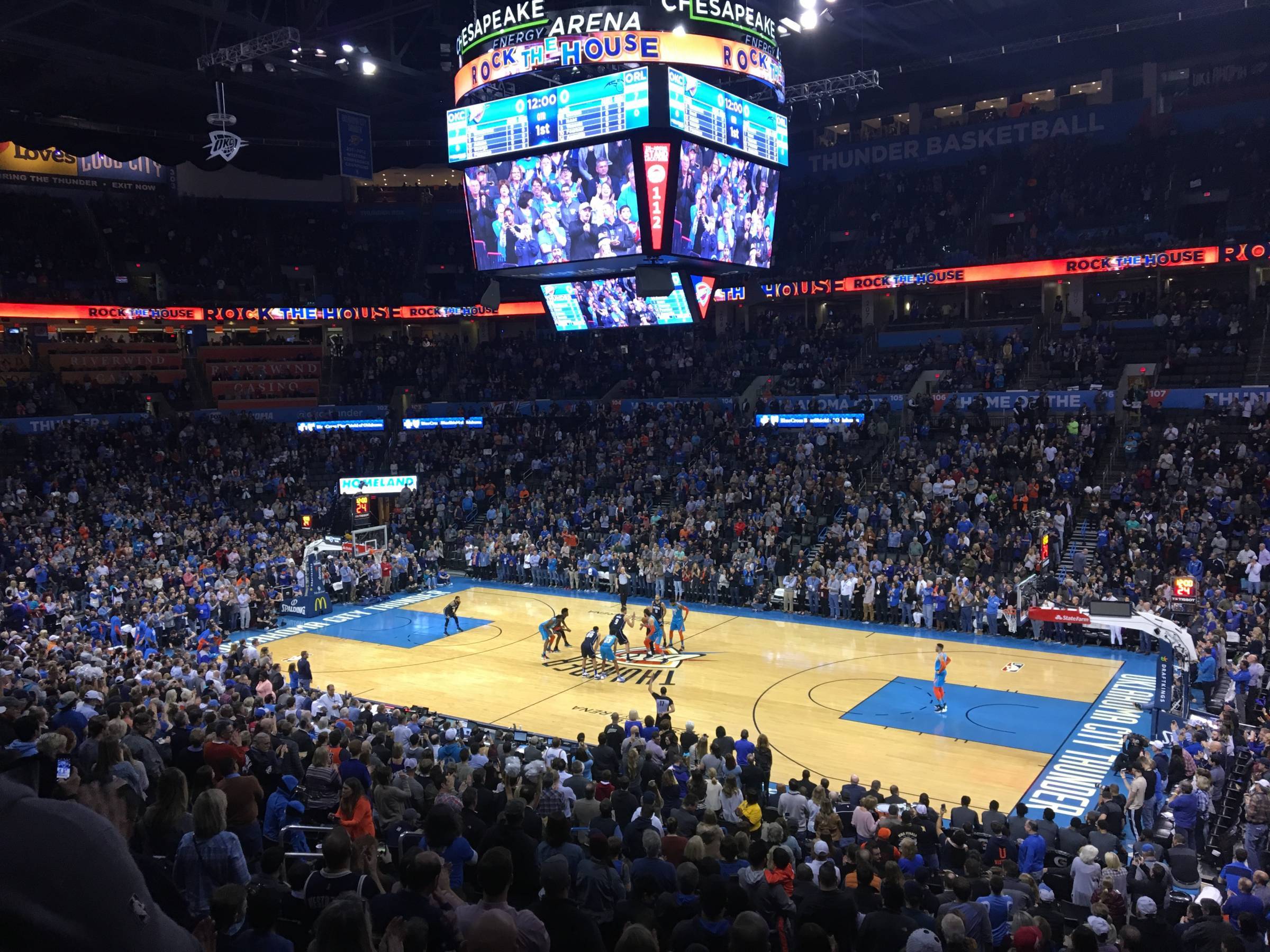 Day 2
I woke up to another spooky foggy day but I didn't let this discourage my plans. I decided to head first to Oklahoma University (OU) to see what all the hype is about. OU football has been hot lately, claiming the two most recent Heisman Trophy winners in Kyler Murray and Baker Mayfield. Additionally, OU football recently switched to Jordan/Nike for sponsorship, joining only Michigan and 6 other universities in this unique partnership. What really impressed me was OU's newly renovated addition to Oklahoma Memorial Stadium. The stadium now features an impressive entrance that encloses the south side of the field. Inside this entrance is a memorabilia show room where fans can see all of Oklahoma's trophies and accolades, from their National Championship trophies to Heisman trophies. Quite jealous that the University of Michigan doesn't have anything like this. Be sure to get a selfie with the trophies as shown below.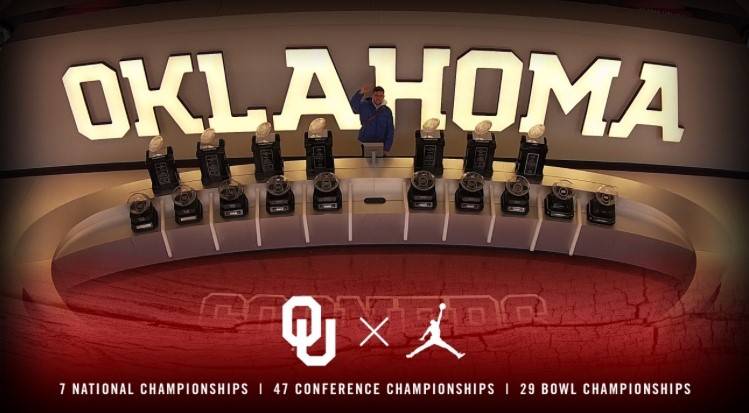 After exploring around OU I was starving. I decided to stop by Ted's Cafe Escondido. Now this place probably wasn't the most authentic Mexican cuisine (sorry Arianna), but the value was amazing. To start off the the meal, every table gets free chips, salsa, and queso. Free queso. For my main course I enjoyed the chimichanga with rice and beans, which was delicious. To top it all off, every meal comes with a complimentary sopapilla desert. This was easily the most quality food I've had for such a great price in a long, long time. 10/10 would recommend.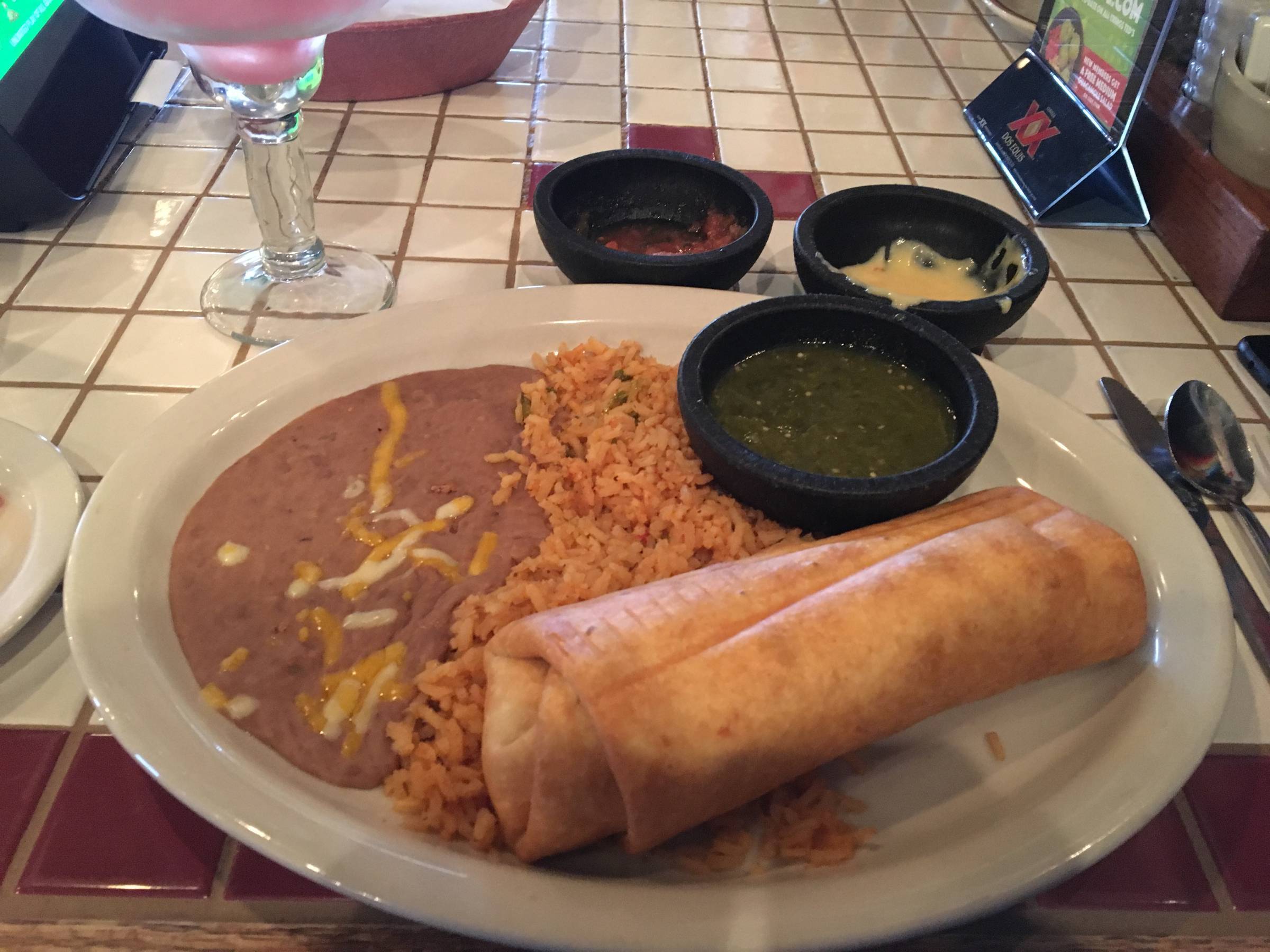 For the final stop of the day I drove north of OKC to Oklahoma State University for a women's basketball game between two in-state rivals. Oklahoma University entered the game looking to snap its 8 game loosing streak against the Oklahoma State Cowgirls. The game started with tons of energy in Gallagher-Iba Arena with both fan bases chanting and shouting at each other. Meanwhile, OK State's creepy mascot, Pistol Pete, was running around shooting off his cap gun. OK State ended up pulling away, adding a tally to OU's loosing streak. I drove back to OKC ready to hit the hay, still with the creepy image of Pistol Pete lodged in my mind.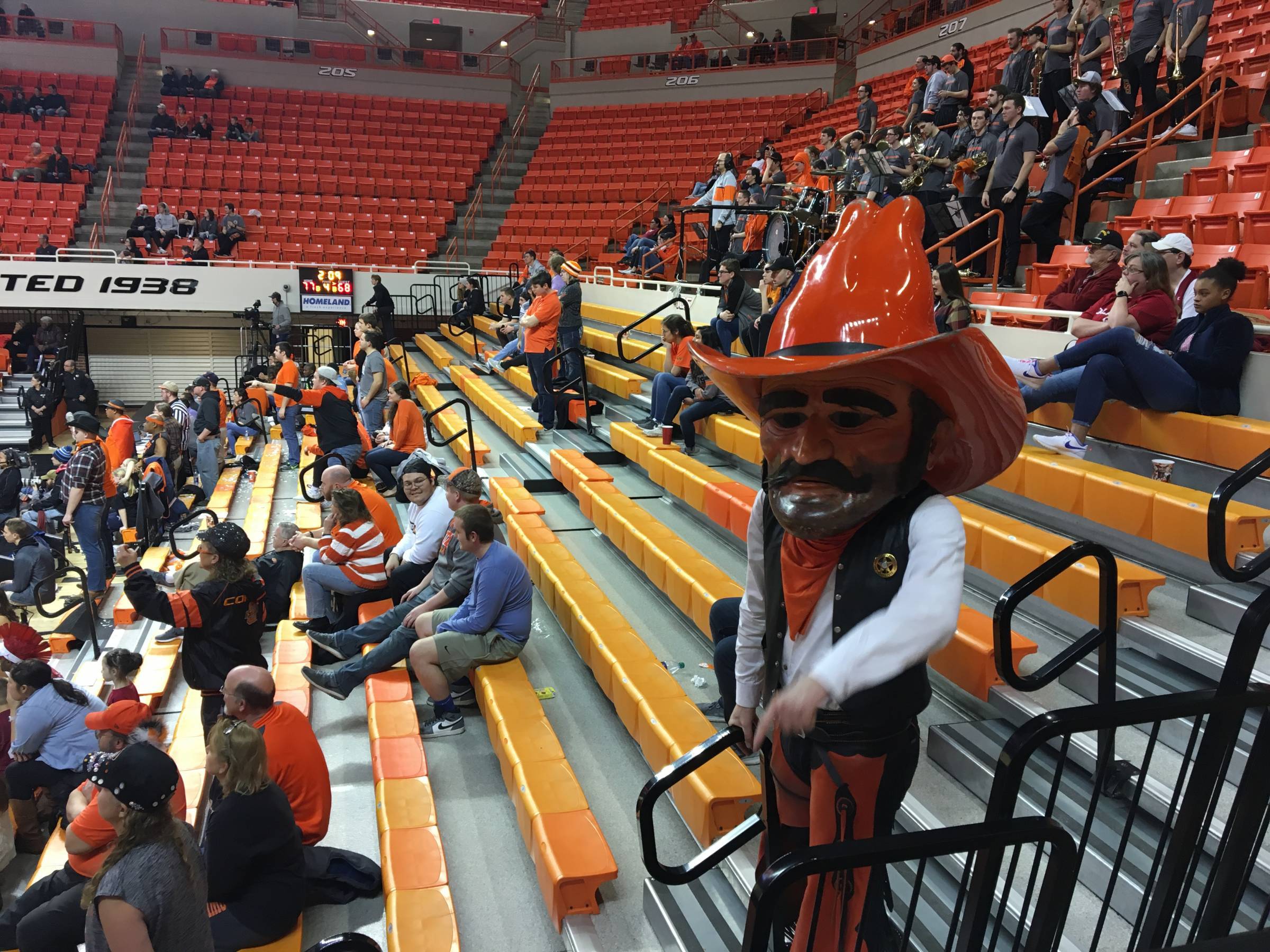 Day 3
Day 3 began with a drive north to Tulsa. Once I settled in, I had what might possibly have been one of my favorite meals ever. I know, I know, this sounds lofty, but Lassalle's New Orleans Deli was seriously that good. I'm at a loss for words in describing this amazing meal, just check out their menu. I got the Seafood Poboy with a side of Crawfish soup. Never thought I'd have New Orleans food this good in Tulsa.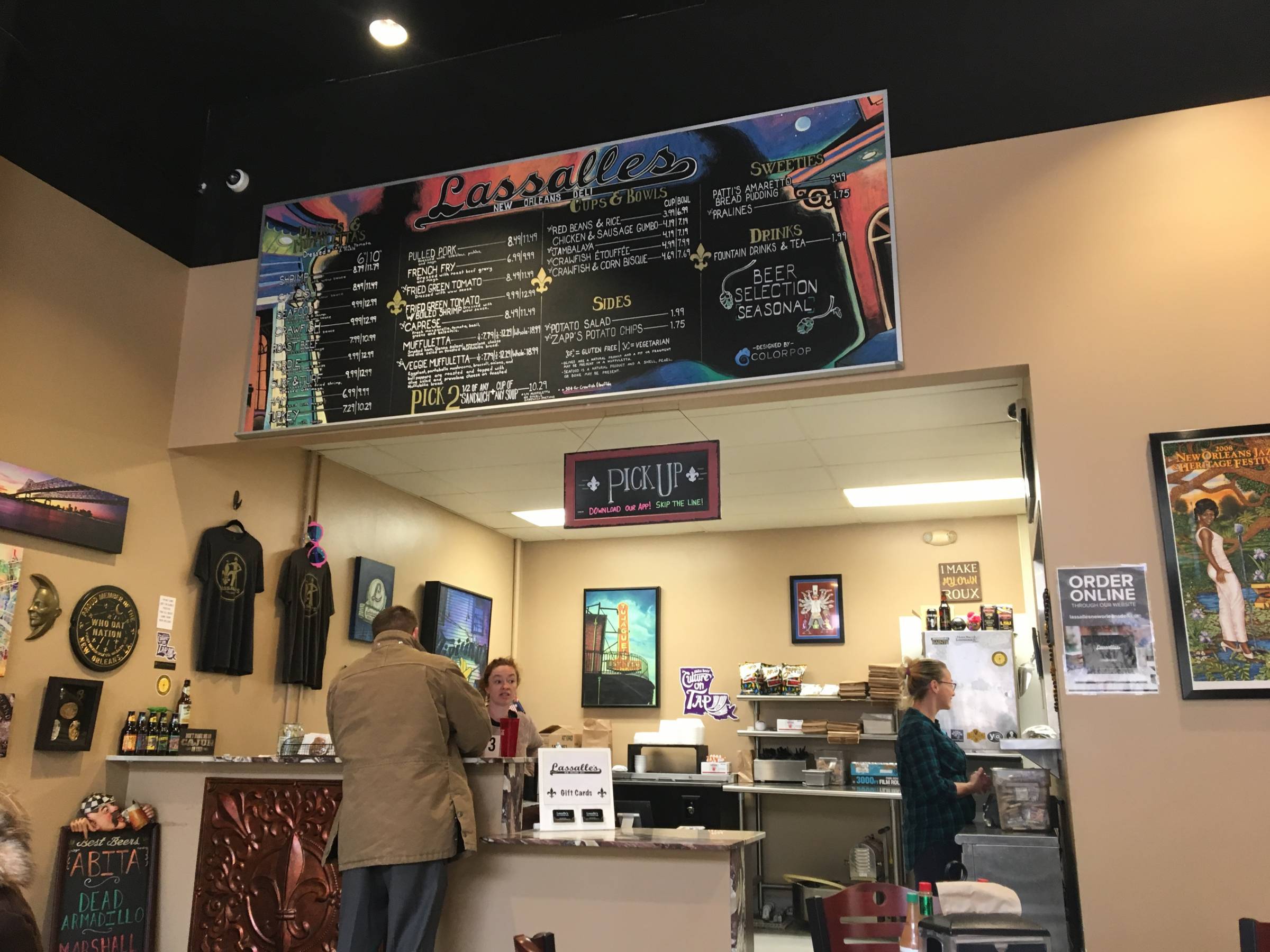 After that incredible soup and sammy at Lassalle's, I drove down the famous Route 66 towards the University of Tulsa. This was a situation where there were no events scheduled, but I crossed my fingers that I'd be able to check out some of their facilities. University of Tulsa was very welcoming in that regard. I was able to capture some pictures at their football stadium, HA Chapman Stadium, and their basketball arena, Reynolds Center. As an added tip; the concourse surrounding Reynolds Center functions as an indoor track for the community. Great place to jog during these cold winter months.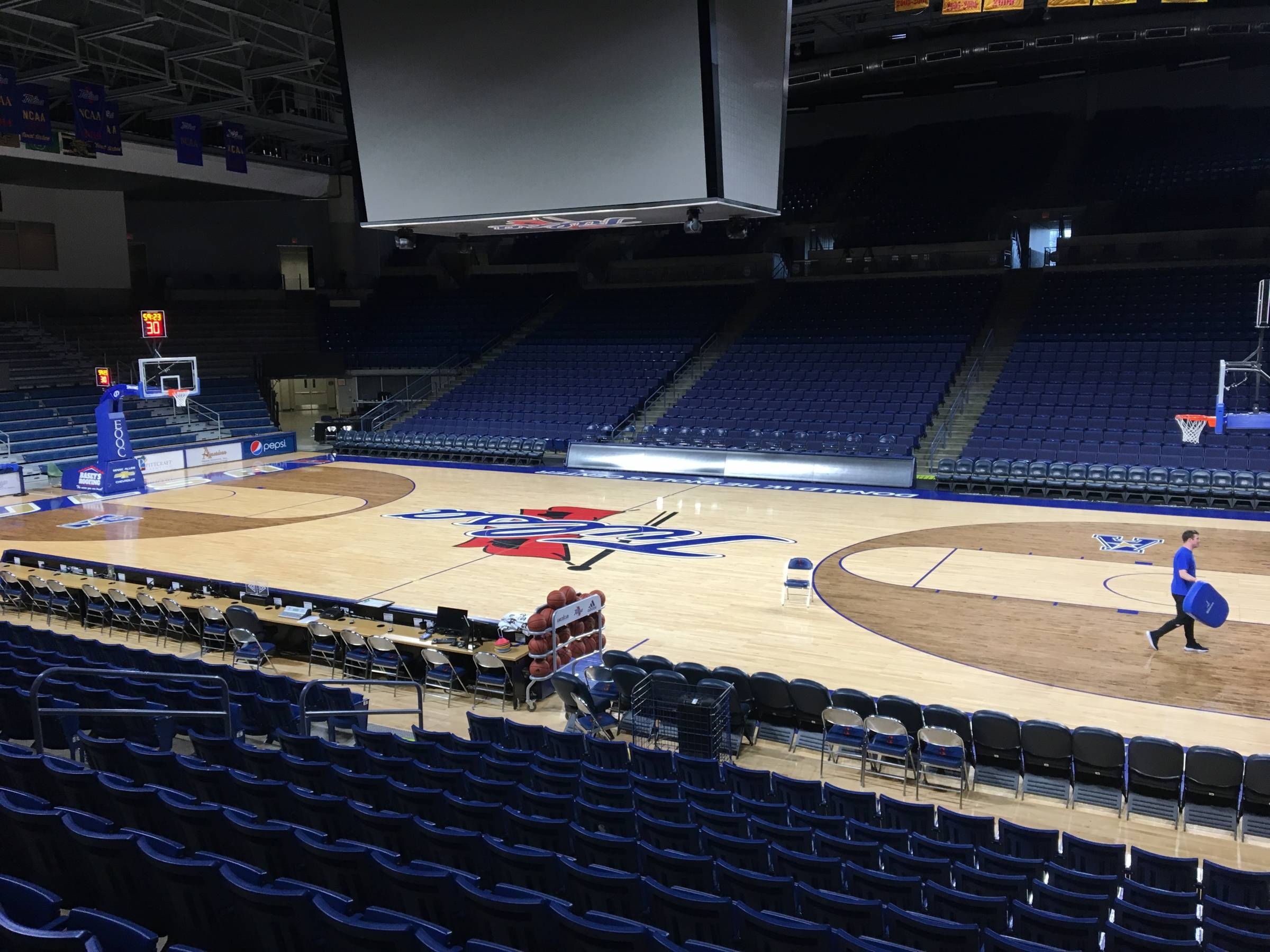 That night I attended my first ever Harlem Globetrotters game at The BOK Center in downtown Tulsa. Now I know this event is mainly for families, but I still found it pretty entertaining (at first). The high flying dunks, silly antics, and sporadic crowd participation made for a great time. That said, you want to know what's not a good time? 100+ little kids with basketballs.
Globetrotters make their money on the merchandise. Strategically placed behind one of the baskets, the merchandise stand is consistently busy with little kids yanking their parents and begging for a souvenir. Here, fans can purchase custom jerseys with the names of each player, glowing bracelets, noise makers and plenty of additional money wasters. By far the most popular souvenir is a red, white, and blue Harlem Globetrotters basketball for $25. The bane of my existence. Little kids learning how to dribble is cute for maybe 10 minutes before it becomes annoying. Multiply that one little kid by 100 and you have a physical representation of my personal hell. With a growing headache I left early, unsure whether or not the Washington Generals pulled off the upset.
Day 4
I was super excited to see the sun for the first time in three days when I woke up on Friday morning. After getting some work done in the hotel room, I decided to spend the day exploring Tulsa. I made many stops within Tulsa that day: I drove down Route 66 and saw the famous Golden Oil Driller statue, checked out a ton of different unique shops, and stopped at Lone Wolf cafe for some Kimchi fries. Even with all the great things I saw that day, the highlight was easily attending Tulsa's Philbrook Museum of Art.
The Philbrook Museum of Art was stunning before even entering the museum. The museum was set in a historic Italian Renaissance villa once owned by an Oklahoma oil pioneer in the early 20th century. The oil pioneer and his family then decided to donate the villa to the city of Tulsa as the site for permanent art collection and a cultural hub. After taking in the immaculate design of the building, I was pleased to find that the collection housed inside was equally incredible. Personal highlights for me was the recently created Kehinde Wiley painting (pictured below) and room full of Georgia O'Keeffe sketches. With entry only $9, this is a must visit for anyone visiting Tulsa.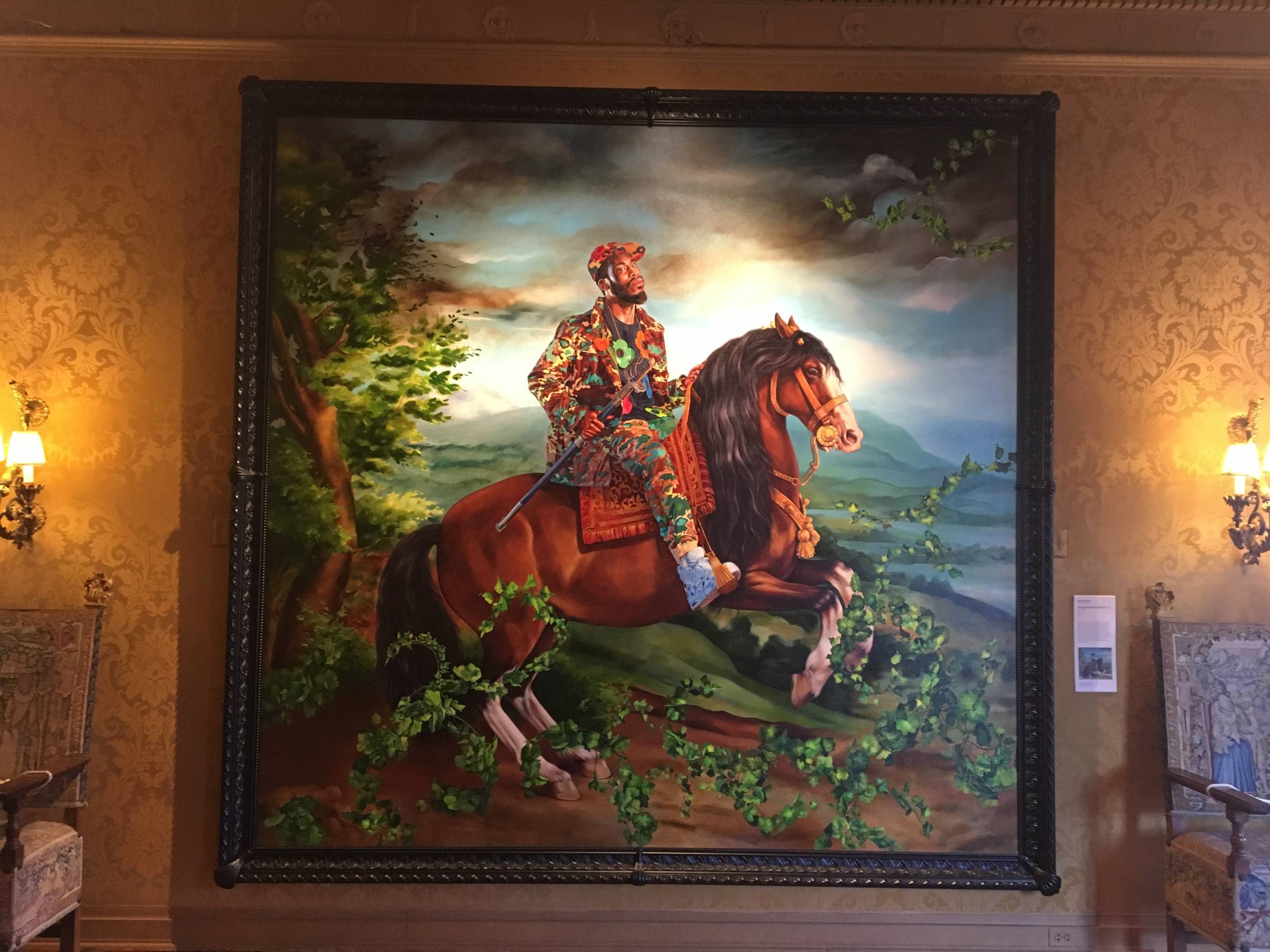 To refresh and relax following that journey around Tulsa, I decided to stop by Cabin Boys Brewery for a quick drink. Little did I know the brewery was hosting a pint glass giveaway event that night. When I showed up, the place was packed; the only spot available being a stool at the bar. I'm not usually one to sit at the bar because people squeezing by me to order can be slightly bothersome, but in this case I'm very happy I did. Everyone around me was super kind and inviting. I met a new friend named Trevor and we talked nonstop for about an hour. Trevor was a great dude, he bought me a beer and filled me in on a bunch of must hit spots around Tulsa. Shout-out Trevor for the conversation and best of luck with Pepsi Co!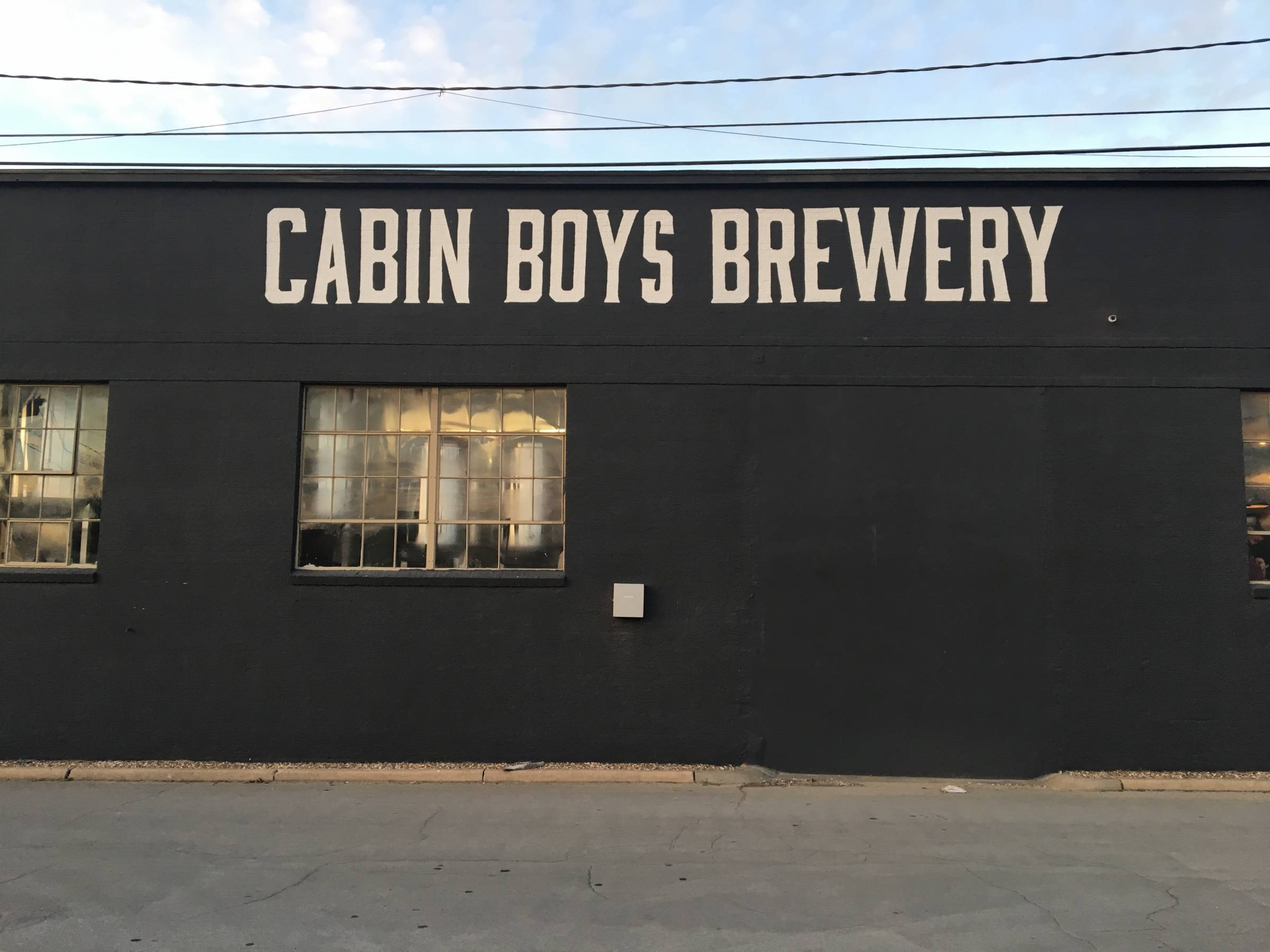 After dinner and a drink with my new friend, I returned once again to the BOK Center. This time, the event was much more exciting than the Globetrotters. I had floor seats for the American Idol (Voice) queen, Kelly Clarkson! I still remember the day Kelly won over that curly haired dude Justin back in 2002. I will say, her show did not disappoint. She ran through a ton of new material but still dedicated time for her classics. Her set design was super polished with a huge video screen behind her, catwalk with bar seats wrapping around, and four-piece horn section that accompanied each song. Even though the show was great, parts of the performance were slightly cringe-worthy.
Look, I love Kelly Clarkson. The fact that she's been able to prolong her American Idol dream all these years later is seriously impressive. Still, the one thing that really bothers me about Kelly is how she's constantly trying to push how "normal" she is onto her fans. Being relatable is huge, especially in unique cases such as Kelly's, when her entire career has been followed since day 1, but it just feels a little much. The amount of times between songs she'd take a break to talk to the crowd about the wine she drank last night or how much she loves lounging in sweatpants was irritating. At one point she said, "What you see here: spanx, hair, full makeup; this is fake news people!" I'm of the opinion that the more and more one reiterates something about themselves, the less and less I come to accept it. Kelly is an unbelievable talent, no doubt, but I could do with less of the normalcy preaching.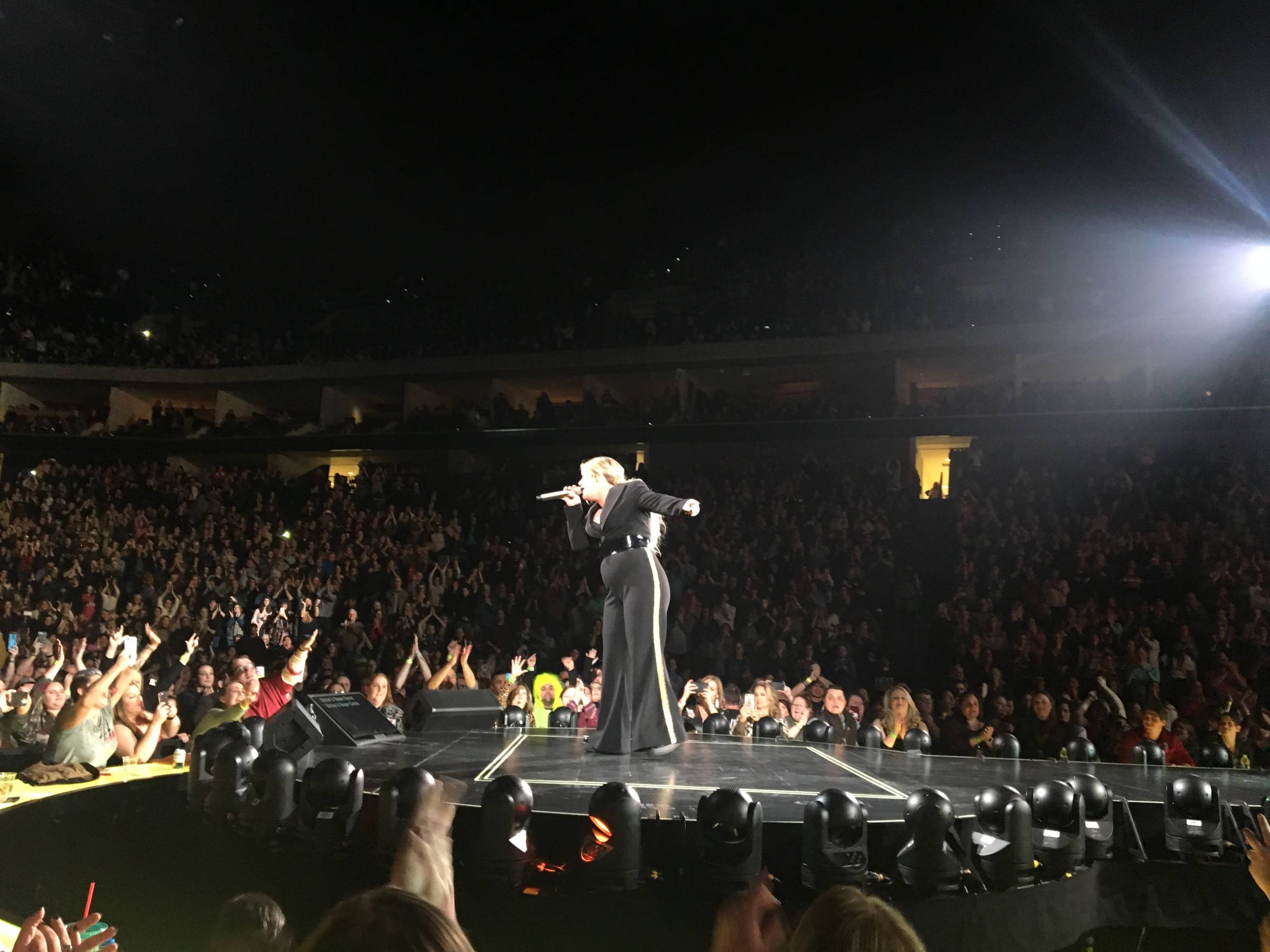 Day 5
For the last day of the trip, I drove four hours further north to Kansas City, Missouri. Here, I spent all day hanging out with some KC natives who happened to also be my friends from college, Meredith and her husband Bret. They really sold me on Kansas City. The city seemed newly renovated with tons of modern buildings, a free street trolley system, and lots of events going on all day. One highlight of the day was lunch at Kansas City Taco Company. KC Taco Company's queso came out in a cast iron skillet piping hot and slowly hardened up as it cooled down. It wasn't free like that place in OKC, but it was crazy delicious. Having to leave this place and my friends for another Globetrotters game was difficult to say the least.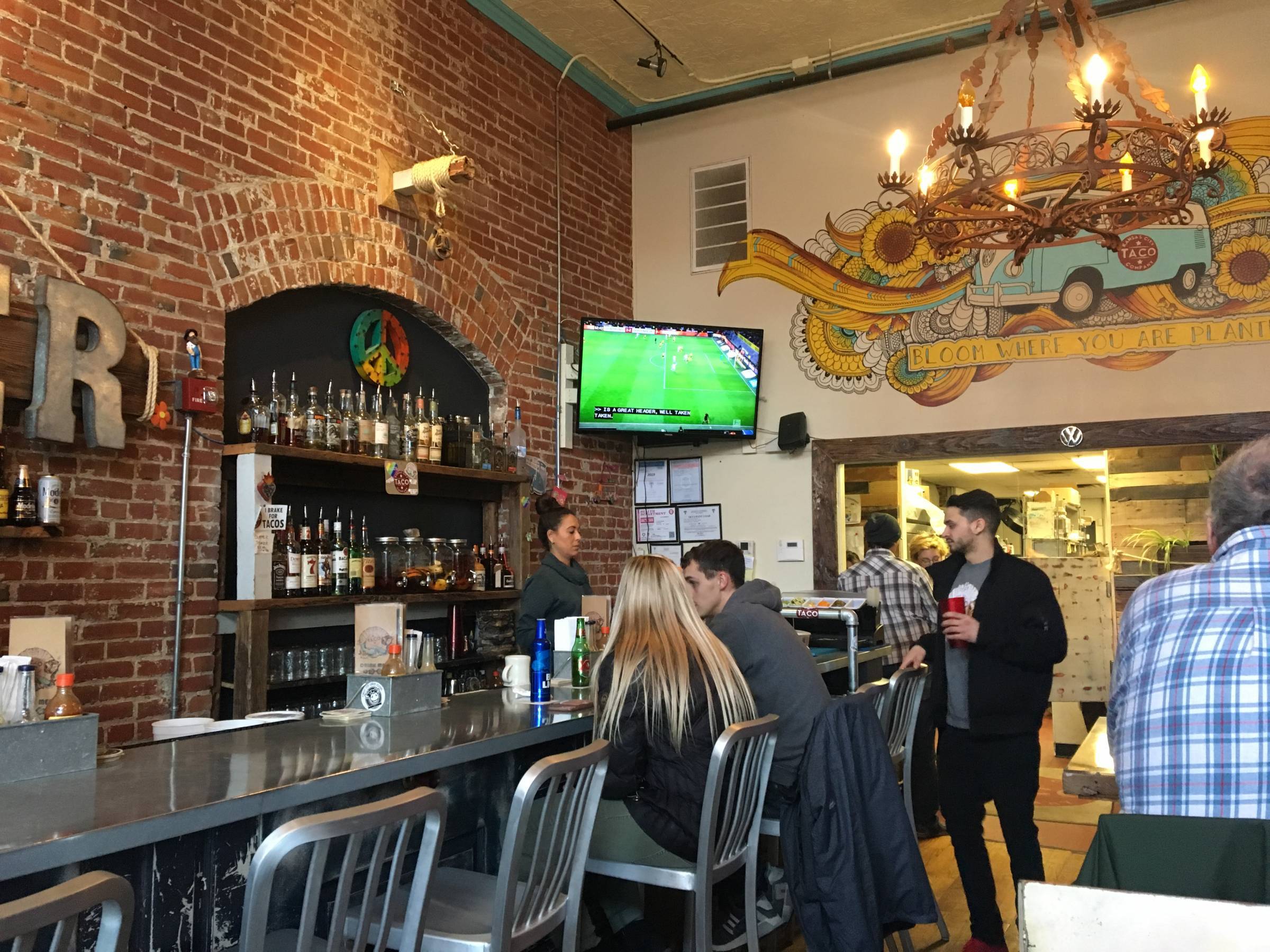 I don't have too much to say about seeing the Globetrotters for a second time in three days. Just as many little kids with those annoying basketballs here as in Tulsa. One thing that did surprise me was that the entire cast of Globetrotters were entirely new this time around. Of course, the crowd here in KC knew no different but it was crazy that they didn't get a chance to see the legend "Big Easy" like Tulsa did. If there're some type of region specific squads, I'm going to try and bring my talents to the Chicago group. The Washington Generals could really use some help.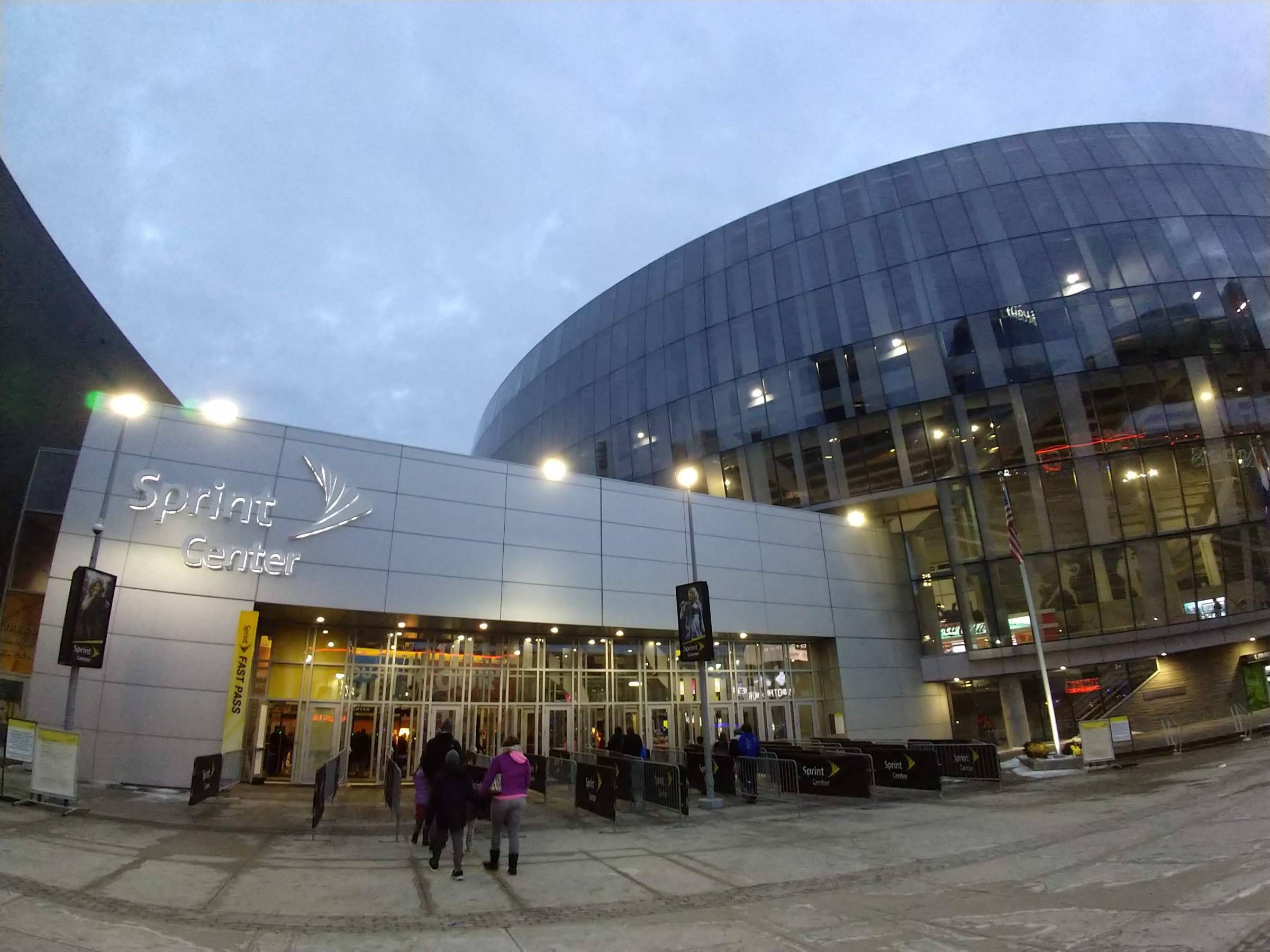 Lastly, I need to mention the Power and Light District located just outside Sprint Center. This area of the city is filled with stores, restaurants, and bars all stacked on top of each other. On a busy night, patrons pay just one cover that gets them into all the different bars within this entertainment district. I attended during a freezing cold night in February and it still was an absolute blast. I can't even imagine how this place turns up during the summertime.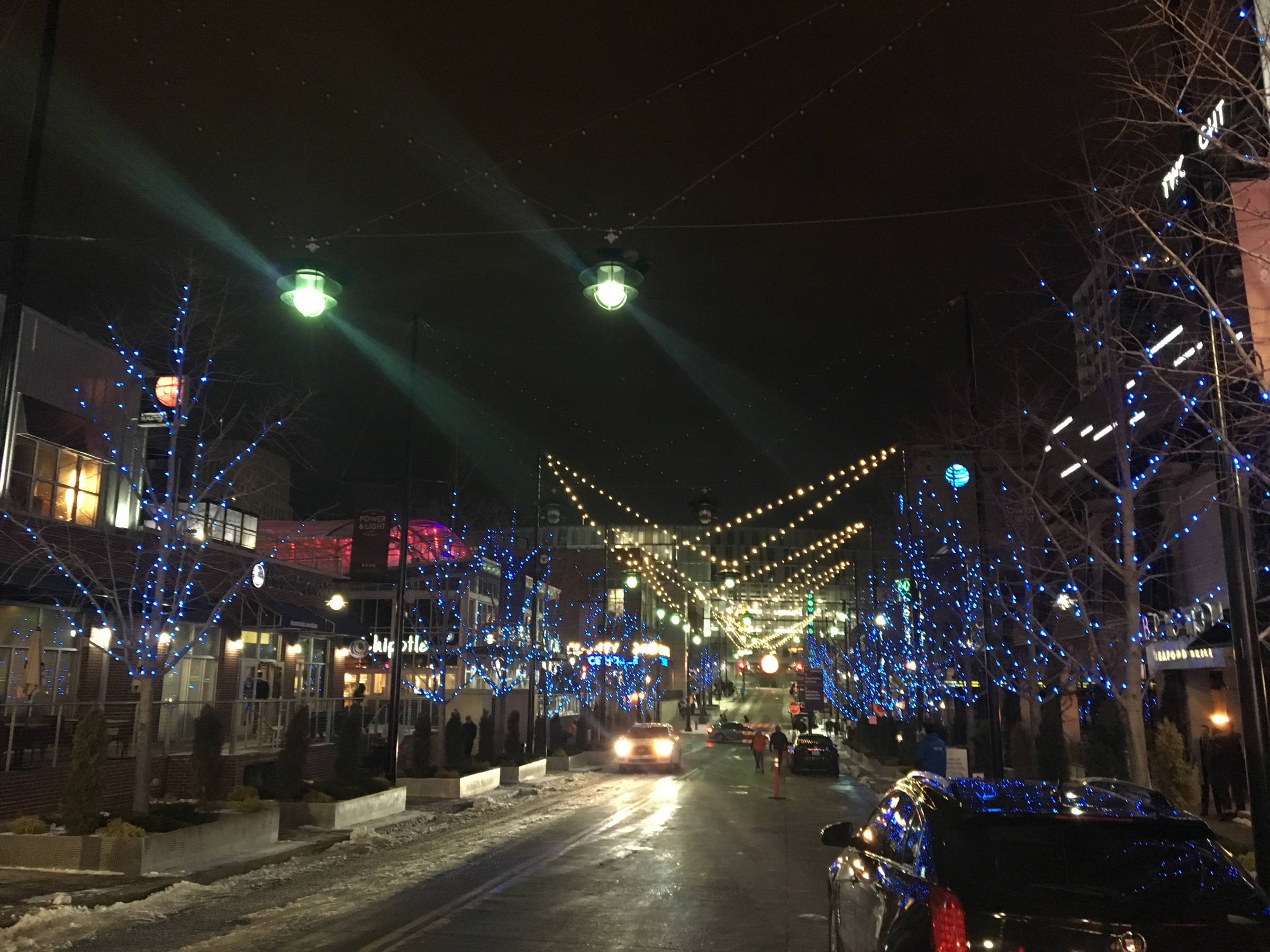 Final Thoughts
Despite lacking cowboy boots, I felt very at home in Oklahoma. The area was a lot more progressive (at times) then I initially expected and I could see myself keeping busy for much more than five days. Everyone I interacted with felt very genuine and their encouragement makes me want to return very soon. Certainly worth the stop down Route 66.
Embrace the vulnerability of no chair back and instead lean on the bar. Nothing brings people together more than a cold drink after a long day. Meeting Trevor reminded me how essential it is to speak with those individuals that call the area their home to truly get a sense of what makes each city unique.
Next week, I travel to the city of cities, New York City. The Big Apple is one of my favorite spots in the whole world and I can't wait to return. I look forward to sharing my adventures, be sure to check back in!
Austin