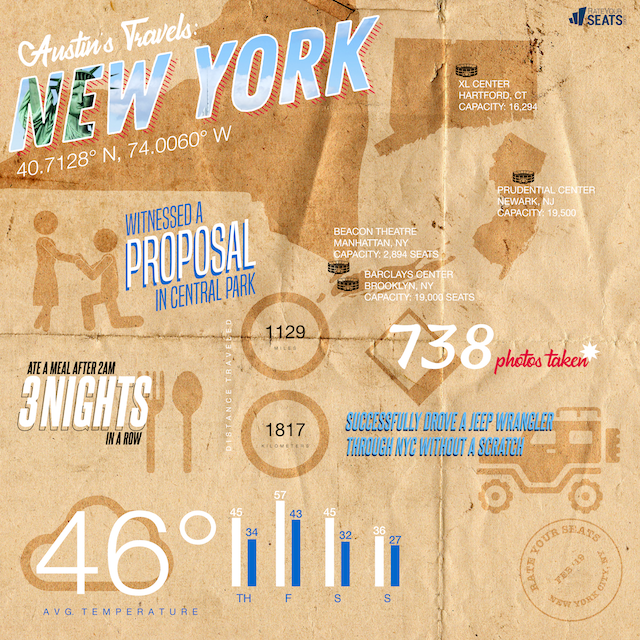 Hello and welcome back to Austin's Travels! Before this trip, New York City was already one of my top spots in the US. Not only did this trip further cement this sentiment, but I came away from this weekend with my greatest NYC memories to date. Even though I'm currently experiencing a bit of the post-travel blues, reliving each moment as I write this recap has me feeling happy and excited to return. During this short three-night stay, my days were jam-packed with incredible food, friends, work, exploration, and many frustrated moments trying to weave my white Jeep Wrangler between taxis. This one is a recap you have to read, I hope to best showcase why it is I <3 NYC.

Day 1
I touched down at LaGuardia International early on Thursday, had to start my trip at the one place in New York I've found that I don't care for. After maneuvering through the perpetual congestion caused by seemingly endless LaGuardia construction, I found my way to the Hertz rental car lot. As a recent Hertz Gold card holder, I was given a choice to a row of about 15 different cars. Slightly (highly?) feeling myself, I decided to go with the the largest car in the fleet, a 2018 White Jeep Wrangler. A risky move? Sure. But I was bound to start off this trip on a high note.
As I drove towards my hotel in the Lower East Side of Manhattan, I began to second guess my Jeep Wrangler choice. This large of a car is not meant for the narrow streets of the Lower East Side and the idea of parallel parking this thing made me a little nervous. Shout-out SpotHero for saving the day. SpotHero was my saving grace, directing me to a ton of cheap(er) valet lots where I could just drop off my car throughout the weekend.
Once my car was taken away by the valet guy, I looked to check in early at my hotel. Normally I wouldn't waste a paragraph of your time to talk about my hotel but this place was unbelievable. Orchard Street Hotel, conveniently located on Orchard Street, sat in the heart of the Lower East Side between art galleries, 99 cent pizza, and a ton of bars. The hotel rose above the majority of the buildings in the area allowing for tons of sunlight and a sweet view of the financial district. I debated writing a negative review on Tripadvisor just to keep others from discovering this little gem but couldn't live with the guilt.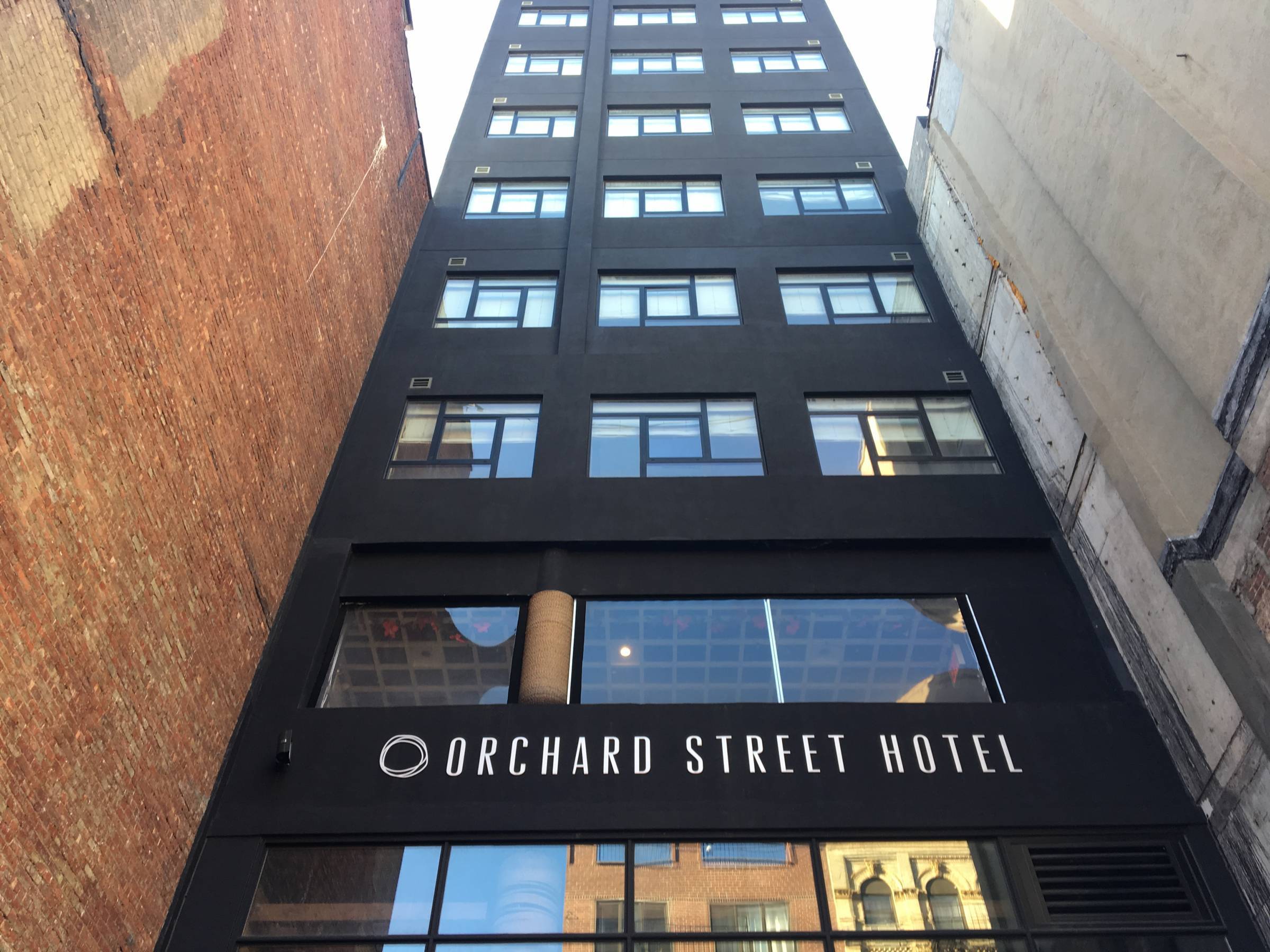 After settling in, I walked 2 minutes down Orchard St. to Trapizzino, a Roman street food cafe. I'd never had Roman street food before, let alone heard of it, but let me say I am now a big fan. The small menu offered two main options: Trapizzini & Suppli. The former was half a bread "pocket" stuffed with all types of different meats, vegetables, and dressings while the latter was a variety of fillings enclosed in a crispy risotto ball. Not only was the food unreal, but the prices were very reasonable. I was able to eat a huge meal for about $12 which was very difficult to find for the remainder of the trip.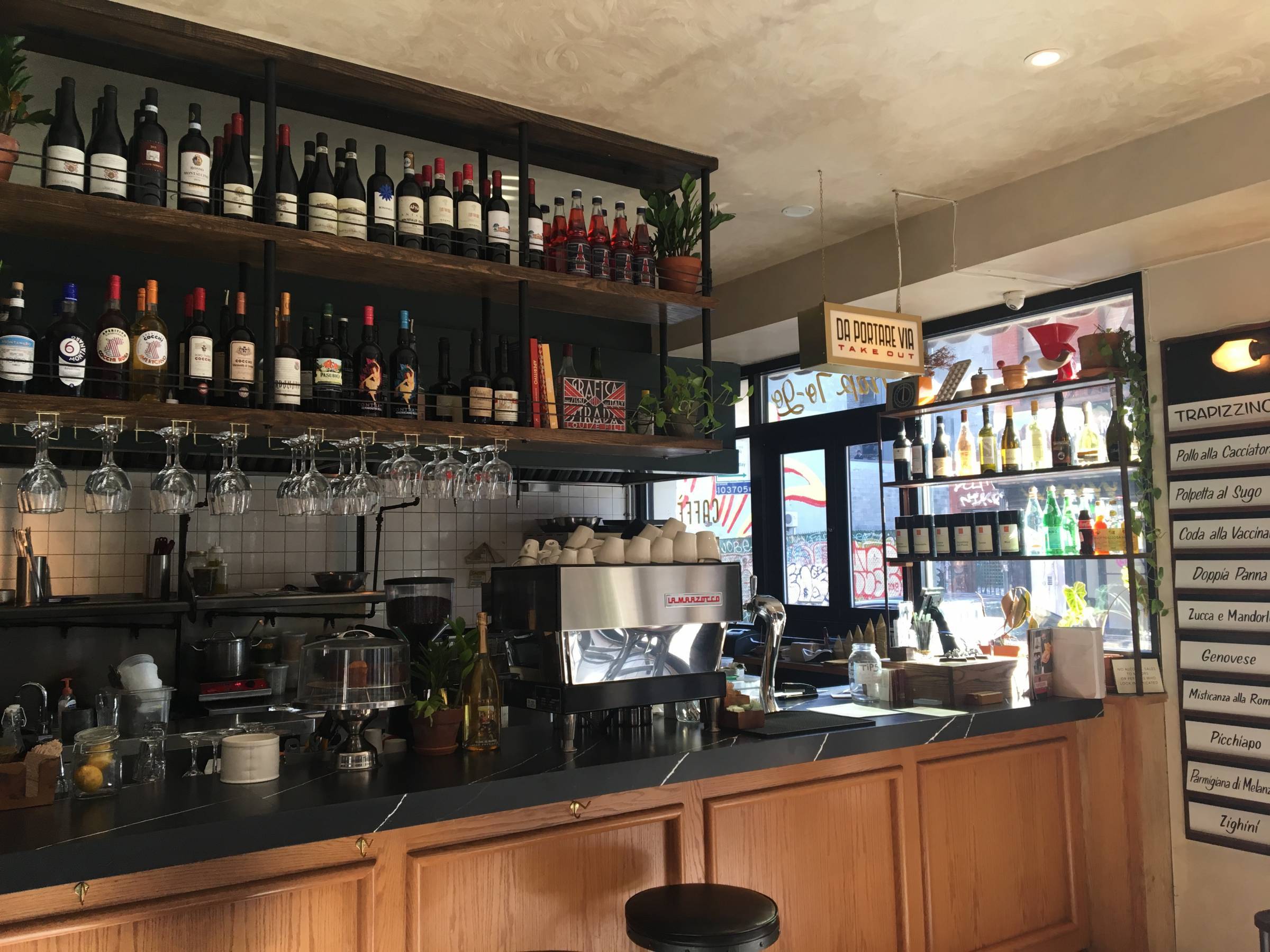 I finished my Valentines Day how anyone would hope, watching a pointless basketball game in Hartford, Connecticut. The game was a battle between the mediocre UConn Huskies and the 9th ranked Houston Cougars. While the game wasn't the most exciting and/or relevant, this stadium was important for RateYourSeats.com to cover as it is one of the sites for this year's March Madness Tournament. I left the game at halftime, returned to NYC, climbed into my hotel bed, thought of my old friend Jefferson, and stared at the moon glowing above One World Trade Center before slowly drifting to sleep.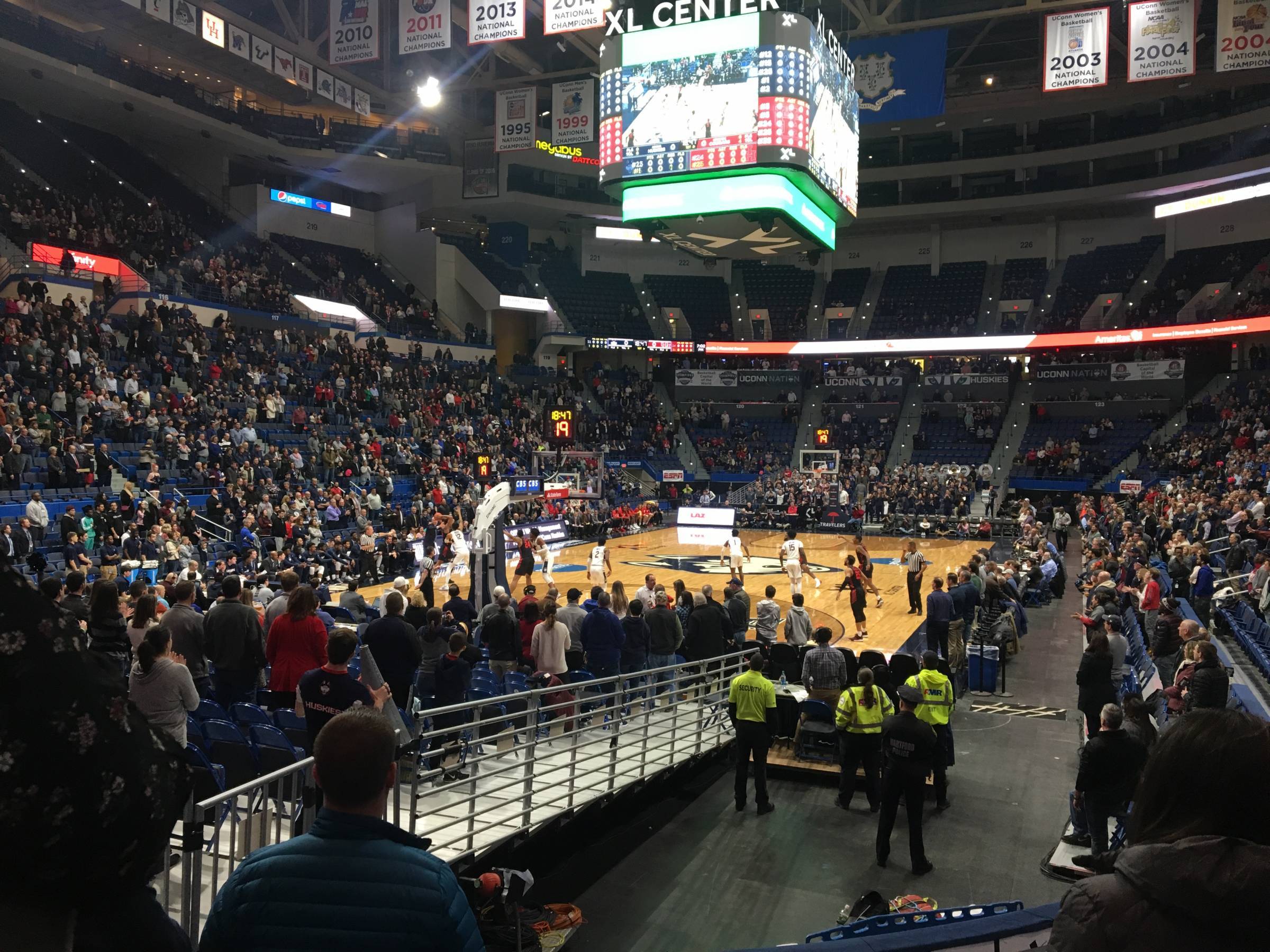 Day 2
The sun woke me up on Friday and I hopped out of bed ready to see something crazy. I decided to head towards Central Park because, up until this point, I had never gotten to fully explore the area. For those of you who haven't watched the movie Madagascar, Central Park is an iconic 843-acre park that cuts right through the heart of Manhattan. As I was about 40 minutes into my walk, I hadn't even made a dent across the expansive area. I decided to rest and take a quick picture on Gapstow Bridge towards the south edge of the park. After taking the picture, some woman in disguise with a big camera tapped me on the shoulder and said, "Can you please move? I got a proposal coming through in like 2 minutes." I half thought she was kidding but I decided to hang around just to see. Sure enough like a minute later the couple rolled up into position. Guy pulled out some book he probably printed off at Kinko's. Girl flips through book, seemingly a collage of photos together, starts crying. Camera woman captures all the angles. Guy gets down on one knee. Girl shakes head yes and cries some more. Everyone near by starts clapping. I felt awkward watching the whole thing go down but it was a cool moment to witness in Central Park.
With love in the air, I quickly retrieved my Jeep and drove down to Brooklyn for a fiery event. That night at the Barclays Center was "Ladies Night R&B Super Jam" featuring Lil' Kim, Mario, Brian McKnight and about 8 other R&B icons. Despite the first couple of acts being washed up, the crowd was ready to go. Many of these first acts played covers of popular songs like "Boo'd Up" by Ella Mai or "Redbone" by Childish Gambino and it shocked me how loud the crowd was this early. Among all these couples and groups of women, I began to realize that this event really was not meant for me. Worried about throwing off the vibe, I bounced out of there as the artist on stage proclaimed, "Real music still reigns supreme!"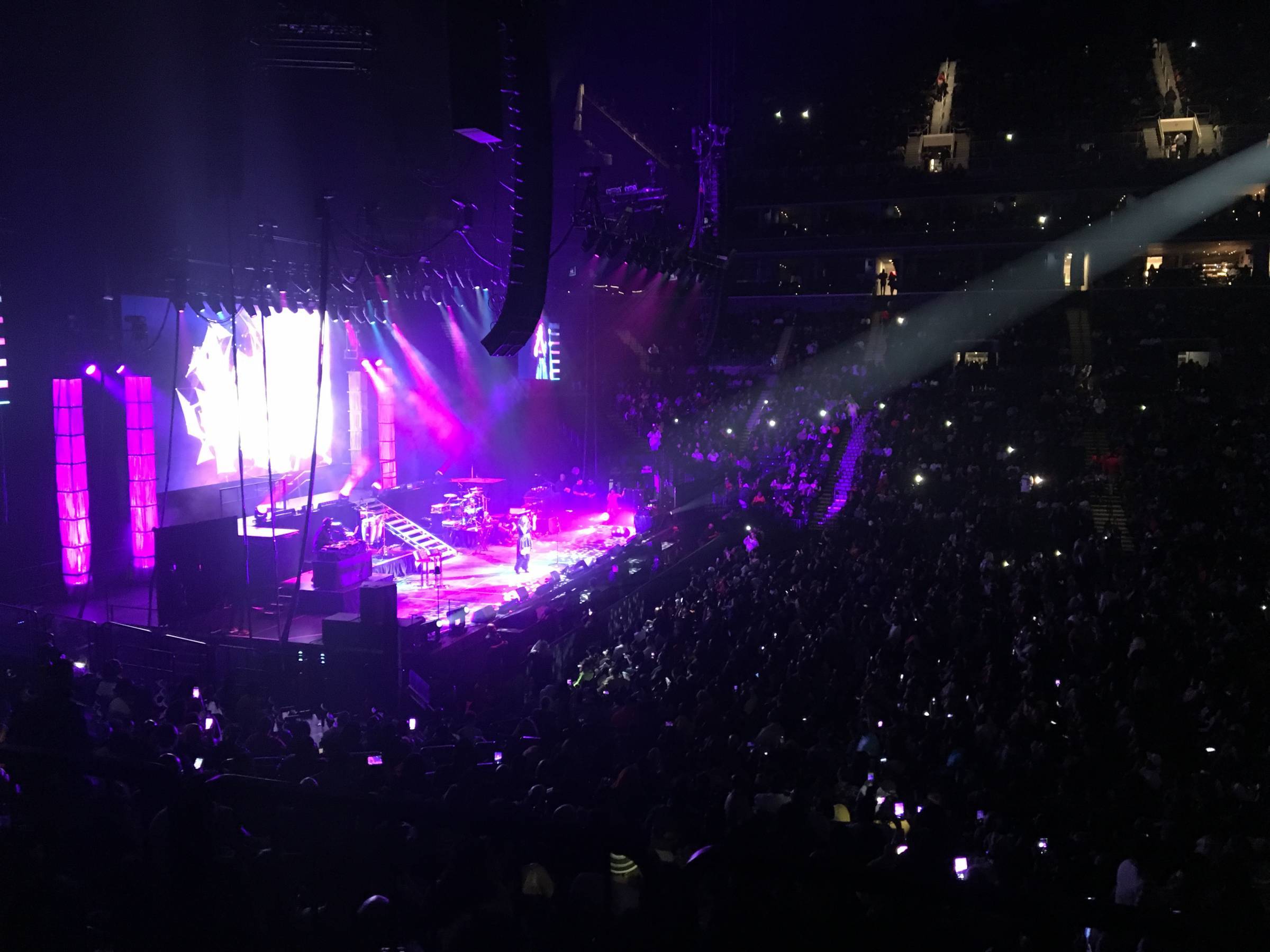 That night I linked up with a group of friends from college in East Village. After playing some Mario Cart, cards, and catching up we all hit the town like old times. Two of my favorite draws of NYC were highlighted that night: friends and nightlife (more on friends later). There is an undeniable energy about New York that's unlike anywhere I've been in the US. Walking from establishment to establishment it feels like you're in a different country with the narrow streets packed throughout the night. Even as someone living in Chicago, I've never found a spot with such a variety of experience and people in such a short range of space as I find almost anywhere in NYC. The night ended with 99 cent pizza before retreating back to Orchard St.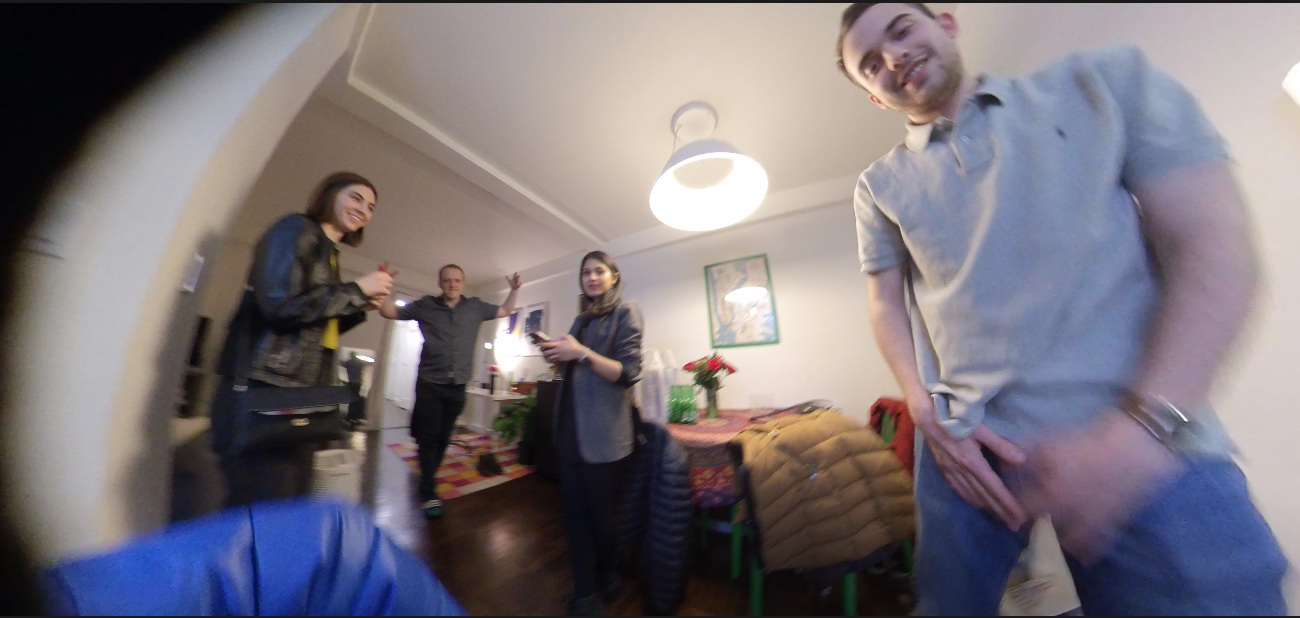 Day 3
Waking up took a little longer than usual on Day 3 but I was still able to make it to Beacon Theatre for the 3pm matinee performance. Beacon Theatre sits about three blocks west of Central Park off 74th street. This spot opened in the 1920s, contrived as the first of a chain of deluxe New York City movie palaces. The deluxe palace never took shape as intended but what did withstand time is a historic theatre that hosts many large events and concerts throughout the year, such as The Tony Awards and a Jerry Seinfeld residency. The day's matinee was a 70s tribute Soul Jam Valentines Day Concert. The crowd was similar to that at Barclays except this time about 30 years older. Once again, I left early after the first act, eager to cease the day.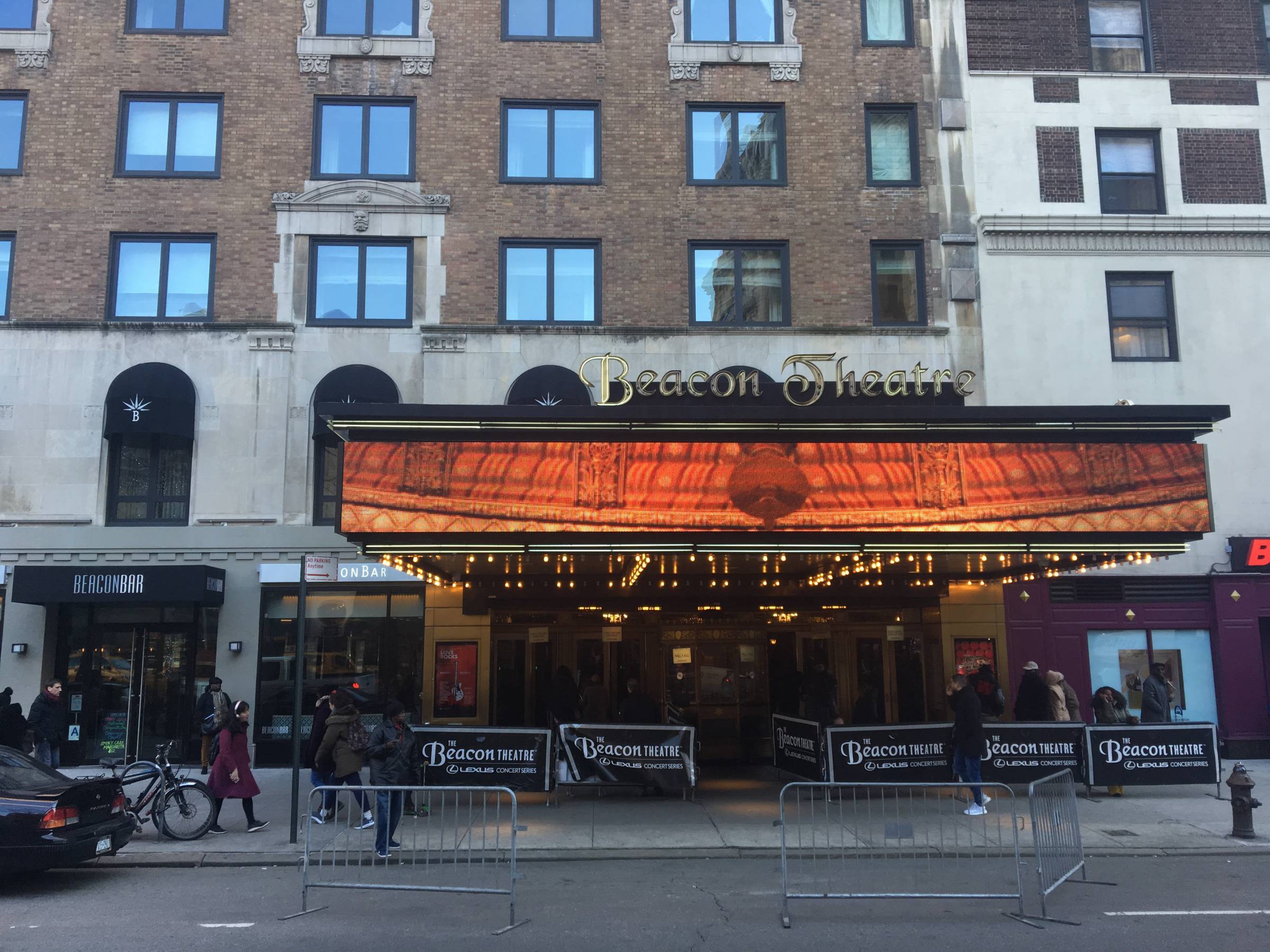 Walking east across Central Park I came upon the Solomon R. Guggenheim Museum of Art. Admittedly, the museum is pretty expensive (about $25 for a day pass) but 100% worth it if visiting the city. What differentiates this museum from all others is that the main gallery is placed throughout this central spiral of slanted ramps. When entering the museum, you start at the bottom of the spiral and slowly circle your way to the top as you follow the artwork along the walls. To my surprise, the two main exhibitions up at my time of visit were incredible. The main exhibition by Hilma af Klint, highlighted her life and innovative abstract style. While Robert Mapplethorpe's controversial photography was inspiring to see in person. It felt crazy to stand on level ground after walking out of that place.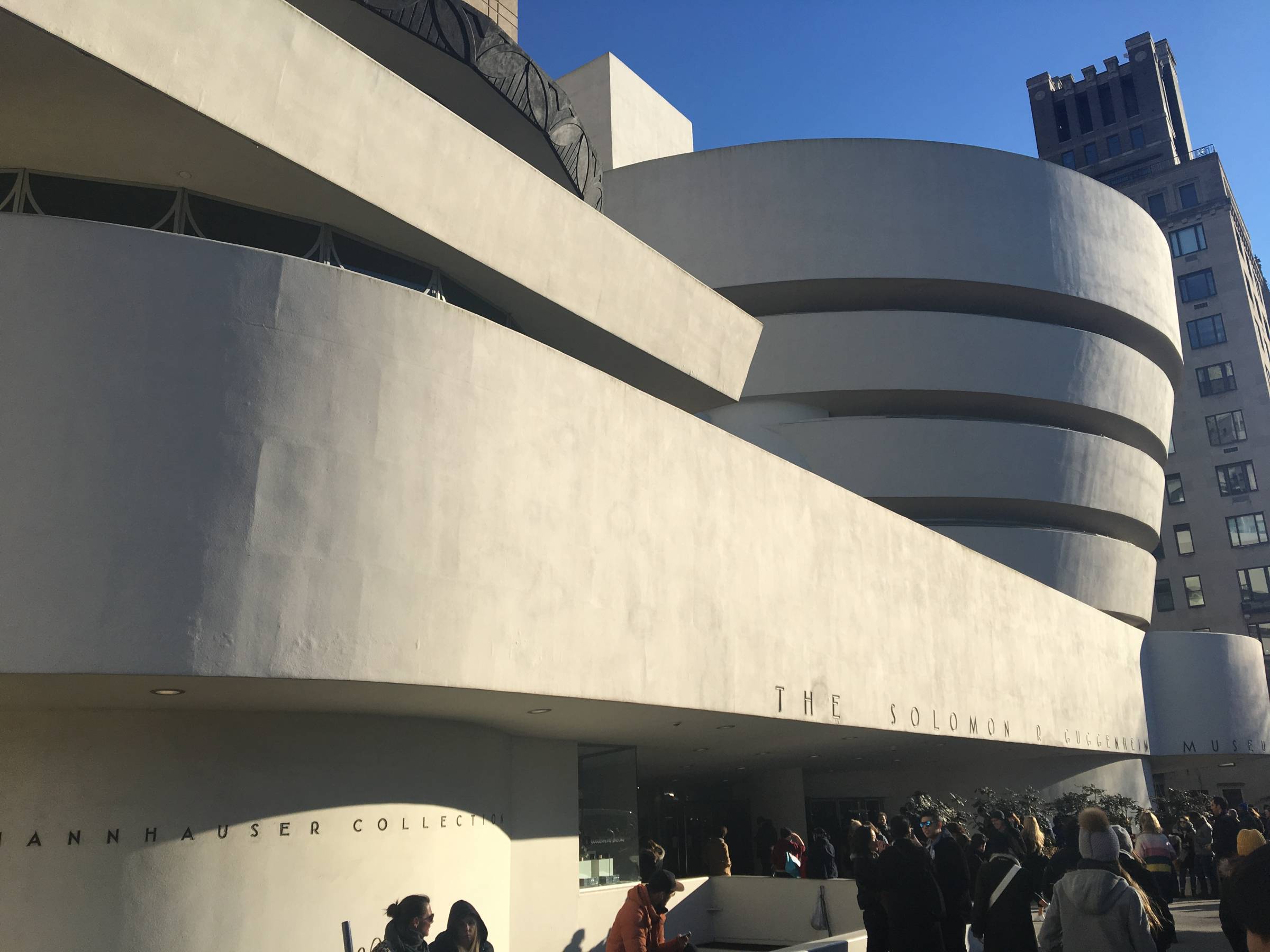 After hanging out in Central Manhattan all day, I drove west of the city to Newark, New Jersey for a Marc Anthony concert at the Prudential Center. I knew Marc Anthony was a big deal from his quick marriage with Jennifer Lopez, but I didn't really know much of his music at all entering the night. The show started later than normal with Marc the sole act on the bill. Truthfully, who needs an opener to get the crowd warmed up when you have talent like this. Marc Anthony absolutely blew me away. Singing primarily in Spanish, Marc controlled the stage; walking from side to side with confidence, and holding out the mic for the crowd to join in. I also appreciated the simplicity of his stage. Nothing fancy besides the curved video board behind him, but even that is becoming pretty standard for concerts at this point. The emphasis was entirely on the music as Marc gave the crowd what they wanted as he was supported by a 14-piece band. I left a big Marc Anthony fan.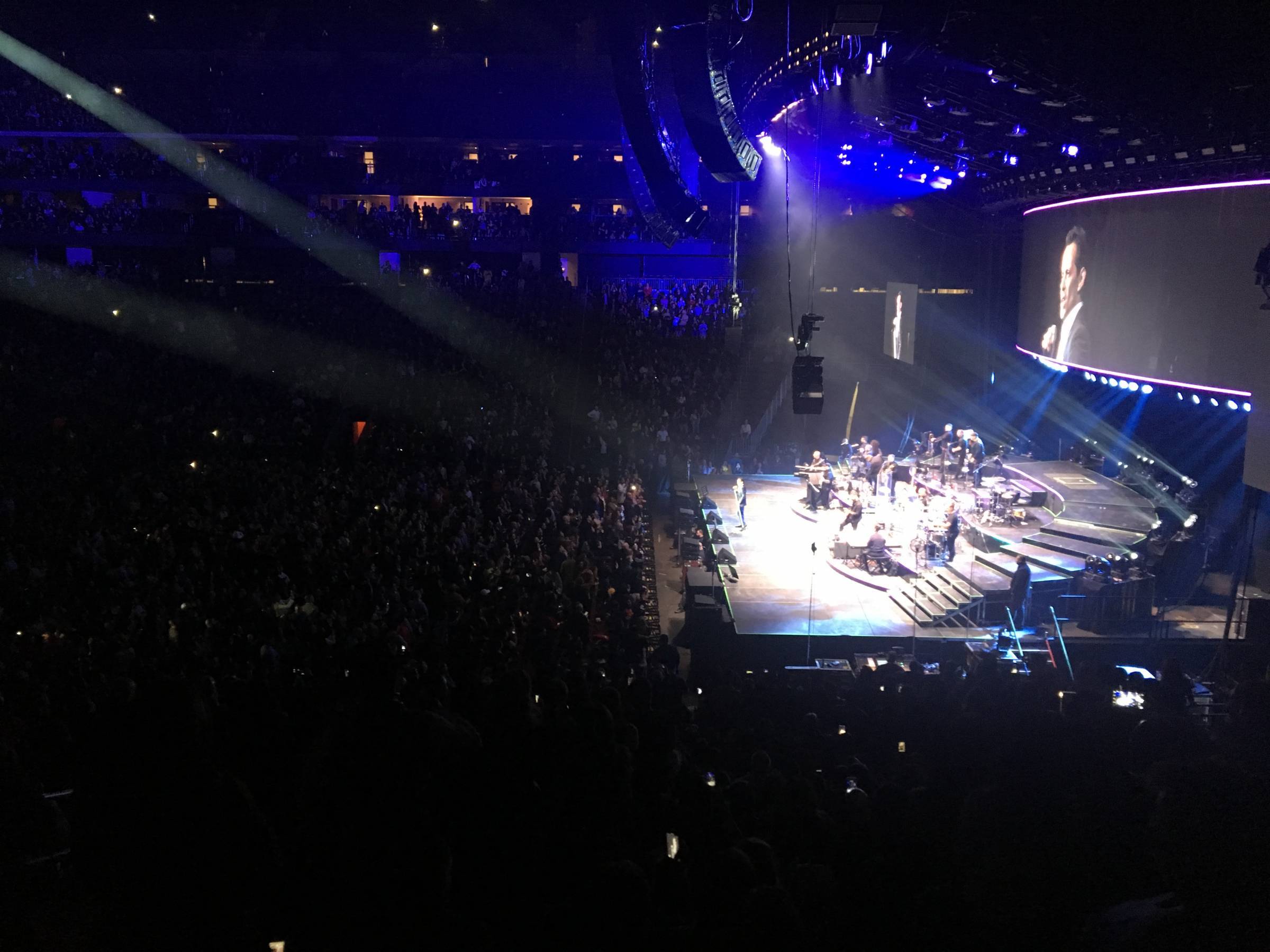 I linked up again with my friends for a much later push after Marc. No photo exists from this night, nor would I show them here if they did. Just believe me when I say Randy was out in full form.
Day 4
I woke up in desperate need of some food. Luckily, my buddy Conor came through with a great suggestion, C&B Cafe. This place was nothing fancy, just a single counter and small seating spot maybe big enough for 15 people on a good day. One of those cafe's where the food is fresh and grilled up right in front of you. The braised pork belly and egg sandwich I ordered had me feeling like myself again.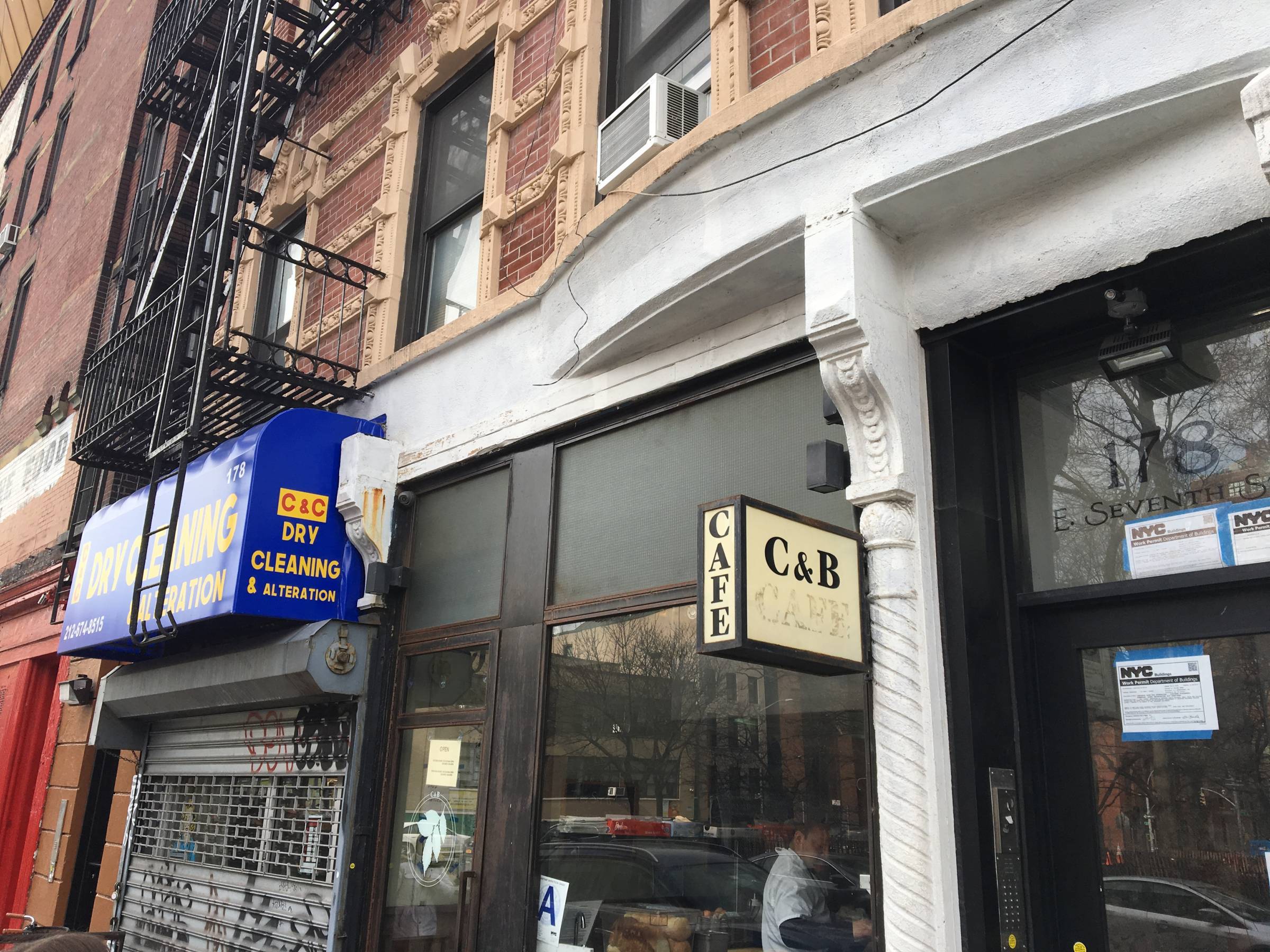 On our way to retrieve the Jeep, my friends and I stumbled upon the Chinese New Year parade in Chinatown. The event was packed, with tons of organizations dressed in unique colorful outfits and different performances sporadically placed throughout the parade. My favorite moment was the Chinese new year dragon dance. This parade further highlighted the cultural diversity throughout NYC that adds to what makes this city so great.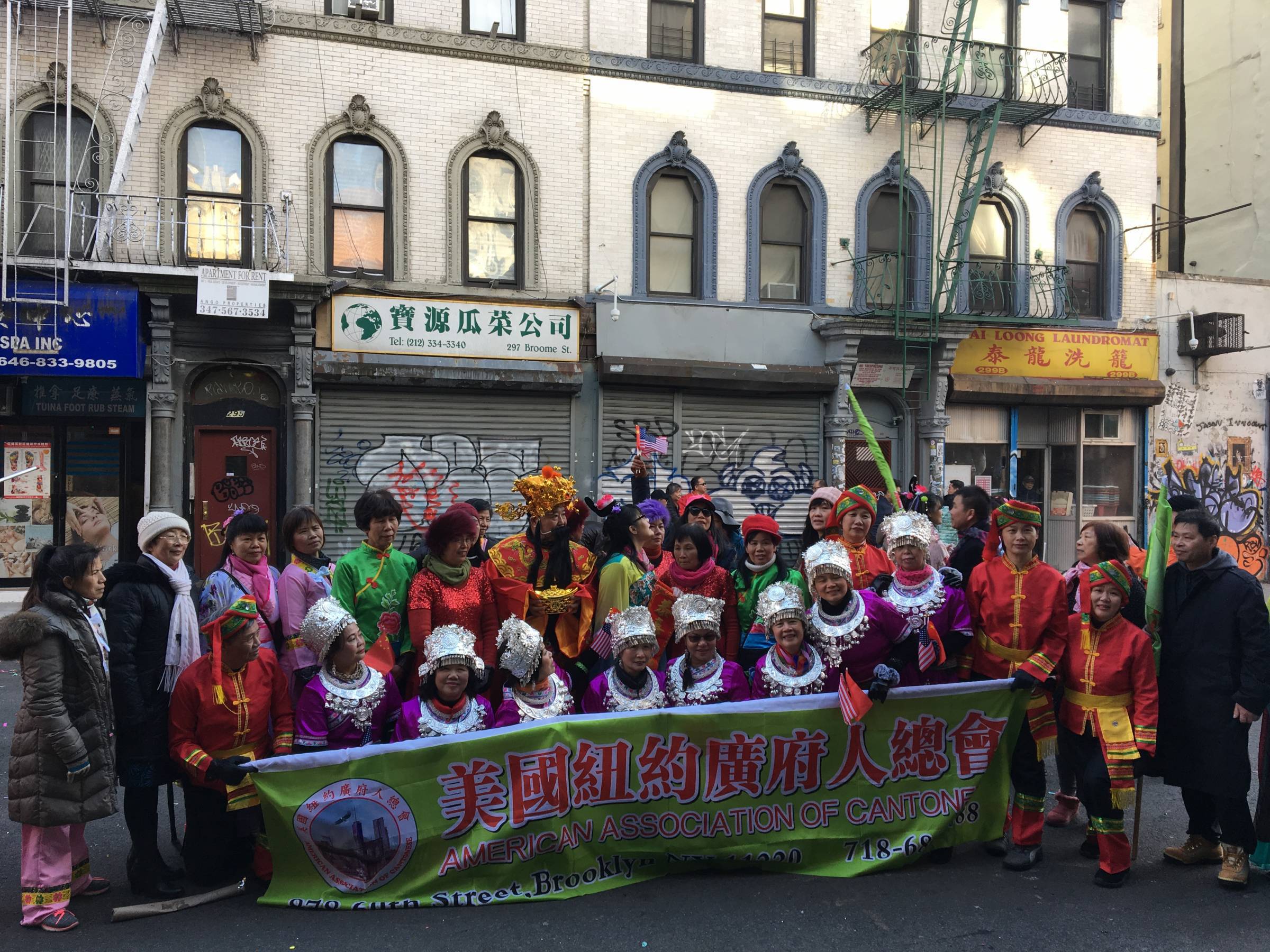 For the final stop of the trip, I was back in Newark for a hockey game at Prudential Center. The hockey game featured the New Jersey Devils v. Buffalo Sabers. Unfortunately, I had to leave at the end of the first period to catch my return flight home with the score 0-0. The Devils ultimately won 4-1. Looks like I missed an exciting one in Jersey, but the extra time to get back through LaGuardia was worth it.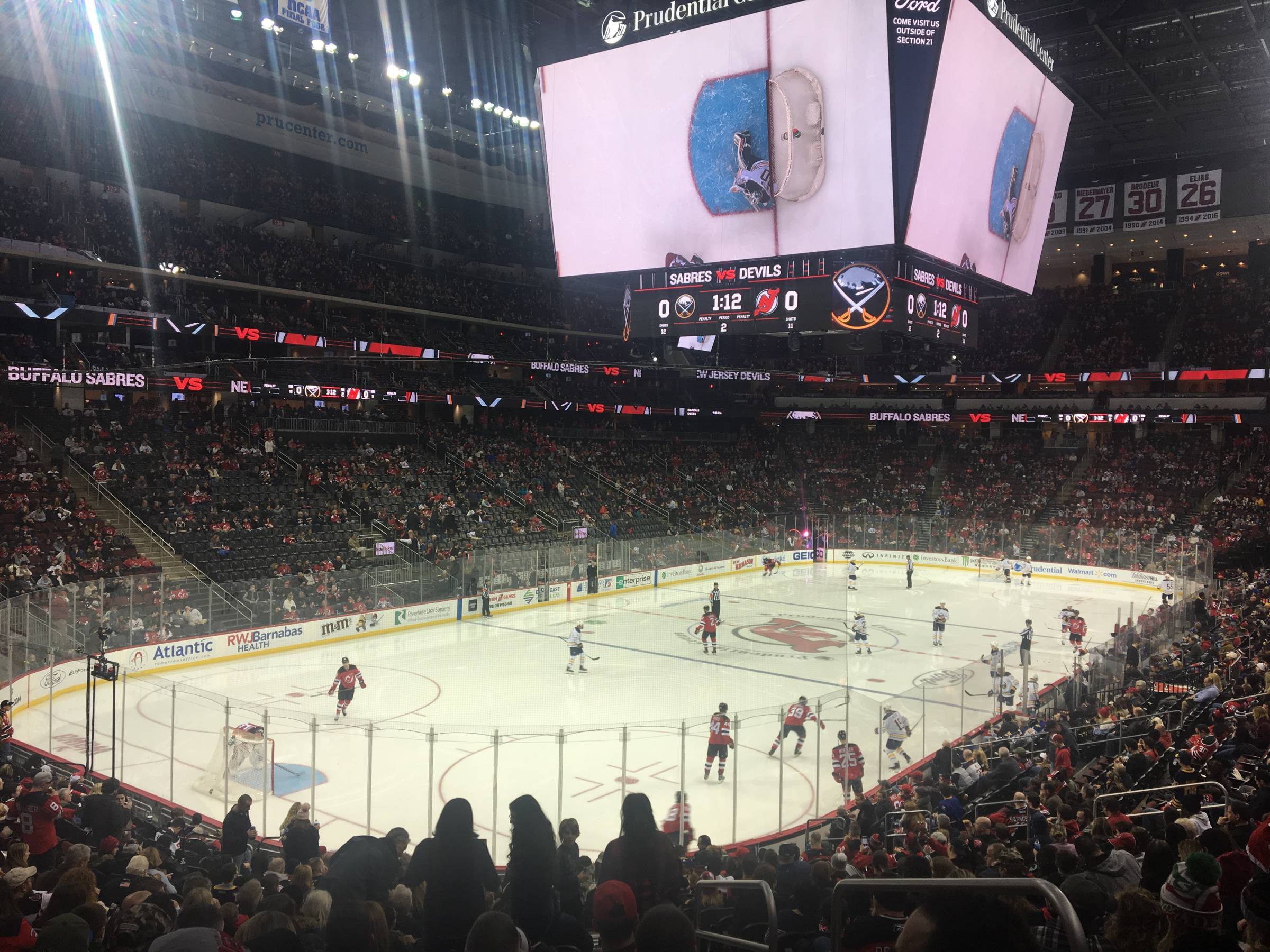 Final Thoughts
When in NYC, expect the unexpected. I know "expect the unexpected" is a cliche phrase but it could not have applied better to this experience in the Big Apple. Between the unexpected public proposal, Chinese New Year parade, traffic that followed no logical pattern, and multiple wild moments witnessed at night, rolling with the flow was a must in order to stay level headed and best enjoy my time in NYC.
Keep your friends close, but enemies closer. I kid about the enemies part but seriously keep those friends close. It's inevitable that life pulls us all in different directions but the little effort it takes to keep in touch is worth it. Being able to reunite with four of my best friends in one of the best cities was crazy, but most importantly it reminded me of the great people in my life. Everything stressful going on in this world is much easier to manage if you have friends who will hear you out, sympathize, and buy you a Corona.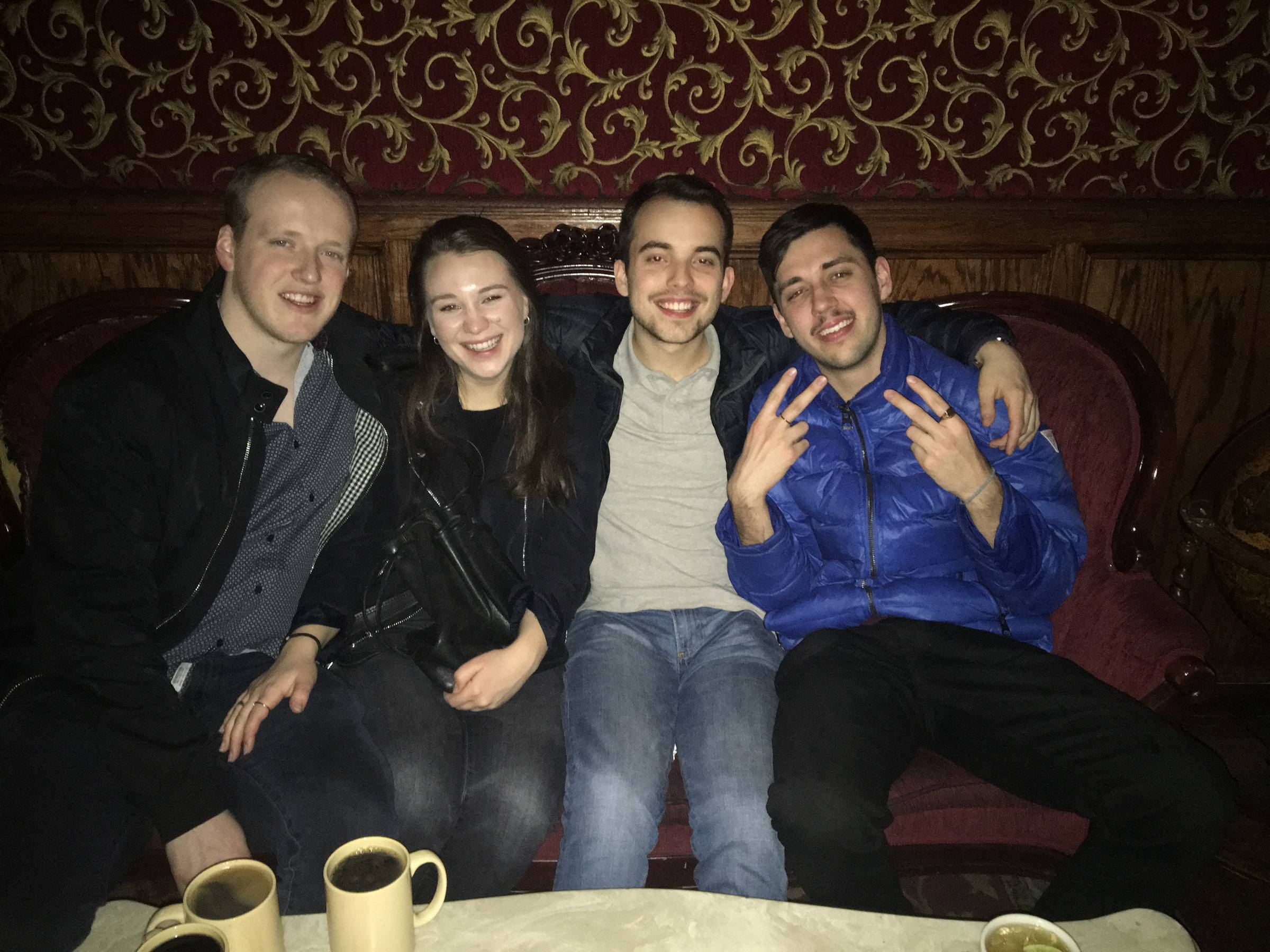 Next week you'll find me in Sin City, Las Vegas. No idea what LV has in store for me. Check back next week to see if I survive.
Austin