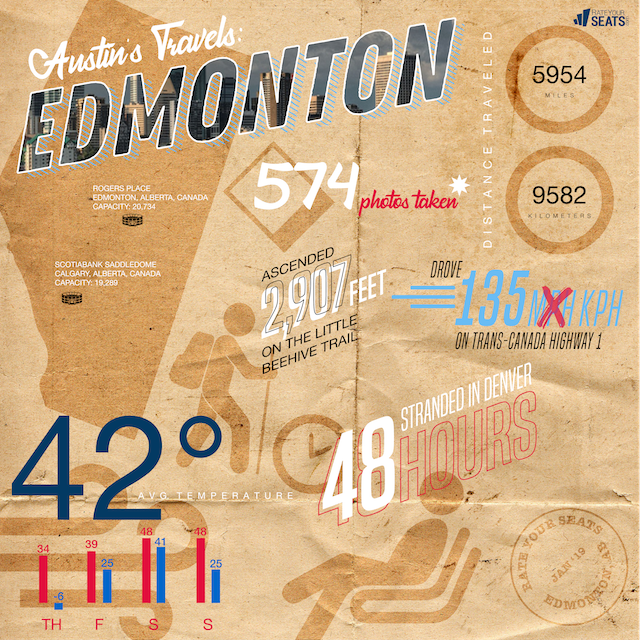 Hello and welcome back! Austin here with my trip 3 recap of Edmonton and Calgary. Visiting the province of Alberta was absolutely incredible, unlike any place I had visited before. Up to this point, I had only visited small Canadian towns bordering Michigan like Sault Ste. Marie and Windsor--to ski and partly to take advantage of the 19+ drinking age while in college. My four days in Alberta were action packed and gave me great insight into what makes Canada so special and unique. Even despite being stuck in Denver for 44 hours at the tail-end of the trip, this will be an adventure I remember for a very long time.
Day 1
The trip didn't start off on the best of notes because as I boarded my plane in Chicago, I realized I had a connection in Arizona. This detour to Phoenix turned what should have been a 3 hour flight into 7 hours of total flight time, which made me progressively tired, angry, and most of all, hungry. I touched down in Edmonton with one thing on my mind... poutine. Poutine is a Canadian delicacy where a plate full of fries is covered in gravy and cheese curds. It basically tastes like french onion soup poured over some fries. An absolute must if you are ever in Canada and a great way to get a hangry individual back on track.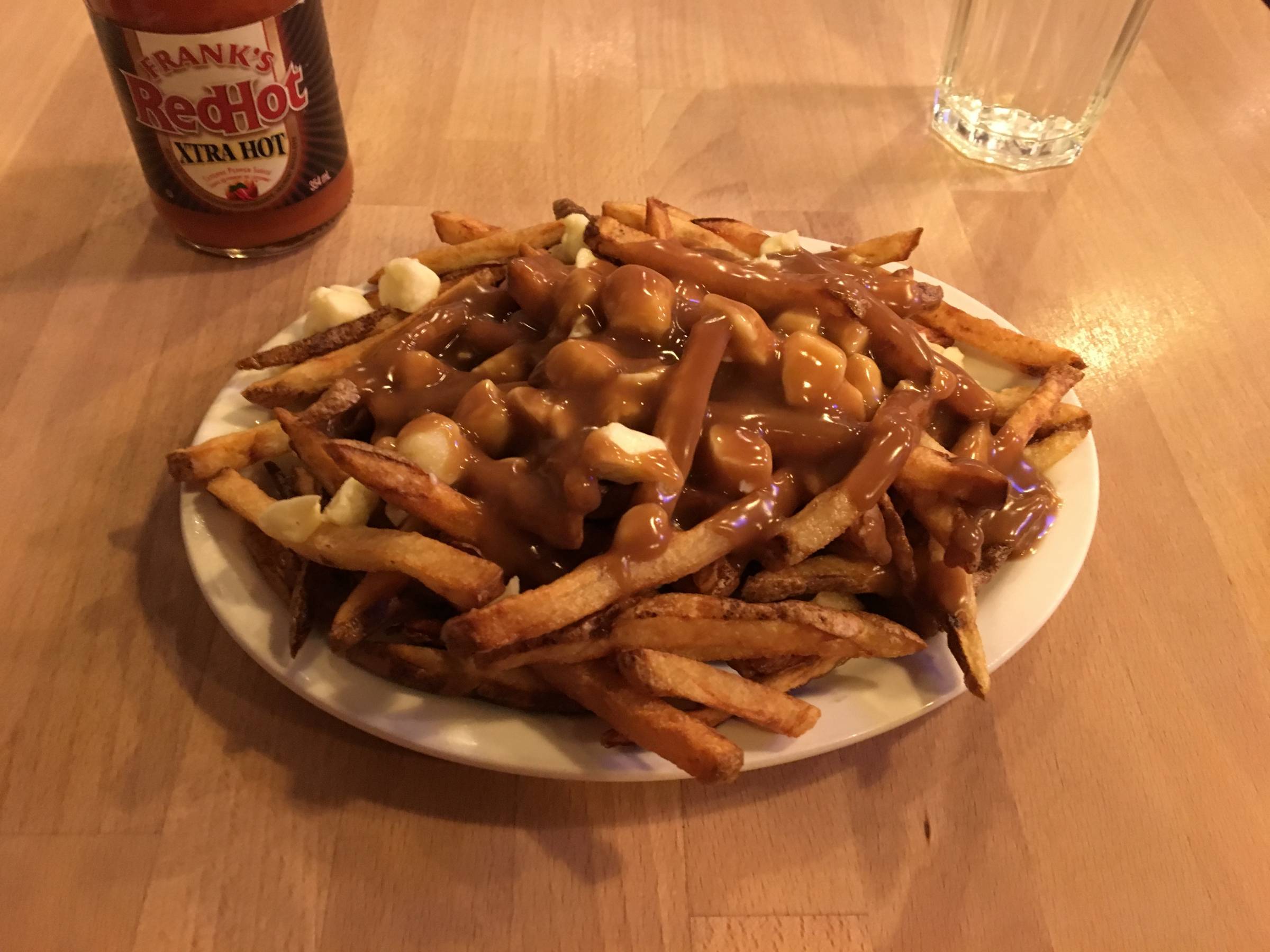 After devouring the fries + gravy + cheese curds, I continued to Rogers Place for Dierks Bentley's Burning Man Tour. Music is one of my favorite hobbies, but I can't say I listen to country music much, if at all. Something about the twangy singing, repetitive song structure/subject matter, and cowboy glorification has never really appealed to me. For this reason, I had never before attended a country music concert. Still, I walked into Rogers Place with an open mind, anxious for what I was about to experience.
The tour was broken down into four acts: Hot Country Knights, Tenille Townes, Jon Pardi, and Dierks Bentley. Hot Country Knights opened the show and caught me off guard. They were basically a five-piece, all male, parody country band full of all the country music cliches that keep me away from this style of music. It seemed to be a joke in the same way "Weird Al" Yankovic is a joke, but still I didn't see the appeal (more on Hot Country Knights later). From this point on, the acts really impressed me. Tenille Townes is a newer artist who has gained a ton of popularity with her 2018 breakout hit "Somebody's Daughter." She is also from Grande Prairie, AB, making this show in Edmonton basically her homecoming performance. I think she showed tons of potential and her humble attitude on stage made her very likable. Jon Pardi was more your classic style of country singer, fit with cowboy hat, huge belt buckle, and tucked in shirt. He certainty brought the party and I'd argue the crowd was most hype during his set. Dierks Bentley ran onto stage with a huge video screen behind him, clearly the headliner. As someone who has been in the game since the early 2000s his set was the most polished and he didn't disappoint.
Highlight of the show was about halfway through Dierks' set, he brought out the hometown hero, Tenille Townes, to sing a duet with him (pictured below). It was special to see how appreciative and nervous she was. Additionally, the crowd reacted to this authentic moment with the loudest cheers of the night. Together they sang Dierks' hit "Different for Girls" where Tenille stole the show with her powerful performance during the second verse.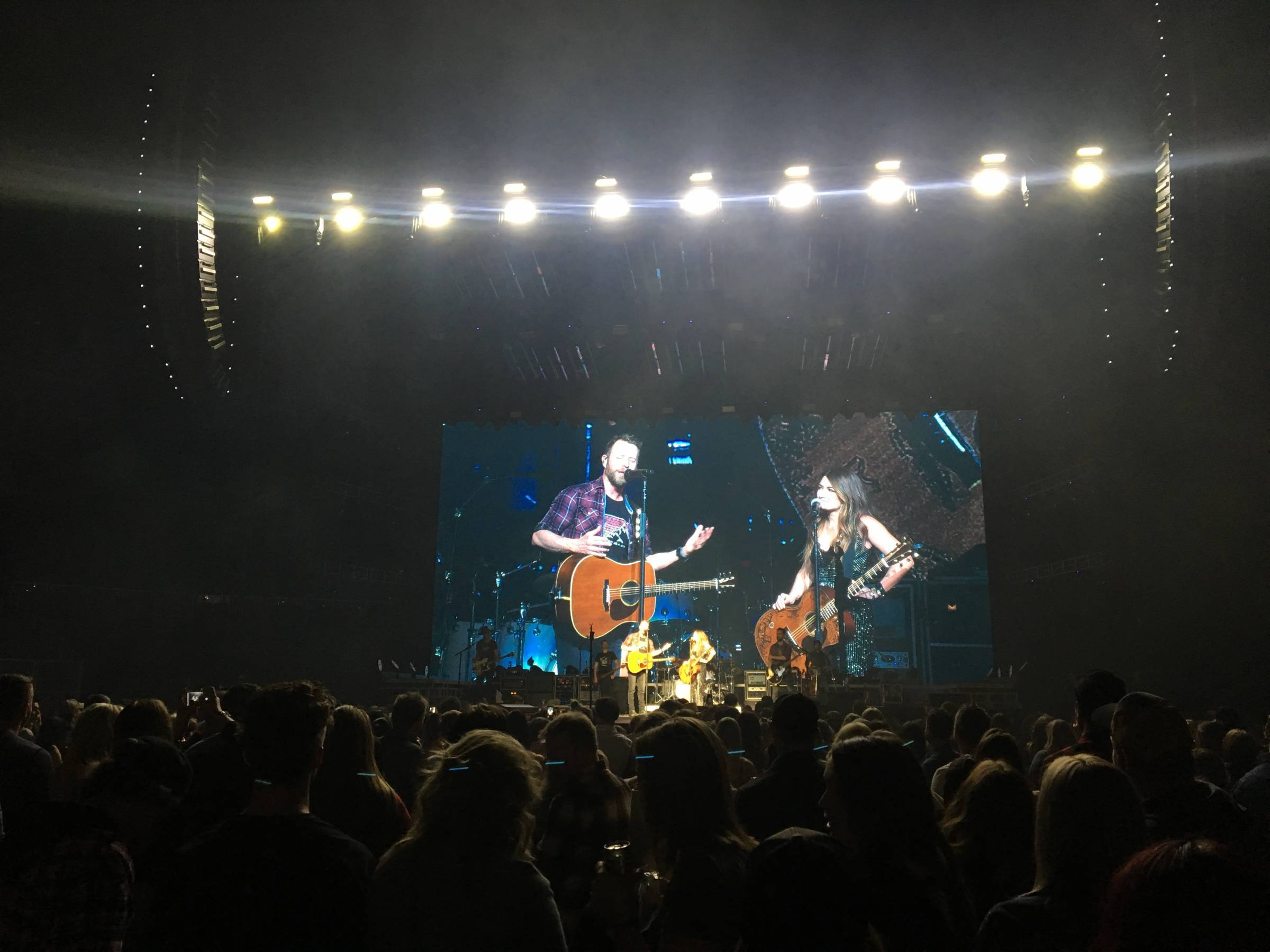 Day 2
After that great concert, I slept in before making my plan for the day. I knew I wanted to check out The University of Alberta before the hockey game that night, but I had no plan on where to eat. Lately, sites like Tripadvisor and Yelp have really been leading me to some anticlimactic meals, so I figured I'd try researching through a new avenue. What I learned is that the best place to find great food in the city is looking for local newspaper/magazines' "Best of" awards. This is exactly how I came across Seoul Fried Chicken.
I cannot speak highly enough about this place. I was absolutely wowed. The chicken was amazing, prices were cheap, and they had all kinds of creative sauces and seasonings. I got the cilantro-lime wings, mac n' cheese pesto salad, and fries. One of the most difficult things for me to accept was leaving, unsure if I'll ever get to experience this place again.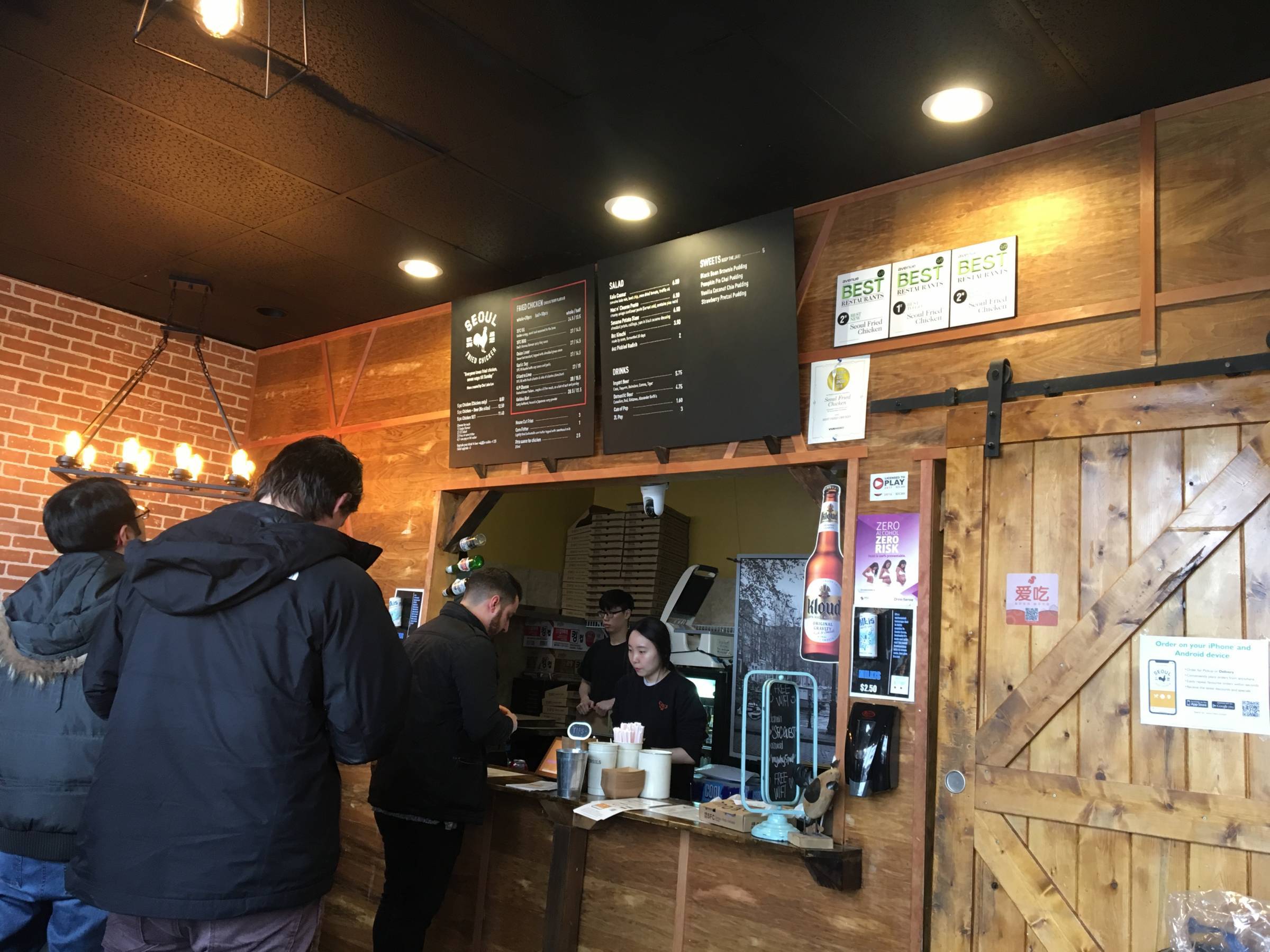 Founded in the early 1900s, The University of Alberta was a stop I wanted to check out while in Edmonton. U of A is consistently ranked in the top 5 of Canadian Universities and top 100 universities worldwide. I walked around for about an hour, taking in the historic red brick buildings set against the snowy landscape. If you ever find yourself on U of A's campus make sure you check out the Main Quad and the free Geology Museum.
For my last stop in Edmonton, I returned to Rogers Place for a minor league hockey game featuring the Edmonton Oil Kings. While the hockey game wasn't the most exciting, I was able to use this time to check out the new Rogers Place.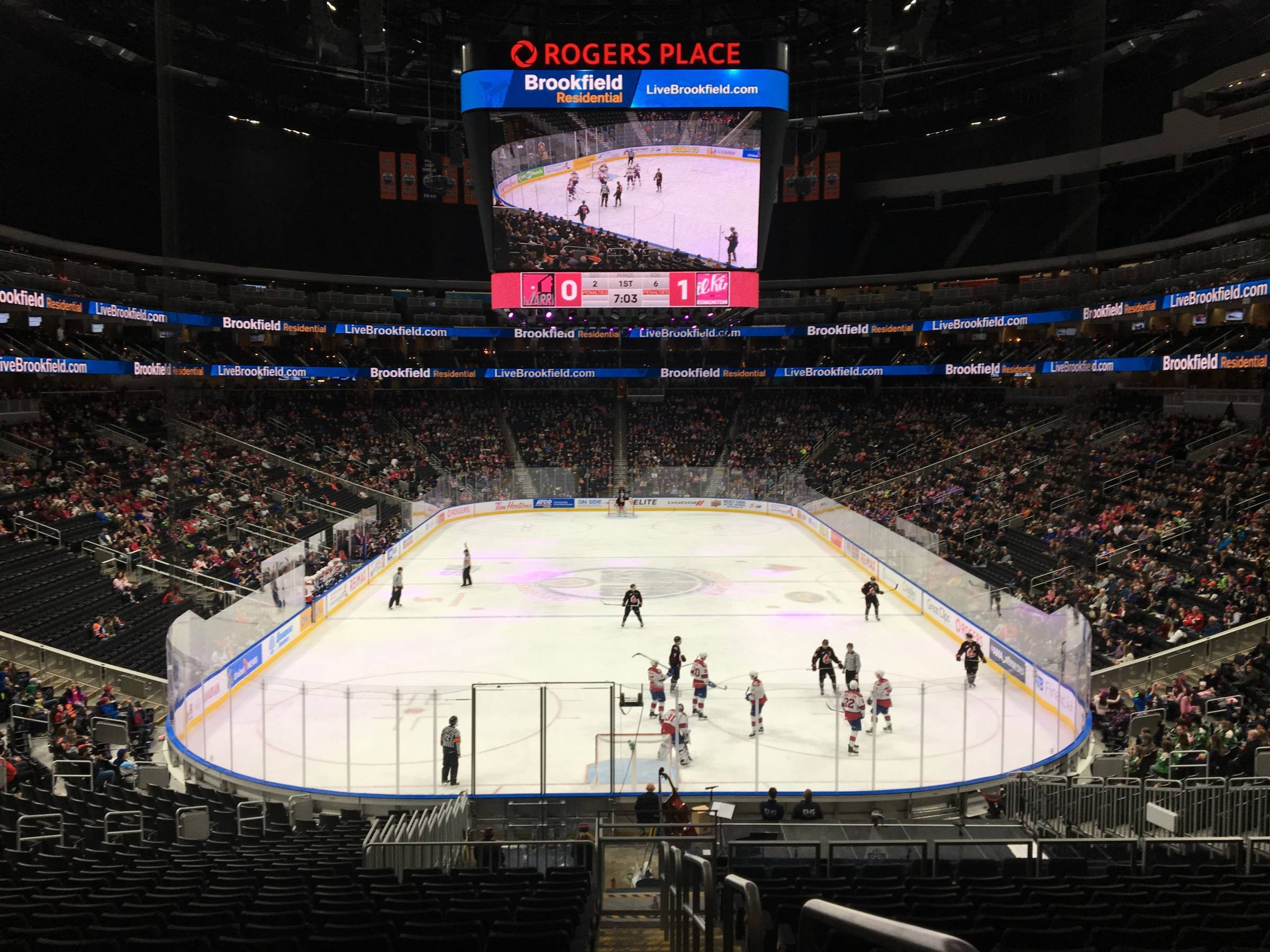 Rogers Place opened in 2016 and is as nice as it gets. The stadium was beautiful and what I really enjoyed was how much space they provided for the walkways and common spaces. It felt similar to an expo hall with all the extra room and added benefits. They even had a casino attached to the building where I was able to win a quick $20 CAD at the roulette wheel before the hockey game. As if the stadium couldn't get any better, they are currently building a new outdoor section of the stadium referred to as the ICE District. Once completed this summer, Rogers Place attendees will have the chance to congregate outside the stadium in this plaza area filled with bars, food, and activities. This will change Rogers Place from just a stadium to a destination where you can hang out any day of the week.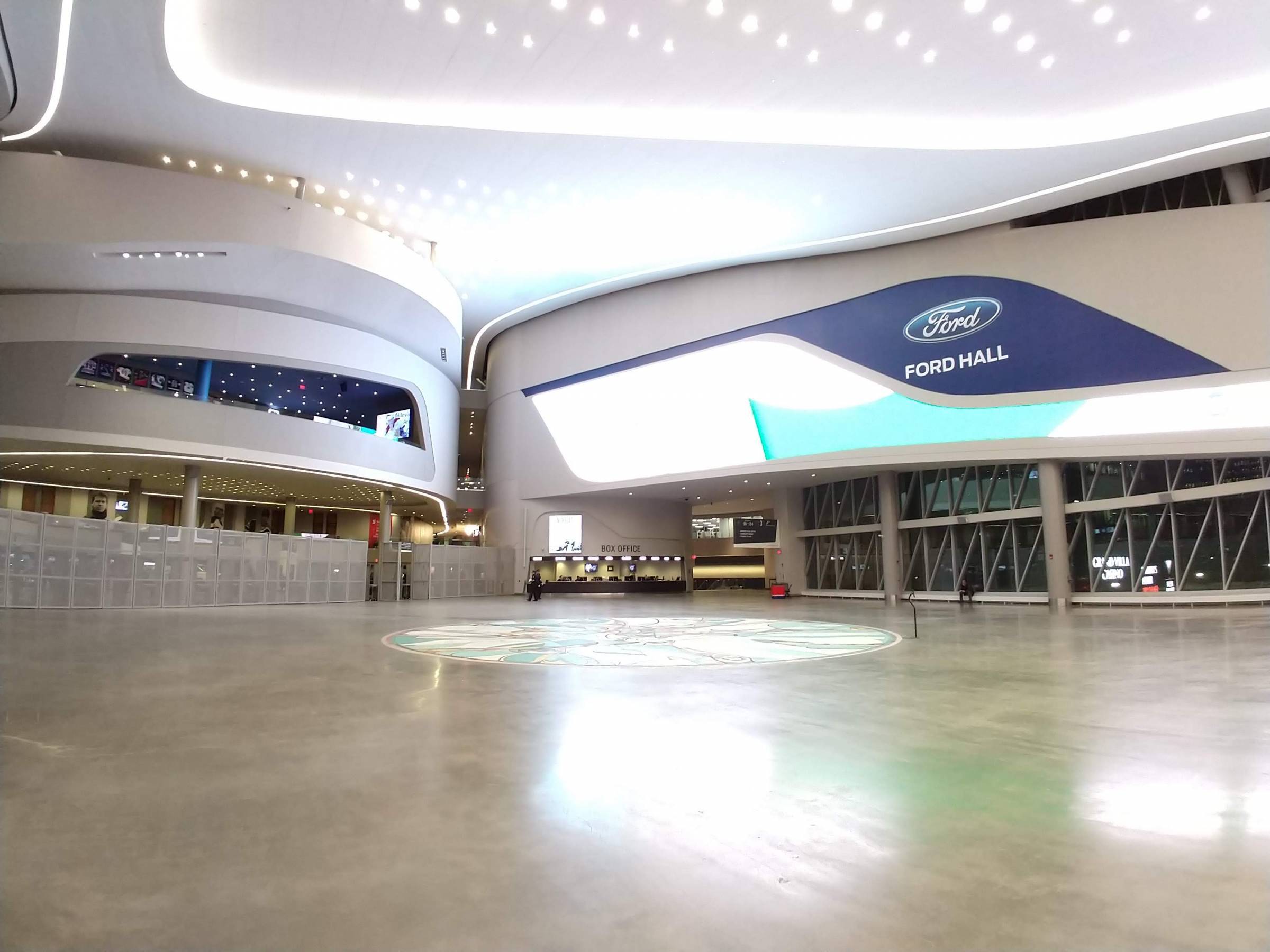 Day 3
The remainder of my trip was spent in Calgary. Calgary sits just an hour and a half east of the Canadian Rocky Mountains. There was no way I was about to be this close to the Rockies without spending a little time up in the higher altitude. For this reason, I woke up at 7AM and drove west towards Banff.
Banff is a town located within Banff National Park. This site is home to the famous Banff Mountain Film Festival which is an annual presentation of the year's new outdoor sport and environment films/documentaries. I stopped in the town quickly to pick up some ice cleats and gather advice on the best places to hike in my short time frame. I then hopped back in my car and drove another 45 minutes northwest to Lake Louise.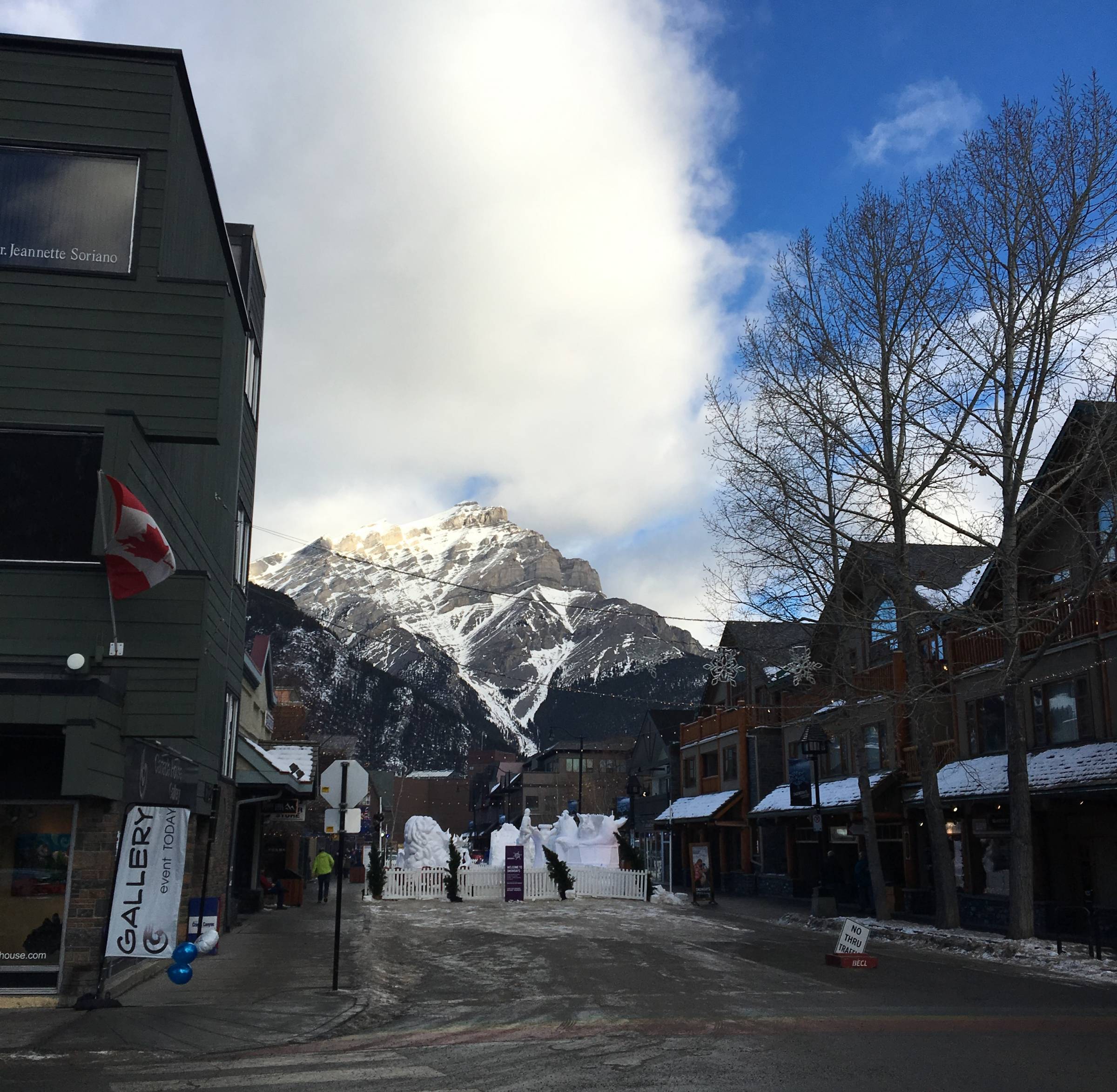 Admittedly, Lake Louise was one of the spots they warned me not to go to when I stopped in Banff because of how touristy the location is. True to form, Lake Louise was jam packed with people, but the beauty was worth it. The lake, frozen over during this time of year, sits in this valley between massive mountains on all sides. The bright sun and 30+ degree day added to this spectacular scene. After soaking it all in for some time, I ventured away from the crowds and began following a path up the mountains.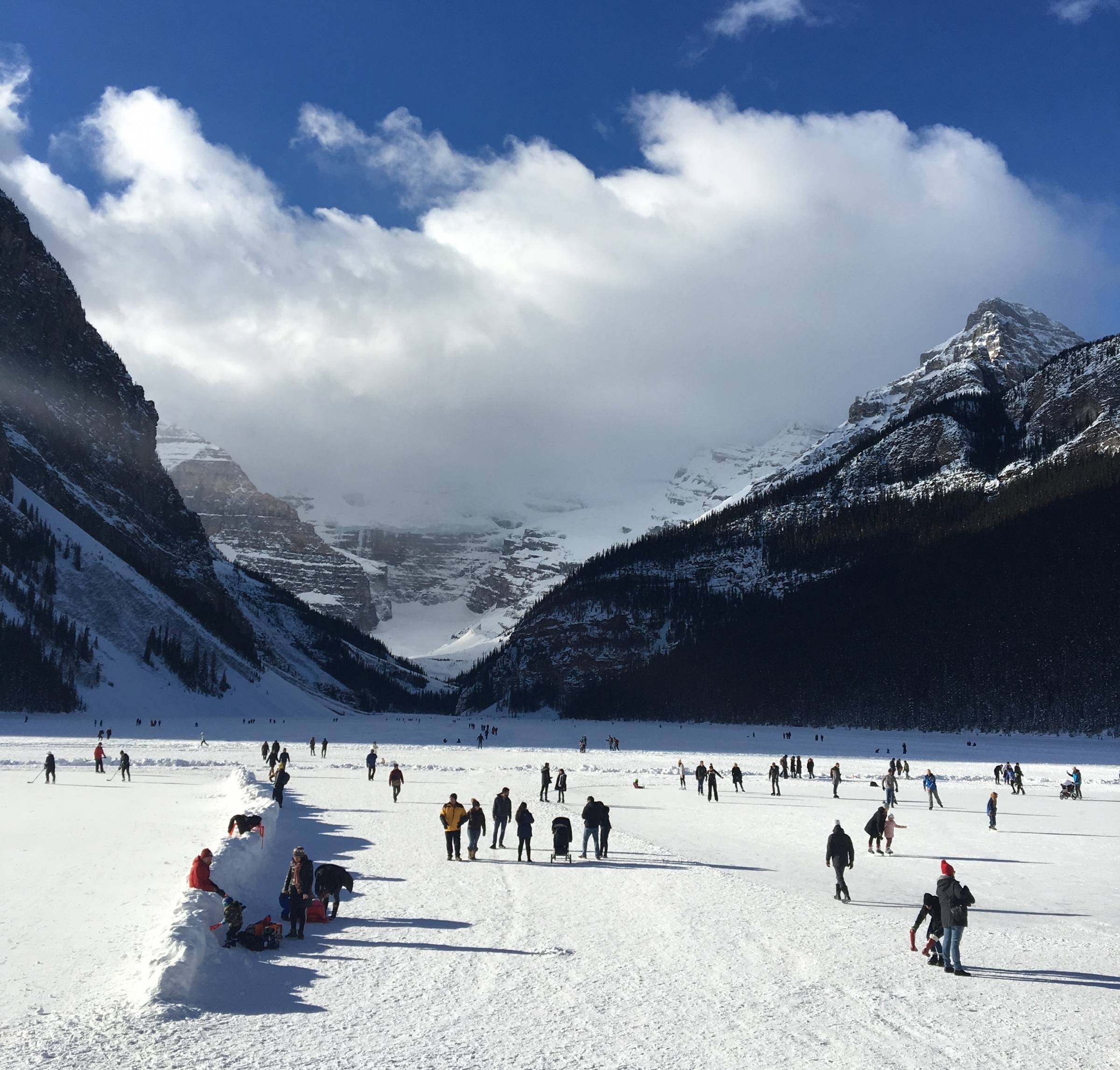 Hiking up the switchbacks towards Little Beehive was 100% worth it. The round-trip was about 8 km, with an elevation change of 2,907 ft. After about 45 minutes into the hike, I was completely alone. The majority of the trail weaves back and forth between tall pines, with the sun spotting the snow covered trail throughout the ascent. I stopped first at Mirror Lake before continuing on to Lake Agnes. After Lake Agnes, the trail really opens up and you begin to take in beautiful views of Lake Louise as you continue along the ridge towards Little Beehive. The view from Little Beehive was magnificent. For reference, the hotel in the picture below is where the trail begins. Considering how incredible this trail was during this beautiful day in January, I'm very motivated to return during the fall when the leaves change color and Lake Louise is crystal clear. I sat at the top for about 30 minutes before quickly descending in order to make it back to Calgary for the concert that night.
I gathered all my remaining strength and made it to the Scotiabank Saddledome to once again see my good buddy Dierks Bentley. The Saddledome is about 30 years older than Rogers Place, but about the same size. Once again, I got to watch the same four acts as two nights prior but this time I had some new realizations.
First off, that parody band Hot Country Knights that I found so annoying night one was actually Dierks Bentley in disguise! This made the performance much more hilarious, especially when taken into account how much of a contrast his alternate persona, Doug Douglasson, was to Dierks in real life.
Secondly, the tour life, while exciting, is no easy job. I was impressed by how much each act stuck to the script whether it was with a short story between songs or exact moments when they would usher in crowd participation. Sure, this ruined the allure that either crowd was actually special, but it made me appreciate the few unexpected moments of each night.
Lastly, Calgary really brought the energy, it was almost palpable. The Calgary show was noticeably louder than Edmonton. This could have been due to the smaller building of the Saddledome or the fact that there were more empty seats in Edmonton. Honestly though, I think the crowd in Calgary just came ready to party on a Saturday night. Note: newer is not necessarily better.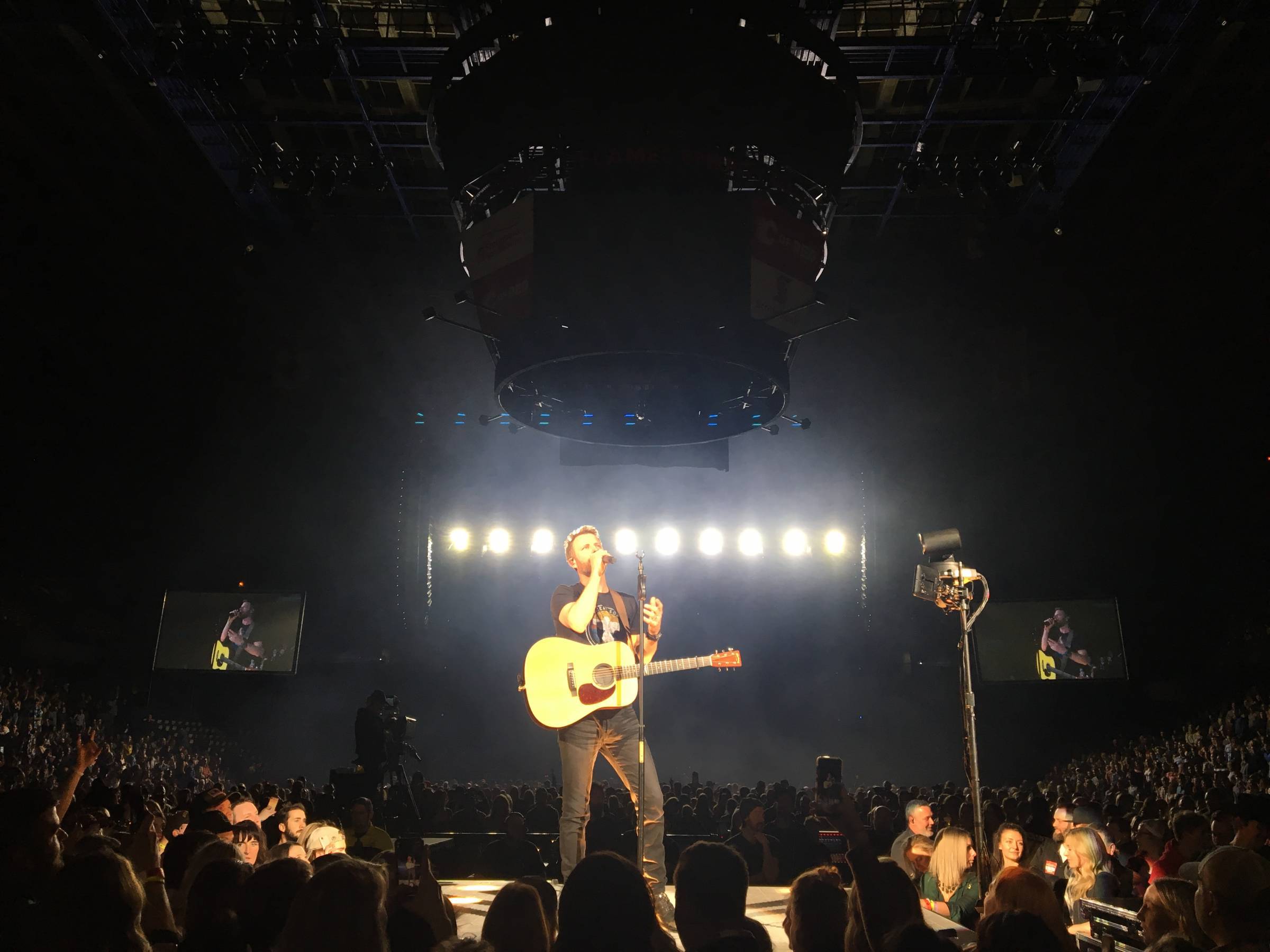 Day 4
I slept like a baby after that exhausting day 3. After checking out of my hotel, I stopped at Red's in Ramsay for some brunch. This spot had your classic diner feel with the bar top seating and dinging bell whenever a order was ready. Food was great and it was located less than a 5 minute drive from the Saddledome. Perfect spot to grab some brunch before a hockey game.

My time in Canada ended with another trip to the Saddledome to watch a minor league hockey game featuring the Calgary Hitmen. I'm bummed I didn't get to watch the #1 team in the NHL Pacific Division, Calgary Flames, play at home, but the minor league game was still exciting. The Hitmen had a great logo, which looked like a hockey player wearing a Jason mask, very spooky. The game was quite lopsided in favor of the Hitmen. By the time I left at the end of the first period, Calgary was already up 3-0 over their opponent.
Final Thoughts
I'm never again flying Frontier. I decided to spare you all the details of my attempted return(s) to Chicago, but long story short, I was stuck in Denver for 44 hours after two canceled Frontier flights. I understand the Polar Vortex or whatever was destroying Chicago, but Frontier wasn't much help in the matter. I ended up flying into Madison and driving two hours home to Chicago in order to avoid being stranded in Denver for another 48 hours. Never again Frontier, never again.
I'm not going to claim I'm anywhere near a country fan after attending those two concerts back to back, but I did very much enjoy the shows. I recently watched Jimmy Fallon interview Shaq on his late night show and Shaq made a comment that I identified with--He said, "There's two things that bring people together: sports and music." These events are places to gather. Places where we can leave the worries of the world behind and fully invest ourselves into the entertainment together for a couple of hours. Even a hip-hop fan at a country music concert can appreciate that.

I leave Alberta a big Canada fan. I know it sounds cliche but everyone I interacted with in Canada was so helpful and kind. The people made me feel more welcomed in their country than I do in my own. There's no doubt that I will be returning to Alberta in the near future.

Next week, my journey continues in Oklahoma City, Oklahoma. Another spot I've never visited before. Excited to see what it's all about!
Austin