Yo, how's everyone doing? I'm happy to share that I have returned in one piece from my recent adventure on the East Coast! This trip became slightly dicey at the midway point due to plans falling through, a torrential downpour, and some unreliable Greyhounds. Nonetheless, I was able to experience four different, amazing cities in only five days. I'm confident, looking back this will be one of my most memorable trips to date. Sit back, relax, and enjoy reading about 5 days that I hope no one ever tries to replicate.
Day 1
Stop numero uno was to Baltimore, Maryland to visit one of the most iconic modern baseball stadiums. Camden Yards was once home to Baltimore & Ohio (B&O) station, which served the only rail line to Washington D.C. from the north in the late 19th century. Oriole Park sits directly adjacent to the B&O Warehouse and can be viewed just past right field. Despite being built in 1992, Oriole Park has a very historic feel, due to its classic architecture style and proximity to these national monuments. Even though the baseball game itself was quite uneventful, the unique feel of Oriole Park at Camden Yards leaves me excited to return soon in the future.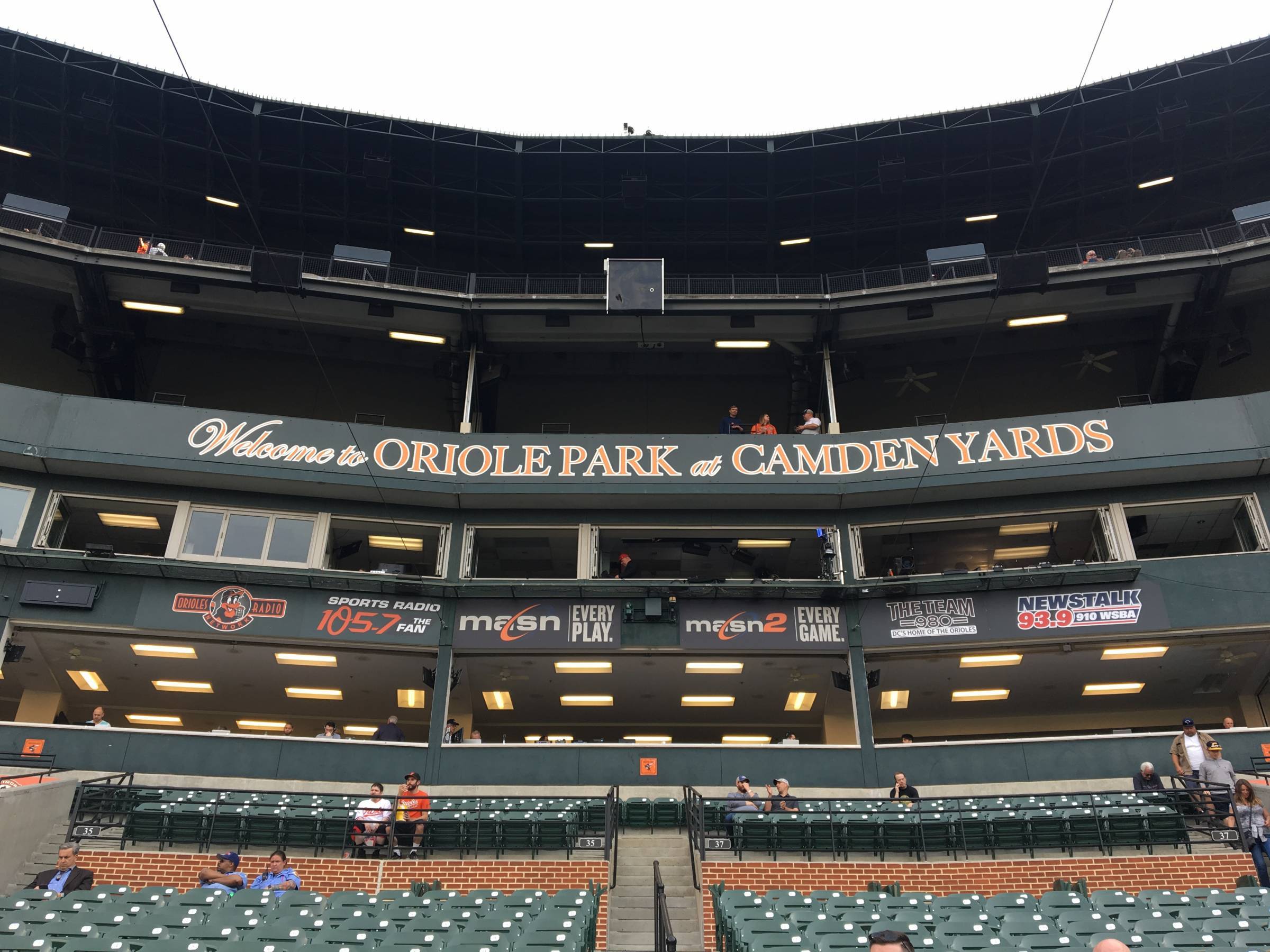 Having ate very little all day, I was absolutely starving after the game. Just north of the city I came across an interesting Latin American bar called Clavel. Clavel had a very unassuming front with just a single neon pink sign suspended above an iron door. Once I stepped inside, I understood the hype. The lighting was low, seats were close and intimate, and decorations were minimal with multiple plants. On top of the aesthetic, the tacos and late night margarita were perfect. The free dripping candles were a nice touch, albeit dangerous, as well. 10/10 would recommend to a friend.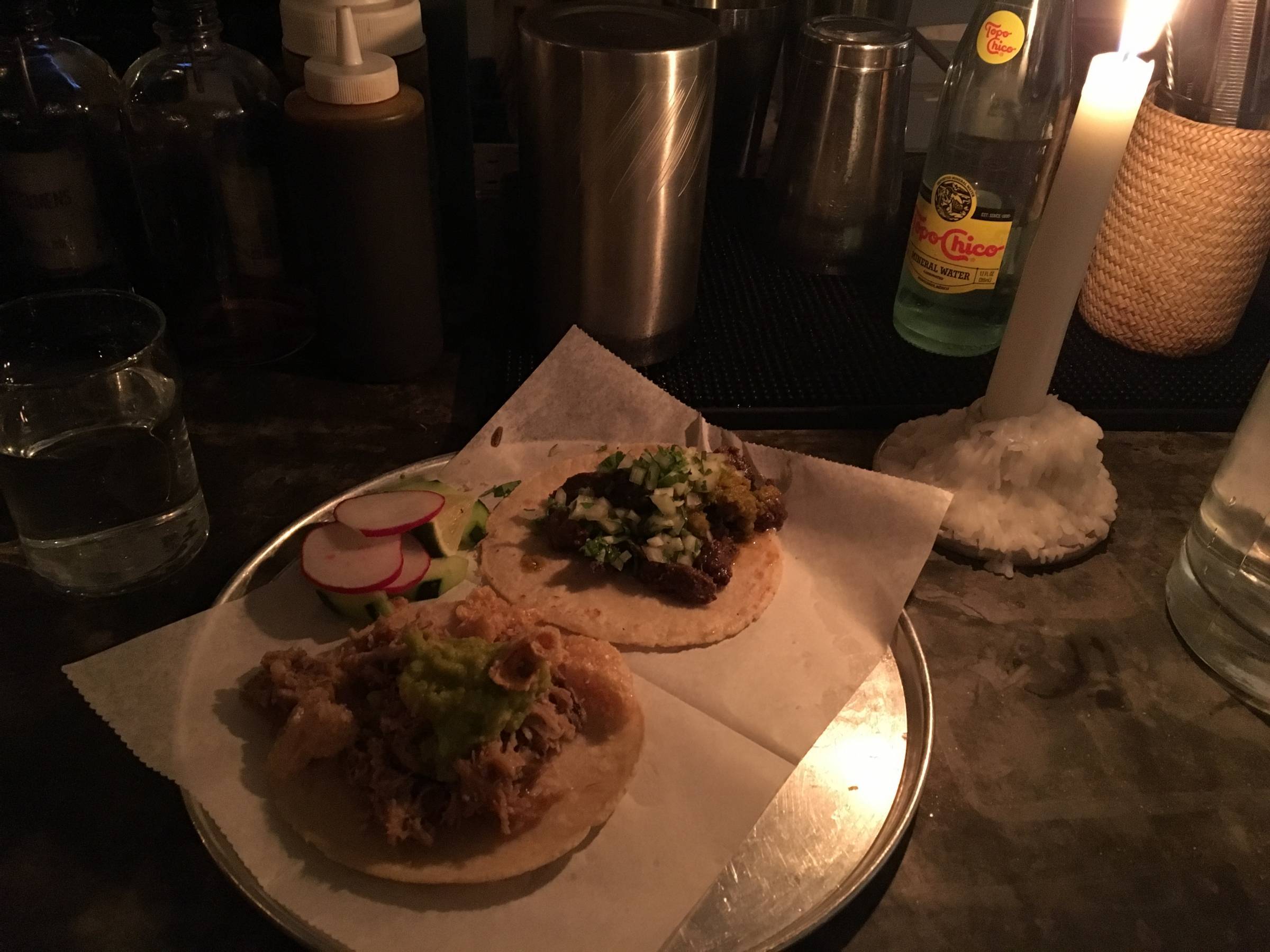 Day 2
Following my short time in Baltimore, I hopped on an Amtrak and headed north towards Philadelphia, Pennsylvania. Pro tip for the backpackers out there, many Amtrak stations offer luggage storage for ~$20 per day. This was perfect for me seeing as that I was spending less than 12 hours in Philly but had nowhere to store my large backpack/valuables while I attended a baseball game that night. Amtrak coming through like Kawhi.
After dropping off my bag, I took a taxi into the heart of the city. I had about five hours to kill before the game so I walked around and tried to see everything. The Liberty Bell was anticlimactic. I skipped the Declaration of Independence because I guess you need to show up early to "reserve" a spot (on a Thursday in the middle of the day??). As a past-chemistry scholar, I did really enjoy the Science History Institute but not sure if anyone else really would. 2nd Story Brewing had me feeling great until the bar was bombarded by some office happy hour that I was very happy to not be apart of.
The shining light of the day's shortcomings was Reading Terminal Market. Founded in 1893, this market is one of America's oldest and largest public markets. Stumbling around that place while hungry is as close to heaven as I can imagine. The only downside was having too many options and too many people bumping into each other. I decided to get a Philly Cheesesteak fit with the Cheeze-Whiz and all. That sandwich is different in the best of ways.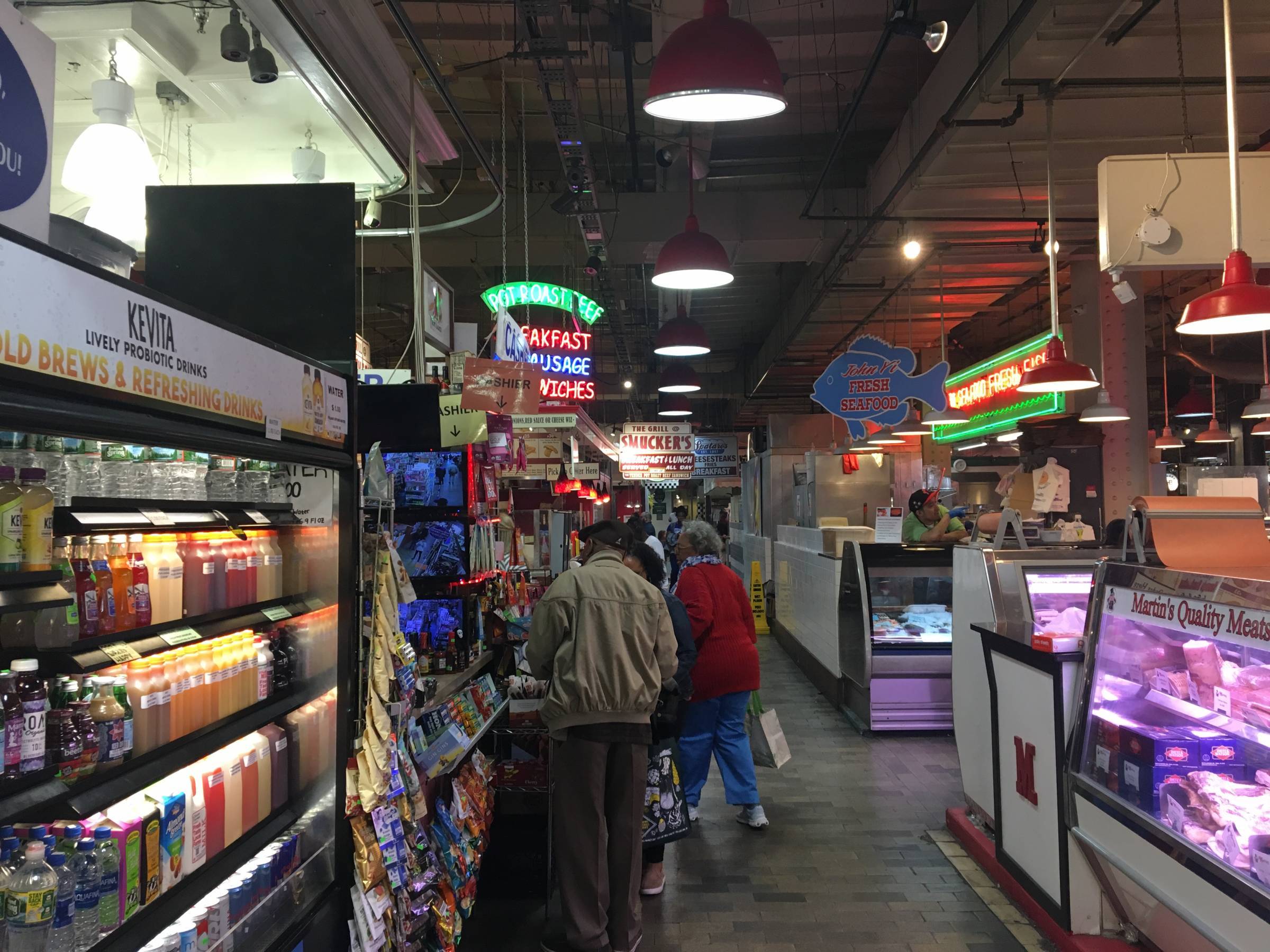 That evening, I attended Citizens Bank Park for a Phillies game against the Miami Marlins. It was nice but nothing special. I enjoyed the view of downtown you had beyond center field but it was slightly masked by the gloomy sky. Also, this was my second time this season seeing Bryce Harper play since his silly 13-year, $330 million deal and once again I was extremely underwhelmed. Look, I get it, it's early in the season and he's probably feeling the pressure of everyone's mile-high expectations. Still, give me something more than a bloop single that barely drops over the short stop's head. I didn't get too much time to brood over Bryce because after capturing my content I had to quickly get back to Penn Station for my late night train to D.C. Making it to D.C. that night set me up perfect for a great day 3, that is, had everything gone according to plan...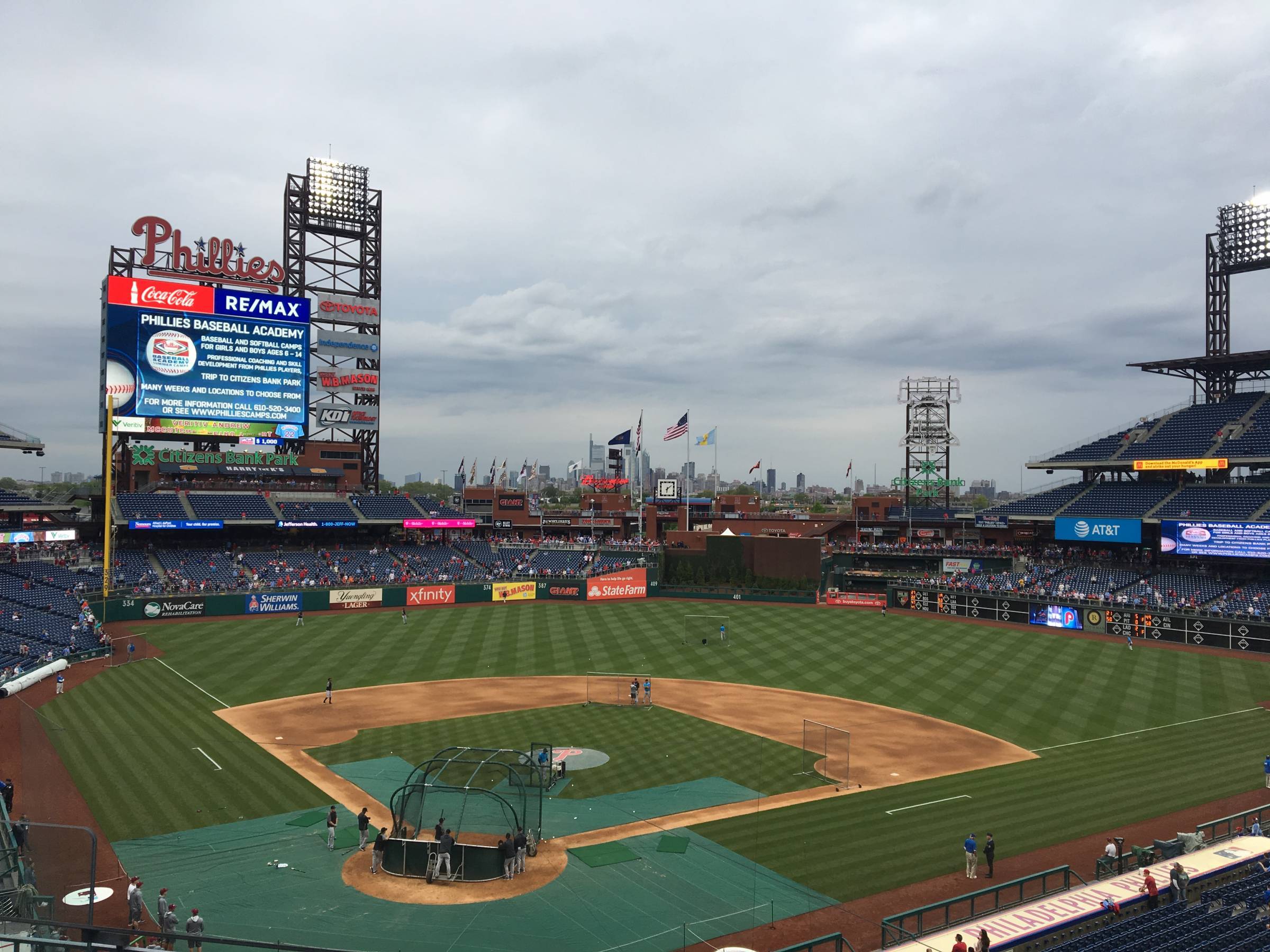 Day 3
I woke up early in D.C. and left for Union Station to catch a Greyhound headed for Virginia Beach. The plan was to arrive in VA around 4pm which would have given me enough time to catch the later half of day 1 of Pharrell's Something in the Water music festival. This would have worked out perfectly had day 1 of the festival even begun.
As the Greyhound trudged east of D.C. towards the VA coast, the rain started to pitter-patter against the shaky windows. With this ominous feeling lingering in my gut, I eventually checked the 24-hour radar. What I discovered was that VA Beach and the surrounding areas were getting pummeled by day-long torrential thunderstorms. With this music fest located on the beach, festival organizers were forced to push back the opening of the festival that Friday from 11AM to 1PM. Then 2:30PM. Later 4PM. By the time my Greyhound finally pulled into the rain-soaked Norfolk, it was 5:30PM and no new updates had been provided since the 4PM push-back. To make matters worse, I was camping.
I'm not a big camper. While I love the outdoors, I can count the total number of times I've spent a night outside on two hands. This was my first time camping alone. When I arrived to my campsite, rain still falling at a steady clip, I discovered that 2/3 of my camping plot was submerged in standing water (see below). The only area that hadn't become a temporary pond was this small area next to a lonely tree, atop its roots. With no other choice, I quickly began setting up my tent. My lack of experience/inability soon became evident to a nice guy passing by named KJ. KJ and I locked in and quickly set up the tent, only partially soaking some of my clothes. Not only did KJ save that day with my tenting woes, him and his girlfriend, Chelsea, became my best friends during this festival weekend.
About ten minutes after settling in, Pharrell sent out a tweet that day 1 of the festival was canceled. With nothing to do but accept defeat, Chelsea, KJ, and I spent the night drinking around a makeshift campfire. The rain eventually stopped, but with its exit came the entrance of strong winds from the north. After a couple hours we retreated to our tents, accepting this L but excited as hell for the following day.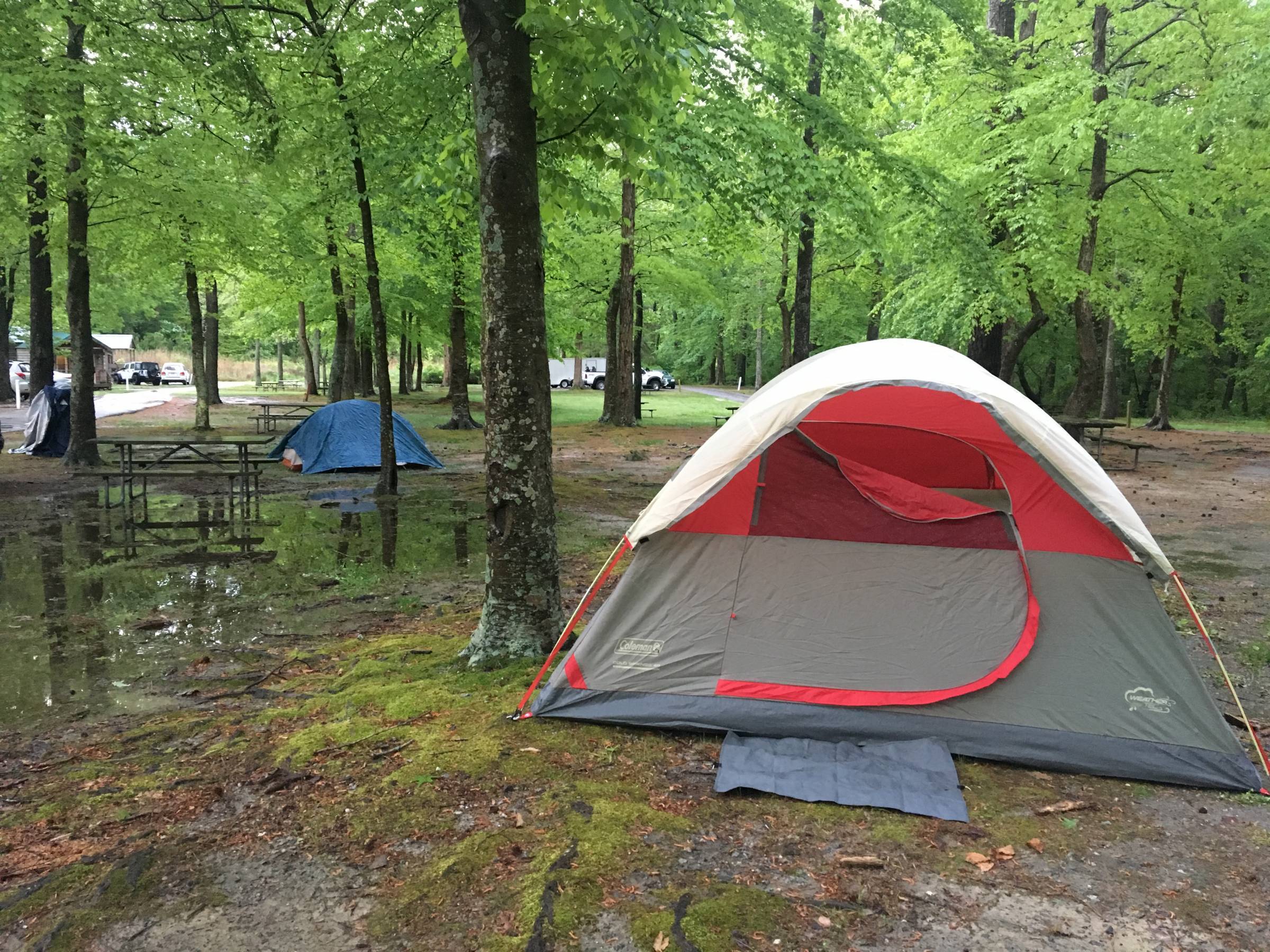 Day 4
The following morning I woke up to the sun heating up the tent. Making it through that rainy Friday was a triumph in and of itself, and I felt reinvigorated to witness day 2 day 1 of Something in the Water.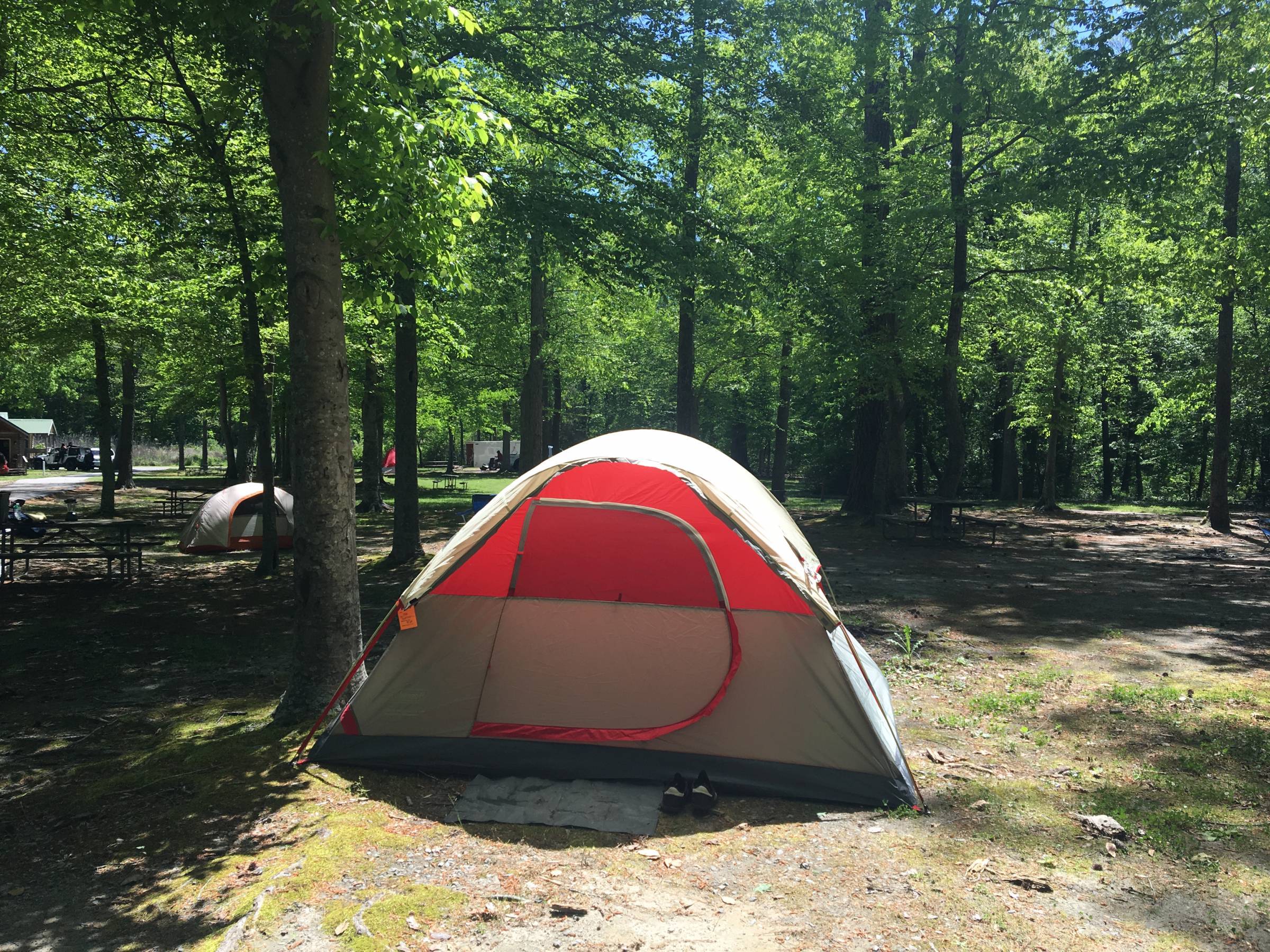 Not only was it the inaugural production of Something in the Water, this festival also provided many personal firsts as well. This was my first beach festival, first time in VA beach, first time attending a festival solo, and first time experiencing many of these amazing artists on stage. I'll highlight all my thoughts on the festival below in the "Final Thoughts" sections, but here I just want to focus on the music. I bought tickets to this festival on a whim strictly for the lineup. The fact that I saw Rosalia, Mac Demarco, ASAP Ferg, Kaytranada, J Balvin, SZA, and Travis Scott all in one day is still hard for me to fathom. Not to mention, Pharrell's headlining set was packed with special guests that highlighted exactly how far his influential roots reach. During his set Pharell brought out Snoop Dogg, Tyler the Creator, Jay Z, Timberland, Busta Rhymes, Missy Elliot, Chad Hugo of N*E*R*D, and Usher. Experiencing such a legendary performance made all the struggle of the previous day worth it and made me excited to return again*, next time with friends and a hotel room.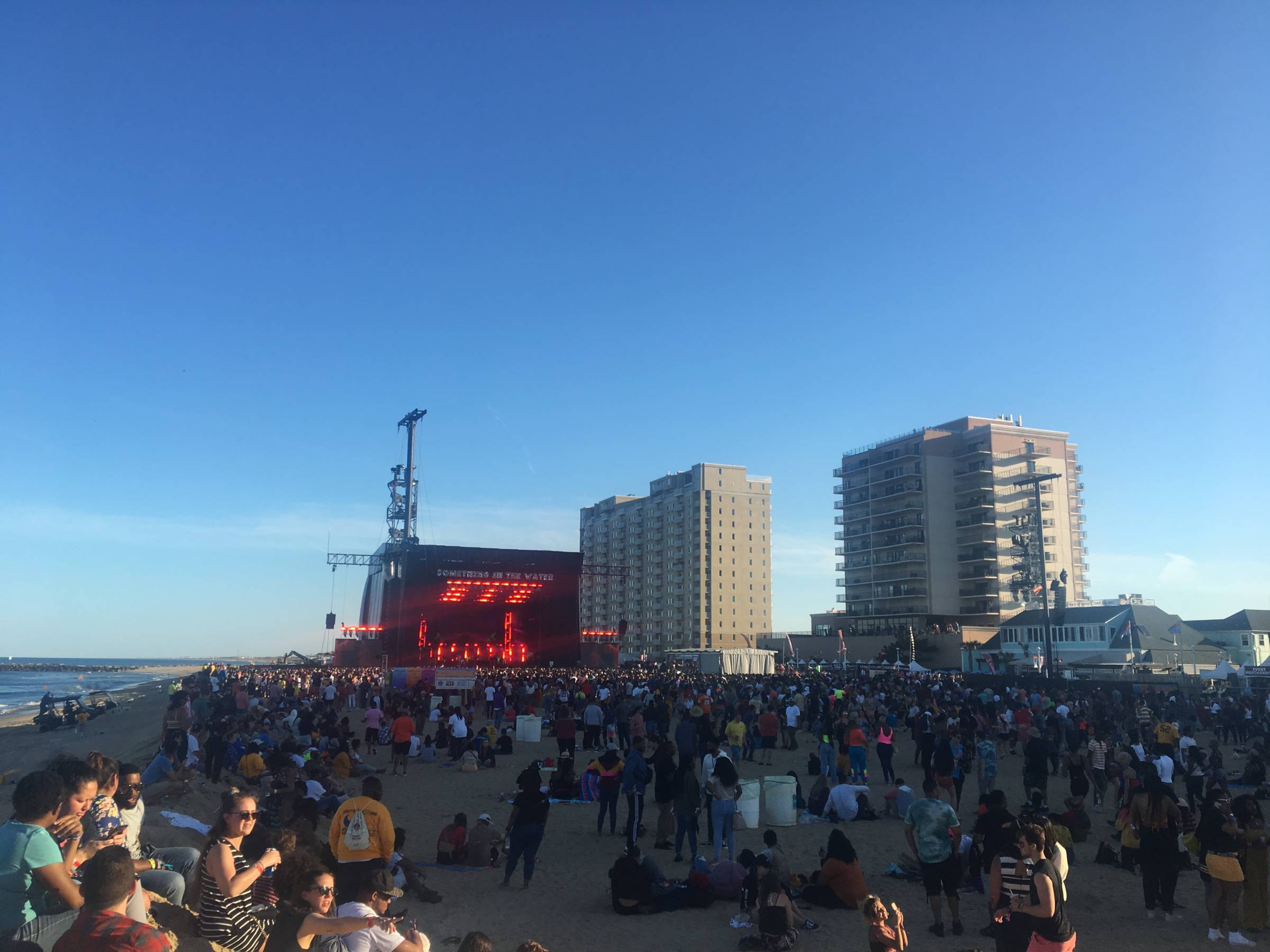 Day 5
After spending one more night camping, I skipped the final day of the festival to make it back to D.C. to fulfill the rest of my work responsibilities. Before the baseball game that night, I made it a point to stop by the National Portrait Gallery to check out the new additions to the Presidential Portrait Gallery. Both Barack and Michelle Obama's portraits were incredible (shoutout Kehinde Wiley & Amy Sherald) but what really blew me away was the top-floor modern and contemporary art collection. Now, I'm nowhere near articulate/educated enough in the arts to adequately describe why their specific collection was so special, but just trust me when I say it was dope. You would not believe the variety of thought-provoking pieces tucked away in the back corner of that serious looking building. I highly, highly suggest checking this place out when in D.C.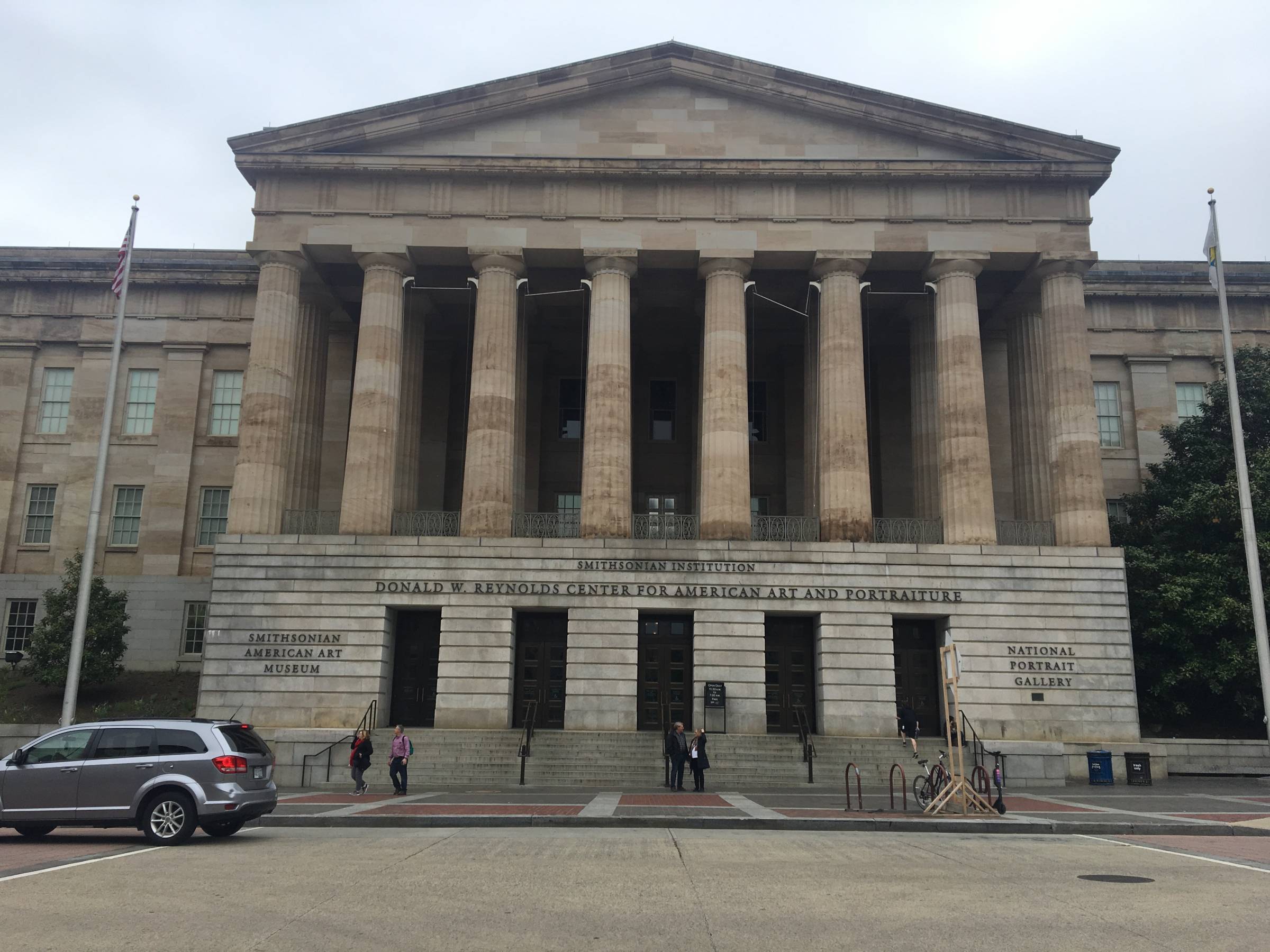 At this point, baseball stadiums are getting grouped into two categories in my mind: generic or unique/special. With it still so early in the season, the games are often uneventful so it's hard for me to take into evaluation the crowd's energy in good faith. That said, Nationals Park falls into the generic category, especially when you consider the stadium's basic name. Even though the stadium was lackluster, I did enjoy the surrounding entertainment district before and after the game. Shoutout Akhil, Jordan, and Lucas for keeping me company at the game.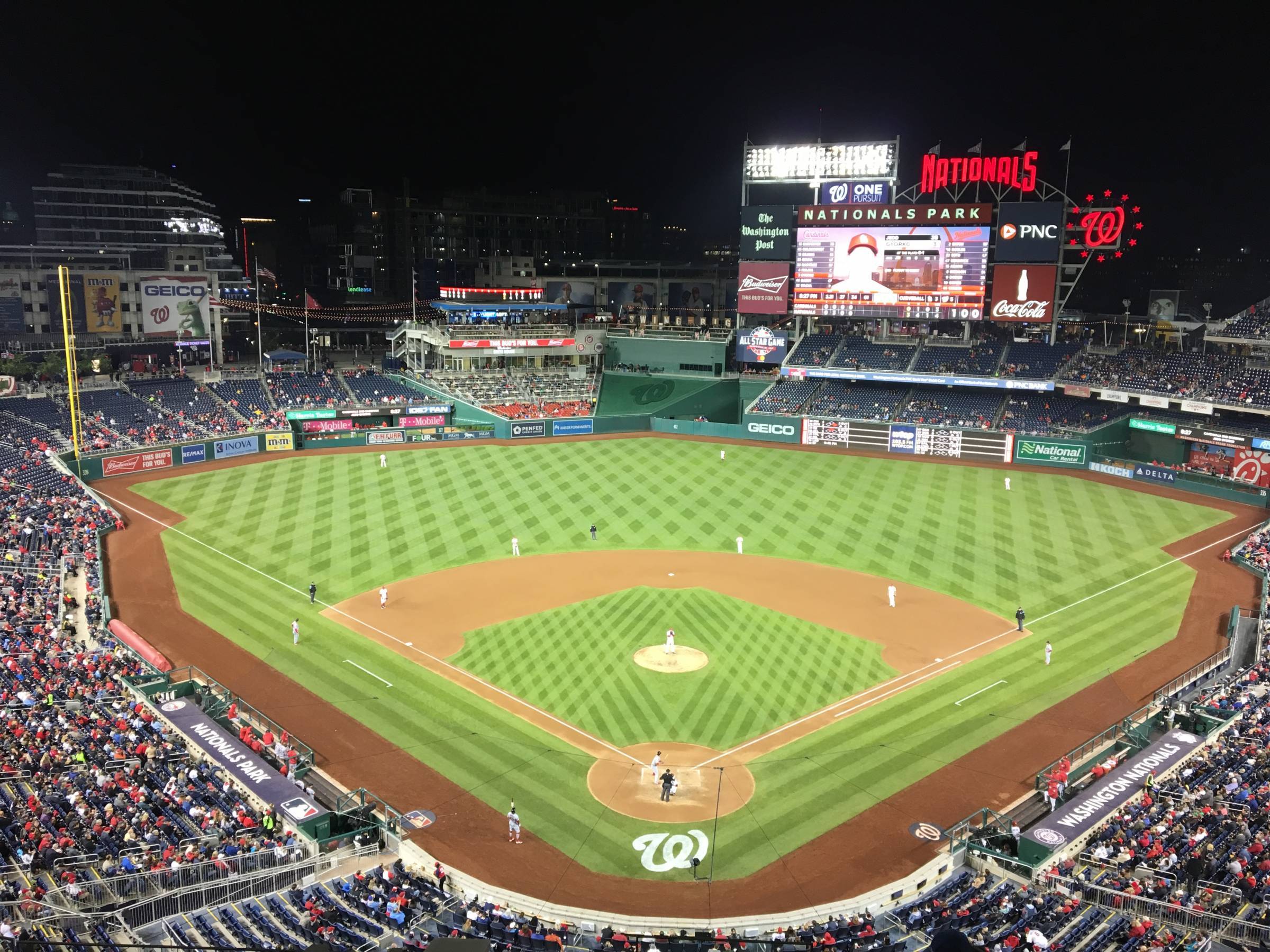 Final Thoughts
First off, I did not realize how easy Amtrak makes getting around the East Coast. Up until this point, my only experience riding trains were from Chicago to Ann Arbor which takes a ridiculous amount of time. These quick connecting routes between D.C., Baltimore, and Philly made this trip much smoother than expected and should be utilized by everyone living on the East Coast. However, Greyhounds are a major pass.
*Even though I'm extremely happy to have experienced all those artists sharing one stage at Something in the Water, I feel that no one is talking about how terrible the crowds were. I think that a beach festival is cool in theory, but the way this first year was organized was less than ideal. The major issue I had was the fact that there was only a single stage. What ended up happening was as people filled into the festival, the stage area became more and more packed. At festivals where different artists are playing on multiple stages in separate locations, there's a continual motion and mixing to the crowds as people come and go to the stages. Here, the crowd just became more and more packed with people who didn't care for the act currently on stage but instead wanted to solidify a "good spot" for an act later in the evening. Not exaggerating, the crowd only seemed to pay attention for SZA and Pharrel's set. It's hard to enjoy music when the people around you don't share your enthusiasm.
Lastly, be sure to bring a blanket, pillow, and sleeping pad when spending the night in a tent. I'm putting it lightly when I say that I was unprepared to camp alone in a spot I had never before visited. Without KJ and Chelsea, my weekend would have been doomed. This all just wraps into the broader lesson as follows: be honest with yourself when planning solo travel.
Next week you'll find me briefly in Phoenix before I return to LA. No camping this time, but hopefully just as many memories.
Austin