The 2013 Major League Baseball season kicks off on March 31st between the Astros and Rangers at Minute Maid Park in Houston. The Astros will be playing their first game as an American League ballclub, while the Rangers will try to move on without Josh Hamilton. The West appears to be a three-team race among the Rangers, Angels and Athletics -- and also appears to be full of storylines which could keep tickets in high demand.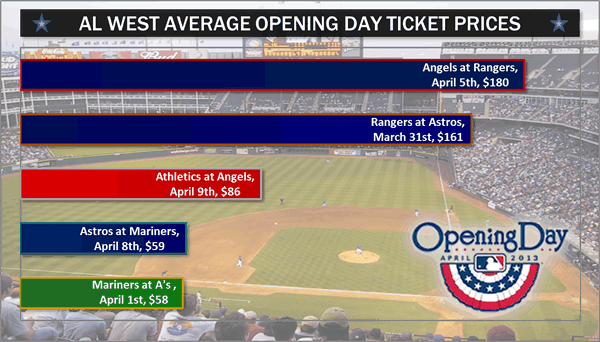 Rangers Opening Day Tickets at Rangers Ballpark
Who: Angels at Rangers
When: Friday, April 5, 2013
How Much: Starting at $82
This game features nothing more than Josh Hamilton's return to Texas. As such, Opening Day Tickets for the Rangers are averaging $180, while the get-in price remains above $80. There are a lot of tickets available, but they're going to cost you.
Buy 2013 Texas Rangers Tickets
Astros Opening Day Tickets at Minute Maid Park
Who: Rangers at Astros
When: Sunday, March 31, 2013
How Much: Starting at $30
Astros Opening Day Tickets are the second most expensive ticket in the division. Despite owning the worst record in baseball in 2012, the Astros will welcome the Rangers to open the 2013 season. Tickets start at just $30 in the upper deck, but quickly increase to the hundreds of dollars in the lower levels.
Buy 2013 Houston Astros Tickets
Angels Opening Day Tickets at Angel Stadium
Who: Athletics at Angels
When: Tuesday, April 9, 2013
How Much: Starting at $30
Despite the acquisition of Josh Hamilton, Angels Opening Day Tickets are averaging less than $100 with a modest get-in price. The combination of a late start and low-drawing opponent is making it relatively affordable to see Josh Hamilton's debut in a home uniform.
Buy 2013 Los Angeles Angels Tickets
Mariners Opening Day Tickets at Safeco Field
Who: Astros at Mariners
When: Monday, April 8, 2013
How Much: Starting at $59
Opening Day Tickets for the Mariners are among the least expensive in the West -- averaging less than $60 apiece with a $35 get-in price. Fans attending Mariners opening day will receive a magnetic schedule and an even bigger surprise -- the first look at a massive center field scoreboard. Measuring more than 200 feet wide, the video board will instantly become one of the most exciting attractions in all of baseball.
Buy 2013 Seattle Mariners Tickets
Athletics Opening Day Tickets at the Oakland Coliseum
Who: Mariners at Athletics
When: Monday, April 1, 2013
How Much: Starting at $30
A bad ballpark plus an uninspiring opponent adds up to A's Opening Day Tickets being the cheapest in the American League West. While the stadium is nothing speical, many have forgotten that the A's won the division last year over the Rangers. Head on out to the Coliseum for one of the best bargains in the league.