Have you ever sat in Row 1 at a ballpark, only to realize that Rows A-Z are actually before numbered rows?
We had a question recently from a user who was confused about what we call "actual row" in a graphic we present when showing ticket details. The user was trying to understand the discrepancy between our comments and the row listed on the ticket.
Quite simply, the terms can be defined as the following:
Listed Row: The letter or number printed on the ticket
Actual Row: The number of actual rows from the front of the section
Actual vs. Listed Row Example
In the following example from a White Sox game at U.S. Cellular Field, Row AA is the first row in Section 146 (and closest to the field in this case). Therefore, the ticket with a listed Row of 1 is actually in the 2nd row!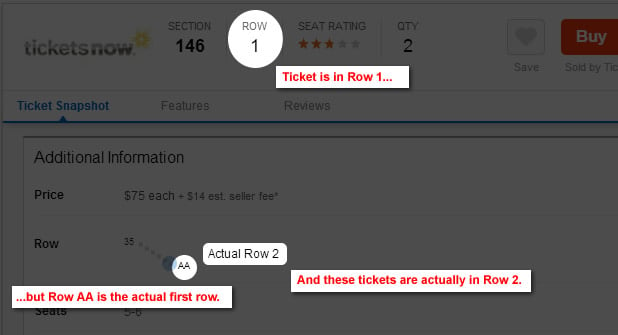 In another example at U.S. Cellular Field (similar situations exist at most ballparks), the first row behind the dugout in Section 141 is Row 5. So if you have a ticket in that section in Row 5, you're actually sitting in the first row above the players!
We make every attempt to present our users with the most accurate row information possible. In the case of errors, please let us know!