Toyota Club at Vivint Arena
Features & Amenities
Sitting at the Toyota Club at Vivint Arena is one of the best experiences for at a Utah Jazz game. Located along the baseline and sidelines sections of the lower level, the Toyota Club offers great views of the action.
Some of the upscale amenities the Toyota Club offers are all-inclusive food and beverage, VIP parking for season-ticket club members and access to the Toyota Club Lounge. The Lounge features dining tables, televisions, a full-service bar, private restrooms and additional seating.
The Toyota Club consists of rows A-12 in sideline sections 5-9 and 16-20. Along the baselines, rows A-2 in sections 1-2 and 12-13 make up the rest of the Toyota Club.
Amenities available for Jazz home games. For other events, some amenities may not be available or offered.
Please note: Due to health and safety protocols in 2022, food availability, club access, wait service and other amenities are subject to change without notice.
Note: These seats are highlighted on the map
Map Highlighting

Select rows in section are part of this seating zone
Interactive Seating Chart
Select Events
UTA

All Jazz Games

All Other Games
SAS

Spurs at Jazz

Tue. Oct 11 at 7:00 PM

DAL

Mavericks at Jazz

Fri. Oct 14 at 7:00 PM

DEN

Nuggets at Jazz

Wed. Oct 19 at 8:00 PM

HOU

Rockets at Jazz

Wed. Oct 26 at 8:00 PM

MEM

Grizzlies at Jazz

Sat. Oct 29 at 8:00 PM

MEM

Grizzlies at Jazz

Mon. Oct 31 at 8:00 PM

LAL

Lakers at Jazz

Mon. Nov 7 at 9:15 PM

NYK

Knicks at Jazz

Tue. Nov 15 at 9:00 PM

PHX

Suns at Jazz

Fri. Nov 18 at 8:00 PM

DET

Pistons at Jazz

Wed. Nov 23 at 8:00 PM

CHI

Bulls at Jazz

Mon. Nov 28 at 8:00 PM

LAC

Clippers at Jazz

Wed. Nov 30 at 8:00 PM

IND

Pacers at Jazz

Fri. Dec 2 at 8:00 PM

POR

Trail Blazers at Jazz

Sat. Dec 3 at 8:00 PM

GSW

Warriors at Jazz

Wed. Dec 7 at 8:00 PM

MIN

Timberwolves at Jazz

Fri. Dec 9 at 8:00 PM

NOP

Pelicans at Jazz

Tue. Dec 13 at 8:00 PM

NOP

Pelicans at Jazz

Thu. Dec 15 at 8:00 PM

WSN

Wizards at Jazz

Thu. Dec 22 at 8:00 PM

MIA

Heat at Jazz

Sat. Dec 31 at 8:00 PM

SAC

Kings at Jazz

Tue. Jan 3 at 8:00 PM

CLE

Cavaliers at Jazz

Tue. Jan 10 at 8:00 PM

ORL

Magic at Jazz

Fri. Jan 13 at 8:00 PM

PHI

76ers at Jazz

Sat. Jan 14 at 8:00 PM

LAC

Clippers at Jazz

Wed. Jan 18 at 8:00 PM

BKN

Nets at Jazz

Fri. Jan 20 at 8:00 PM

CHA

Hornets at Jazz

Mon. Jan 23 at 8:00 PM

DAL

Mavericks at Jazz

Sat. Jan 28 at 8:00 PM

TOR

Raptors at Jazz

Wed. Feb 1 at 8:00 PM

ATL

Hawks at Jazz

Fri. Feb 3 at 8:00 PM

DAL

Mavericks at Jazz

Mon. Feb 6 at 8:00 PM

MIN

Timberwolves at Jazz

Wed. Feb 8 at 8:00 PM

NBA All Star Saturday Night

Sat. Feb 18 at 12:00 PM

2023 NBA All Star Game

Sun. Feb 19 at Time TBA

OKC

Thunder at Jazz

Thu. Feb 23 at 8:00 PM

SAS

Spurs at Jazz

Sat. Feb 25 at 8:00 PM

SAS

Spurs at Jazz

Tue. Feb 28 at 8:00 PM

BOS

Celtics at Jazz

Sat. Mar 18 at 8:00 PM

SAC

Kings at Jazz

Mon. Mar 20 at 8:00 PM

POR

Trail Blazers at Jazz

Wed. Mar 22 at 8:00 PM

MIL

Bucks at Jazz

Fri. Mar 24 at 8:00 PM

PHX

Suns at Jazz

Mon. Mar 27 at 8:00 PM

LAL

Lakers at Jazz

Tue. Apr 4 at 8:00 PM

OKC

Thunder at Jazz

Thu. Apr 6 at 8:00 PM

DEN

Nuggets at Jazz

Sat. Apr 8 at 2:30 PM
Toyota Club Seating Chart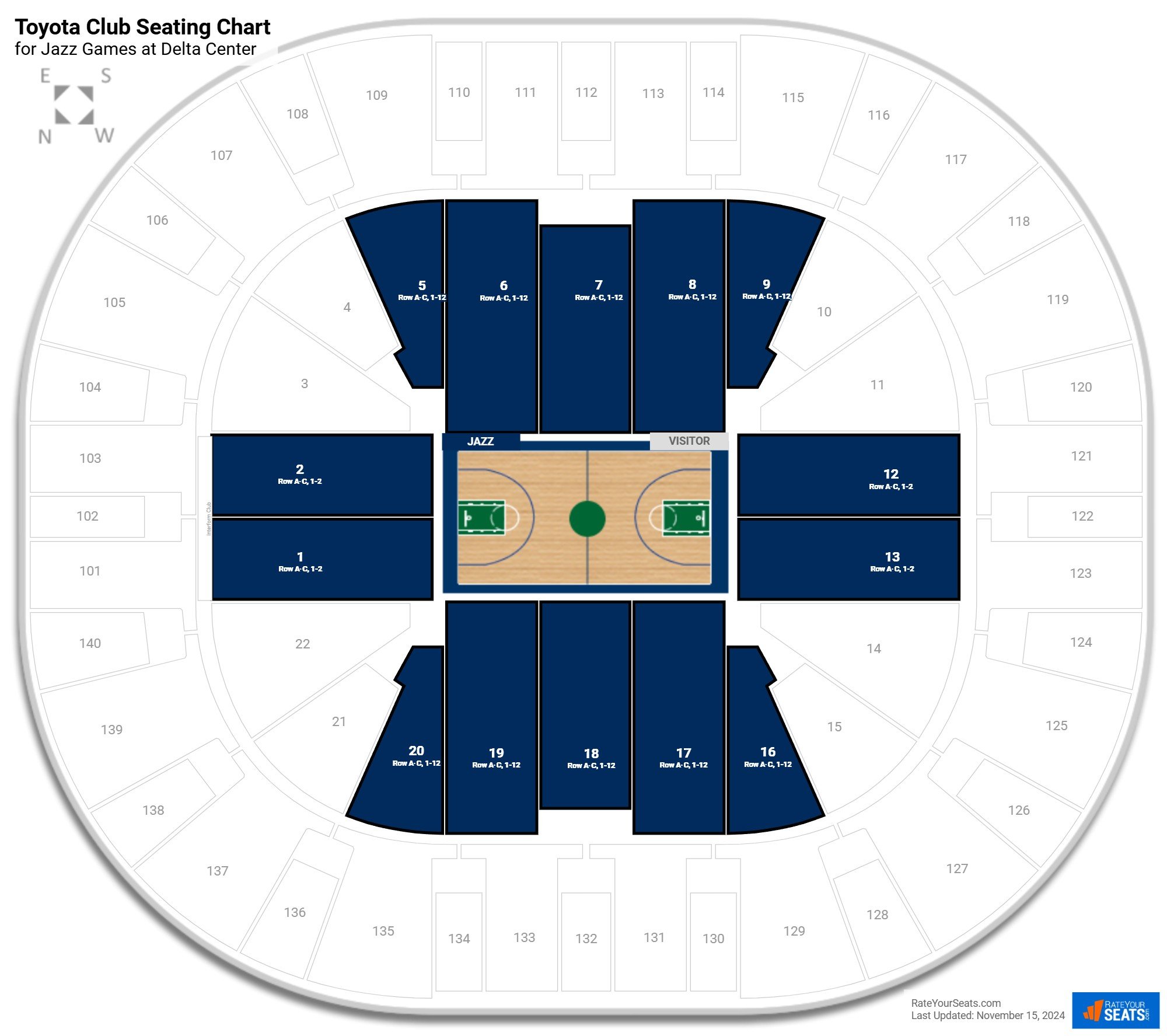 Toyota Club Reviews
Ratings & Reviews From Similar Seats

"Amazing view of the band and the perfect seats for short people. "

(Section 8) - -

Honestly, these seats were absolutely amazing. No neck straining, full on eye contact with the band, and no tiptoeing it. Perfect seats for short human beings!! (Sorry about the quality of the pic! I only took videos...so this is a screenshot of one of them.)
More Seating at Vivint Arena
Event Schedule
Jazz
Other Basketball
Concert
Other
↑