Courtside Seats at State Farm Arena
Courtside Seats Seat Views
Features & Amenities
For those looking to get close to the game the best options are in the Hawks floor seats. There are nine sections that surround the court. Sections 8 and 9 are located behind the player benches with 3-5 on the opposite sideline.
The seats are temporary to adjust for other events, however they are still comfortable with extra padding. Sections 1-7 have four rows each (AAA-DDD). Sections 8 and 9 have rows FLR and CRT nearest the floor before rows AAA and BBB.
Floor Seats Club Access

Those with feet on the floor will have access to the Delta Sky360 Club, an all-inclusive premier space with specially tailored food and drink from celebrity chefs.
Additionally, courtside ticket holders have access to The Hawk Bar, a unique mix and mingle bar located just steps away from the action directly behind the basket. For a one-of-a-kind upscale experience, you can't beat sitting courtside at a Hawks game.
Amenities available for Hawks home games. For other events, some amenities may not be available or offered.
Please note: Due to health and safety protocols in 2022, food availability, club access, wait service and other amenities are subject to change without notice.
Note: These seats are highlighted on the map
Interactive Seating Chart
Select Events
ATL

All Hawks Games

All Other Games
2022 BIG3 Championship

Sun. Aug 21 at 2:00 PM

HOU

Rockets at Hawks

Wed. Oct 19 at 7:30 PM

ORL

Magic at Hawks

Fri. Oct 21 at 7:30 PM

CHA

Hornets at Hawks

Sun. Oct 23 at 5:00 PM

NOP

Pelicans at Hawks

Sat. Nov 5 at 7:30 PM

MIL

Bucks at Hawks

Mon. Nov 7 at 8:15 PM

UTA

Jazz at Hawks

Wed. Nov 9 at 7:30 PM

PHI

76ers at Hawks

Thu. Nov 10 at 7:30 PM

BOS

Celtics at Hawks

Wed. Nov 16 at 7:30 PM

TOR

Raptors at Hawks

Sat. Nov 19 at 7:30 PM

SAC

Kings at Hawks

Wed. Nov 23 at 7:30 PM

MIA

Heat at Hawks

Sun. Nov 27 at 5:00 PM

DEN

Nuggets at Hawks

Fri. Dec 2 at 7:30 PM

OKC

Thunder at Hawks

Mon. Dec 5 at 7:30 PM

CHI

Bulls at Hawks

Sun. Dec 11 at 6:30 PM

ORL

Magic at Hawks

Mon. Dec 19 at 7:30 PM

CHI

Bulls at Hawks

Wed. Dec 21 at 7:30 PM

DET

Pistons at Hawks

Fri. Dec 23 at 7:30 PM

BKN

Nets at Hawks

Wed. Dec 28 at 7:30 PM

LAL

Lakers at Hawks

Fri. Dec 30 at 7:30 PM

MIL

Bucks at Hawks

Wed. Jan 11 at 7:30 PM

MIA

Heat at Hawks

Mon. Jan 16 at 3:30 PM

NYK

Knicks at Hawks

Fri. Jan 20 at 7:30 PM

CHA

Hornets at Hawks

Sat. Jan 21 at 7:30 PM

LAC

Clippers at Hawks

Sat. Jan 28 at 7:30 PM

PHX

Suns at Hawks

Thu. Feb 9 at 7:30 PM

SAS

Spurs at Hawks

Sat. Feb 11 at 7:30 PM

NYK

Knicks at Hawks

Wed. Feb 15 at 7:30 PM

CLE

Cavaliers at Hawks

Fri. Feb 24 at 7:30 PM

BKN

Nets at Hawks

Sun. Feb 26 at 3:00 PM

WSN

Wizards at Hawks

Tue. Feb 28 at 7:30 PM

POR

Trail Blazers at Hawks

Fri. Mar 3 at 7:30 PM

BOS

Celtics at Hawks

Sat. Mar 11 at 7:30 PM

MIN

Timberwolves at Hawks

Mon. Mar 13 at 7:30 PM

GSW

Warriors at Hawks

Fri. Mar 17 at 7:30 PM

DET

Pistons at Hawks

Tue. Mar 21 at 7:30 PM

IND

Pacers at Hawks

Sat. Mar 25 at 5:00 PM

MEM

Grizzlies at Hawks

Sun. Mar 26 at 6:00 PM

CLE

Cavaliers at Hawks

Tue. Mar 28 at 7:30 PM

DAL

Mavericks at Hawks

Sun. Apr 2 at 6:00 PM

WSN

Wizards at Hawks

Wed. Apr 5 at 7:30 PM

PHI

76ers at Hawks

Fri. Apr 7 at 7:30 PM
Courtside Seats Seating Chart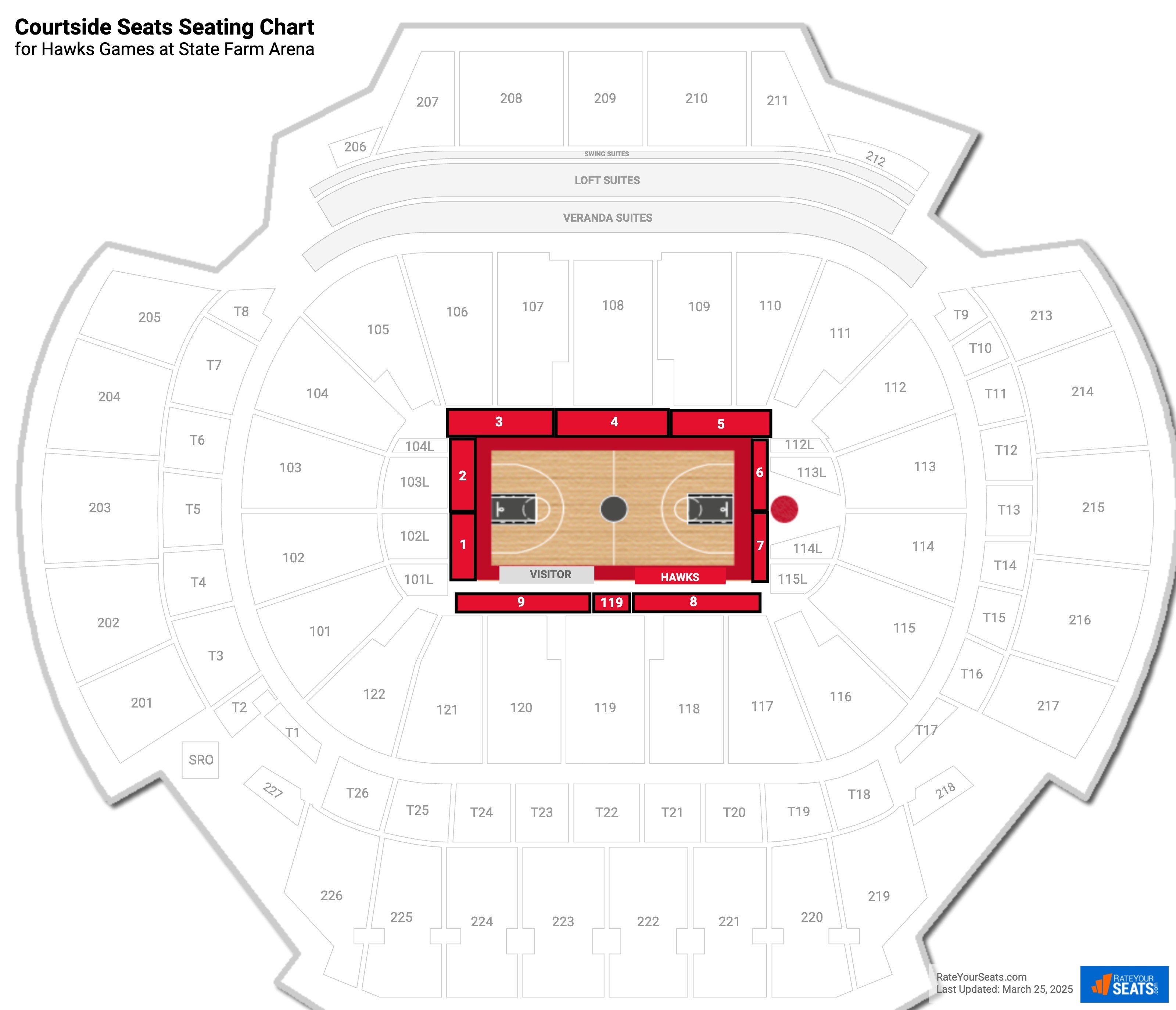 More Seating at State Farm Arena
Event Schedule
Hawks
Other Basketball
Concert
Other
↑