Usana Amphitheatre Reserved Seats
Features & Amenities
There are three levels of reserved seating at Usana Amphitheatre. Tickets in these sections are the best option for fans looking to get close to the stage and wanting to pick their view and angle to the stage.
The first level is near the stage and can be reserved or general admission. For more information about these prime seats in sections 101-103 read about the Pit sections.
200 Level (201-203)
Sections in the 200s are a very good option for concerts at Usana Amphitheatre. Their location just in front of the premium box seats speaks to how desirable of an area this is.
Middle Reserved sections feature 12 lettered rows of seating in Sections 201 and 203 (Rows A-L), while Section 202 is smaller with just 6 lettered rows of seating (Rows A-F).
300 Level (301-306)
The largest group of seats at Usana Amp are located in sections 301-306. Sections have as many as 27 lettered rows of seating, with the single-lettered rows in front, and double-lettered rows in back.
Views can vary greatly due to the width of the venue. We recommend avoiding tickets in sections 301 and 306 to ensure everything on stage is visible.
Note: These seats are highlighted on the map
Interactive Seating Chart
Reserved Seats Seating Chart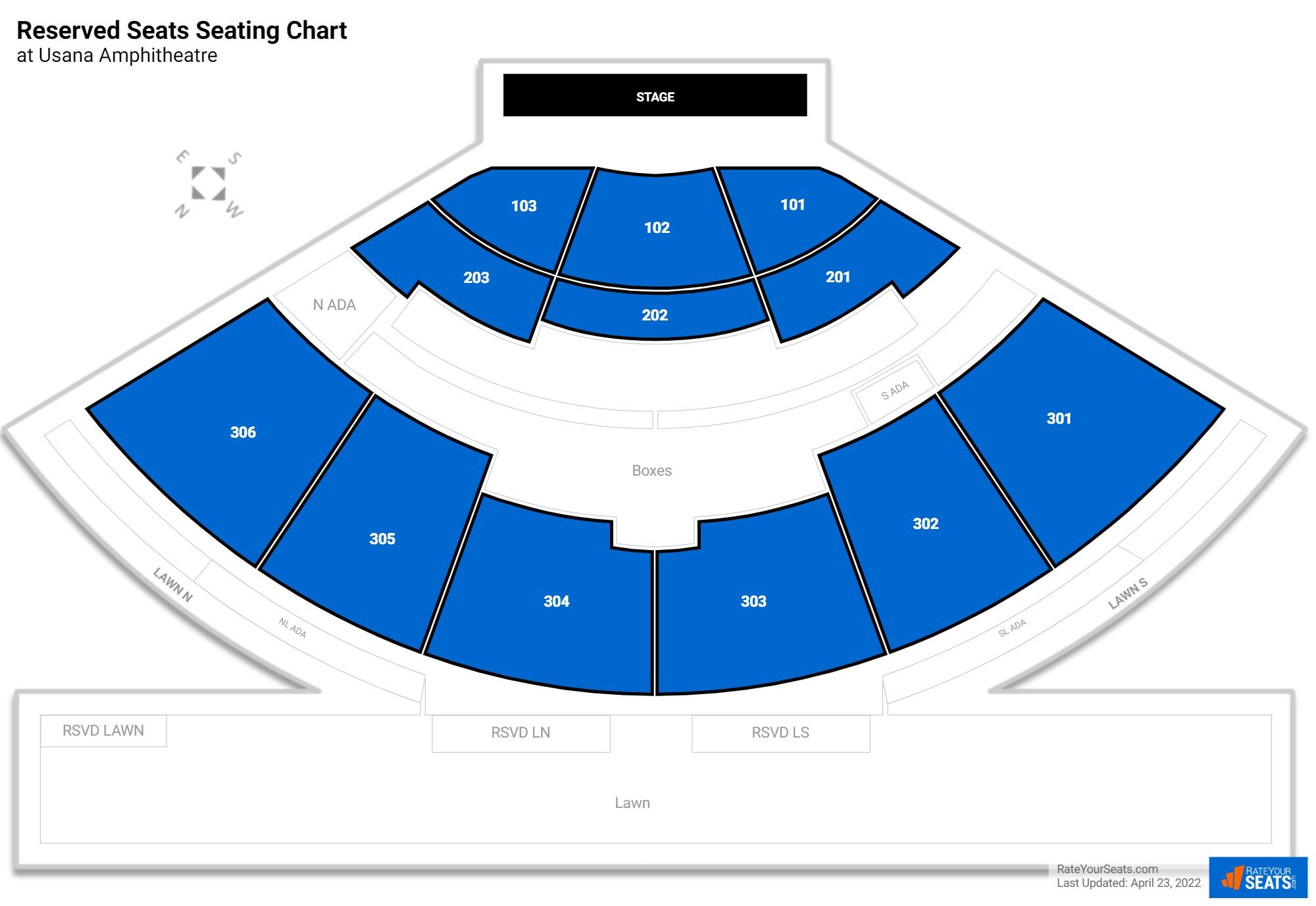 Reserved Seats Reviews
Ratings & Reviews From Similar Seats

"Close, but off center"

(Section 201) -

"Good seats - crappy people experience"

(Section 101) - -

People couldn't settle down and enjoy the concert - kept having to move or be obstructed by a mass of figity idiots that were up and down the full evening. There was someone coming or going every 5 minutes, so much for prime seats.

"Meh"

(Section 102) -
More Seating at Usana Amphitheatre