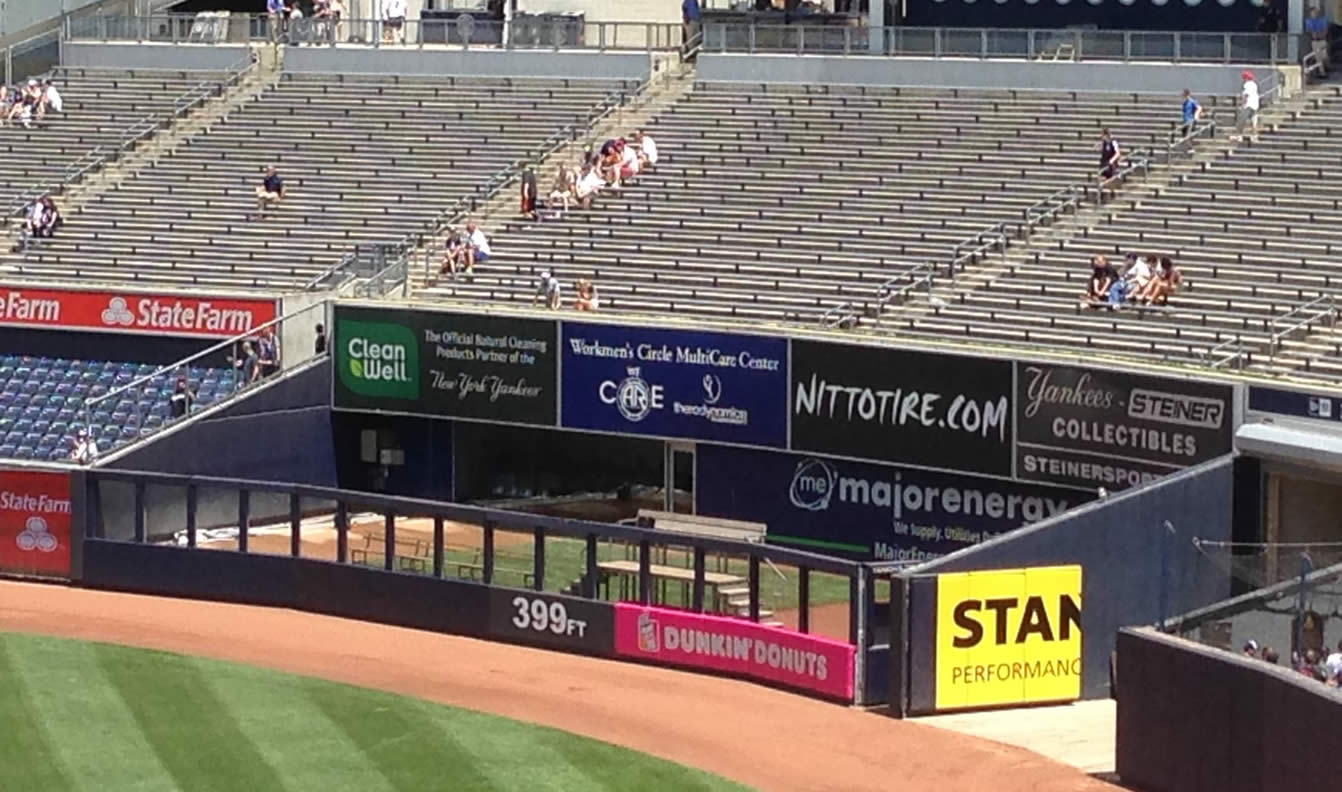 Best Seats for Visiting Team Fans at Yankee Stadium
Recommended seats are highlighted on the map
Yankee Stadium is quite notorious when it comes to hosting fans who are cheering for the opposing team. Especially if you're rooting for the Red Sox or Mets, you should come to the ballpark knowing that you're going to be subject to some abuse. If that's your idea of a good time, head towards Section 203 where the Bleacher Creatures will be happy to make you their punching bag. Otherwise, continue reading to find other areas of the ballpark that are a little more visitor-fan-friendly.
One of the safest places for visiting fans to sit is in one of the Legends, Champions or MVP sections near the infield at field level. These seats are dominated by season-ticket-holding businesses and corporations. As a result, the crowds in these seats tend to behave a little more conservatively when it comes to jeering the opposing team's fans. Among these seats, Legends sections 23, 24A, 24B and 25 are directly behind the visitor dugout. These seats are rarely available for sale and often priced at $1,000+ per ticket when offered. As an alternative, consider sections 123-125 which are within 15 rows of the dugout and still come with premium benefits like club access and free snacks.
Another option for being close to visiting team players is to sit above the left-field bullpen in sections 237 and 238. Despite being traditional bleacher seats (no backs), ticketholders will have access to the entire stadium, including the nearby Monument Park. For 2017 most of the obstructed bleacher seats (previously sections 201 and 239) have been removed and replaced by a Bullpen Landing area complete with bar-stool seating, drink rails and multiple windows to order food and drink. Tickets in sections 237 and 238 are available for less than $20 for most games and are a perfect way to cheer on your favorite team on a budget.
For out-of-town fans who are visiting Yankee Stadium for multiple games, you'd be remiss if you didn't sit in one of the non-bleacher 200 level sections for at least one game. For the baseball purist who visits multiple stadiums, it will be easy to see why these seats are so highly recommended. By being slightly elevated and not too far from the field, the front rows of these sections feel as if they're located directly on the field. With the exception of loge seats at Dodger Stadium, there's nothing quite like these anywhere else in the big leagues. Sections near third base are technically on the visitor side, but we recommend sections 212-216 on the first base side where you get the best views directly into the visitor dugout. - RateYourSeats.com
Recommended Ticket Locations
Sections 123, 124 and 125
Within 15 rows of the visitor dugout
Less expensive and more easily obtainable than Legends tickets above the dugout
Rows 1-10 receive premium club amenities, including free snacks and lounge access
Sections 212, 213, 214A and more
Great views directly into the visitor dugout
Ideal elevation and excellent sitelines for gorgeous views of Yankee Stadium
Sections 237 and 238
Located just above the visitor bullpen
On the opposite side from the Bleacher Creatures, which means less harassment for visitor fans
Typically among the cheapest tickets for a Yankees game
Ratings, Reviews & Recommendations
"The Visiting Team Bullpen is to the Left of Section 136"

-

Sit in a higher number seat to be up against the wall overlooking the visiting team bullpen.

"The Visiting Team Bullpen is in Front of Section 237 and 238"

-

Seats in Row 1 will be closest to the bullpen.

"Row 1 is the first row behind the visitor's dugout in Sections 23-25."
Other Popular Seating Choices
RateYourSeats.com is the best way to search, compare and buy tickets. Select an event to find out why!
Event Schedule
Yankees
New York City FC
Other Football
Other Soccer