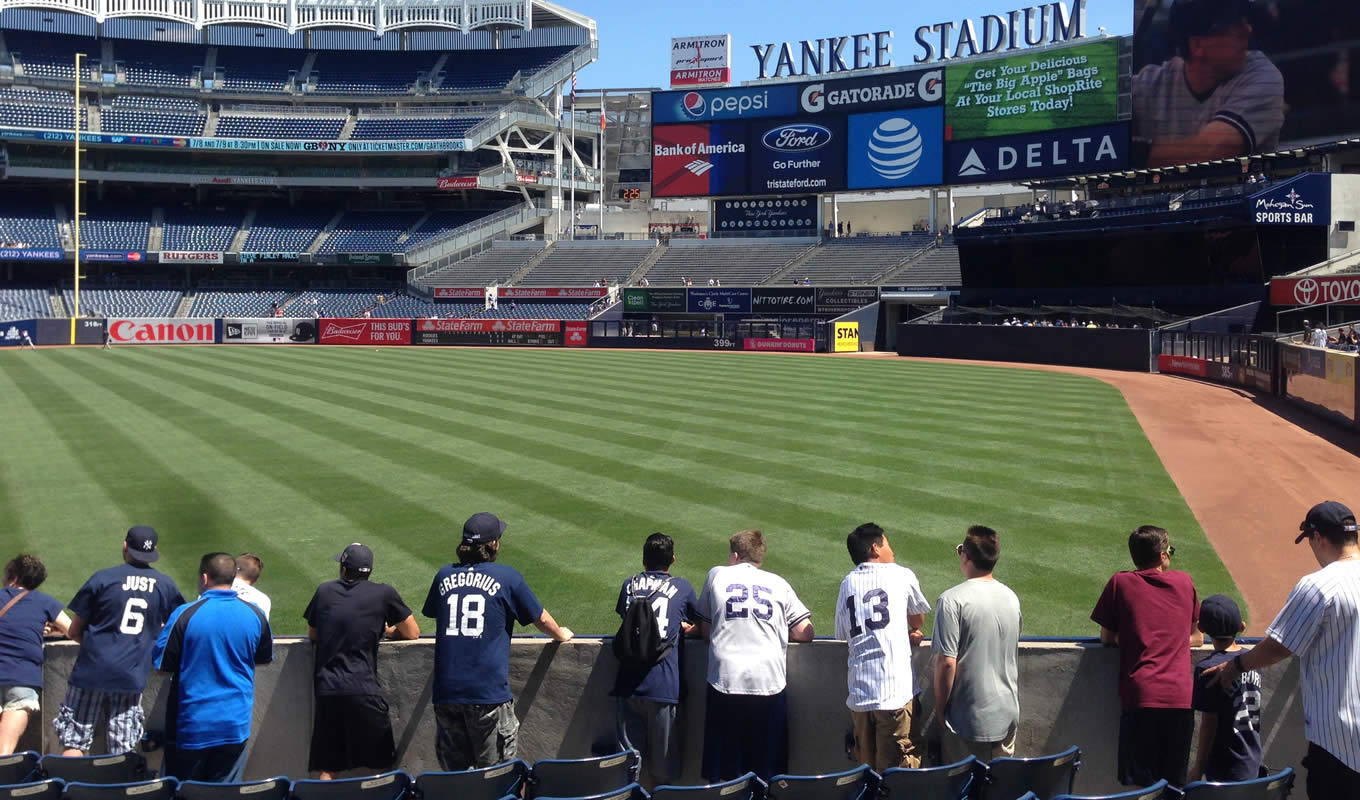 Best Seats for Kids and Family at Yankee Stadium
Recommended seats are highlighted on the map
With relatively high ticket prices and the notorious Bleacher Creatures, Yankee Stadium is rarely thought of as one of the more family-friendly ballparks in the major leagues. More recently; however, the stadium has undergone some changes to ensure the best possible experience for kids and families.
The most significant and recent change to the ballpark is the addition of the Kids Clubhouse. Located in right field on the Terrace level (300s sections), the Clubhouse is an interactive area for kids to play before or during the game. The outdoor area features a mini diamond with over-sized baseball-themed memorabilia that kids can climb up, slide down and tunnel through. Think of it as a Yankees version of Honey I Shrunk the Kids. While most of the area is exposed to the elements, parents will be able to supervise from the shaded "dugout".
One of the cheapest ways to bring the family to Yankee Stadium is to purchase tickets in one of the bleachers sections in center field. When looking at tickets in these sections, steer clear of the seats closer to right-field (202-204). The Bleacher Creatures occupy Section 203 and can create a hostile environment unsuitable for children. Instead, sit on the other side of Monument Park in sections 236-238 where ticket prices are still relatively affordable and the atmosphere is a little more family-friendly. Other considerations among affordable tickets include sections 407A and 433 where alcohol is strictly prohibited.
Besides for a family-friendly environment, seriously consider the weather factors when bringing kids or elderly adults to Yankee Stadium. If the forecast calls for high temperatures and abundant sunshine, you'll want to completely avoid most seats in right field and on the first base side of the field. Between late afternoon and into the evening the sun is relentless in these sections. Instead, the general rule of thumb is to choose seats in the back half of 100, 200 and 400 level sections on the third base side of the field. These rows will be mostly covered by the roof or overhang and will be the first to have shaded relief from the heat. - RateYourSeats.com
Recommended Ticket Locations
Sections 407A and 433
Alcohol free area
Lack of alcohol creates an environment that is more suitable for children
More affordable tickets on the upper deck
Sections 306, 307, 308 and more
Close to the new Kids Clubhouse play area
Among the lowest ticket prices in the stadium
Rows 13-23 in Sections 226, 227A, 227B and more
These seats provide some of the best shade and cover in the ballpark
High-number rows in these sections are closest to the concourse
Other Popular Seating Choices
RateYourSeats.com is the best way to search, compare and buy tickets. Select an event to find out why!
Event Schedule
Yankees
New York City FC
Other Football
Other Soccer