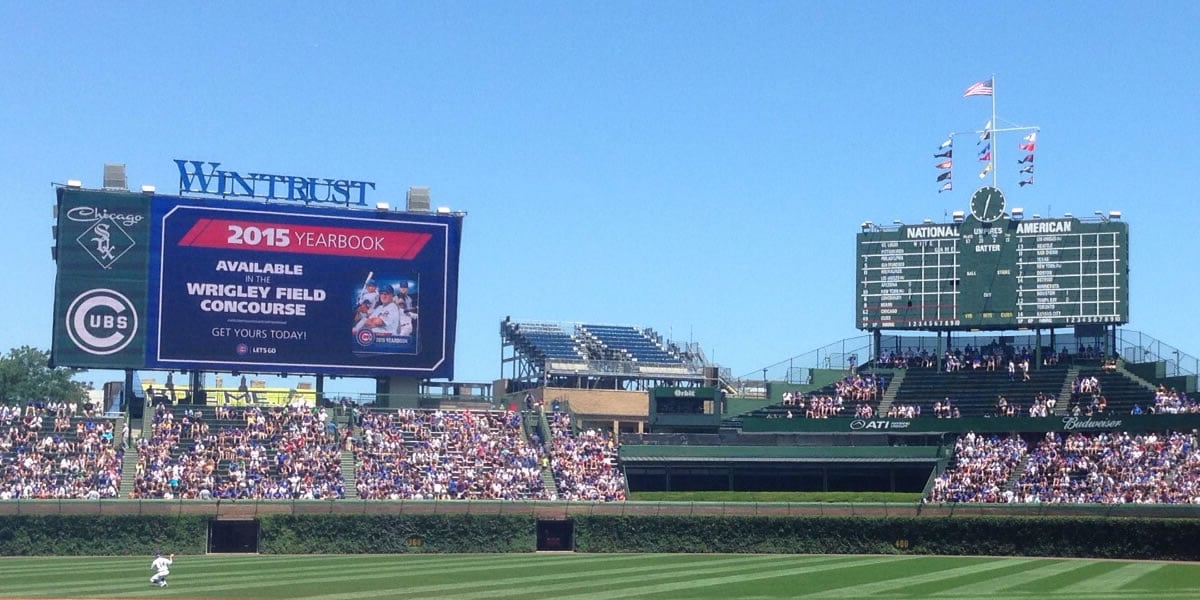 Best Seats for Partying and Socializing at Wrigley Field
Recommended seats are highlighted on the map
For those looking for a social outing at Wrigley Field, the Bleachers are absolutely the place to be. Known for years as the top spot among party goers at the ballpark, the Bleachers are an ideal option for soaking in the sun and the suds. And as a general admission seating area during the regular season, there are a few different options for where you might want to be.
Left Field is the better option for snagging a home run ball, and while you can find smaller seating areas near the foul pole to make it easier to move from the seats to the beer stands, it also means less fans nearby to mix it up with.
In Center Field you can sit either in the lower or upper portion. Lower center bleacher seats are the most convenient options for grabbing that next round of beverages as you'll be right by the vendor stands, and very close to Platform 14 behind the iconic Wrigley scoreboard. You won't see many home run balls land nearby and viewing the videoboards is difficult, but all that shouldn't matter as you come here to party it up!
Right Field is a great choice for an energetic outing at Wrigley. Large seating areas leave you with a lot of neighbors, and unlike left field which has the Porch located above the seats (reserved for private groups), right field has standing rail above the seats - prime real estate for a party atmosphere at the ballpark.
If you can get to Wrigley early enough, a seat in the front row of the bleachers is always a good time. You can lean up against the small wall just in front, reach for a home run ball if it lands in the baskets, and heckle the opposing outfielders. - RateYourSeats.com
Recommended Ticket Locations
Bleachers
Legendary for enjoying a few beers and soaking up the sun
General admission seating during the regular season lets you pick your own spot
Close access to unique food and beverage at Platform 14 behind center field
Ratings, Reviews & Recommendations
If you want to watch baseball, sit in the stands, if you want to party, sit in the bleachers.
Best Place to Party: Bleachers.
It's a race to find a seat, but if you go to a Cubs game more so to drink beer than to actually watch the game, this is the place to be. On a very hot day, you will find most people half dressed with baseball gloves ready to catch a home run. Let's just hope they are paying attention when the ball comes flying their way.
The bleachers are not a good place for a family.
Too much profanity, too much sun, and the kids get squeezed by the seating.
Other Popular Seating Choices
RateYourSeats.com is the best way to search, compare and buy tickets. Select an event to find out why!