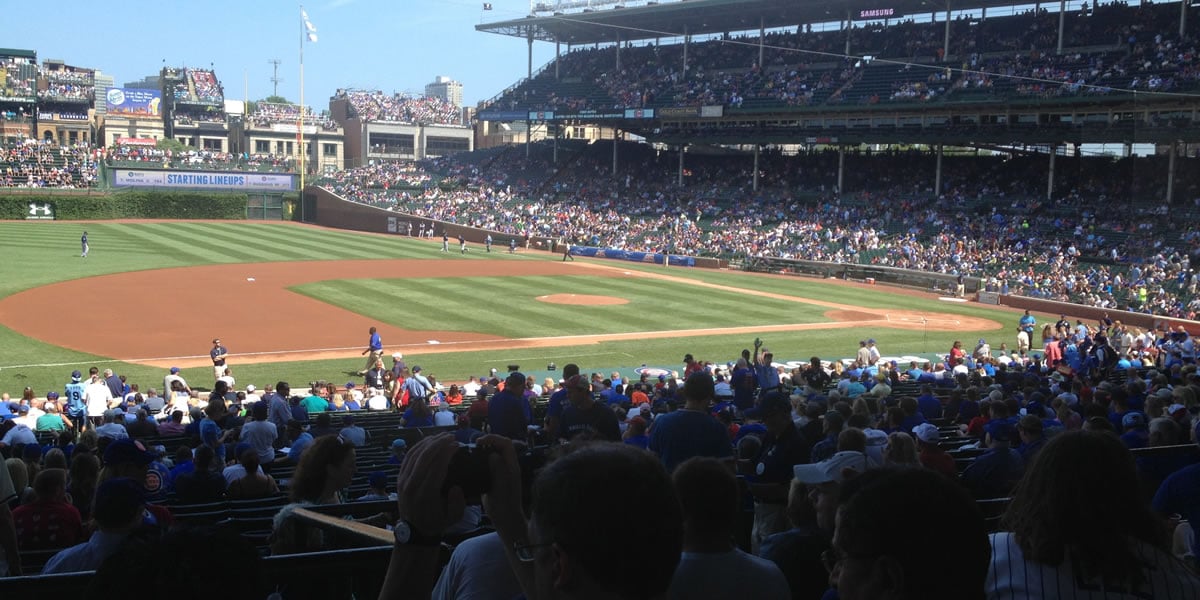 Best Seats for Kids and Family at Wrigley Field
Recommended seats are highlighted on the map
Unlike some other ballparks, Wrigley Field doesn't have a dedicated family section, however there are some areas we recommend over others.
Along the third base line, Sections 210 and 212 are not far from the Cubs dugout, and also put you close to Clark's Clubhouse (home of the Cubs new mascot, found on the third base concourse ramp). Nearby you will also find a number of concession stands and a merchandise kiosk. Stick with seats in Rows 1 through 6 to be close to the entry tunnels at the bottom of the aisles and you'll also avoid the viewing obstructions from the support beamsin. Seats here will be under cover of the upper deck, and get the sun at their back sooner.
On the upper deck there is a good concentration of concessions located behind the seats on both the first base and third base sides (Sections 312-309 and 321-324), along with both men's and women's restrooms. Seats nearby will make sure everyone in the family has something to choose from, and trips to the restrooms shouldn't require a very long walk. Seats in Aisles 319-322 will have unobstructed views of the field and no more than 8 rows to walk to reach the seats, but do not have any overhead coverage. If you prefer more protection from the weather, consider the first 5 rows of Aisles 423-425 where you will be under cover while staying close to the amenities (just be sure to avoid seats near the aisles which is where the viewing obstructions are most noticeable).
While the Bleachers are among the best places for getting a game ball as a souvenir, we would recommend not bringing the kids out there as the Bleachers are known more for a party atmosphere and see the most sun during day games. - RateYourSeats.com
Recommended Ticket Locations
Rows 1-6 in Sections 208 and 209
Close to Clarks Clubhouse
Overhead coverage from the upper deck above
Good number of family friendly concessions nearby
Rows 1-5 in Sections 419R, 420R and 421R
Quick access to nearby concessions and restrooms
Good overhead coverage and shade for summer day games
Be sure to avoid seats close to the aisles as you may have obstructed views
Other Popular Seating Choices
RateYourSeats.com is the best way to search, compare and buy tickets. Select an event to find out why!