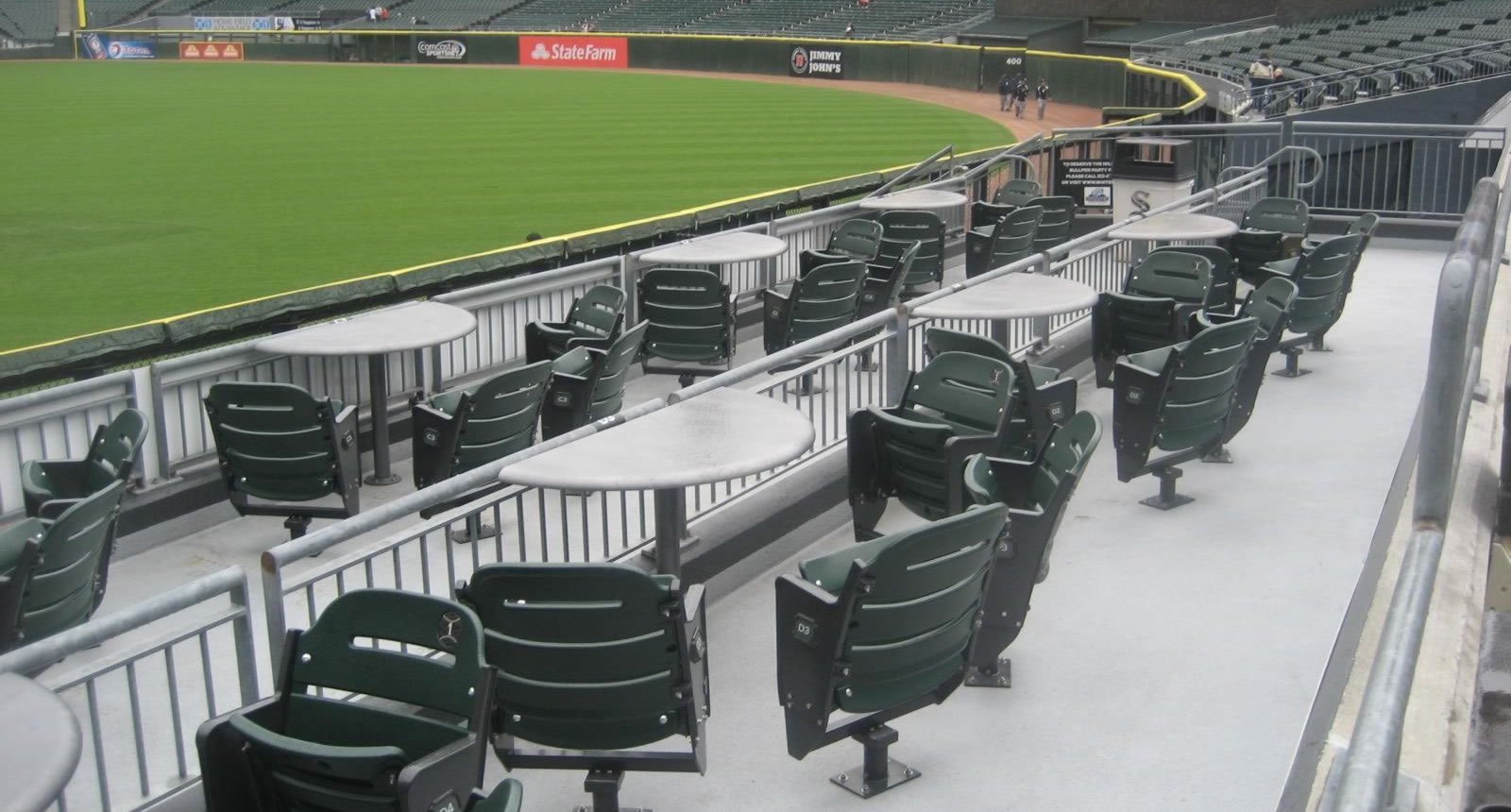 Best Seats for Partying and Socializing at Guaranteed Rate Field
Recommended seats are highlighted on the map
U.S. Cellular Field is better known for its family-friendliness than for its rousing social scene. Never-the-less, there are a few areas of the ballpark that cater to fans who are interested in hanging out with friends or trying out a new beer.
For the 21 and older crowd, the Bullpen Sports Bar in right field is a popular destination. The bar is open to all fans aged 21 and older who already have a game ticket. Fans can enjoy the game from field level with chairs set at tables or head inside for additional bar-style seating, field views and televisions. All seating is first-come, first-serve with some outdoor seating (on the second tier above the bar) subject to an additional fee. To get the most bang for your buck, purchase an inexpensive ticket on the 500 level, get to the stadium when the gates open (90 minutes before first pitch) and head to the Sports Bar entrance at Gate 2. For the price of your upper deck ticket, you'll be able to enjoy the game from the lower level and have plenty of beer money left over.
Another recommended option for fans looking to hang out is in the LF bleachers in sections 160-164. These are traditional bleacher-style seats (no armrests) and are typically the cheapest lower level seats for a Sox game. These seats are directly in the sun for afternoon games, but you'll be close to the rain shower in section 162 where you can cool off. From there you can head to the Brew House in Section 161 or towards the Frozen Zone in center field where they serve daiquiris and margaritas. - RateYourSeats.com
Recommended Ticket Locations
Sections 104 and 105
Close to the best beer selections at USCF: Korner Beer at 106, Brew House at 103 and Leine Lounge at 102
Sip a beer and yell at the opposing team's relievers as they warm-up in the bullpen in front of 104 and 105
Close to the entrance for the open-admission Bullpen Sports Bar
Sections 160, 161, 162 and more
Bleacher-style seating in the sun – the way baseball was meant to be
Cool off with a beer from the nearby Brew House, a frozen cocktail from the Frozen Zone or a trip to the famed shower in 162
Always among the cheapest lower level tickets
The Goose Island
Located in front of the Goose Island Bar
All seats and standing areas come with a drink rail
Best place in the stadium to grab a 312 and watch the Sox!
Other Popular Seating Choices
RateYourSeats.com is the best way to search, compare and buy tickets. Select an event to find out why!