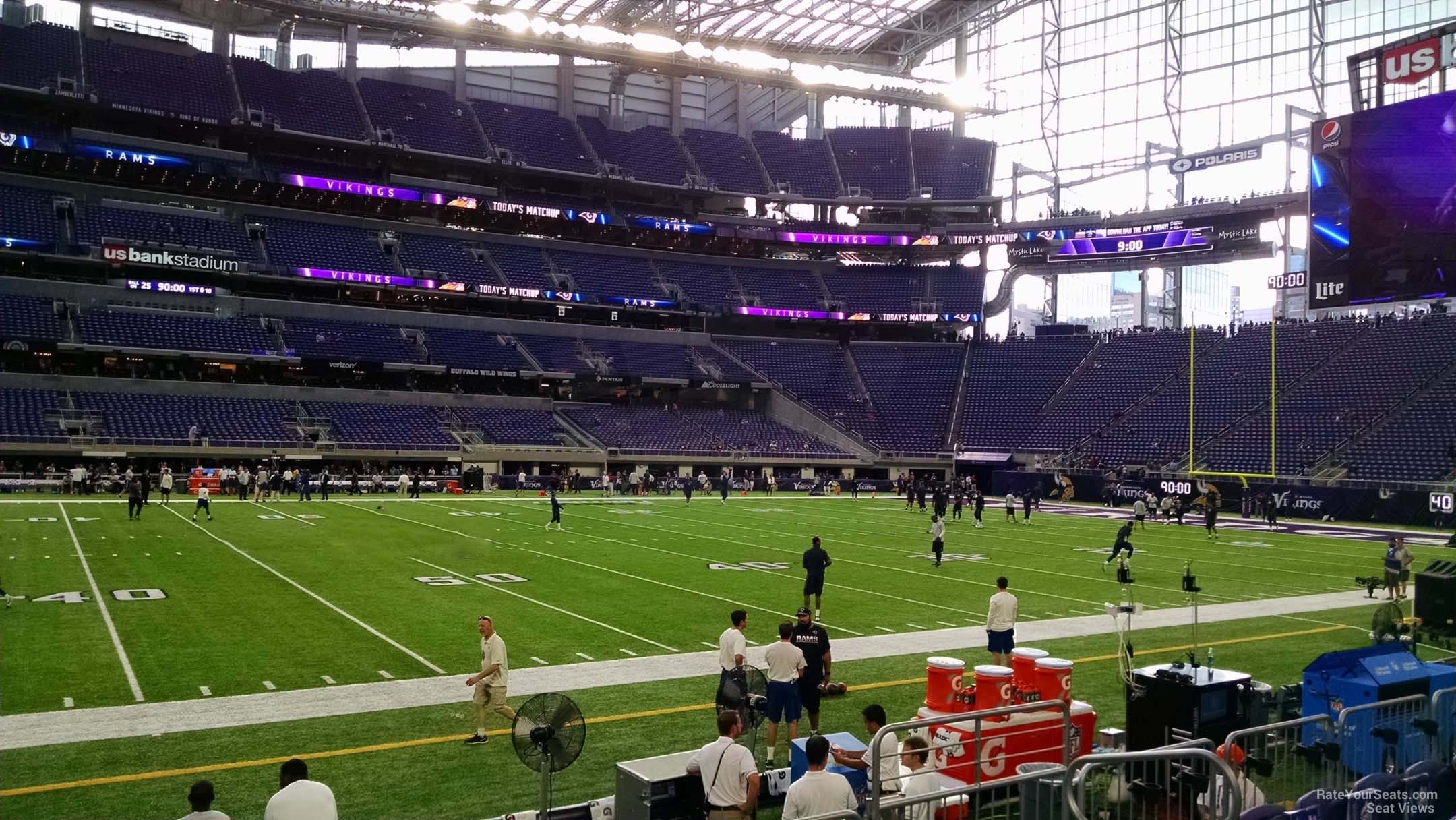 Best Seats for Visiting Team Fans at U.S. Bank Stadium
Recommended seats are highlighted on the map
Visiting team fans taking in a road game at US Bank Stadium will want to target their ticket search on the areas which get you closest to the visiting team players throughout the game, as well as the spots that give you the best exposure to this impressive venue.
The first place a visiting team fan should begin the search is right at the visitor sideline in Hyundai Club sections V2-V4. Not only will you be right behind your favorite players on the bench and along the sideline, but you also stay between the 30 yard lines for excellent all around viewing. Also known as the Vikings Club, these premium seats have the additional benefit of access to an upscale lounge featuring unique food and beverage options available for purchase. However you'll have a big question to answer before moving forward with selecting seats here - do I want to be closer to my team or have a better overall view of the field? The lowest rows obviously get you closer to all the action on the sideline and are a very exciting place to be. But in being so close it can often be difficult to see over the players and equipment right in front of you, so you if prefer not to miss anything on the field of play we recommend sitting a bit higher. Seats in rows 15-25 offer the ideal combination of viewing height and proximity to the action on these lower level north sideline seats.
Another solid option on the lower seating tier are the upper seating rows of sections 116 and 118 in the north east corner. You won't have the higher premium ticket prices that you'll find in the Hyundai Club, and you get a unique view right down the visitor's sideline. Opt for seats in rows 33 and higher for great viewing height and to also stay within a 10 row walk of the concourse. A big draw for visiting team fans here, especially those who are travelling to Minneapolis for the first time, are the excellent views out to the city skyline. The far endzone (west end of the stadium) features a large glass wall which provides an impressive look at to some of Minneapolis' tallest buildings, and from these seats you get a great perspective to enjoy the unique view. - RateYourSeats.com
Recommended Ticket Locations
Sections V2, V3 and V4
Right behind the visiting team sideline
Great positioning between the 30 yard lines
Rows 33-42 in Sections 116 and 118
Great viewing angles down the visitors sideline
Head on to the videoboard and Minneapolis skyline
Other Popular Seating Choices
RateYourSeats.com is the best way to search, compare and buy tickets. Select an event to find out why!