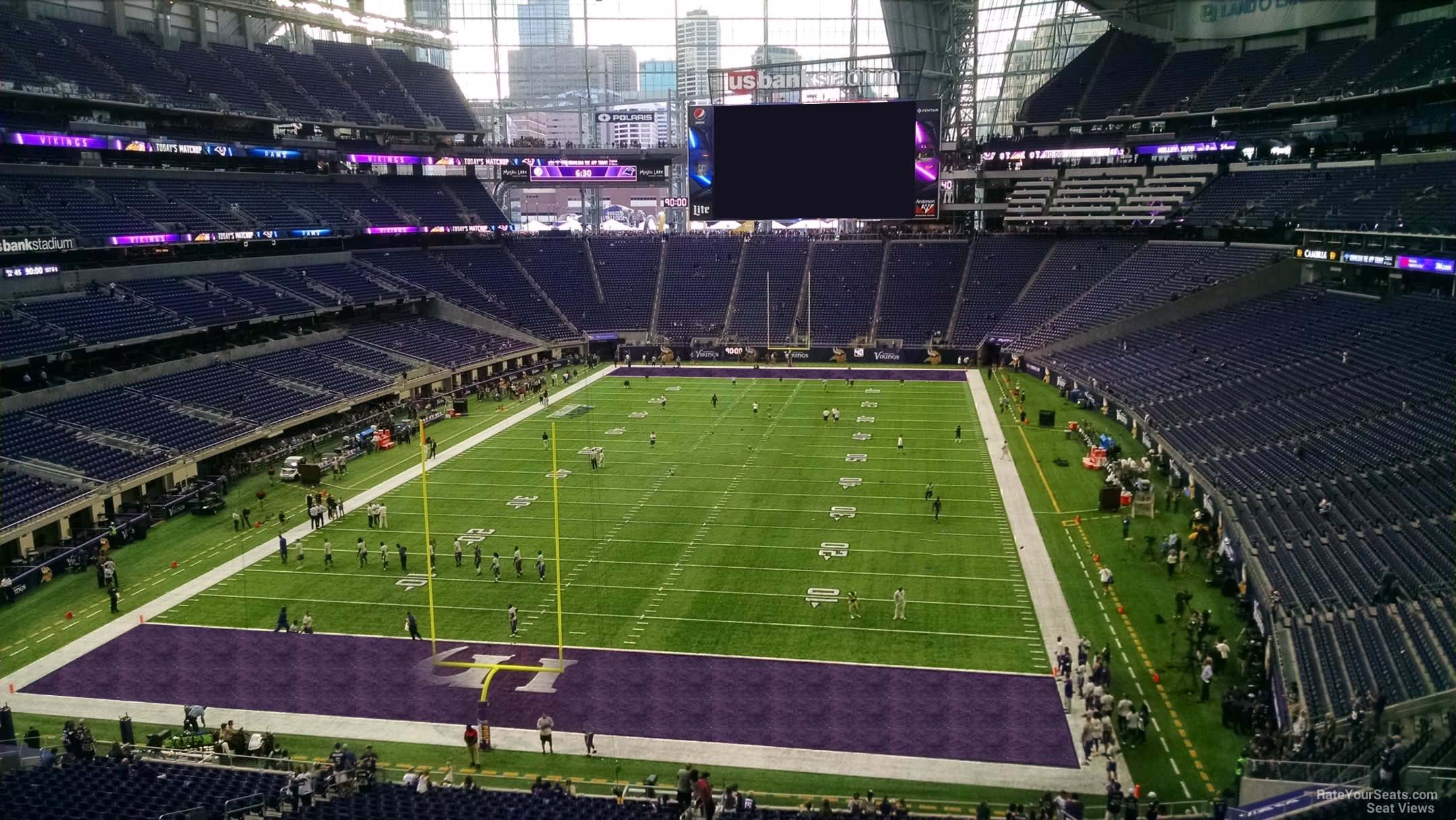 Best Seats for Kids and Family at U.S. Bank Stadium
Recommended seats are highlighted on the map
At US Bank Stadium you won't find the dedicated kids areas or family themed attractions that you might find elsewhere, but there are a number of areas which we recommend considering when bringing your crew to a football game.
Ticket prices in the lower seating tier will naturally be more expensive than those higher in the stadium, however a benefit is staying lower is avoiding having to use any escalators before even reaching your seating deck. And if you're looking to stay on the lower seating level, search for tickets in the upper rows of sections 101 and 103 near at the northwest corner. Being in rows 33 and higher ensure you stay within a 10 row walk from the top of then aisle, and you'll be right by a family restroom located just above section 103. There are a number of concessions options close by, and the main team store (known as the Locker Room) is just above section 101 should the little ones want to bring home a souvenir.
Most of the 200 level is dedicated for premium seating options, and while a club seat can add many great conveniences for a family at a football game, we tend to recommend other options due to the higher prices that come with these premium seats. However you can still find some great spots for families on the 200 level, most notably in rows 8 and lower of sections 221-224. From here you'll be right by the section entry tunnel just above row 2, and have an excellent head on perspective of the field and all the entertainment on the larger west endzone videoboard - no need to turn your head at all! Restrooms require a bit of a longer walk here, but the unique and impressive sight lines out to the Minneapolis skyline certainly make up for it.
Due to longer trips to reach the seats and potential for steeper walkway aisles to reach your seating row, we generally advise fans to avoid the highest seating tiers at larger venues when bringing the family to a game. However as US Bank Stadium's 300 level is divided into a very unique lower portion and more traditional upper portion, there are some options here which break the mold. The lettered rows of the 300 level are incredibly convenient for fans of all ages as they sit no more than a handful of rows below the level of the upper concourse. As such, its very easy to move to and from the seats and you won't need to worry about lengthy treacherous walks down the aisle. Ticket prices are much cheaper here (making it easier to bring the whole crew), and if you opt for those lettered rows in sections 344-348 you'll also be right by a number of helpful conveniences which include the following:
Women's & Men's Restrooms
Family Restroom
First Aid Station
Guest Services Desk
Escalators
Team Store
Concessions
Recommended Ticket Locations
Rows 1-8 in Sections 221, 222, 223 and more
Straight away views of the field, large videoboard, and Minneapolis skyline
Close to the section entrance
More affordable seating without being on the upper level
Rows 33-42 in Sections 101 and 103
Minimal number of stairs between the concourse and the seats
Close to a family restroom just above section 103
Near the main team store and a number of concessions
Rows A-E in Sections 344, 345, 346 and more
Extremely easy to move between the seats and the concourse
Near a number of conveniences - including restrooms, concessions, first aid and more
Ticket prices more affordable on the upper seating tier
Other Popular Seating Choices
RateYourSeats.com is the best way to search, compare and buy tickets. Select an event to find out why!